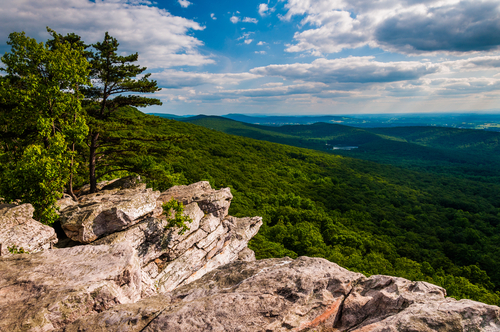 With perfectly mild weather in the forecast, Baltimoreans are stepping outside to enjoy outdoor fitness without the dread of drowning in sweat. This is the perfect season to get outside—gorgeous weather, fewer bugs, stunning scenery. Plus, it's at this time that we have the rare and beautiful opportunity to explore some of our area's most treasured hiking trails.
Nature hikes/walks are generally both pleasing and economical, but they're also a great fitness option! A study at the University of Michigan found that hiking can increase the amount of energy your body uses by up to 28 percent. When you walk on a level surface, your stride can become passive like the swing of pendulum. However, on uneven terrain like what you'd encounter on a hike or nature walk, your body increases muscle activity and energy expenditure. You move from passive to active with variations in step length, width, push off, strikes, etc. No matter what speed or incline, all of these changes help activate your body and help your muscles work harder.
One of the best things about hiking is that you don't have to do much to get started and you don't have to go hard-core to enjoy the benefits, meaning it's affordable and perfect for all fitness levels. Like any exercise endeavor, just make sure you're prepared with proper attire (especially footwear!) and water. Ready to go? You don't have to travel far—remarkable hikes are closer than you think! We talked to Dave Seel from Mountain Pirate Adventures to hear some of his favorite spots you can take a hike:
Cascade Falls Trail | Patapsco State Park
While there are lots of trails in Patapsco, Seel says this is one of his favorite trails to hike/run in and around Baltimore. "While it can get busy on the weekends, it's easily accessible for all ages and the waterfalls make for great picture opportunities with kids." Scenic moments include streams, wildlife and waterfalls. Moderate – 3 mile loop.
Oregon Ridge Loop | Oregon Ridge Park
There are so many reasons to love Oregon Ridge. The trails are always well maintained and Seel says the nice Nature Center and facilities make it the perfect spot to enjoy with the whole family. "I like the 4 mile loop for hiking and trail running, but there are lots of different trails here to explore." Scenic moments include lovely woods, wildlife and trail side streams. Easy – 4 mile loop.
Annapolis Rock via The Appalachian Trail | South Mountain State Park
"If you get motivated by scenic rock outlooks and views-for-days, this is the hike for you," says Seel. "It's a great one too because it's on a section of the Appalachian Trail that stretches all the way from Georgia to Maine . . . so you can have daydreams of hiking all 2,100 miles." While this is definitely not easy, Seel knows the stretches of uphill hiking are worth it. He reminds us to pack plenty of water and snacks and/or a water filter as there is a nice spring by the outlook (but he wouldn't recommend drinking it without filtering). Scenic moments include feeling awesome on the AT, nice woodlands and scenic views. Moderate – 5 miles total out and back.
Maryland Heights Loop | Harpers Ferry National Historic Park
For those that really want to feel the burn and reach some scenic views, look no further than Maryland Heights. This trail has lots for Civil War history buffs and some serious elevation gain. "This trail will definitely leave you worked and ready for a beer in nearby Frederick," Seel confirms. But the beers will be worth it – along with the beautiful views of the confluence between the Shenandoah and Potomac rivers at Harper's Ferry. Hard – 6 mile loop.