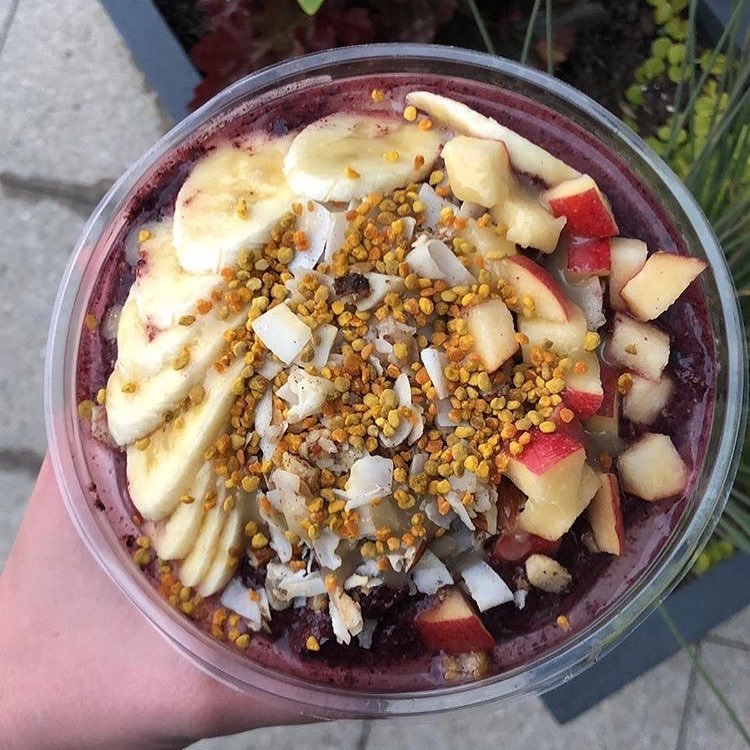 Plantbar
Now that spring has officially sprung in Baltimore, people are focusing more on ways to "green" their lives. We've seen locals honing in on one such topic—increased plant-based consumption. Over the past few years, we've seen a rise in vegan and vegetarian menu items popping up across city and region. From Maryland Vegan Restaurant Week to Baltimore Vegan Drinks happy hours, diners are embracing plant-based meals and restaurants are working to provide better options.
According to a 2018 study, avoiding meat and dairy products could be one of the most impactful ways to reduce your environmental impact. Earlier this year, Maryland-based grocery chain Giant Food created a podcast called "Nutrition Made Easy" which highlights dietitians, nutritionists and other experts to help answer customer questions and provide useful tips for a healthy lifestyle. In its most recent episode, Elizabeth Dahl, a professor of chemistry at Loyola University Maryland and the founder of the Baltimore Environmental Film Series, discusses ways we can make sustainable food choices, such as plant-based eating.
"When we think about nature, because it's a circular system, it has no useless byproducts," says Dahl. "It's really important that when we're thinking about how we're interacting with the environment that we're thinking about how we can better interact in a way that's going to keep nature circular . . . When you eat lower on the food chain, it's better for the environment."
And it's not just in Baltimore. Over the past 10 years, there have been impressive increases in Google searches for "plant-based diet." According to online food delivery marketplace GrubHub, plant-based foods were the greatest rising trend in 2018 for their 16 million users. The platform's data revealed that red meat was completely missing from their top 10 ordered foods (which was led by bean burritos). GrubHub also saw a rise in plant-based breakfast items such as peanut butter acaí bowls (up 350 percent) and detox juices (up 193 percent).
Daniela Troia, executive chef and founder of local hotspots Zia's Cafe and Plantbar, credits the rise in plant-based eating to social media. "Wellness is the new black," she says. "More people are taking an interest in knowing where their food comes from and how it's produced. We have more accessible information, including more health-based books, informative podcasts and inspiring Instagram accounts." The internet has made it incredibly easy to spread information, taking plants from a trend on the fringe to a mainstream movement. Most users cannot open Instagram without seeing the latest green juice or acaí bowl—or encouragement from queen Bey.
But don't dismiss this movement as a ploy to look cool for followers. People are also becoming more aware of the health benefits and impacts of eating more fruits and vegetables. Famous athletes are giving plants a new face, sharing how their all-natural diets and non-processed choices affect their performance and recovery. Famed NFL quarterback Tom Brady, global tennis pro Venus Williams, and NBA All-Star Kyrie Irving have all become well-known for their plant-based diets. "I have more endurance and I've noticed that I can recover faster," says local vegan runner Kelsey Johnston. "I'm way more mindful of what I eat for fuel."
In 2018, Neilsen reported that plant-based foods sales grew by 20 percent in just 52 weeks, naming nondairy milk as the largest growing category. Locally, there has certainly been a rise in non-dairy milks, which in turn means you can get your plant fix at places like and Bmore Licks, which now offers vegan and non-dairy ice cream flavors. Restauranteurs are getting better at subtly adding the plants, without hiding the benefits. Troia says, at Plantbar, the X Factor smoothie is their top ordered item, which tastes overwhelmingly like almond butter and cacao and is actually formulated for performance with avocado, medicinal mushrooms, and monk fruit.
"I honestly think Baltimore is one of the best cities to be vegan," Johnston says. "Baltimore Drinks was a pioneering force for the network, but so many neighborhoods are now veg-friendly—almost all of Hampden is. Harmony Bakery, Golden West, Paulie Gee's, Holy Frijoles, and even Blue Pit BBQ all have options for me."
We've seen openings of multiple plant-based dining spots across the region—and expecting even more in 2019. Plantbar just opened a third location in Brewers Hill, Pure Raw Juice is opening two new locations in the Rotunda and Locust Point and Plant Food + Wine will open this summer downtown.
More and more, people who identify as vegan, vegetarian, or none of the above are choosing to incorporate plant-based meals into their diets. Whether to accommodate special dietary requirements, address health conditions or just eat smarter, the movement is growing and Baltimore is responding.