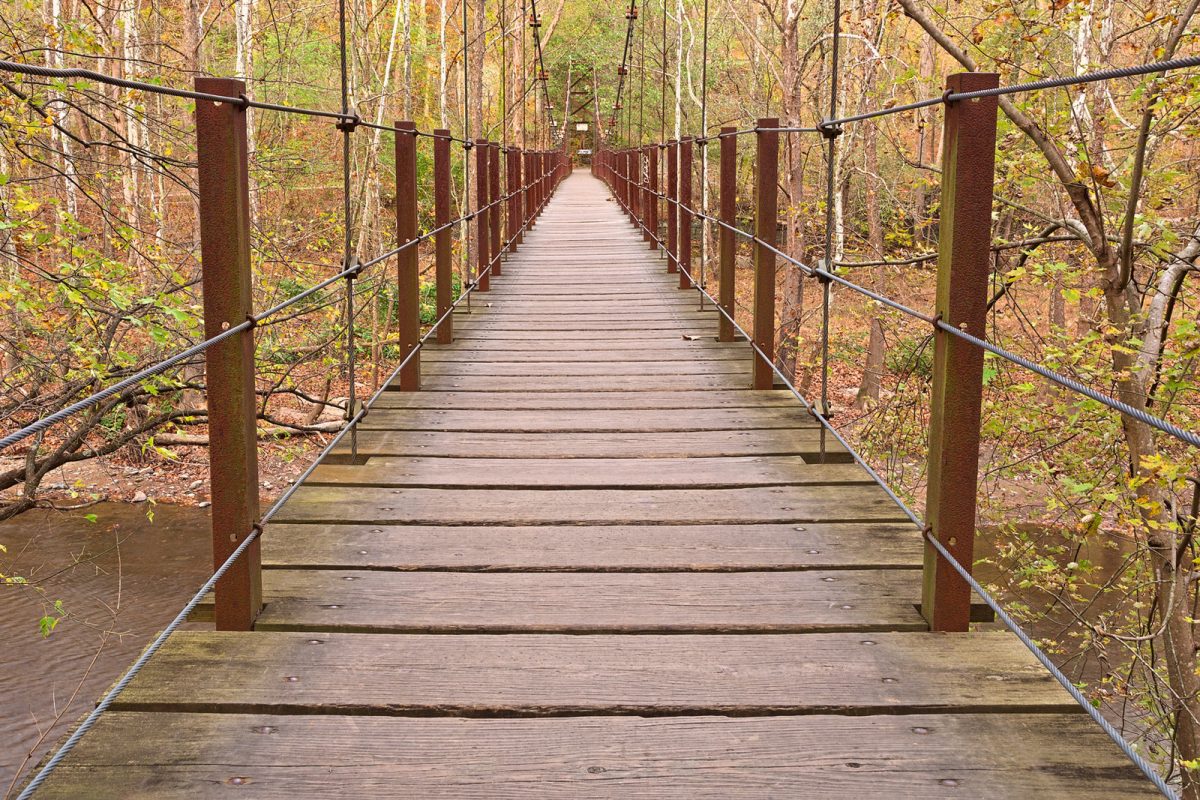 Flickr / Creative Commons
When life's stresses are weighing you down, you'll probably feel like hitting up the bar where everybody knows your name. What might actually serve your soul in a genuine way is to go where no one does. Because when your brain is as buzzy as the city streets, you need a real reprieve.
Getting out in nature, whether it's for a picnic or a walk in the woods, can help you reclaim your calm, find your center, or whatever zen mind trick you're trying to pull. Luckily, you don't have to go far to find a spot to embrace the outdoors, unplug, and recharge. Here are seven peaceful spots in Baltimore to unwind.
The Red Trail at Lake Roland: The park and nature center at Lake Roland are big hits, especially in the springtime. But off the beaten path, you'll find tons of trails to wander. The red trail, which juts off the main part of the park (between the playground and the dog park) follows Falls Road north for two miles. On it, you'll find streams, bridges, and art installations. Higher traffic times are in the morning and late afternoon, but around midday, only a few folks can be found snapping twigs under their heels. Whether you're looking to have a walking meditation or a workout, this shady trail can't be beat. 1000 Lakeside Drive
Sherwood Gardens: If you'd rather relax and snack than move and sweat, bring the blanket and the charcuterie over to Sherwood Gardens in Guilford. The six-acre park houses over 80,000 tulips which makes it the perfect place to breathe deep and let go of your troubles. The evening brings tons families to the park to play, so if you're aiming to get your "om" on without having to worry about getting clocked in the jaw with a frisbee, an early afternoon picnic and siesta is your best bet. Yawn . . . it really does sound ideal. 4310 Underwood Rd
Soldiers Delight: Over in Owings Mills, you'll find another trail to cure what ails. What's unique about the land here is that it's a serpentine barren, meaning the rock that underlines the area is made mostly of serpentine, making it a sandy, stony, sparsely vegetated space with some rare flowers, insects, and plant species. There are about seven miles of marked trails and, because of the sensitive nature of the environment there, cyclists aren't permitted on the trails. Wanderers, however, are more than welcome. 5100 Deer Park Road
Quarry Lake: If you're in need of a nearby loop where you can walk off your lunch and still make it back to work on time, Quarry Lake is a solid midday stop. The manmade lake is one of the deepest in Maryland and makes for a beautiful reprieve for its community members and neighbors. At the quarry, you can sit and eat a bagel, have a peaceful walk, or people watch. 2700 Quarry Lake Drive
Loch Raven Reservoir: If the woods are calling, there's no better place to find your way (or lose it) than Loch Raven Reservoir. There are lots of shady trails to hike through, though some are a bit tricky with steep inclines and bumpy terrain. Take a break for a snack or some quiet time on the rocks overlooking the water. And before you leave, make sure to feed the ducks some corn, lettuce, or duck pellets (no bread, though)! A word a to the wise: Watch out for the geese because those are huge, loud, and, uh, kind of scary. Morgan Mill Road and Loch Raven Drive
Baltimore Waterfront Promenade: For those looking for the perfect waterfront walk, the 4.3-mile trail running from Canton Waterfront Park to Fells Point is just the one. It's easy walking, and the water views make the time fly by. Of course, you're bound to see some passersby here, because you're not exactly lost in the woods. But taking a stroll while looking out over the water still makes a great getaway (if only in your head). The promenade is dog-friendly, too. Just make sure to pick after your pup and keep them on a leash. 3001 Boston Street
Patapsco Valley State Park: Whatever you're in the mood to accomplish (or not accomplish), you can probably achieve it here. This Howard County park runs for miles along the Patapsco River and has eight developed recreation areas. Tame your mind with a hike or a bike ride along one of the many trails, or hop in a canoe and let your troubles drift away. The Cascade Falls Trail in the Orange Grove area of the park is popular spot for its waterfalls and swinging bridges. And if you're just looking to post up in a pavilion for the day and watch the world go by, you can totally do that, too. At least until your boss calls. Or the school wonders why you haven't picked your kids up, yet. Okay, get zen, but maybe check the time every now and then. 5120 South Street