Nursing Where Needed
As travel nurses fill critical shortages, high pay creates unsustainable challenges for health care systems.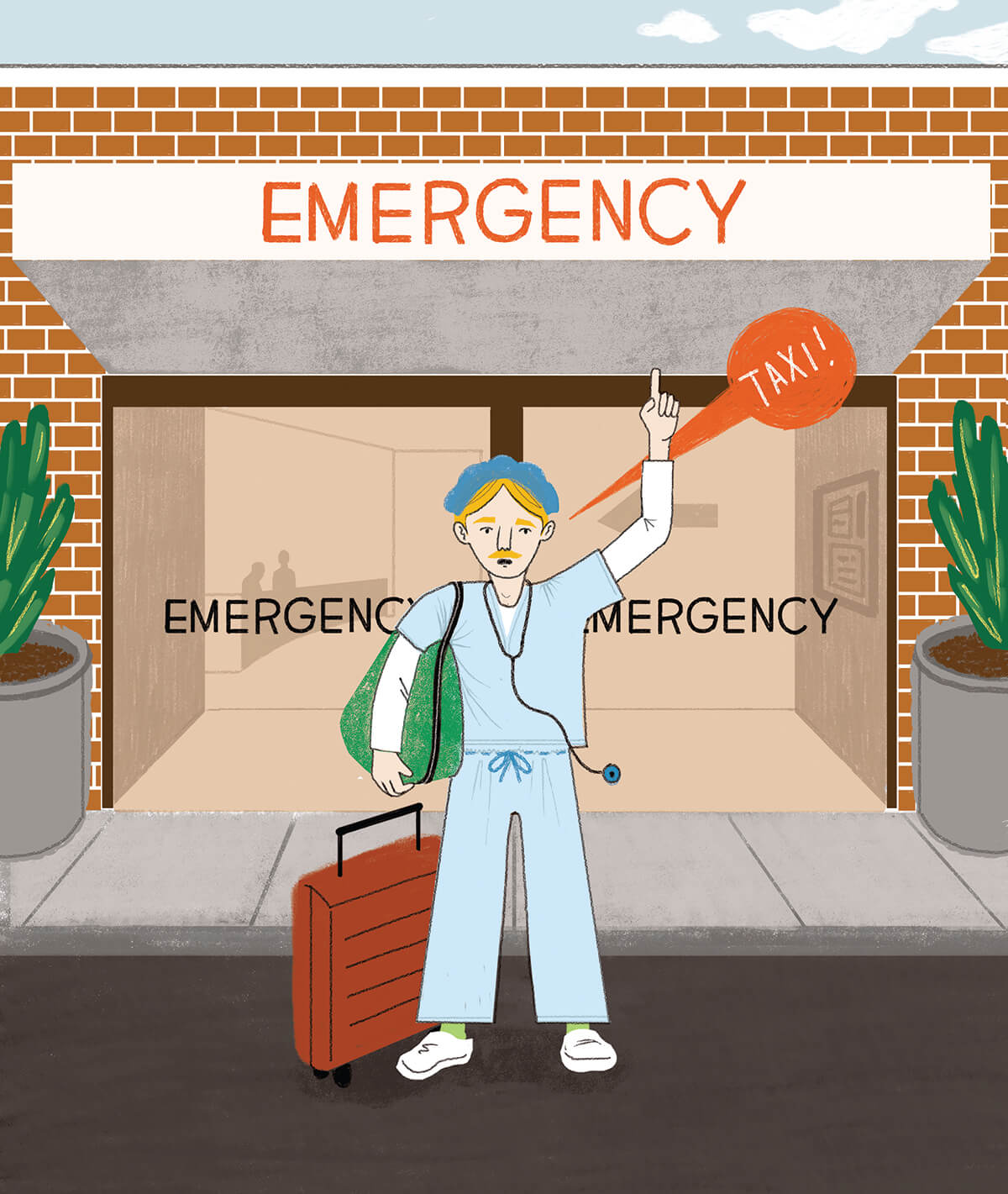 [Editor's Note: This piece is part of the Top Nurses package in our May 2022 issue, on newsstands now.]
After a year-long contract as an intensive care nurse at The Johns Hopkins Hospital, traveling nurse Crystal Erickson moved on to a 13-week contract at New Hanover Regional Medical Center in late summer 2021. The hospital in Wilmington, North Carolina, was experiencing a surge of patients with COVID-19 as the region was hit with the delta variant.
Erickson arrived to a team of staff nurses in the intensive care unit stretched thin from long hours and grueling work. A single nurse was responsible for up to four critically ill patients, when the typical nurse-to-patient ratio in the intensive care unit was 2:1.
"The amount of codes being called overhead was astounding. And we all knew that those patients would probably come to us, but we needed to find somewhere to put them," Erickson wrote in a Facebook post on August 21, 2021, including a selfie with red marks on her face from wearing heavy personal protective equipment (PPE) for three, 12-hour shifts in a row. "One of the hardest things to watch is my coworkers struggling to get adequate staffing to take care of these patients."
For hospitals in regions experiencing a surge in COVID-19 cases, increasing numbers of sick patients combined with out-of-commission nurses in quarantine put a huge strain on the ability to care for patients. That's where traveling nurses like Erickson, who can jump into action to fill a staffing need, come in.
Travel nurses work with staffing agencies to find placements at hospitals in need of extra help. Typically, placements are 13 weeks, but can be as short as eight weeks or renewed by the hospital as needed for up to one year. In addition to helping nurses find placements, staffing agencies typically provide stipends for housing, meals, and mileage, and help nurses get any needed licensure, labs, or certifications required for the position. In addition to already existing nationwide nursing shortages, the COVID-19 pandemic has intensified the demand for travel nurses. But the concept of travel nursing has been around for decades.
Some of the best-known nurses in history traveled to areas where there was an urgent need to provide care. During the Crimean War, Florence Nightingale—the founder of modern nursing—led a group of 38 women from London to Istanbul to treat injured soldiers at the request of the British war secretary. And American Red Cross founder Clara Barton brought aid to soldiers on the frontlines of Civil War battlefields from Harpers Ferry to Charleston. But the modern history of travel nursing began in New Orleans in 1978, when hospitals contracted short-term help to address the additional need during Mardi Gras.
"This idea of moving nurses from one area to another area to provide a service where there's an increased demand is not something novel," says Rodnita K. Davis, PhD, assistant professor and director of entry-level nursing programs at Notre Dame of Maryland University (NDMU). "Most countries go through cyclical shortages as a result of an increased demand and then rising nursing shortages."
In the more recent past, however, Davis explains that the COVID-19 pandemic has "exponentially increased the demands on the health care system, in turn increasing the demand for nurses."
"THIS IDEA OF MOVING NURSES FROM ONE AREA TO ANOTHER AREA TO PROVIDE A SERVICE WHERE THERE'S AN INCREASED DEMAND IS NOT SOMETHING NOVEL . . ."
In September 2021, when much of the U.S. was experiencing the peak of the delta variant, Aya Healthcare, the largest travel health care staffing agency in North America, reported 47,694 travel nurse job openings—an all-time high since the start of the pandemic, and more than six times the job volume for the same period in 2019. Compounding the usual cyclical shortages, such as attrition from an aging workforce, Davis points to mental and physical burnout from more than two years of nursing during the pandemic as factors in the critical need for additional staff. To put it plainly, a lot of nurses are quitting their jobs.
"The consequences of the pandemic are causing an increase in the number of staff nurses who are leaving the bedside," she acknowledges. "All of those factors come into play as we see this surge in the need for travel nurses."
Prior to the pandemic, most of Erickson's assignments were for the typical 13-week contract—about the same amount of time many hospitals take to train new nurses. "By the time it was finished they would have staff available to start full-time in the role," Erickson recalls. But at the height of the pandemic, for regions seeing an uptick in cases and hospitalizations, it was "crisis mode."
"You really have to be comfortable with being uncomfortable when you're starting a new job all the time," says Erickson, who is originally from Sioux Falls, South Dakota. "It can be overwhelming at times, but I have never had an assignment where I haven't felt welcomed," she adds, noting that traveling nurses on crisis contracts can work four to six 12-hour shifts per week on a short-term basis with only a day or two of training. They also bring home two to three times more than a staff nurse's salary, making the profession appealing to nurses looking to increase their pay while seeing more of the country and gaining professional experience.
Before the pandemic, travel nurses made roughly $1,000 to $2,000 per week. The rate has jumped to $3,000 to $5,000 per week in areas with critical needs. The median hourly wage for registered nurses in Maryland was $38 in 2020, or about $1,368 per week, according to the U.S. Bureau of Labor Statistics. But along with the higher pay scale comes the expectation that travel nurses have the experience to hit the ground running, NDMU's Davis explains.
"You really have to be confident, and an advanced practitioner, to be able to take those travel assignments, because they don't typically come with an extended orientation," she says. "It may be an hour or four-hour or, if you're lucky, maybe even an eight-hour orientation. But then you are expected to fully function in that role with minimal support."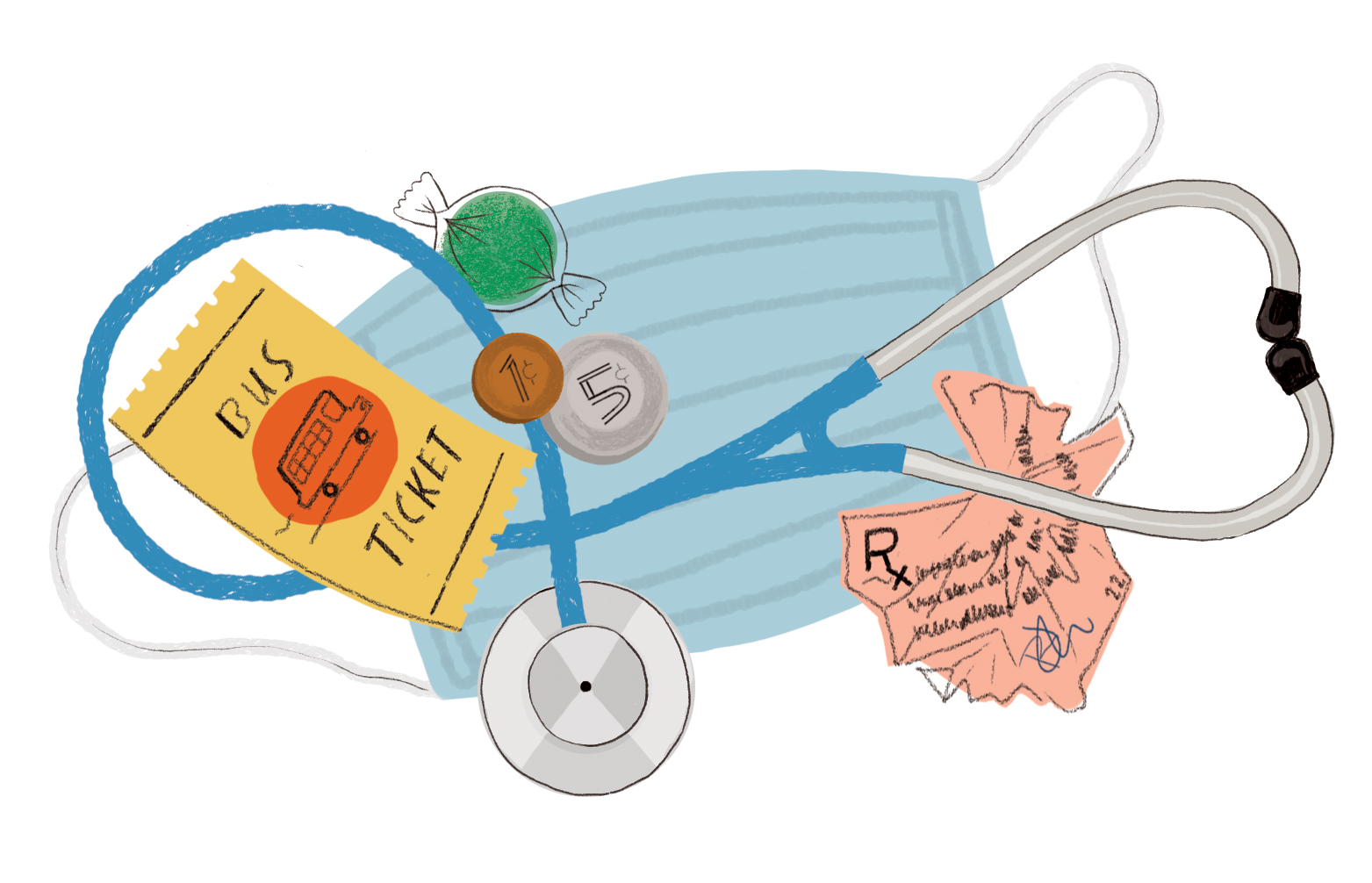 While working alongside a temp nurse making double or triple your own salary could cause tension, Erickson says she hasn't ever had issues with her co-workers. "They might ask how much I make, and I've been open with them," Erickson says. "Honestly, they are short staffed, so they are more welcoming of the help because it takes some of the load o of them."
With four years' experience as a medical-surgical nurse in Sioux Falls, South Dakota, and then three years as an intensive care nurse in Kansas City, Missouri, Erickson transitioned to travel nursing in 2019.
"I was turning 30 at the time and I thought, if I don't do it now, I never will," Erickson recalls. Since then, she has worked in Missouri, Florida, Louisiana, Pennsylvania, Maryland, and North Carolina. A er completing her contract in Wilmington, Erickson returned to Maryland in November 2021 on a contract, working in the University of Maryland Medical Center's surgical ICU.
Like staff nurses, the vast majority—78 percent—of travel nurses are women, with an average age of 44. Many travel with a pet or family members, while others opt for local contracts that allow them to more easily spend time with family during their days off.
While the biggest U.S. travel staffing agencies like Aya Healthcare place nurses only within the U.S., agencies like Worldwide Travel Staffing specialize in placing nurses in roles outside the U.S., or nurses can find work through staffing agencies based in the host country. Travel nurses from abroad with advanced degrees may work in the U.S. with the H-1B visa, which allows employers to petition for a temporary worker in a specialty occupation.
"I wanted more financial freedom," says Erickson, who made more than double her compensation as a staff nurse after signing with Aya Healthcare. "But more than the money, it was the experiences I would gain—getting to travel to new locations and get paid to do it. I could explore the food, the sightseeing, the people."
Seeing new places, gaining more experience, and making more money are some of the key "push-pull" factors that influence nurses to make the move from a staff position to traveling, according to Davis at NDMU.
"Push factors are those things that are kind of pushing the individual out of their current place of employment, whether it's low pay, increased workloads, or if they feel like it's an unsafe work environment, maybe because of staffing ratios, and things of that nature," Davis explains.
As for the "pull" factors, "It becomes this conversation around equity and fairness," Davis says. "For some people, the pull factor is, 'Well, if I am going to do the same work, why not get the increased compensation?'"
In addition to the leap in pay, the other advantages of being a travel nurse include increased flexibility, with the option to take time o in between contracts, and the opportunity to live in different parts of the country—Davis says her former colleagues have taken jobs in Hawaii and the U.S. Virgin Islands. Additionally, travel nurses can gain experience in different hospital settings.
But for many, the pandemic was the catalyst to transition into travel nursing not just for better pay, but for the opportunity to bring their skills where there is greatest need.
"Nurses have been able to go into those places that are experiencing extreme needs and give up themselves, their time, their resources, their knowledge, to support those healthcare systems," Davis says. For many nurses, that kind of instinct toward service is simply part of their calling. "I've definitely seen an uptick in that and know colleagues who have responded to the call amid this pandemic," Davis says.
Hospitals are struggling to pay elevated fees to compensate for nursing shortages, but in many cases, they have no choice. LifeBridge Health, which operates five hospitals and affiliated care centers in the Greater Baltimore region, has been hit by the nursing shortage like most health care groups across the country.
"COVID has made [the shortage] even worse; a lot of nurses have left bedside nursing to do other things that do not have direct patient contact," explains Leslie Simmons, LifeBridge Health's executive vice president and chief operating officer. "Some nurses retired early, part of that was fear and the length of the pandemic. It was exhausting."
Travel nurses play an important role in augmenting the staffing matrix, Simmons says. Generally, she says, LifeBridge Health brings in nurses for eight-to-12-week assignments when staff members are out for maternity leave or summer vacations, or during peak flu season.
During the peak of the COVID-19 pandemic, LifeBridge Health employed about 200 travel nurses across the system. But paying for them became a challenge when hourly rates the hospital pays staffing agencies for critical care nurses jumped from $100 to $225 per hour.
"It was a challenge because agencies were paying skyrocketing prices, and despite what we were doing to retain staff, we couldn't keep up," Simmons says, noting that LifeBridge Health is projected to spend $58 million on travel nurses across all facilities for fiscal year 2022, which ends in June, compared to just $13 million in the 2020 fiscal year. "It's a 445 percent increase from two years ago. We just can't sustain that."
Simmons, who comes from a family of nurses and whose daughter was considering a travel job, doesn't blame the nurses for wanting to make more money. "We are grateful we had travel nurses to help us through it," she says. "It was difficult to pay their rates, but I don't know that we could have done it without them."
But travel nurses aren't a sustainable long-term solution for staff shortages. In fact, several groups led by the American Hospital Association and including 200 bipartisan members of Congress, have demanded an investigation by the White House into the pricing practices of the staffing agencies that place travel nurses around the country. They note rapidly inflating prices with 40 percent pro t margins and the consolidation of staffing agencies by private equity firms since 2021.
To retain and grow its own workforce, LifeBridge Health spent $14.5 million in salary increases and $26 million in sign-on and retention bonuses. "[But] it's not enough," Simmons says. "The agencies would hire our staff members and pay o their retention bonuses."
For a long-term solution to the shortages, LifeBridge Health has recruited more than 100 foreign-educated nurses, with many starting this spring at Sinai Hospital of Baltimore. Recruiting physicians, nurses, and other allied health care professionals from abroad has happened for more than 70 years and is one piece of addressing the current nursing shortage, according to the American Association of International Healthcare Recruitment.
"We think it's a more sustainable way to bring more nurses into the state," Simmons says. They also are focusing on training recent nurse graduates with residency programs and making sure staff salaries stay competitive. Veteran nurse and Baltimore native Bryan Liquido made the move to travel nursing in February to help support his extended family financially after they suffered unexpected losses due to COVID-19.
"I LIKE FEELING UNEASY. IF I DON'T FEEL LIKE I'M LEARNING SOMETHING, IT'S TIME TO MOVE ON. I'M USED TO BEING ADAPTABLE AND THIS IS JUST ANOTHER TEST OF THAT."
Liquido, whose extensive résumé includes seven years on the lifeline critical care transport team with the Johns Hopkins Hospital—two of which were as a flight nurse for the STAT MedEvac helicopter—has the personality and skillset to excel in the unknown, constantly changing environment of travel nursing.
"I'm an adrenaline junky," he says. "I like feeling uneasy. If I don't feel like I'm learning something, it's time to move on. I'm used to being adaptable and this is just another test of that."
During the pandemic, Liquido often worked 50-plus hours per week at his staff position, often beside travel nurses. "There was a noticeable change," he says of the long-term fatigue after a year of the pandemic. "In the beginning it was enraging for the staff that someone was making double, triple—at the height of it, quadruple—what you made as a staff nurse," he says.
But over time, he says, a general "desensitization" resulted in a reluctant acceptance among staff nurses. "Now, most people are like, 'this is the way it is,' and I don't see that animosity anymore if the traveler is good, and most of my experiences with travelers as a staff nurse is that they've all been super competent."
And he says has no regrets about making the transition to travel nurse with the Aya Healthcare agency. He's now working his first assignment at York Hospital's open heart intensive care unit. "Now I can just do my three shifts, deliver quality care, then be able to still have something left in the tank to take back to my family," says the father of two.
"Everybody has their own reasons for travel," says Liquido. "For me it's not purely about money. That's a plus, but it's about family and having that better work-life balance."