Start Right
Wellness experts share tips on starting your morning off right.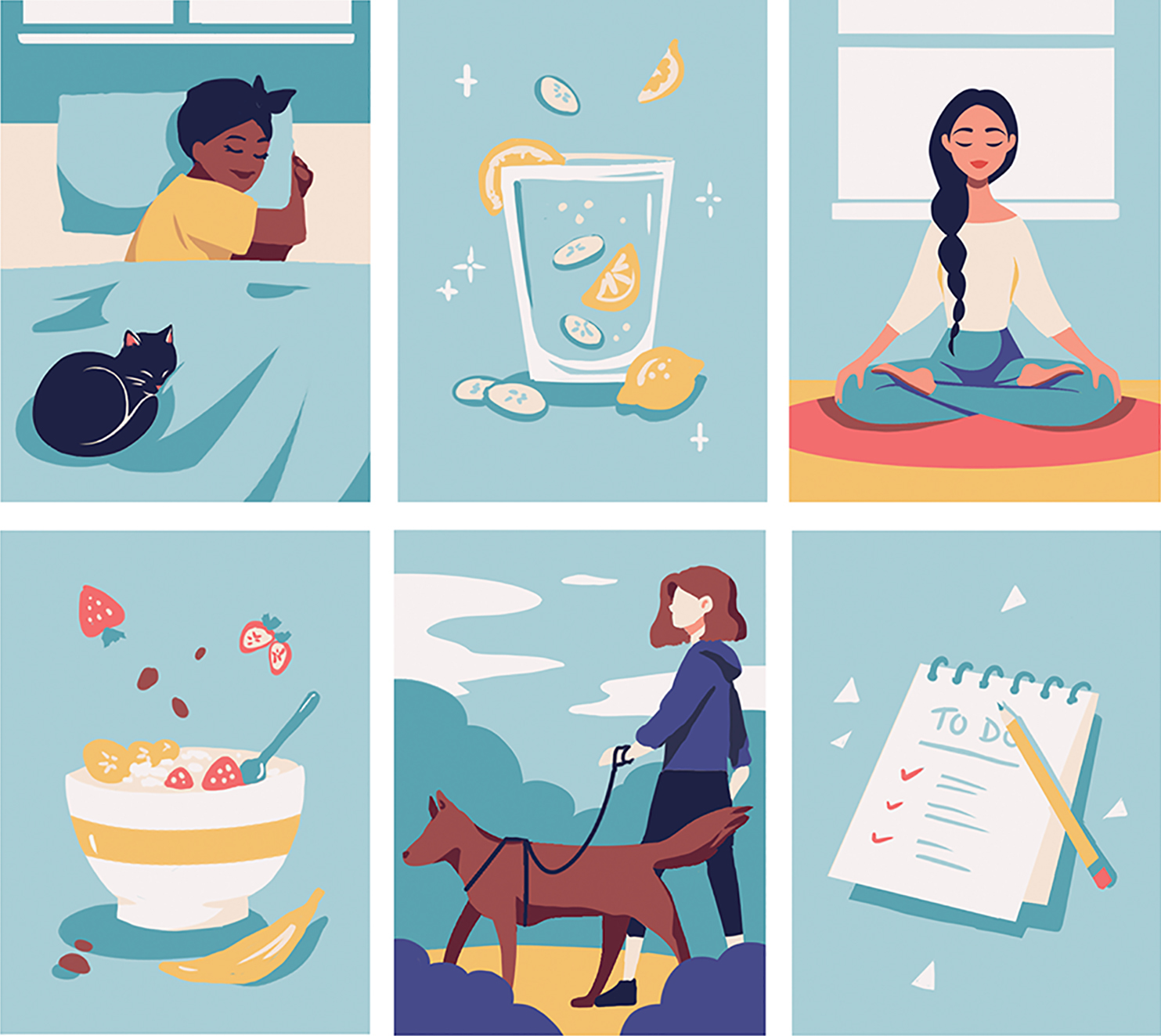 We all know the importance of a good night's sleep, but did you know that your morning ritual can affect your entire day? If your morning begins with a quick cup of coffee, yelling at TV news, and skipping breakfast, you're not alone. We consulted with Tiffany Houchins from Woodberry Wellness and Diana Sugiuchi from Nourish Family Nutrition on strategies to kick off the day energized, productive, and happy.
Good timing. A peaceful morning begins with a full night's sleep and a gentle wakeup call, says Houchins. She suggests exchanging the alarm clock for rising with natural sunlight or a sun lamp. You don't need to wake up before the sun to be more productive, but do allow yourself enough time to accomplish your morning tasks to alleviate the pressures of a morning rush.
But first, water. Start your day with a tall glass of water. After a long night's rest, your body wakes up already craving hydration, Sugiuchi says. Not only will you mitigate any ill effects of dehydration later, but you'll also feel refreshed and energized before your day is in full swing. She recommends adding cucumber, mint, or lemon to your water for a change in flavor and further nutritional value.
Me time. Take it easy and enjoy yourself! Engaging with things that bring you joy sets your intention and your mood for the rest of the day, Houchins explains. Get groovy to your favorite songs in the morning to add an extra boost of joy, or reserve an additional 10 minutes of your routine to set positive intentions for your day or take a solo walk in the fresh summer air.
Refuel and restore. It's less about a big breakfast and more about the right breakfast, Sugiuchi says. Starting your day with a balanced breakfast regulates blood sugar levels, improves concentration, and keeps a steady metabolism that will satisfy your appetite and prevent later cravings. The key for morning energy? Complex carbohydrates. She suggests a bowl of oatmeal, hard-boiled eggs with a cup of fruit, or even a peanut butter sandwich on whole grain bread.
Up and at 'em. Whether you take five minutes to walk the dog or catch a 45-minute yoga class, moving your muscles in the early part of your day stimulates blood flow and oxygen distribution that will give you a natural energy kick. Getting outside is a great way to feel less burnt out, Houchins notes. Morning jogs are also a manageable way to wake your body up while balancing the mind with the focus on breathing.
Plan your day. A little spontaneity can keep a routine fresh, but be honest and mindful of your limits, Houchins advises. Creating a to-do list in the morning is a helpful tactic to ensure a productive day. Avoid becoming overwhelmed by not overcommiting and sticking to the action items that will restore and bring you balance.