Local Collector Captures Thomas Edison's Luminous History
Chad Shapiro's treasure trove includes more than 400 historic lightbulbs, one of the first meters used to calculate the use of electrical power, and several handwritten letters by the famous inventor.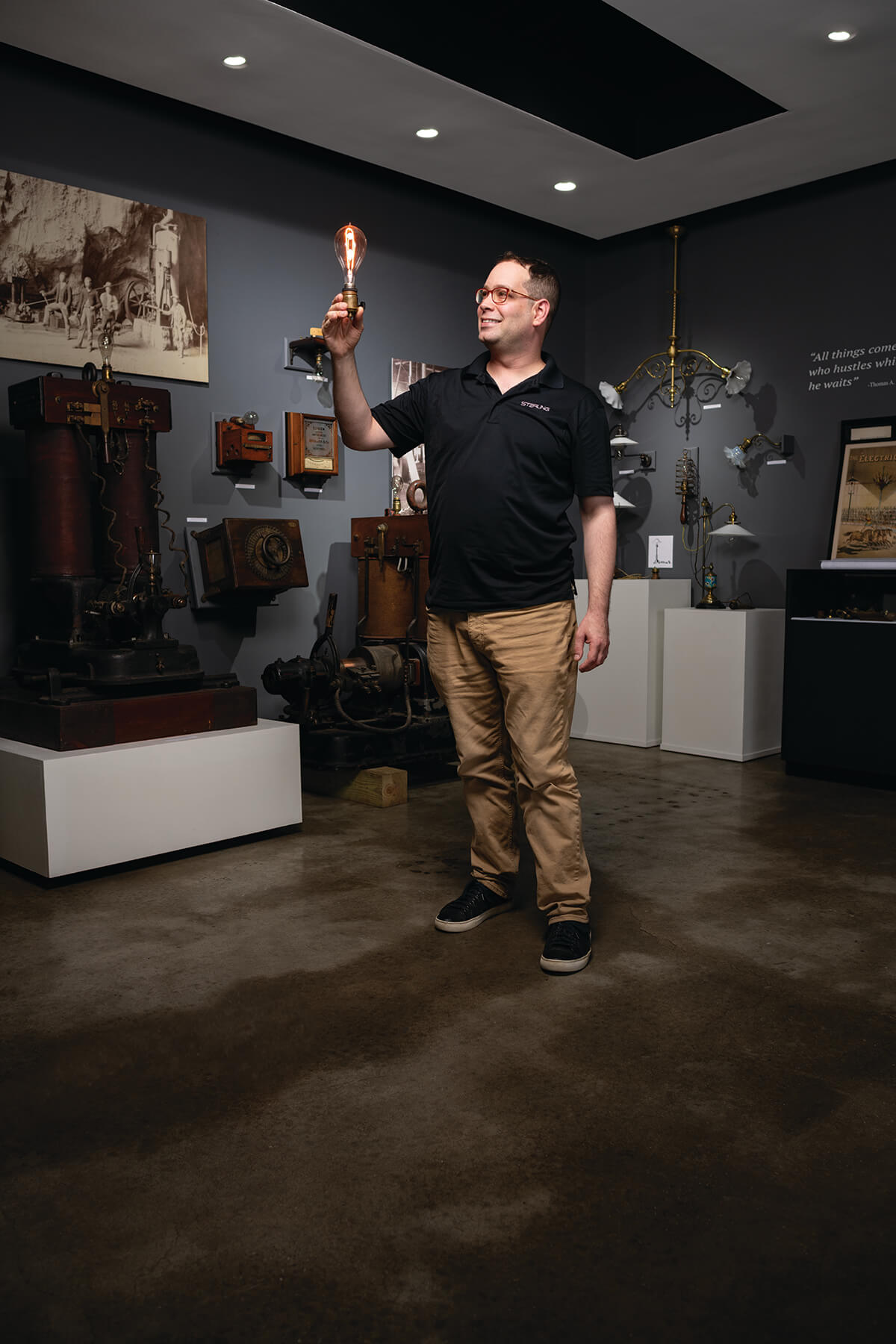 The phonograph that started it all sits on a table in what was once the showroom of Chad Shapiro's home automation and lighting company in Owings Mills. It's enclosed in a rather plain-looking brown wooden box, with a handle on the lid and a crank protruding from one side. A few feet away in the corner, a life-sized cardboard cutout of its creator, Thomas Edison, lords over the room, which resembles a museum more than a place of business.
This machine—made around 1905 and still spinning tunes—is the only thing here among Shapiro's extraordinary collection of original dynamos, switches, sockets, fuses, meters, fixtures, and most importantly, lightbulbs, that he doesn't own. It was a 21st birthday gift from his grandparents to his dad, Bill, who has generously let his son be its caretaker.
"When my father was a young kid, he became interested in Edison and over the years found books on Edison and studied his work," Shapiro says, before quickly adding, "not to the level that I have."
Every February 11—the great inventor's birthday—Shapiro's father would drag the phonograph out to play a record. Shapiro inherited his father's fascination with the inventor and, beginning around 8 years old, started taking it to a different stratosphere, with a particular interest in lightbulbs.
Today, he has one of the most extensive collections of its kind the world. Among his more than 400 historic lightbulbs are several that were produced at Edison's laboratory in Menlo Park, New Jersey, some dating back to as early as 1880. He has Edison bulbs that were displayed at the 1904 World's Fair and once resided in the possession of Henry Ford. His treasure trove includes one of the first meters used to calculate the use of electrical power, several letters handwritten by Edison, and one of the earliest Edison-made dynamos—a device used to convert mechanical to electrical power—in a private collection.
"The most important pieces to me are the ones that we know Edison's hands touched," Shapiro says as one of his two pugs, fittingly named Menlo, yaps in another room. "Anything of that nature gives you goosebumps. I have them right now."
"It's really about the creation of modern technology."
While lots of people think Shapiro's passion project is fascinating, he knows it elicits an ambivalent shrug from some, including his partner, Dennis Rothouse. "He talked about it, I think without drawing a breath, for 90 minutes on our first date," says Rothouse with a chuckle. "I liked him, but he started to sound like the teacher in Charlie Brown. I thought, 'God I hope there's not a pop quiz on this.'"
While much of Shapiro's collection is displayed in glass cases and on gallery-style stands in his office, it's not open to the public (though anyone who wants to see it can arrange a visit). But each August, he hosts a private event that draws some of the top collectors in the world. (In previous years, the director of the Thomas Edison National Historic Park in West Orange, New Jersey, has attended.) For that, he removes some of his prized possessions, like a wood-based Edison bulb that is often called the first commercial lamp (the term "lightbulb" didn't come until later, he explains), from the museum-grade boxes in which they're normally stored inside a fireproof safe, and puts them on display.
Shapiro won't reveal how much his collection is worth, but he will admit that he's traveled as far as Austria to procure an item.
"This is not a business—if it were, it would fail," he says. "I do it because I'm passionate about the story. And the story is bigger than just the creation of the lightbulb. It's really about the creation of modern technology, so much of which stemmed from electrification. You can't read it in one book, you can't learn it in one documentary. It's really complex, and as you start to collect all these pieces, you can put that story back together."