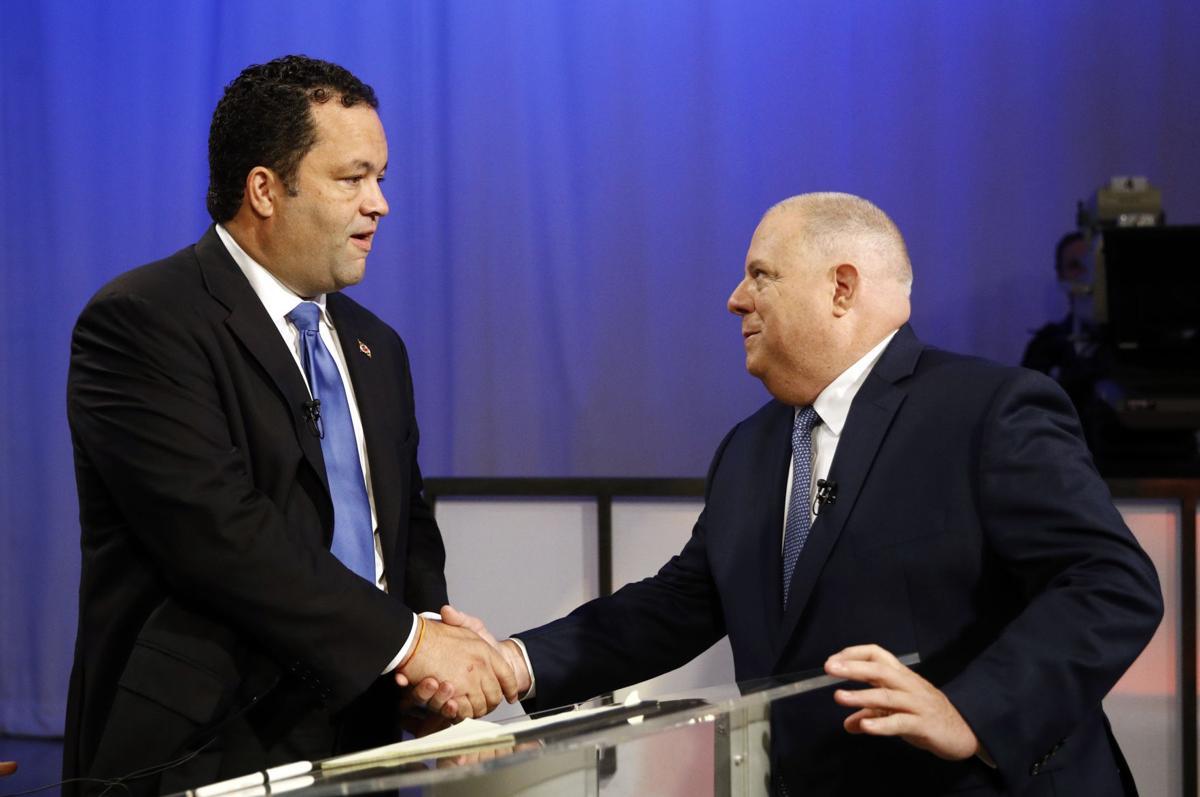 Larry Canner
Incumbent Gov. Larry Hogan and his Democratic challenger, former NAACP president Ben Jealous, squared off in a lively, at times contentious, debate Monday hosted by Maryland Public Television.
The two candidates painted vastly different portraits of the state, with Hogan, not surprisingly, making the case that Maryland is on the right track and Jealous challenging that assertion at every opportunity.
Jealous went after Hogan on the state's economy, noting employment remains below that of other states in the region, the declining performance of public schools, rising health care costs and violent crime rates in Maryland, the cancellation of the Red Line mass transit project in Baltimore, and the still-escalating opioid epidemic.
Firing back, Hogan defended his record of holding the line on tax increases, fees, and business regulations, and cited positive economic progress. When Jealous stated Maryland has been "dead last in the region with job growth," Hogan, who repeated campaign condemnations of the direction of the state under his predecessor, Martin O'Malley, answered, "We've had one of the greatest economic turnarounds in the nation."
According to a Baltimore Sun post-debate fact-check, Maryland ranks fourth out of five state and the District of Columbia in job creation.
Perhaps the biggest takeaway is voters would be served by another debate—or two—which would help clarify and sharpen the candidate's facts, positions and agendas. In 2014, Democratic Lt. Gov. Anthony Brown and then GOP-nominee Hogan participated in three televised debates, all of which were held in October, the month before the general election.
Hogan is vying become the first Maryland Republican to be re-elected governor in more than six decades. Jealous, if elected, would be the first black governor in Maryland history and just the third black governor elected in U.S. history. Currently, there are no sitting black governors in the country.
Along with battles over education funding, teacher pay increases (Jealous proposes a 29 percent raise for teachers) and a vision for improving schools, transportation proved a major area of contention. Hogan pitched his work in improving the Washington, D.C. Metro subway, his green light of the Montgomery and Prince George's Purple Line, and increased spending on highway expansion between D.C. and the Maryland suburbs, and elsewhere in the state. Jealous countered that Hogan's I-270 and I-295 transportation projects amounted "toll lanes for rich people" and would not solve the state's daily traffic woes, which include some of the longest commuter times in the country.
Hogan attempted to portray Jealous as an outsider from California, noting he had not registered to vote in the state prior to 2012, but at the same time opened the door to one of Jealous' most compelling moments of the debate. Jealous, whose parents' biracial marriage was not legal in Maryland when they wed in 1966, were both Baltimore public school teachers and civil rights activists. Jealous recounted his own life story and that of his family, including his 101-year-old grandmother who never left the city, as well as his frequent summer visits to Baltimore, which he described as "home."
Hogan touted his bipartisan efforts with the General Assembly to pass tougher gun control measures, stop proposed Trump Administration efforts to cut Chesapeake Bay restoration funding, and passing criminal justice reform legislation to reduce the state's prison population. He also described Jealous' Medicare-for-All, universal pre-K and free community college proposals, and other initiatives as too burdensome on taxpayers and "reckless."
He characterized Jealous' intention on further reducing the state's prison population as an effort "to put murderers and rapists and repeat violent offenders back on the street." Jealous, noting he has lost family members in Howard and Prince George's counties to violence, responded that Hogan's remarks were "out of the old [GOP] playbook right from Willie Horton to Donald Trump."
Jealous also tried to tie Hogan to the president's immigration policies—the governor sent Maryland National Guard troops to the Mexican border, for example—as well as controversial Secretary of Education Betsy DeVos, a supporter of private charters and private school vouchers. Hogan responded by saying he called the Maryland troops back to the state and merely accompanied DeVos to a reading at Montgomery County school as he did previously with previous education secretaries.
Jealous also forced the governor to defend his record on the opioid epidemic in the state, pointing to huge increases in overdose deaths statewide in recent years, and saying it took Hogan too long, two years, to declare a state emergency after running on the issue four years ago. Hogan replied that he was the first governor in the country to declare a state of emergency around the public health epidemic.
Afterward, Jealous supporters, including former Democratic primary challenger state Senator Rich Madaleno praised his performance. "You can see why the Governor doesn't want to have another debate," Madaleno said.
"This is the tipping point in this race," said Baltimore City Council member Brandon Scott, a former candidate for lieutenant governor on Democratic primary challenger Jim Shea's ticket.
The Hogan team was equally confident about his performance.
"We're up 22 points," said Doug Mayer, Hogan's deputy campaign manager. "Nothing that happened in that room is going to change that."
Election Day is November 6, with early voting beginning October 25 and running through November 1.