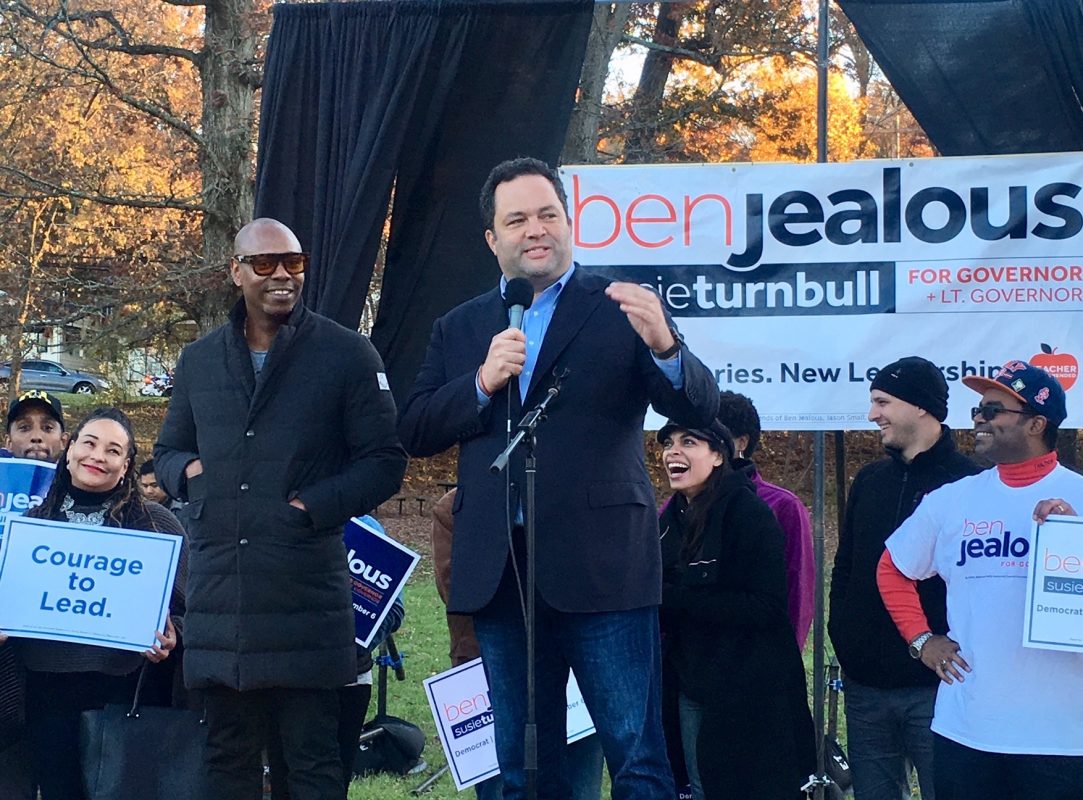 Ron Cassie
During a busy final weekend push to get out voters, Democratic gubernatorial challenger Ben Jealous rallied with comedian and longtime family friend Dave Chappelle, as well as actress and activist Rosario Dawson at historic Gwynn Oak Park on Saturday afternoon.
The site of a series of ultimately successful desegregation demonstrations in the 1960s, the setting provided a particularly compelling backdrop for Jealous, the former NAACP leader who is vying to become the first black governor in Maryland history. Jealous noted that his own mother, who grew up in West Baltimore, "couldn't play in the park as a child."
"Oh, we're going to play in this park," interrupted Chappelle, a Silver Spring native, to laughter and applause.
"If you want to make Donald Trump's blood pressure go up," Jealous continued, "send a civil rights leader to the governor's office."
Chappelle, who has known Jealous since they were teenagers, has been a regular presence alongside Jealous on the campaign trail in recent weeks—knocking on doors over the weekend and even helping one potential voter with her groceries.
Dawson, co-founder of Voto Latino, talked about Jealous' plans to make health care affordable for everyone, expand public education, and raise the minimum wage.
"We have to change the narrative and conversation," Dawson said. "Right now it feels very hopeless for a lot of people."
More than 660,000 Maryland voters went to the polls during the eight-day early voting period that ended last week. That record number is more than double the turnout during 2014 mid-term elections, but the expectation among campaign officials is that at least another 600,0000 Marylanders will vote Tuesday on Election Day.
While Jealous was in Gwynn Oak Park, incumbent Republican Gov. Larry Hogan was meeting with voters in Grasonville on Maryland's Eastern Shore Saturday.
Hogan, running on a business-friendly, anti-tax platform, has received high approval ratings from Marylanders during his first term and has been buoyed by a huge fundraising advantage in his reelection bid.
"If it ain't broke, don't fix it," Hogan told supporters.
Polls have shown Hogan leading Jealous by double-digit margins throughout the campaign season. Jealous and Democratic officials, however, are hoping the party's 2-1 registration advantage in the state and record turnout—boosted by a blue wave of anti-Donald Trump sentiment in Maryland—can lead to an upset.
Also on hand showing support for Jealous were Maryland U.S. senators Ben Cardin and Chris Van Hollen, Baltimore County state delegate Charles Sydnor, Democratic state senate candidate Jill Carter, Baltimore City Council members Brandon Scott, Ryan Dorsey, and Kris Burnett, and Susan Turnbull, his lieutenant governor running mate.
Krish Vignarajah, former policy director for First Lady Michelle Obama, who ran against Jealous in the Democratic primary for governor, made the event's opening remarks. She highlighted the need for change in the state, starting with "kids freezing in classrooms and being warehoused in buildings with no air conditioning."
"I grew up in this area," said Vignarajah, a Sri Lanka immigrant and Woodlawn High School graduate. "My family fled a civil war when I was nine months old at a time when America was its true self. I went from Woodlawn to the White House and this is how I know we need Ben Jealous in Annapolis."
Jealous is one of three black Democratic candidates, along with Stacy Abrams, a Yale law school graduate and former minority leader of the Georgia House of Representatives, and Andrew Gillum, the mayor of Tallahassee, Florida, who could become their state's first black governors if elected Tuesday.
Jealous' parents—Ann, who is black, and Fred Jealous, who is white—met as Baltimore City schoolteachers. Both were civil rights activists, with his mother participating in the desegregation of Western High School. Their marriage was prohibited in Maryland prior to 1967 and they eventually moved to California where Jealous was born.
Looking over the diverse group of supporters gathered Saturday, Jealous mentioned his father was raised in Maine, where one of his uncles ran a lumberyard in rural community, and where he returns from time to time.
"This crowd looks a lot like a Jealous family reunion," he observed.