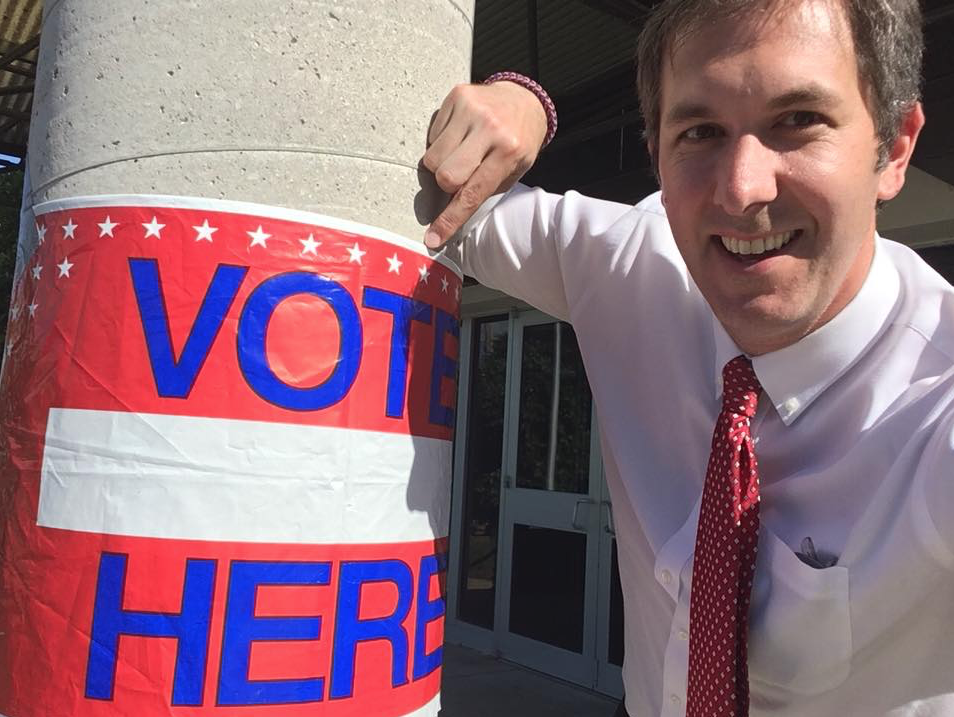 John Olszewski Jr./Facebook
The surprises in this year's state elections, it turned out, were all in the races for county executive. Starting with Baltimore County.
Recap: John "Johnny O" Olszewski Jr. won one of the closest elections in state history when he slipped past a pair of more conservative Democrats, state Sen. Jim Brochin and Councilwoman Vicky Almond in a near three-way tie. Olszewski, running as a progressive, won the recount by 17 votes. Statistically, that's less than .1 percent.
Then, versus Republican Al Redmer—enthusiastically backed by incumbent Gov. Larry Hogan, who won the county by more 24 percent Tuesday—the general election contest turned out to be no contest. Instead, the 36-year-old Olszewski (pronounced: Ol-shess-ski) posted a stunning 15-point victory, a nearly 40-point Democratic swing from the gubernatorial results.
Democrat Calvin Ball's upset of Allan Kittleman, the moderate Republican incumbent county executive in Howard County, was significant, of course. So was Democrat Steuart Pittman's upset of Republican incumbent county executive Steve Schuh in Anne Arundel County. But perhaps no local story was more compelling than Olszewski's political comeback from a tough loss four years ago for an open state senate seat in the Dundalk-area district where he was born, raised, and still lives.
"I think [the loss four years ago] humbled him," said one local Democratic Party insider of Olszewski. "I think it made him a better listener."
Olszewski's loss to Republican Johnny Ray Salling, by little more than 800 votes, certainly had a lot to do with southeast Baltimore County's blue-to-red tilt in recent years. However, Olszewski deserves credit, not just for picking up the pieces and running for office again, but for spending two years laying the groundwork for his successful comeback, and in particular, reaching out to voters on the other side of county.
"He made every town hall meeting, met with every church group, and met with every organization on the west side," said Shirley Supik, a Woodlawn-area Democrat. "He's a service guy. He's a man who listens."
"He knows as many people on this side of town as the east side, I guarantee you that," added her husband, Jeff Supik, 66, a former general contractor. "In this county, education is the most important issue and he's made it clear it's on the top of his list. He's been a teacher and he has a Ph.D., which shows how important education is to him."
Olszewski, who as he puts it "grew up in the shadow" of the once-great Bethlehem Steel mill, is young, but hardly a political newcomer. If anything, what his election has shown, is that he possesses the ability to pull off a tough balancing act—remaining viable to blue-collar, Democratic Hogan voters as well as the more progressive wing of his party. Not that it's been easy.
While in the House of Delegates, Olszewski cast a key vote in 2012 in support of civil marriage for same-sex couples. The following year, perhaps with a state senate bid in mind in conservative District 6, he voted against the assault weapons ban—which passed—a vote he characterized as a mistake during this election season.
And, although he doesn't push back against the progressive label, neither did he campaign with Bernie Sanders-endorsed, Democratic gubernatorial nominee Ben Jealous. In a recent interview with Baltimore magazine, he highlighted votes in the General Assembly against higher sales, alcohol, and gasoline taxes, and opposition to toll increases. "Some of that is being born in an industrial town where people work hard for their money and sort of, valuing that as a life lesson," Olszewski said.
The eldest son of former County Councilman John Olszewski Sr.'s three sons, Olszewski got an early start in the family business with a student-member appointment to the Baltimore County Board of Education as a Sparrows Point High senior. Three years later, he was elected to the Maryland Democratic State Central Committee, and in 2006 he was appointed to fill a House of Delegates vacancy left by the late John Arnick, where he was twice reelected. Olszewski was the youngest person elected to lead the Baltimore County delegation in the House of Delegates, and taught for seven years at Patapsco High School and Center for the Arts before earning a doctorate in public policy from the University of Maryland, Baltimore County. He's married, with one young daughter, and lives in the St. Helena neighborhood.
During his campaign, he came out in favor of a statewide $15 minimum wage, a single-payer health care system in Maryland, and an end to cash bail. He supports the Trust Act—legislation, which would protect local government resources from being used to enforce civil immigration enforcement—and a goal of 100 percent renewable energy for Baltimore County government operations by 2030. He also supports spending taxpayer dollars to build infrastructure to aid the Tradepoint Atlantic redevelopment project, already home to Amazon, Fed Ex, and Under Armour distribution facilities, at Sparrows Point.
Most notably, he enthusiastically supported the Home Act on the campaign trail—which forbids housing discrimination in Baltimore County based on the source of income. It may have been the defining issue of the 2018 electoral season in Baltimore County and, in fact, Olszewski believes it doesn't go far enough.
Brochin, Almond, and Redmer all opposed the anti-housing discrimination law.
During a visit to the Baltimore offices after his win, we asked County Executive-elect Olszewski a few more questions about his policies. And also a few questions about some other things.