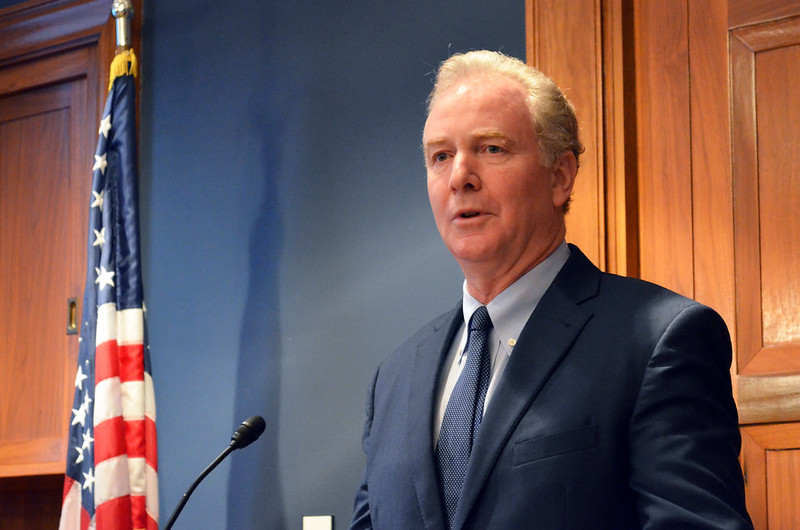 The list of things that President Trump has referenced on Twitter is so vast, that it has almost become a rite of passage for politicians and celebrities to draw his ire.
And on Tuesday morning, after an appearance on Fox News in which he called for witnesses in the president's ongoing impeachment trial, Maryland Senator Chris Van Hollen was added to that list. In a tweet calling Van Hollen a "no name Senator," the president lamented both Van Hollen's appearance, as well as his news channel of choice's decision to have him on its airwaves.
Really pathetic how @FoxNews is trying to be so politically correct by loading the airwaves with Democrats like Chris Van Hollen, the no name Senator from Maryland. He has been on forever playing up the Impeachment Hoax. Dems wouldn't even give Fox their low ratings debates....

— Donald J. Trump (@realDonaldTrump) January 28, 2020
Reminder that Fox is giving Trump his own personal adviser, Sean Hannity, for Sunday's Super Bowl interview.

Left, Fox's America's Newsroom, 10:03 a.m.
Right, Trump, 10:44 a.m. pic.twitter.com/c3hHXxMzwr

— Matthew Gertz (@MattGertz) January 28, 2020
"I thought it was interesting that he said 'no name Senator' and then provided my name," Van Hollen says. "I know the president likes to watch Fox News, and apparently he was watching. I was saying that I thought it was important that we call key witnesses as part of getting to the truth in this [impeachment] trial. Apparently President Trump was offended."
Van Hollen notes that he goes on Fox frequently, as he feels it's important to reach people across different cable channels. He doesn't think directly about the fact that the president might be watching when he does appear on Fox, but, as evidenced Tuesday, that is often the case. And a little more than an hour after the president's tweet, Van Hollen issued a rebuttal.
Glad you tuned in, Mr. President.

Now that I have your attention, how about coming down to the Senate to share your side of the story under penalty of perjury? https://t.co/vPRFQwbJyX

— Senator Chris Van Hollen (@ChrisVanHollen) January 28, 2020
"I think it's important not to allow a tweet directed at me not to go unanswered," Van Hollen says. "Obviously the president is trying to silence people like me by telling Fox not to let us go on. I think it's important to respond and I also thought it was appropriate, since we're engaged in the search for the truth, to welcome the president to the Senate and tell his story."
Van Hollen and his Senate colleagues are currently mired in a testy impeachment trial, one in which Democrats are currently hoping to sway at least four Republicans to their side in order to get the votes to subpoena witnesses. Procedures and rules were set in place last week for the Senate trial, which has extended for hours each day. As Van Hollen notes, this mandates a reserve of endurance as senators weigh both sides' arguments.
"Everyone needs their sugar fix after four or five hours straight on the Senate floor," Van Hollen says. "They are long hours, but it's an important moment for our country. I think everybody has a responsibility to pay attention, weigh the evidence, and make a decision."
Van Hollen is also in a unique position in the trial. On the first day of the Senate portion, he offered an amendment to the resolution of the rules, in which the Chief Justice of the United States, John Roberts—who is presiding over the trial—would have first ruling on allowing witnesses and documents. This would not preclude the Senate from overruling the Chief Justice.
"The proposal does not take away the senate's ability to override the chief justice by a majority vote," he explains. "It would just require in the first instance the chief justice to make determinations on witnesses and documents."
Though the amendment was struck down in its first introduction, Van Hollen says that, in the wake of new evidence uncovered in former National Security Advisor John Bolton's upcoming book, he is considering reintroducing it. "[It's] an impartial way to decide which witnesses have relevant testimony."
The next two days of the trial will now consist of two, eight-hour question and answer sessions from each of the 100 senators. Van Hollen will ask at least one question of the many he has submitted to Senate Minority Leader Chuck Schumer's office. But, as the day ends, he is taking stock of what has been a whirlwind—one in which he found himself in the president's crosshairs.
"It's a crazy day," Van Hollen says. "When you get in an exchange with the president, it raises the stakes. If this results in more people watching my interview on Fox News, I welcome that."