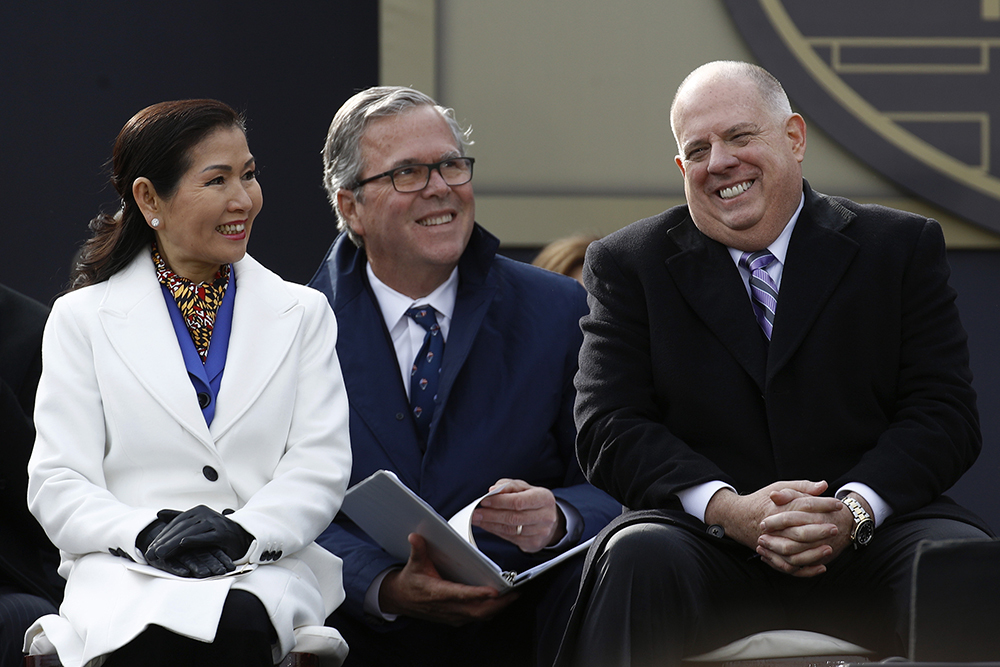 AP Photo/Patrick Semansky
Gov. Larry Hogan made clear the message he wanted to send at his second inaugural address when he announced earlier this week that former Florida Gov. Jeb Bush would introduce him at Wednesday's ceremony in Annapolis.
Maryland's Republican governor invoked Bush's father, former President George H.W. Bush, as well as former Sen. John McCain and his own father, former U.S. Rep. Larry Hogan Sr., the first Republican to come out for the impeachment of President Richard Nixon, in making the case for moderate leadership and bipartisanship in his address. Hogan did not mention President Donald Trump by name, or the current federal government shutdown, in his 1,700-plus word speech. But highlighting those former establishment-wing members of GOP leaders was widely viewed as a rebuke of the embattled president and de facto head of today's Republican Party.
"Party loyalty," Hogan said, quoting his father during the Watergate scandal with words that have a certain resonance at the moment, "and personal affection and precedents of the past must fall before the arbiter of men's actions: the law itself. No man, not even the President of the United States, is above the law."
Hogan pledged civility and a "humble, tolerant, respectful, and effective government that has worked together and found bipartisan, commonsense solutions."
Jeb Bush, of course, was initially the frontrunner to win the 2016 GOP presidential nomination before Trump's surprising takeover of the party's base. Hogan praised his model of leadership in purple Florida and his family's commitment to public service in his address.
"Let's repudiate the debilitating politics practiced elsewhere—including just down the road in Washington—where insults substitute for debate, recriminations for negotiation, and gridlock for compromise; where the heat, finger-pointing, and rancor suffocates the light, and the only result is divisiveness and dysfunction," Hogan said.
Hogan also made the pitch that Maryland has "already shown a better path forward" under his first term in the Governor's Mansion. He apparently has made a believer out of Jeb Bush, a frequent Trump critic. "What's happening here in Annapolis is the antithesis of what's happening in Washington, D.C., these days," Bush told the crowd of several hundred people in Annapolis.
In November, Hogan became just the second Republican governor ever re-elected in Maryland and first to be re-elected in 65 years. In such an overwhelming Democratic state, his moderate style and bipartisan approach has no doubt been due, at least in part, from necessity.
At the same time, Hogan has worked with the Democratic-led General Assembly on a number of issues, including banning fracking, protecting the state's Affordable Care Act provisions, and directing casino taxes to boost education funding. Last month, Hogan opened an event in Washington, D.C.—"Starting Over: The Center-Right After Trump"—because of his success governing as a moderate in the state.
After his double-digit reelection win over Democratic nominee Ben Jealous this fall, Hogan's name has been bandied about as potential national Republican leader and even future presidential candidate—should the GOP turn away from Trump and Trumpism. "[Hogan] lays a path that we might want to pay attention to," Jerry Taylor, president of the nonpartisan Niskanen Center think tank, told The Washington Post.
In his post-election remarks, Hogan blamed Trump for the Republican's overall poor results, and said he wants to be part of the national conversation about moving the party forward. At his post-inauguration gala, Hogan literally entered the event in carrying a purple surfboard, which he says he road over Maryland's blue wave.
Gov. Larry Hogan enters his inaugural gala with a surfboard at MGM National Harbor. When the Republican won re-election in November, he said he rode a purple surfboard over Maryland's blue wave of Democratic momentum in many other races. pic.twitter.com/tMNRe5MnuD

— Brian Witte (@APBrianWitte) January 17, 2019