Photographer Tom Scilipoti Has Chronicled Baltimore For Seven Decades
Scilipoti, 90, has captured everyone from President Kennedy to Tommy D'Alesandro III, and he's still going.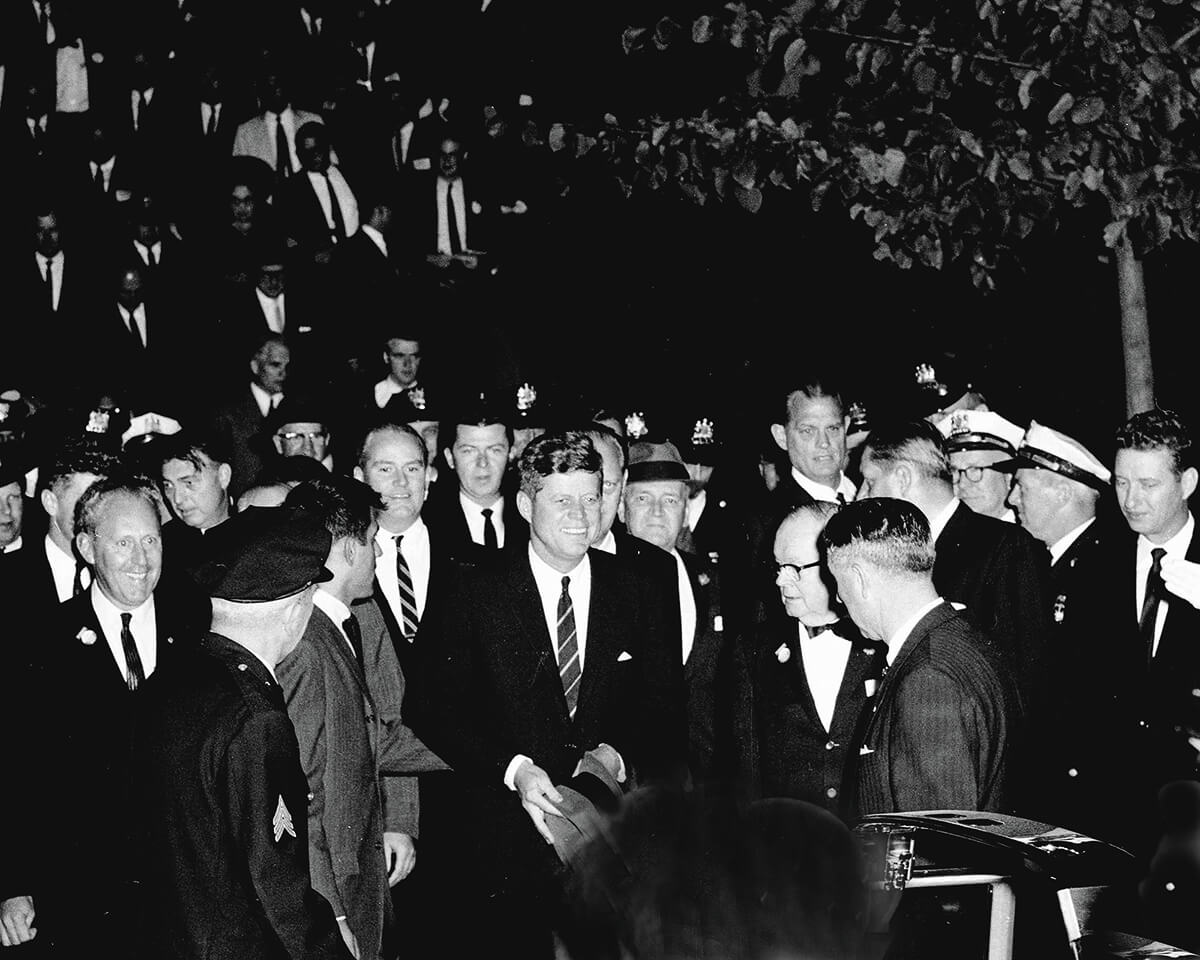 "The editor at The Baltimore Guide called and said President Kennedy was coming from Washington to give a speech at the armory," recalls Tom Scilipoti. "He said he was flying in by helicopter and was going to land at Patterson Park and asked if I'd be interested in shooting it. I said, 'Hell, yeah.'"
Scilipoti, who is now 90, was a barber by profession at the time and a photographer on the side. His Bank Street rowhouse had two leather barber chairs in the front living room and a red, white, and blue barber pole spinning outside his window. He put down the phone and his scissors, closed for the day, and ran down to the Fifth Regiment Armory for press credentials. He then hustled back to Patterson Park, where the charismatic 45-year-old Kennedy was scheduled to disembark from the presidential chopper in the early evening of October 10, 1962.
Meanwhile, word leaked out in the working class, heavily Polish, German, Italian, and Irish Catholic enclaves of Southeast Baltimore that the country's first Catholic president was literally landing in their midst. "If I close my eyes, I can see it like it was yesterday," says 65-year-old Marianne Weis. "We lived on Stiles Street in Little Italy, and I was in second grade at St. Leo's School. My grandfather, who was an Italian immigrant and didn't speak English, took me. We walked the whole way to Patterson Park together, and he sat me on his shoulders so I could see. I don't know how we got so close, but I remember telling my grandfather, 'e bello'—he's handsome."
"I was there! I begged my father to take me," says Carole McCracken, then also a schoolgirl, whose grandmother lived on North Patterson Park Avenue. "We got there early, and the helicopter landed right in front of us. President Kennedy got out, waved to everyone, and got into a limo. I was starstruck."
According to the Sun, some 30,000 Kennedy supporters turned out for the helicopter-and-motorcade parade to the fortress-like armory at the western edge of Mount Vernon-Belvedere. There, in front of a packed house, he delivered a rousing, progressive call-to-action—for the creation of a minimum wage, for clean rivers, better public schools, health care for the elderly, and a commitment to the space program—while making the case for the state's Democratic ticket, including Senate candidate Dan Brewster, who would unseat a Republican the following month.
Kennedy came to the state as a candidate and president, including once for a ribbon-cutting for I-95 on November 14, 1963, eight days before his assassination. McCracken also remembers the shock when he was killed. "I was 12 and in history class. Someone knocked on the classroom door and our teacher went into the hallway for a minute. When she came back in, she was crying."
"Did I like him? Oh, we all did," Scilipoti says. "It was his youth. His optimism. His ideas—he created the Peace Corps. He was Catholic. It was all those things."
Four years after his encounter with the president, Scilipoti—who received a Kennedy-signed thank-you letter after sharing some of his photos with the White House—permanently exchanged his barber chairs for a studio and dark room on Eastern Avenue. He'd been snapping free photos for The Baltimore Guide since he was 20 and was an award-winning member of the Baltimore Camera Club. By then, his photos of celebrities such as Mickey Mantle, Rocky Marciano, and Perry Como had also earned him local acclaim. He served as the official photographer at his buddy Tommy D'Alesandro III's inauguration, as well the photographer for the wedding of Tommy's little sister, Nancy Pelosi.
Over the years, he took thousands of family, communion, graduation, and wedding portraits, and shot entire Catholic school yearbook photos over his three decades on Eastern Avenue. He also chronicled Baltimore everywhere he went, capturing the tugboats in Fells Point, stevedores unloading bananas on Pratt Street, and the massive breweries in Canton. Jacqueline Watts, the now-deceased former editor of The Guide, which published Scilipoti's photos for 65 years before folding in 2015, once noted he was also one of the first white photographers in the city to document Black residents going about their workaday lives.
"My hobby, what I loved, became my livelihood, and I feel lucky about that," says Scilipoti, who still exhibits his work and contributes to two Maryland maritime publications. "I don't have any regrets. Other than closing my studio in 1996 after my heart attack. The doctors, they said, 'It's a risk. You shouldn't work. Too much stress.' Well, I've had two heart attacks now, and I've got 13 stents, but my heart is still ticking. I'm here and I'm still going."