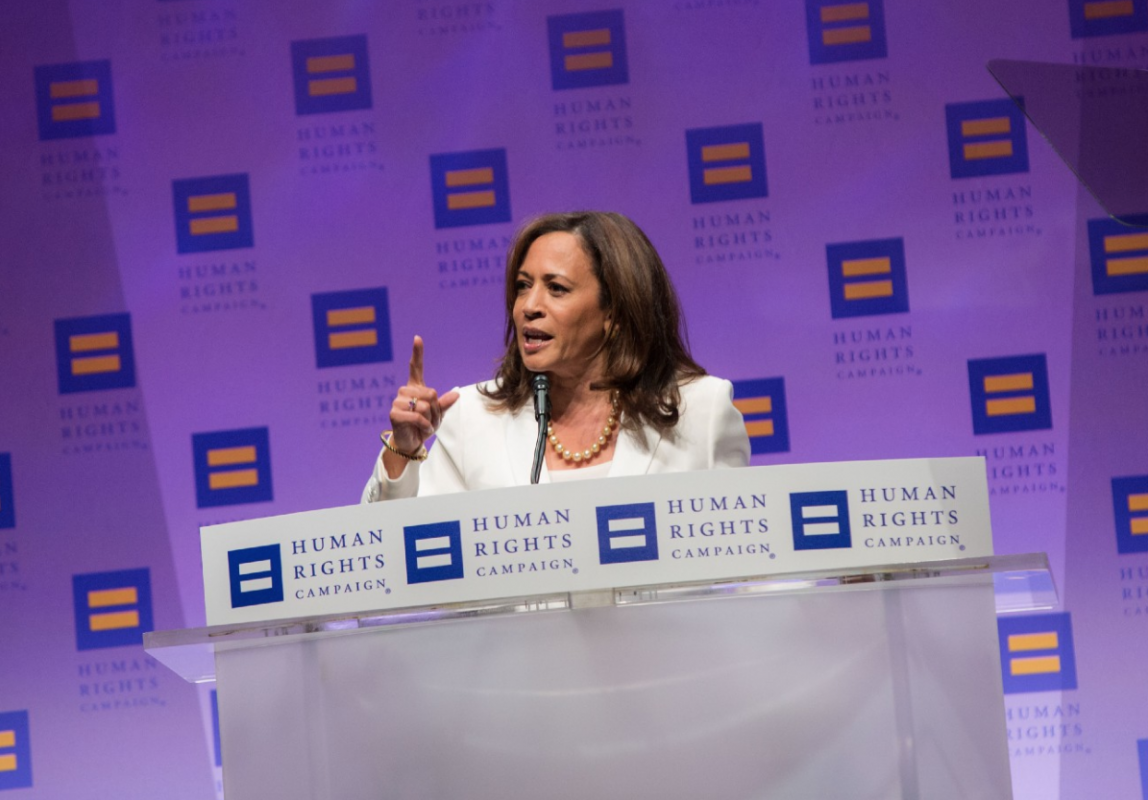 Kamala Harris
California Democratic Sen. Kamala Harris, the first African-American to announce as a 2020 candidate for president, did so symbolically today on Martin Luther King, Jr. Day. And, her team confirmed to Baltimore magazine, the Harris campaign will be headquartered in Baltimore.
Why Harris believes she is the best person to serve as the next president of the United States is important—as is her record and her vision for the future. Those issues will certainly be addressed in the coming months, but Harris' announcement also begs another, immediate question: Why Baltimore?
Earlier this month, the San Francisco Chronicle reported that Harris had been looking to line up an East Coast location for her headquarters so that she would be near the major cable news outlets all of which operate on Eastern Time. Harris already has a strong presence on the West Coast so placing her campaign headquarters in Baltimore—square in the densely populated Mid-Atlantic region—quickly helps introduce her to a new set of voters as well.
"My initial reaction is that this is a really great move for a few different reasons," said Mileah Kromer, associate professor of political science at Goucher College and the director of the Sarah T. Hughes Field Politics Center. "Baltimore is majority African-American city at a time when the backbone and lifeblood of the Democratic Party is African-American women, like those who turn out to vote here. It's a setting that can play an outsize role in generating resistance to the Trump Administration. And, maybe foremost, it's a city where the intersection of justice and race matters when she's touting her record as a prosecutor and on criminal justice issues."
Kromer adds that Harris' record as California's top prosecutor and that state's attorney general could potentially generate some controversy in Baltimore's activist community. But addressing those issues head on in a city like Baltimore sends the message that she's a serious candidate.
The Harris campaign would not comment on when her Baltimore office will open or where it will be located, but did say a second campaign office will open in her hometown of Oakland, where a kick-off rally is scheduled for January 27. Harris' logo—with its red and yellow colors and theme, "Kamala Harris For the People"—is a nod to another pioneering president bid: Shirley Chisholm's 1972 campaign.
Will thread info on Harris' announcement here, including staff hires and background info. Obviously it's heavy on symbolism: not only MLK Day announcement, but comes 47 years to the day as Shirley Chisholm's 1972 campaign kickoff. Even Harris' logo was meant as a nod to Chisholm pic.twitter.com/fhV5ha8I4B

— Steadman™ (@AsteadWesley) January 21, 2019
The 54-year-old Harris was by no means a stranger to the East Coast before her election to the Senate in 2016, however. She earned her B.A. From Howard University in Washington, D.C. in 1986. Harris has made a name for herself in the Senate from her seat on the high-profile Judiciary Committee, using her position to seize a Democratic leadership role on national issues from Supreme Court nominations to the Trump Administration's child separation policy at the southern border. Her sister, Maya, former executive director of the ACLU of Northern California and Hillary Clinton campaign policy advisor, will serve as the campaign chair.
Harris previously made an appearance in Baltimore as one of the headliners of the NAACP's national convention in 2017. She also joined Ben Jealous at one of his campaign rallies in Prince George's County over the past summer. In the lead-up to election season, Harris has recently published her memoir, The Truths We Hold: An American Journey. A Facebook page, Kamala for Maryland, seeking campaign volunteers, launched in December.
Harris is not the first—nor certainly the last—Democrat who will make a bid for the nation's highest office. Former Maryland Congressman and Montgomery County business John Delaney has been off and running since 2017. Sen. Elizabeth Warren of Massachusetts announced her candidacy at the end of December and Sen. Kirsten Gillibrand of New York announced last week. U.S. Rep Tulsi Gabbard of Hawaii has also launched her campaign—bringing, with Harris' entry, the number of women already vying to become the 46th president to four. Former Vice President Joe Biden, U.S. Senators Cory Booker of New Jersey, and Bernie Sanders of Vermont, among a host of others, are considered likely to join the fray.
Diane Fink, executive director of Emerge Maryland, a nonprofit that identifies and trains Democratic women seeking political office, was thrilled to see both that Harris was throwing her hat into the ring—and that she planned to open her campaign headquarters in Baltimore.
"The more women running for public office, for any public office, the better," Fink says. "When one or two women are running among 10 men, their voices get lost and they're subject to more unfair sexist attacks."
Fink noted that just the presence of Hillary Clinton in the 2016 race created a huge uptick in the number of women running for office. She believes Harris' campaign, being based in Baltimore, could have a similar impact citywide and statewide.
"It's inspiring and demystifying when you see someone else up close run—especially if they are approachable, it takes some of the fear and apprehension of running away," Fink says. "Maryland already has a strong history of women running for high office—Senator Barbara Mikulski and Speaker [Nancy] Pelosi. I think we'll see many more women stepping up."