Chez Madame Musée
Walters exec Julia Marciari-Alexander puts the "home" in Homeland.
"I would hope that people would describe it as modern-traditional 'shambolic,' with an emphasis, perhaps, on the last word," The Walters Art Museum's executive director Julia Marciari-Alexander says with a laugh. She's talking about the interior design of the four-bedroom Homeland house she and her husband, John Marciari, bought in 2013, which is, just for the record, anything but a shambles. But it's clear the goal is simple: Forget the Joneses and just make the place comfortable for the home's eight denizens, human and otherwise.
Those would include herself, her husband, 11-year-old twins Beatrice and Jack, plus a menagerie of pets: Pancake the bearded dragon and cats Smitten, Lovey, and Dovey. As for the modern-traditional, that comes in the form of what Marciari-Alexander lovingly calls a "mishmash" of furnishings and artwork: some brought from their last home, a custom-build in southern California, others handed down through family or picked up over the years, and some given or made by friends.
Almost all of it came with them when they packed up their West Coast lives and moved to Baltimore so that Marciari-Alexander could take over as the museum's fifth executive director, the first woman to hold the post.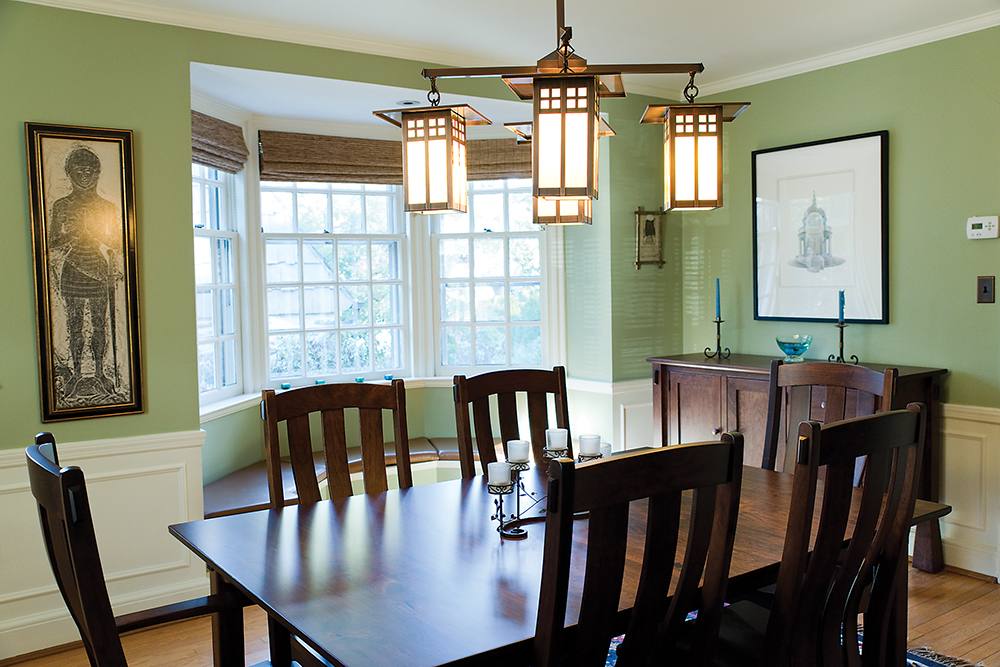 Though the timing wasn't exactly planned, the landing in Baltimore was not quite surprising, either.
"When you're a young, aspiring museum professional, people ask you what your five dream jobs are and one of mine was always the Walters," says Marciari-Alexander, who most recently was deputy director of curatorial affairs for the San Diego Museum of Art.
But there was also an existing Charm City connection: Prior to her California stint, she spent 12 years in various roles at the Yale Center for British Art in New Haven, CT, and for three of those years, her husband was commuting to Baltimore to teach at Loyola University. And Marciari-Alexander got to know and love both the museum and the city. "So we were thrilled that we ended up back here," she says.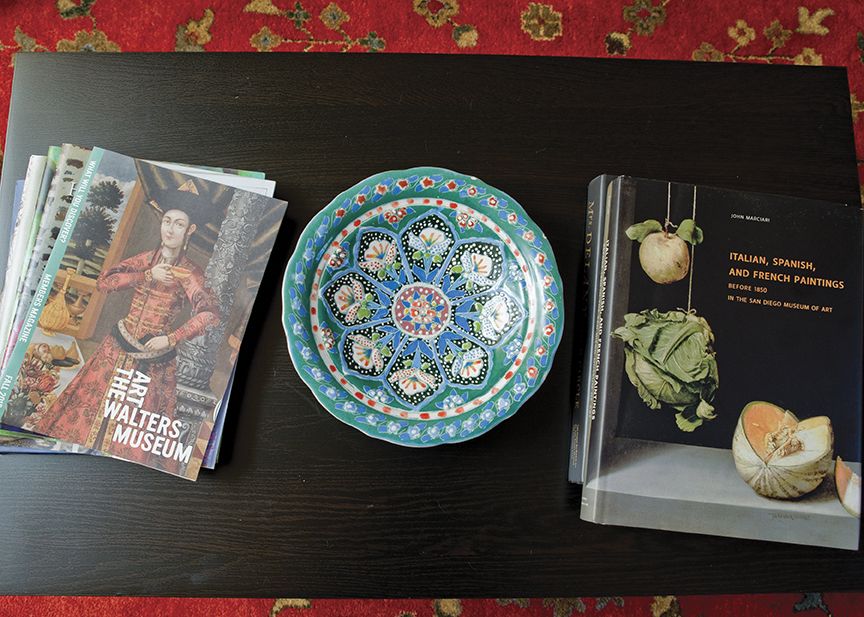 Though they considered a few homes in Baltimore County, "we very quickly knew we wanted to be in Roland Park or Homeland," says Marciari-Alexander. John Marciari knew the areas especially well: At Loyola, he'd taught a class on landscape architecture and gardens and often used Homeland—the creation of the two sons of Frederick Law Olmsted, America's first landscape architect—as an example of neighborhoods that have park-like settings without looking overly designed.
In California, they'd gone for new construction, but their New Haven home had been a 1922 Colonial. "We loved the idea of coming back into a historic development that really reflected the idea around city planning," says Marciari-Alexander. "That was really important to me, to be part of the city fabric and to support the city as a homeowner."
The Homeland house turned up early on in the search, but though it seemed ideal, "we thought it was kind of out of our price range," Marciari-Alexander recalls. The family's search took them through a host of Roland Park Victorians—"big houses, small rooms," she says—but they kept circling back. "We really loved this neighborhood and this house."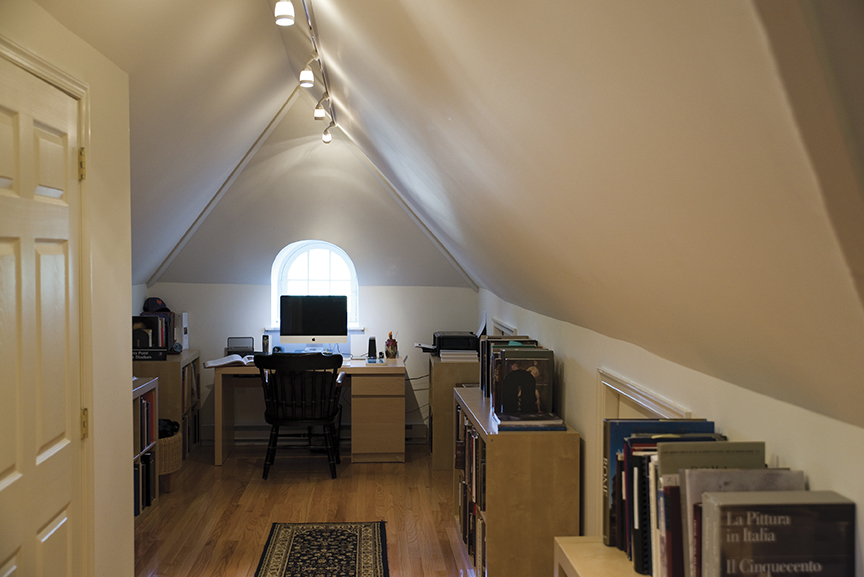 A big part of the appeal to the two art-history aficionados was that it was designed in the early part of the last century by the darling design duo of Palmer-Lamdin—architects Edward Livingston Palmer Jr. and William D. Lamdin—and is one of the pair's "Cotswold Cottages," with a meandering layout, "destinational" rooms, and intimate interiors.
The elegant first floor seemed ideal for the occasional small dinners Marciari-Alexander hosts for work. And a third-floor space jokingly dubbed the "man garret" (since "man cave" isn't quite right for the sunlit room, she says) seemed the perfect home office for Marciari, who was about to embark on a year-long book-writing project. (Mission accomplished: The finished work now sits on bookstore shelves and the family's coffee table and Marciari has since moved on to a job as a curator and head of drawings and prints at the Morgan Library & Museum in New York, commuting home on weekends.)
For Marciari, the quiet third-floor space was certainly alluring, "but the biggest selling point for us with the house was the classic design," he says. "The combination of exterior stone and slate and the woodwork inside really appealed to us."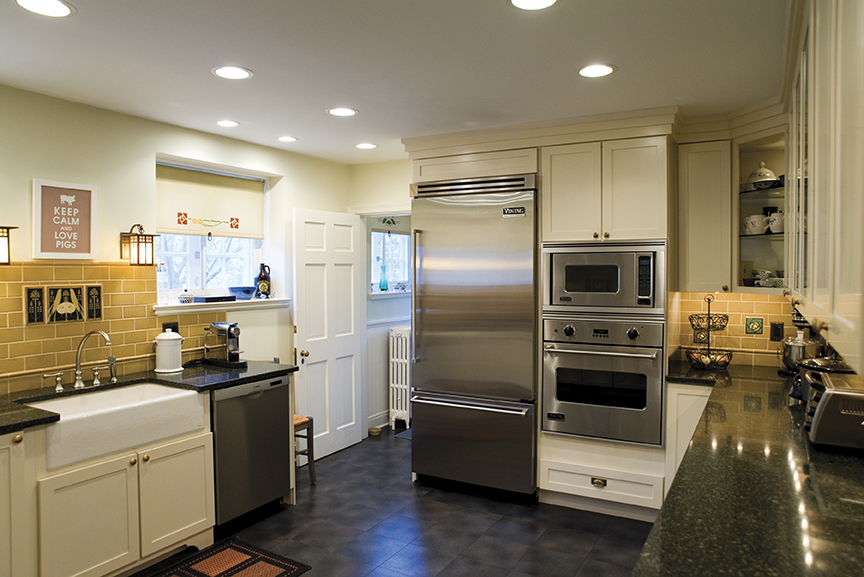 There was another big plus, too: The home was not only move-in ready, but "the previous owners had refurbished the house and the similarity of their taste to ours was really striking," says Marciari. Arts and Crafts-style touches like the Stickley-inspired built-in table in the breakfast nook, Stickley-inspired radiator covers, and the William Morris wallpaper were reminders of the home Marciari-Alexander's parents had lived in (and of John's time as curator of a Stickley exhibition at the San Diego Museum of Art). Kitchen tiles inspired by Scottish artist Charles Rennie Mackintosh also caught their eye.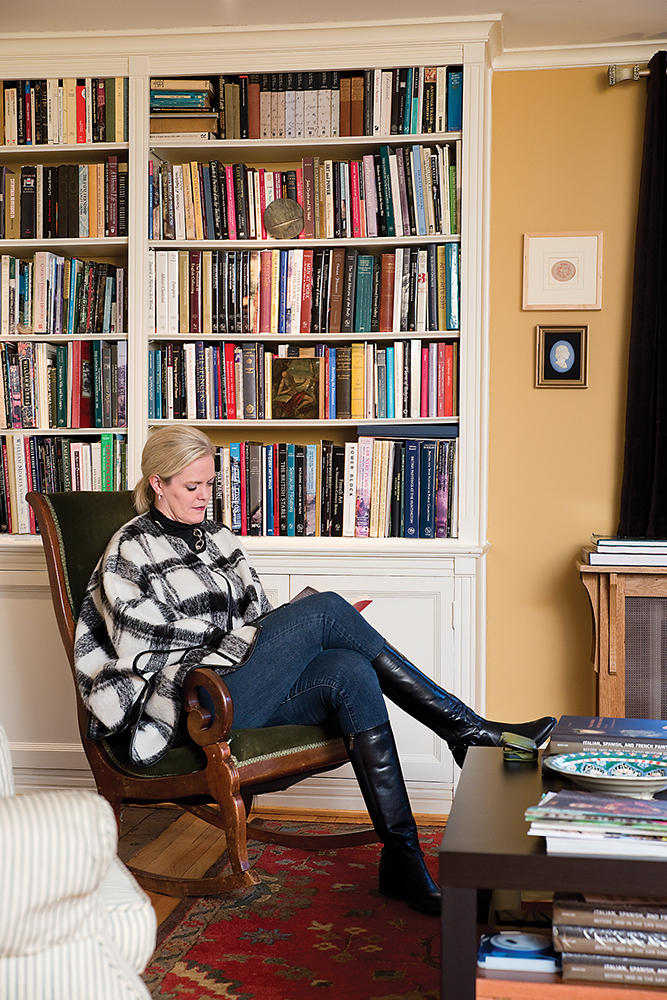 That she'd have little to do before moving in was a boon for Marciari-Alexander, who had just taken the helm of the Walters, where she faced the challenge of "following a terrific director." The most daunting task was thinking about "new ways to view and talk about this collection that is so cherished by so many," she says.
At home, the challenge was finding space for the couple's significant collection of books (which leans, no surprise, toward art history) and marrying their home's style with their eclectic collection of furnishings and art.
In the two-and-a-half years since they moved in, the Walters exec has continued the expansion of the museum's digital collection and continued to help the public access the museum's collection in new ways. At home, the family has gotten an even greater appreciation for the intimacy of the space. Says Marciari-Alexander, "We're very much homebodies, so livability is really it."
---
Julia Marciari-Alexander in 30 Seconds
Age: 48
Early years: Grew up in Claremont, CA; completed undergrad studies in art history and French at Wellesley; earned a master's and Ph.D. in history of art at Yale University, plus a master's in French literature from New York University.
First knew art was in her blood: During a family trip to Rome while she was in 6th grade. "It was 1979, so the then-Pope was brand new. We went to mass in St. Peter's. We're not Catholic, but spending that day in St. Peter's and experiencing how architecture and art and life can create these moments of wonder was a really formative moment in my life."
Favorite book on her bookshelves: "All books by my husband, most recently his Italian, Spanish, and French Paintings Before 1850 in the San Diego Museum of Art (2015). This represents an important and entire chapter of our life together and all the people from that moment."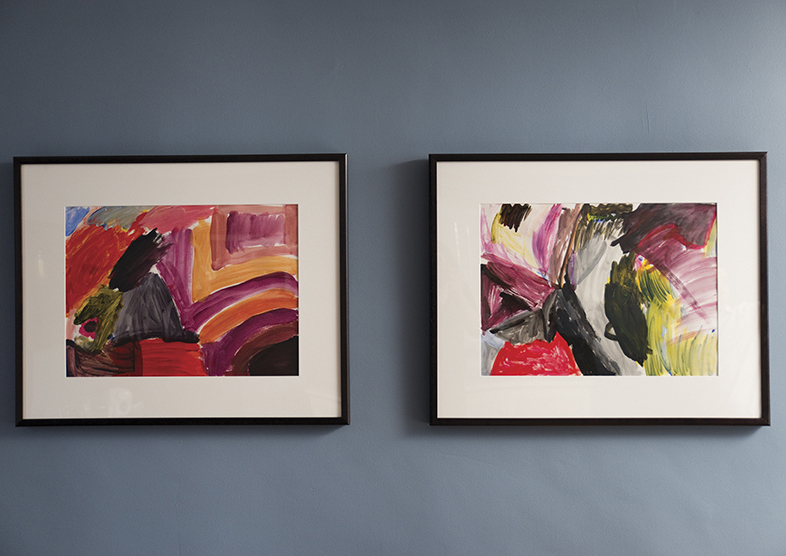 Favorite piece of art at home: "My favorite changes every day. . . . I take great joy especially in the two watercolors by my twins that hang in my bedroom."
Favorite corner of The Walters: The jewelry collection. "Maybe that's a little bit obvious for a gender stereotype, but I love the fact that jewelry is one of the art forms that brings together artistic expertise, technology, materials, and what the zeitgeist was doing at the time."