Full House
Local destinations for furnishings with character.
As anyone who has lived in a college dorm or white-walled rental can attest, the right furnishings turn a house into a home. Not only do furnishings make a space more comfortable, they show off personality. Are you more into a bold, minimalist loft with clean lines and pops of color, or a bohemian rowhouse with exposed brick walls and layers of color and texture?
From stocking sofas that will squeeze into Canton's notoriously narrow rowhomes to custom-designing a table that works for a vast, open-concept kitchen and living space, local business owners know their clients and their city, making furniture shopping (even more) fun for customers.
And when it comes to a significant investment that you'll be using daily, there's really no substitute for experiencing furniture in-person before you buy. That's why we've compiled this ode to independent brick-and-mortar furniture stores, from high-end modern design studios to quirky antique shops, and everything in between.
Contemporary & Traditional
BECKET HITCH
After moving Becket Hitch into its new, larger spot in Greenspring Station this spring, owner Kohli Flick is finally able to stock more of the larger items she loves but that wouldn't fit in the store's prior home. That means more furniture—from upholstered cocktail tables and couches to supple leather side chairs. A MICA grad, Flick stocks the shop with the perfect finishing touches to infuse a room with your personality, from textured, woven throw pillows to nautical wall decor and rustic dishware. 2360 W. Joppa Rd., Lutherville-Timonium, 410-296-4818
DREAM HOUSE FURNITURE AND DESIGN
Whether you need help picking the color and style of a new couch or want a full home makeover, Dream House Furniture and Design can make your vision a reality with its combination of thoughtful design services and furnishings from Cassandra Senn Vaira, Wendy Flynn, and Mary Beutler. Nestled on downtown Frederick's Patrick Street, home to vintage, clothing, and other boutiques, Dream House stocks furniture from American Leather (known for its decidedly chic recliners) and CR Laine (for those embracing color and texture in upholstered furniture) alongside everything else needed to outfit a room, from lights and art to wallpaper and rugs. 102 E. Patrick St., Frederick, 301-360-0680
MCLAIN WIESAND
Channeling the ethos of the great 18th-and 19th-century artisans and ateliers, custom furniture designers at McLain Wiesand craft ornate pieces that would look at home in the most decadent, historic buildings—and clients often commission them just for that purpose. Owner David Wiesand's maximalist aesthetic has been on display at his Mount Vernon by-appointment showroom and personal apartment above for nearly two decades. Wiesand's one-of-a-kind creations include gilded mirrors, hand-painted details, intricate metalwork, and ornate faux finishes. 1013 Cathedral St., 410-539- 4440
SHOFER'S FURNITURE
With more than 70,000 square feet of show- room over five floors, Shofer's Furniture has one of the largest selections of furniture in Maryland, making it an easy first stop for any budget or style. From its original Federal Hill location (a former Hecht's Department Store acquired by Harry Shofer in the 1930s), attractively styled living room and dining room scenes beckon shoppers inside, where third-generation owner Henry Shofer and his team steer loyal patrons through more than 200 brands to find the perfect fit. 930 S. Charles St., 410-752-4212
SU CASA
Su Casa hits that perfect balance between fun and sophisticated, stocking every- thing from quirky kitchenware to upholstered couches and one-of-a-kind furniture and decor from local makers. With two decades in the business, Nick Johnson knows his customers. Each shop (Fells Point, Ellicott City, Bethany Beach, and Ocean View, Delaware) takes inspiration from its location, and white-glove delivery from a crew that's used to narrow doors, awkward stairwells, and tight spots means getting your new space together faster. 901 S. Bond St., and other locations, 410-522- 7010
URBAN THREADS
Like an interior-design Instagram feed come to life, this boutique carries bedding,
draperies, and throw pillows, along with select on-trend furniture—think a rattan
peacock chair, luxe velvet accent chair, and a rustic, live-edge coffee table highlighting the wood's natural shape. Owner Jane O'Donoghue moved Urban Threads from Ellicott City to The Shops at Kenilworth earlier this year. You can even design your own custom pillows for the ultimate finishing touch. 800 Kenilworth Dr., #854, Towson, 410-769-8485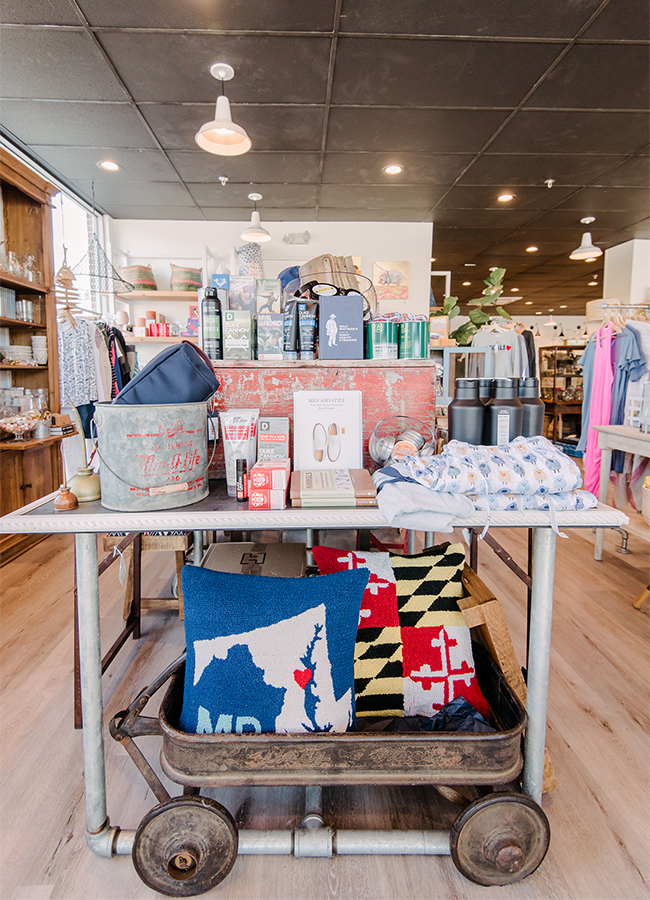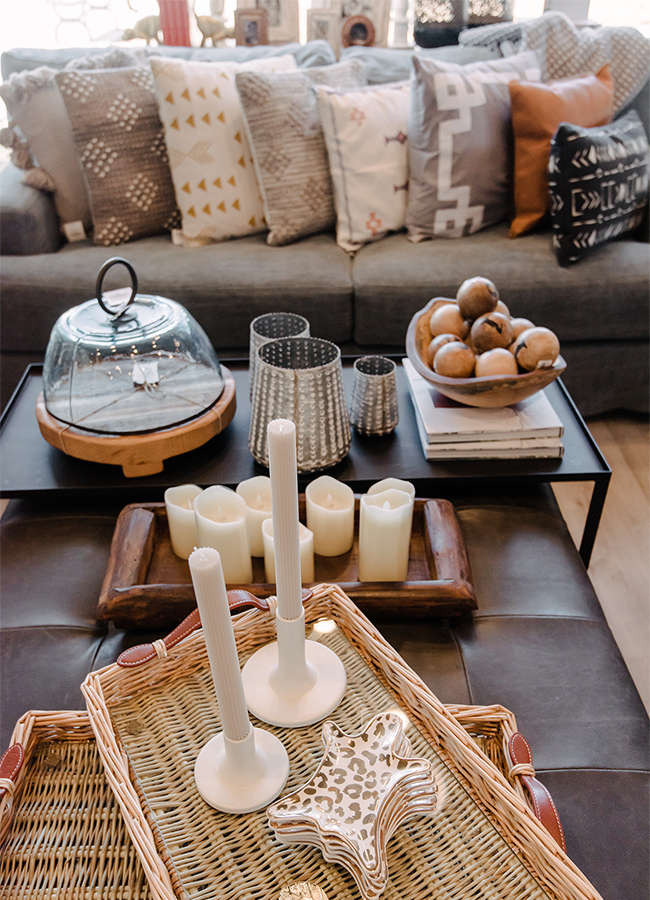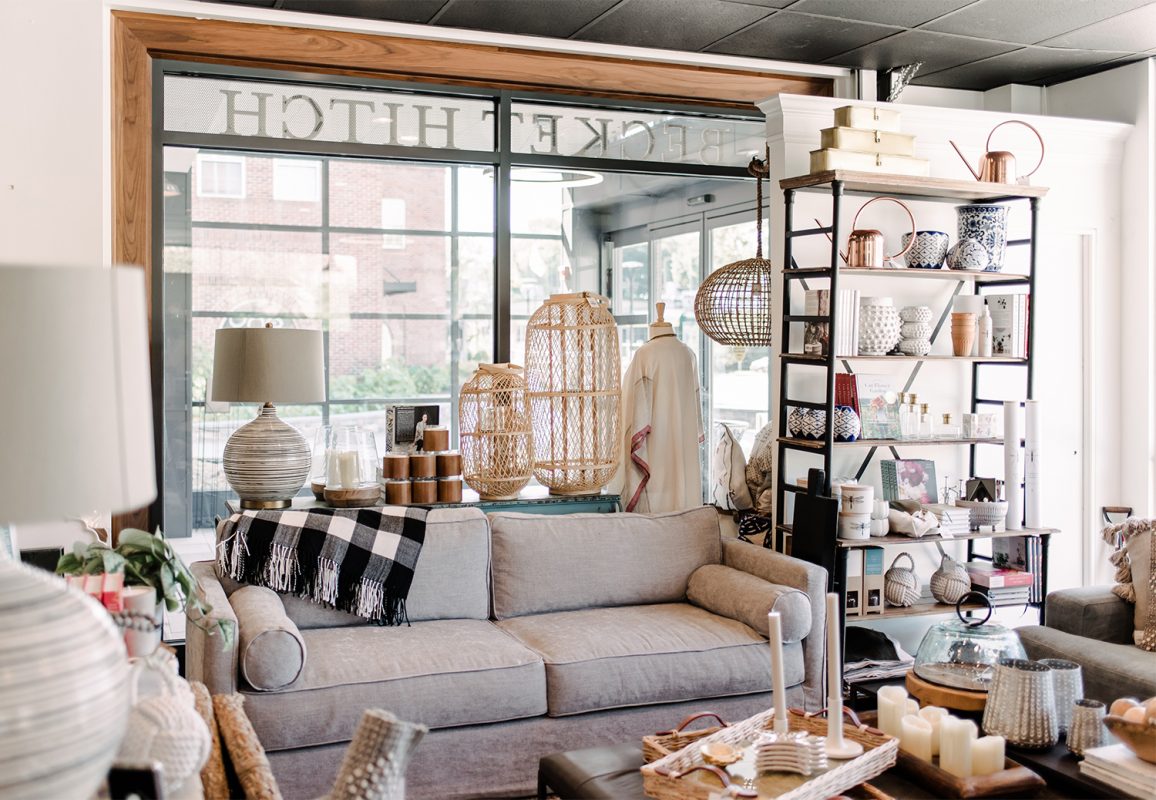 Modern
DESIGN DISTILLERY
The pieces at this chic storefront are hand-selected with Baltimore urban living in mind. Brought to life after owner Karen Graveline began a search for modern furnishings for her own digs, Design Distillery continues to stock furniture that feels at home where Baltimoreans live, whether that means a loft or narrow rowhome. From its origins as Home on the Harbor 15 years ago, Design Distillery has grown physically (it moved to new, 9,000-square-foot digs off Key Highway in 2016) and in scope. You'll find modern pieces from brands including Gus Modern, Knoll, Masaya, and Blu Dot arranged into floor sets that make it easy to envision them in your space. Best of all, the team is happy to coach customers in their design choices to make furniture shopping fun. 1414 Key Hwy., 410-433-1616
INDOOR FURNITURE
Don't let its big-box exterior scare you away—Indoor Furniture in Columbia has been sourcing contemporary, modern, and Scandinavian-inspired furnishings for the Baltimore and D.C. area for more than 30 years. Its 35,000-square-foot showroom brings together high-quality home and office furniture, from family-owned Danish brand Skovby, known for pioneering extension systems for tables, to its best-sell- ing, sculptural Estelle dining chair from Vermont-based Copeland Furniture. 8895A McGaw Rd., Columbia, 410-381-7577
MIY HOME
Michael Ryan Wright and Seth Barkman live by the motto, "What's mine is yours." It inspired the name of their modern furniture shop in Fells Point, MiY Home. The showroom—in a triple-wide rowhouse—spans four levels, plus a rooftop deck highlighting outdoor furniture. The cozy showroom stocks versatile, modern essentials for urban living, many of them sustainable and made in the U.S. Wright and Barkman's recommendations are based their expertise, not product descriptions—many of the pieces they stock also furnish the couple's home above the shop. 1605 Eastern Ave., 410-881- 0187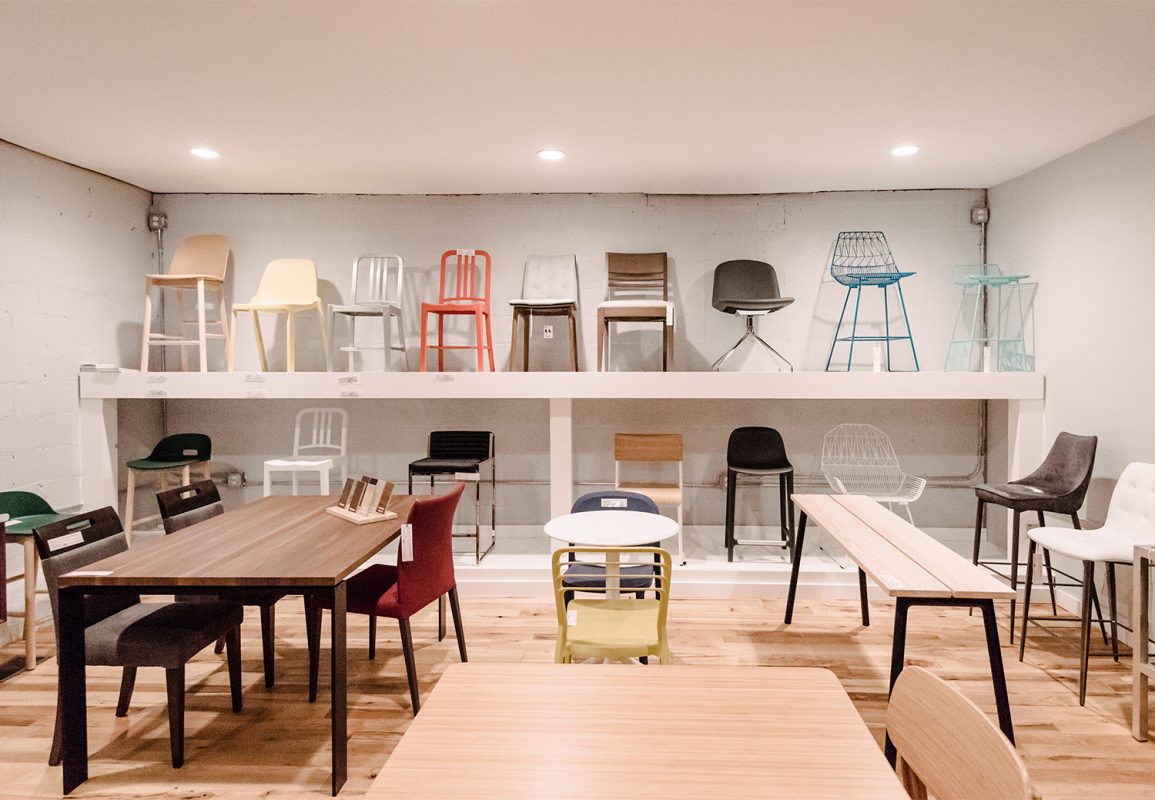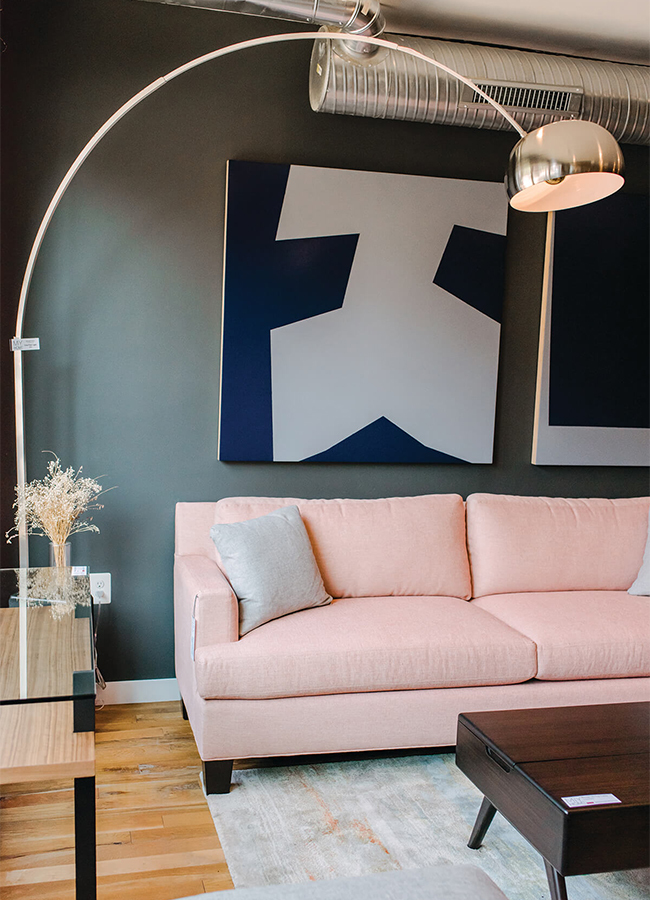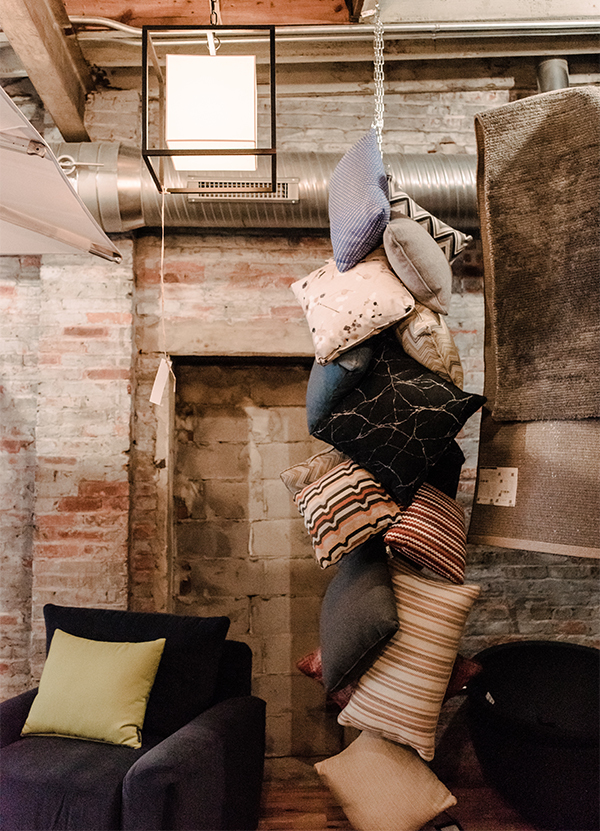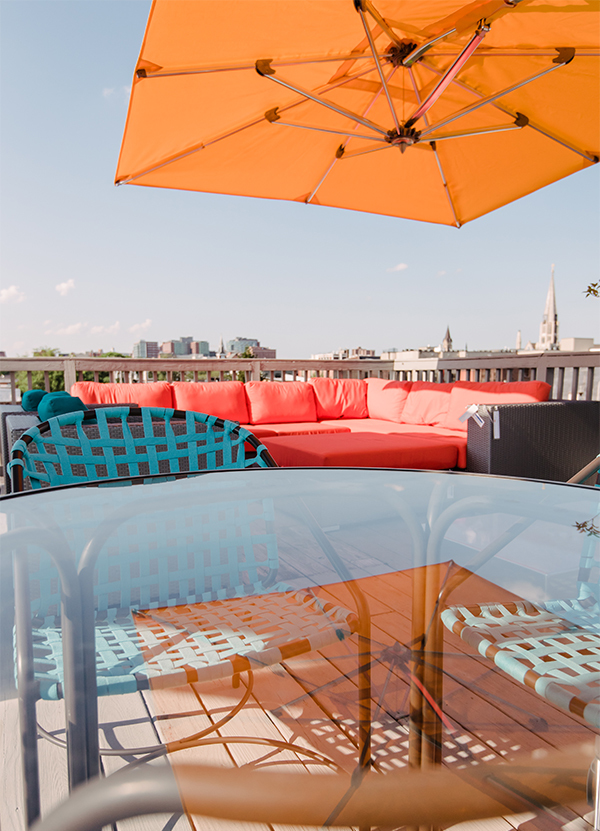 ANTIQUE, VINTAGE, & RECLAIMED
ANNAPOLIS MARITIME ANTIQUES
Nautical lovers, rejoice! This Eastport shop offers maritime-themed home decor, artisan jewelry, high-end antiques, and rare artifacts from around the world. Does it sell tote bags with anchor and nautical knot prints? Sure. But this shop, owned by Navy veteran Tony Kime, goes beyond the typical preppy coastal decor trend to stock authentic antiques such as an 1800s-era anchor used by watermen on the Chesapeake Bay, perfectly weathered ropes and pulleys, vintage sailing instruments, and an extensive collection of historic photographs from navies around the world. Kime also creates custom furniture that incorporates nautical elements. 128 Severn Ave., Annapolis, 410-268-7490
ANTIQUE EXCHANGE INTERIORS
From antique furniture to consignment and new items, Antique Exchange on Chestnut Street in Hampden has it all—and somehow makes old and new fit together effortlessly. The whitewashed brick rowhome stocks brands like Worlds Away, Jonathan Adler, and Dwell Studio alongside classic antiques sourced by co-owner Tom Finnerty, like a Dutch cabinet from the early 1800s and Victorian-era painted ceramics. With nearly 30 years in business, Finnerty's shop has evolved from strictly antiques to an eclectic mix of classic and current pieces, including gifts and smaller home-decor items such as candles, coffee table books, and pillows and throws of all patterns and textures. 3545 Chestnut Ave., 410-532-7000
BAREFOOT DWELLING
Stroll in or by appointment, this treasure trove in downtown Annapolis is chock full of the elements interior designer and owner Lisa Quina favors when putting together a comfortable space that's full of a client's personality: mid-century modern furniture, industrial lighting, and vintage textiles. Like an elevated vintage shop, Barefoot Dwelling explodes with color and texture. Its walls are lined with quirky paintings in rustic wood frames, and pillows in vintage fabrics and patterns are stacked up on top of teak chairs. 65 Maryland Ave., Annapolis 443-603-4386
CEDAR & COTTON
The best furniture styles of the past half-century have found a new life at Cedar & Cotton, a vintage home-furnishings company in Southwest Baltimore. Friends and decor lovers Raina Smallwood and Nasira Latif lovingly source and refurbish vintage finds, from classic upholstered teak dining sets to bohemian bamboo and cane barstools—even retro sofas with funky fabrics. 208 S. Pulaski St., Ste. 2A, 443-990-1427
MARY KAY'S FURNITURE
Frequented by local interior designers looking for high-end estate pieces, Mary Kay's Furniture brings together fine Danish, Art Deco, and mid-century furnishings acquired from across the country on Falls Road. With an encyclopedic knowledge of furniture, owner Mary Kay can tell you the designer, era, and often the history of the pieces she sells. Find statement lighting, like a five-tier spiral clear-glass chandelier by Venini or like-new teak scissor lounge chairs by Swedish designer Folke Ohlsson. 6245 Falls Rd., 410-852-4896
OFF MAIN
Just off Main Street in Ellicott City, this appointment-only and online shop from Lyssa Balick and Kelric Goodman lovingly sources and restores mid-century, retro, and Americana furnishings. Follow them on Facebook for posts about each piece as it comes in, from Bassett dressers in rich wood tones to vibrant vinyl couches and lounge chairs in attention-grabbing colors. If you're looking for something specific, let Balik know—she has a running list of clients looking for certain items and will email them when one comes in. 417 Oella Ave., Catonsville, 443-851-3221
PARADISO
Tucked between Voodoo Glass Company and The Food Market on The Avenue in Hampden, Paradiso's ever-changing window in its chartreuse-green storefront shows off the mix of antique and modern furnishings and decor inside. From husband-and-wife team Sharona Gamliel and Ric Martinkus, the eclectic store offers everything from a rare 1950s bar cart by Cesare Lacca for Cassina to Art Deco posters and mid-century modern leather sofa and chairs by Brazilian designer Percival Lafer—all in pristine condition. 1015 W. 36th St., 410-243-1317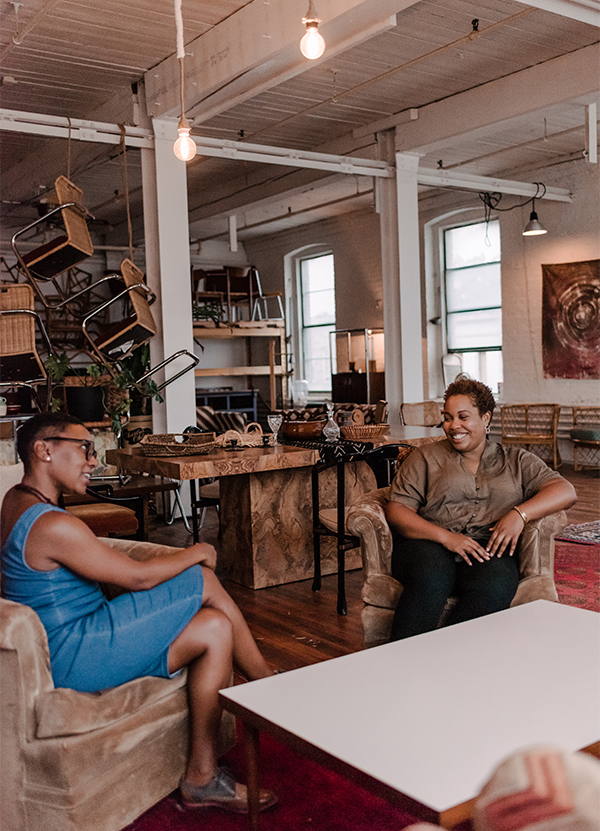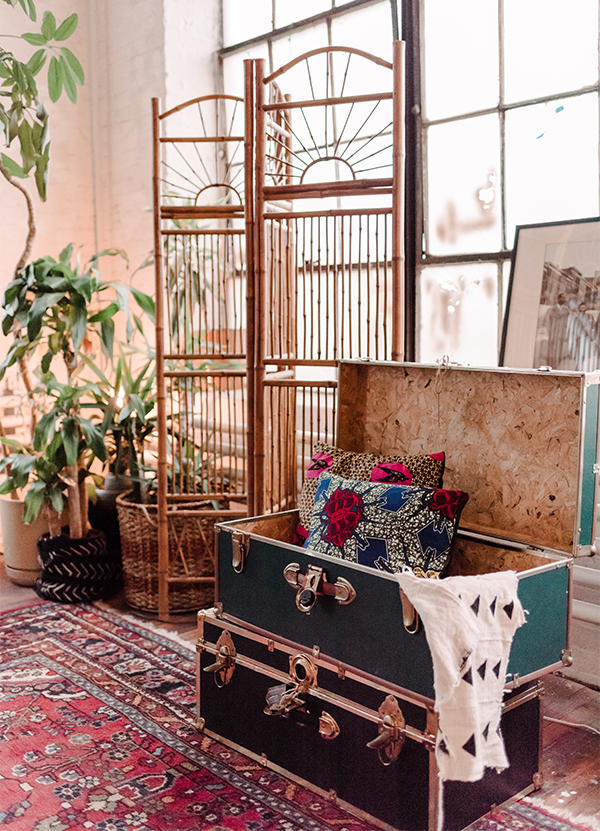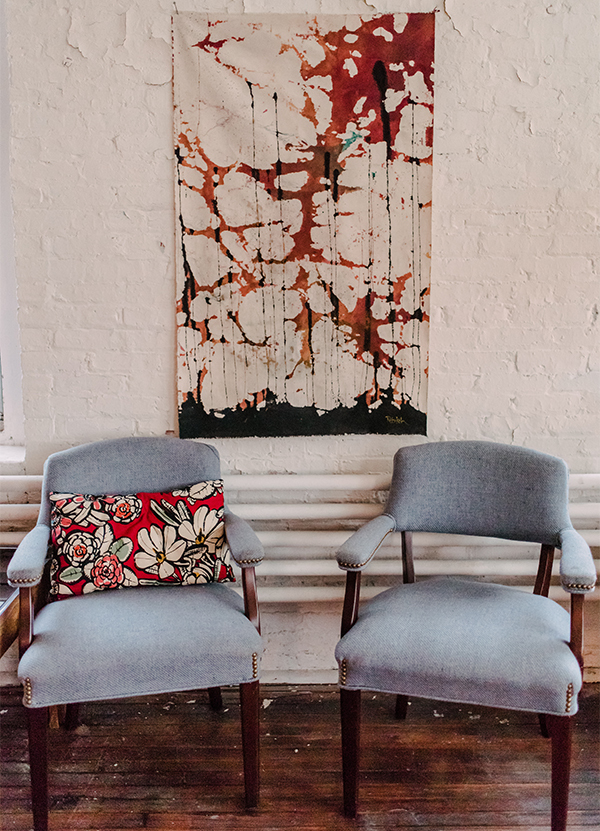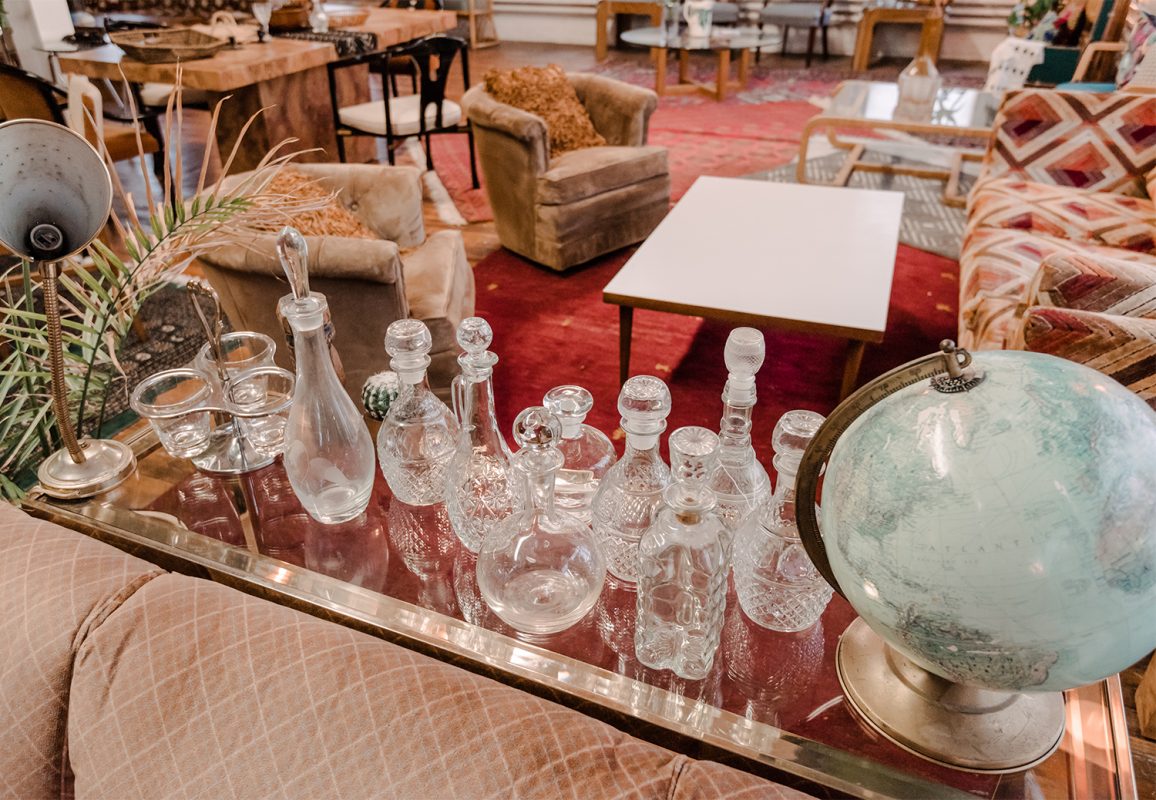 RYAN'S RELICS
If you enjoy the hunt, there's no better place than Ryan's Relics. With two locations on Belair Road in Nottingham, this store has been bringing affordable estate furniture to Baltimore since 2004. Wander through the tight aisles stacked high with furniture to find anything from a painted Japanese screen to an upholstered cedar chest and mid-century dining sets. Because Ryan Chandler and his team liquidate estates, there's constantly new merchandise, including other interesting and sometimes bizarre items, such as vintage games and toys, jewelry, musical instruments, and even used vacuums. 7900 and 8100 Belair Rd., 410-870-6493
SECOND CHANCE
A nonprofit that salvages materials for repurposing by the public, Second Chance's massive warehouse stocks everything from doors and windows in various sizes and colors to rows of vintage and retro appliances, furniture (everything from mahogany credenzas to '90s-era sofas), and original architectural details saved from Baltimore-area buildings (think ornate fireplace mantles, reclaimed hardware, and brass door knockers). You never know what you'll find at Second Chance, and that's part of the fun. 1700 Ridgely St., 410-385-1700
URBAN INTERIORS
Kathleen Anguera has a knack for arranging furnishings to make a space feel like home. It's a skill she perfected after living in five countries around the world and studying interior design in England, and one that she continues to perfect as owner of Urban Interiors. Anguera landed in Baltimore in 2015, opening her antique shop just off The Avenue in Hampden about a year later. Filled with mid-century pieces (from an arc floor lamp to a matching rattan couch, chair, and ottoman), the brick-walled shop offers statement pieces at affordable prices. If you're not sure what your space needs, Anguera is happy to lend a hand rearranging the furniture you already have and adding new elements for a total refresh. 1200 W. 36th St., 434-907- 3168
VINTAGE MC
Step through this Frederick shop's bright teal door and enter a world of mid-century finds, from Danish teak dining sets to an Eames-style chair and ottoman duo. Clearly, the "MC" in the shop's name means mid-century, but it's also the initials of owner Mindy Cawley, who opened her ode to home goods from the mid-20th century in 2017. After outfitting her Frederick 1950s rancher in era-appropriate furnishings, Cawley began selling furniture from booths in Cannon Hill Place Antiques before making the decision to open her own store, attracting fans of the Mad Men aesthetic from D.C., Baltimore, and beyond. 103 S. Carroll St., Frederick, 240-514-8623
WISHBONE RESERVE
On nice days, Wishbone Reserve's roll-up garage door is open, beckoning passers-by with unobstructed views of its bohemian collection of Persian rugs, vintage furniture, and quirky, retro furnishings. From the wooden-boat-turned-planter outside to the salvaged movie-theater sign compelling shoppers to "Fall in love with Wishbone Reserve" and "Vote! Vote! Vote!," this vintage, antique, and consignment shop man- ages to feel like a hip friend's home that you want to hang out in for a while (and whose style you want to copy in your own home). Arriving in Hampden by way of Mt. Washington last year, design-obsessed friends Athena Hoffberger, Julie Lilienfeld, and Ryan Haase make the shop available to local artists as a gallery, too. 3811 Falls Rd., 443-961-3376
Consignment
THE CLEARING HOUSE
For more than 30 years, The Clearing House has been giving Towson-area residents' furniture a second life. Its 7,000-square-foot showroom stocks both antiques and newer items, like Arhaus sectionals, Oriental rugs, and fine china sets. Sisters Lisa Hudson and Cara Derr are the second generation to run this beloved shop, which sees the same customers returning to sell and buy for years. 200 W. Padonia Rd., #5, Timonium, 410- 561-4546
GREAT FINDS & DESIGN
A consignment store with the feel of a boutique design studio, Great Finds & Design arranges its unique furniture, jewelry, and home-decor items into styled vignettes, so it's easy to picture each piece in your own home. Sisters Camille Quillen and Dianne Doccolo bring in like-new items that fit the contemporary and transitional design aesthetic, from brand names like Restoration Hardware, Blu Dot, Crate and Barrel, Mitchell Gold, and more. Items are priced fairly and are reduced by the amount of time they remain for sale on clearly marked tags. 1924 Greenspring Dr., Timonium, 410-561-9413
OBJECTS FOUND
Drive down Egges Lane in Catonsville and a sea of statuary (from aliens and goblins to Buddha and St. Francis) catches your eye. Lawn art is a summertime best-seller for Objects Found, a consignment store overseen by veteran antiques dealer Reggie Laskauskas. From quality mid-century furniture to quirky knick-knacks from the past 50 years, Objects Found is filled to the brim with items worth a look and wading through the sea of treasures (think old-school video games, Baltimore Colts memorabilia, Shaker furniture, and vintage glass bottles) is half the fun. Call Laskauskas and her team before moving or redesigning—it's likely she'll find value in items you may have already thrown in the box marked "donate." 11 Egges Ln., Catonsville, and other locations, 410-744- 9000
THE TURNOVER SHOP
A consignment store serving Baltimore since the 1940s, the family-run Turnover Shop sells high-quality furniture, home decor, art, and estate jewelry out of a tidy white rowhouse with blue trim on Roland Avenue. Mother- daughter team Alice Ann Finnerty and Alice Ann Martin hand-pick the best items from estates and downsizers to consign in their shop, from a DWR patio set to a set of turquoise wicker chairs and a 19th-century mahogany chest. 3855 Roland Ave., #1, 410- 235-9585
TWIG
After running a gift shop for many years, Olga French was looking for a more sustainable business model. In 2011, she opened Twig, a consignment and antiques shop in Columbia offering a second life to statement furniture (a pair of smoked Lucite, mid-century tulip chairs), tabletop wares (retro fondue pot, anyone?), and lighting (Tiffany- style to modern). Drop in during the week for consignment appraisals, or by appointment on Saturdays. French also sells local art out of Twig, like the colorful, textural paintings from Sandra Wexler. 9170 Old Annapolis Rd., Columbia, 410-740-221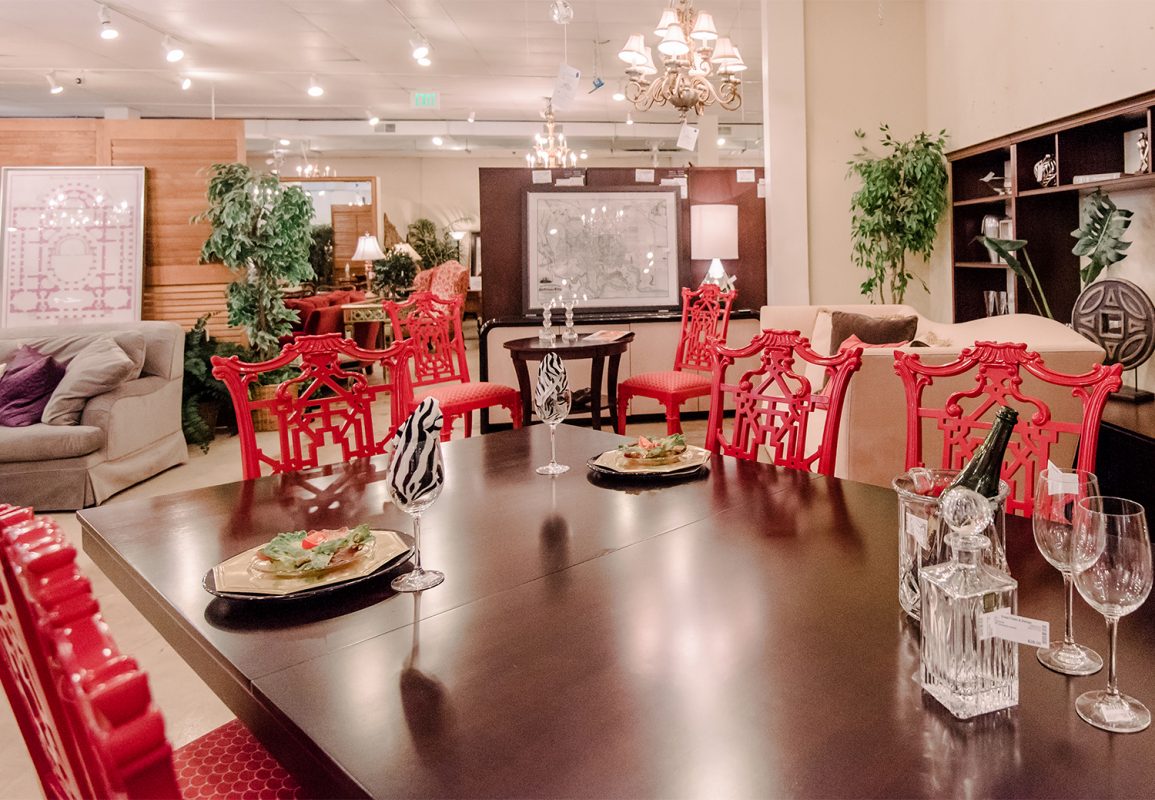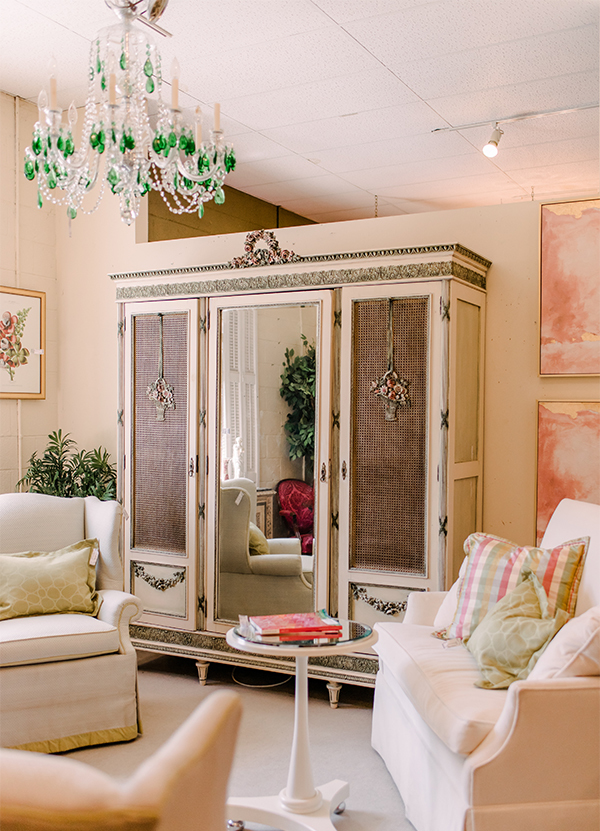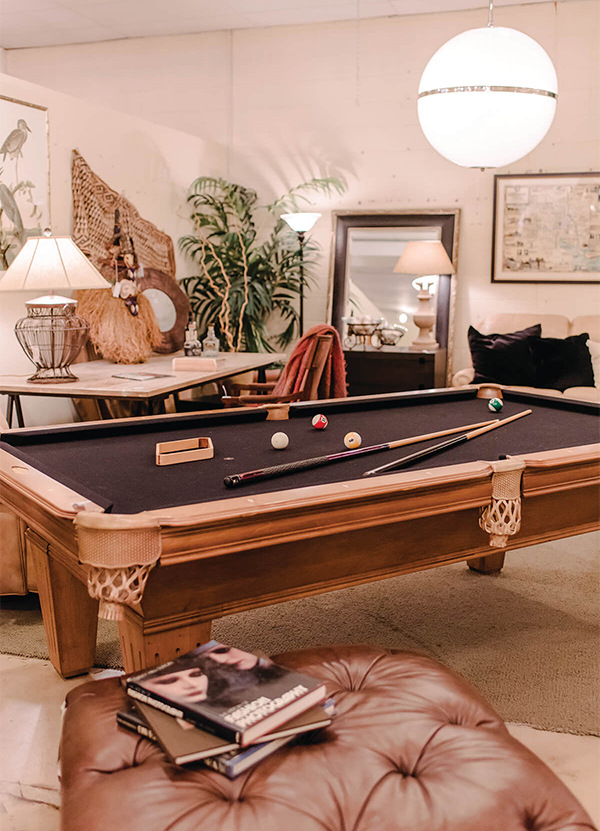 RUSTIC & INDUSTRIAL
HOUSEWERKS
From the 1880s-era former headquarters of the Chesapeake Gas Company, Ben Riddleberger has been collecting and selling salvaged architectural, ornamental, and decorative antiques for nearly 15 years. Stained-glass windows, industrial ceiling lights, salvaged tile and ceramics, and vintage signage makes up just a fraction of the character-laden items at Housewerks. If you've already got a piece that needs a little TLC, Riddleberger can help restore it, too. This past June, Housewerks hosted the inaugural season of the Pigtown flea market. 1415 Bayard St., 410-685-8047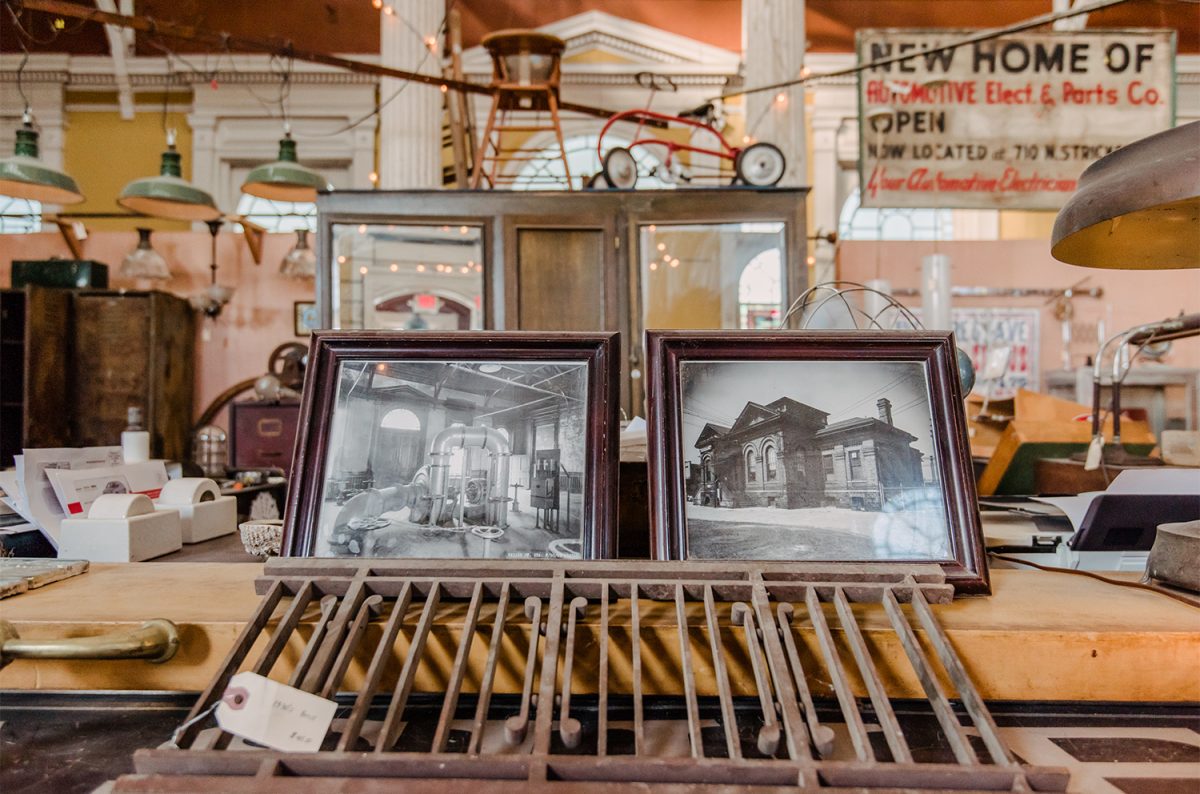 INDUSTRIAL HOME
Veteran designer Christopher Ritchie honed his skills with clients including Starbucks, Bryan Voltaggio, Neiman Marcus, and Restoration Hardware before pouring his passion into Industrial Home. Since opening in 2013, the Frederick business has outfitted industrial-chic homes and businesses with its own line of custom furniture and rustic home decor, from buttery leather sofas to live-edge tables and adjustable metal barstools that look like they were pulled from an old-school science lab. While the aesthetic is decidedly rugged, Ritchie's designs look just as at home in a log cabin as a light-washed modern loft. 154-A N. Market St., Frederick, 301-360-0600
CUSTOM
CRUMP & KWASH
Combining sculptural and architectural elements, the pieces from design-build studio Crump & Kwash are functional works of art. Founded by business partners Justin Kwash and Paul Crump in 2015, the duo's modern-retro aesthetic has landed its furniture in numerous interior design publications (from Domino to Architectural Digest), and even in the bedroom of actress Ashley Tisdale (custom-finished Phillip nightstands). After moving into a new workshop in Hampden earlier this year, Crump & Kwash will open a showroom to the public this fall. 1525 W. 41st St., 410- 537-5184
OLIVR STUDIO
Master craftsman Tony Oliver arrived in Baltimore by way of Extreme Makeover: Home Edition, where he was a lead carpenter. After meeting his wife during the filming of an episode in Baltimore, he relocated to Charm City and launched Dylan Design Company in 2012. Last year he paired the move to a new workshop space with a new name: Olivr Studio. His minimalistic designs let the materials sing, from the English bridle leather-wrapped Cale Settee to the stone-topped Maeve console with geometric, stained-wood legs and bronze hardware.
BLISS WOODWORKS
A class on woodworking taken at the Station North Tool Library set Kate Christian on a path that culminated in the launching of Bliss Woodworks. Christian's custom-furniture company offers a variety of luxe furniture combining meticulous details (brass inlays, rounded corners, and a variety of finishes) with reclaimed materials. Find her work for sale at retailers that support local makers, like Trohv in Hampden and the Made in Baltimore store in Station North.
CAMPOS IRON WORKS
This workshop crafts industrial, metal, and reclaimed wood creations from a studio in the Crown Industrial Park between Brewer's Hill and Greektown, but sends its custom pieces to corporate and residential clients across the country, thanks to a healthy online following on Etsy and Amazon Handmade. Founded in 2012 by designer and engineer Marcus Comfort, Campos Iron Works' pieces expertly com- bine form and function. Most, like the popular adjustable drill-press stool or stand-up, sit-down office desk and stool combo, feature welded steel and moving parts in a French industrial style. 4401 Eastern Ave.
SANDTOWN FURNITURE COMPANY
Since 2010, the skilled craftspeople at Sandtown Furniture Company have been saving old-growth pine lumber from demolished buildings in Baltimore and repurposing it as high-end furniture. Each piece, from the modern, square-beam Ellwood coffee table to the classic, trestled farmhouse-style Hamilton dining table, takes on a unique quality from the wood's character. Baltimore pride flows through Sandtown, from furniture named after neighborhoods to the signature pewter emblem on each finished piece, declaring it "built with pride from wood with character in Baltimore." You'll find Sandtown's work in local businesses as well, like the communal tables at the new Broadway Market in Fells Point. 1830 Belt St., 410-299-9833