A Place to Write Home About
The fancy trappings of luxury apartments and condos beckon a special breed.
After living in Washington, D.C. while advising Barack Obama on domestic policy, 38-year-old Jason Green was looking to relocate. Green, who holds a Yale University law degree and has always had an interest in community empowerment strategies, had been doing related work in Detroit, and saw a lot of the same activity happening in Baltimore.
"Both areas have a powerful spirit, an energy, and people investing in the city," he says. "It made me want to live in Baltimore. And since I didn't know anyone in the area, I was looking for a place that offered me a community."
Green, who recently co-founded Skillsmart, a specialized recruiting firm, chose 414 Light Street, a new luxury rental.
And like many of the high-end apartments and condos that have been popping up in the metro area in recent years, it had everything he needed, and then some.
As an example, the 7th floor has 40,000 square feet of indoor and outdoor recreation amenity space where residents can sunbathe at the rooftop pool, have an evening meal in the al fresco kitchen, watch movies on the 16-foot, dual-sided screen, or work out at the 4,000-square- foot fitness center.
"The fitness center is so incredible that I gave up my gym membership," says Green. And since so many people work from home—and even more are expected to in the wake of the coronavirus—Baltimore's luxury residences have provided common areas for them, too. There's also a space where you can hold a meeting.
The developers of these fairly exclusive communities haven't forgotten Fido, either. At the 2Hopkins complex in Hopkins Plaza, for instance, the building offers indoor dog parks for both large and small canines, and a residents-only pet spa, while 414 Light Street has a pet park and pet spa, complete with a treat-filled vending machine.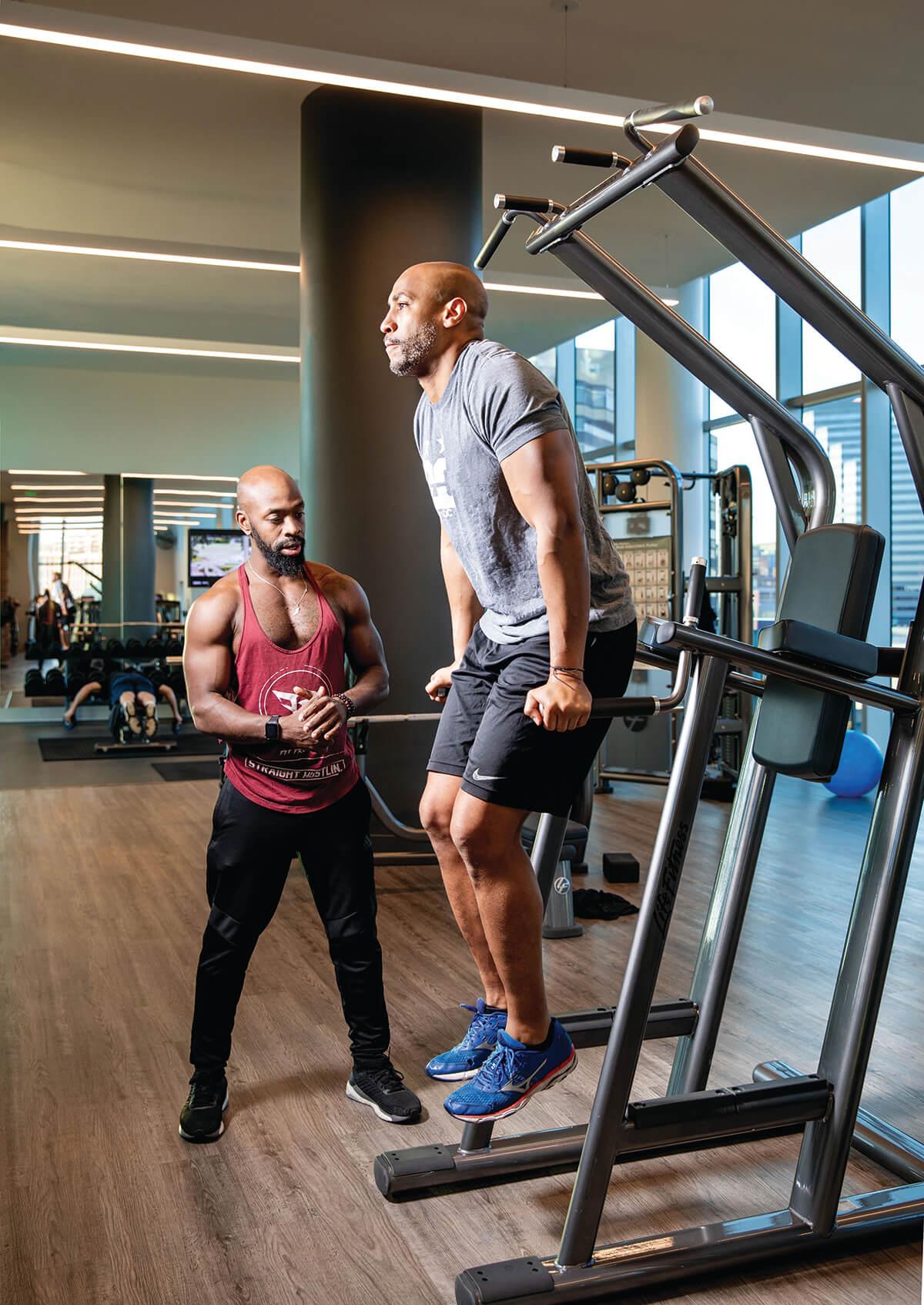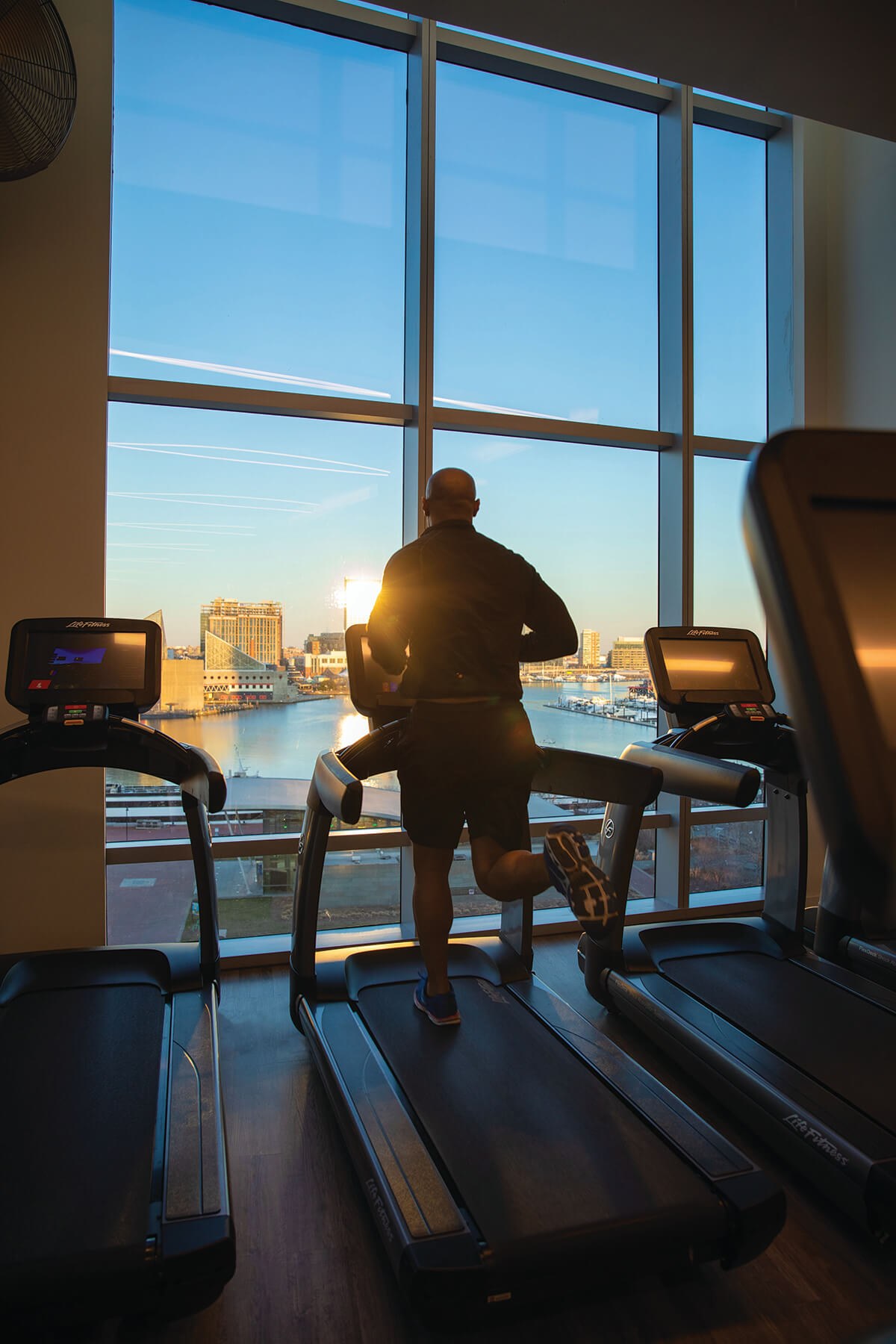 It's all part of a grand demographic plan, says Stephen Gorn, CEO of Questar, who, along with his VP son, Zachary, developed 414 Light Street, a 394-unit complex towering above Baltimore's Inner Harbor that is Maryland's tallest residential building at 44 stories.
"We wanted to be part of the urban renaissance going on around the Inner Harbor and throughout downtown Baltimore," says Gorn. "And we think there will be a lot more high-quality residential buildings in downtown Baltimore, not just apartments for rent, but also condominiums."
That's already happening: Charm City is experiencing a building boom of residential high-end luxury apartments and condos, and the market for them is strong. (If you're wondering why one would rent instead of buy a condo, it's often about the time involved if you have to sell, the risk of losing money, and the hefty annual taxes).
According to a 2019 Yardi Matrix report, Baltimore's market was riding the wave of employment gains in high-paying industries pre-COVID-19. It's a trend marker watchers hope will continue.
Re-adaptive use of older buildings—of which Charm City has no shortage—has also played a part in the boom, such as in the case of 2Hopkins, which reinvtented the former Mercantile Bank Trust building.
But the primary drivers are two very different demographic groups that both want an urban live/work/play environment: high-paid millennials and baby boomers.
"Millennials and baby boomers want the same thing: convenience," says Julie Thompson, senior vice president of Bozzuto Management Company, the 800-pound gorilla of high-end housing in the city. "They want proximity to entertainment, shopping, grocery stores, and restaurants. They want shorter commutes and walkability. They prefer the convenience of walking out of their apartments and having everything at their fingertips."
Karen Hubble Bisbee, associate broker and principal of Hubble Bisbee Group of Long & Foster/Christie's International Real Estate, says empty nesters, in particular, want the urban lifestyle. "They are footloose. They want that lock-and-leave, carefree way of life. When they travel, they don't want to worry about their house and when they are home they want great restaurants and everything at their doorsteps."
Although most of the boom in these high-end residences has, indeed, occurred in the city, the larger suburbs are also seeing some similar developments popping up.
Among them is the Towson Promenade, which is minutes from Towson University and the shopping and dining of Towson Town Center Mall, as well as Metro Crossing at Metro Centre in Owings Mills, which is right on the Metro line and I-795 and within walking distance of shopping and restaurants. And while lacking the bright lights of the big city, they offer high-end amenities similar to their urban cousins.
So where do the younger residents, in particular, get the money? Kimberly Clark of the Downtown Partnership of Baltimore says part of the answer is Baltimore's major employers, such as Under Armour, The Johns Hopkins University, the University of Maryland, Legg Mason, and a growing number of start-up companies. And those employers, in turn, are attracting well-educated millennials from out of the area.
These affluent millennials are highly discriminating, which Gorn, like the other developers of similar residences, understands. "We wanted to do something that was a new vision for the apartment market for our region and certainly for downtown Baltimore. And we wanted amenities that rival a five-star resort."
That kind of concept was a draw for 39-year-old Chicago native Claudia Panning, who moved to Baltimore in 2015 for a job after living in Washington, D.C. and Memphis. "I was renting in one building, but decided I wanted more space and more amenities," says Panning, who chose Liberty Harbor East, a Bozzuto property with 282 rentals and 33 condos.
Panning adds, "With such a great fitness center, I've started exercising again."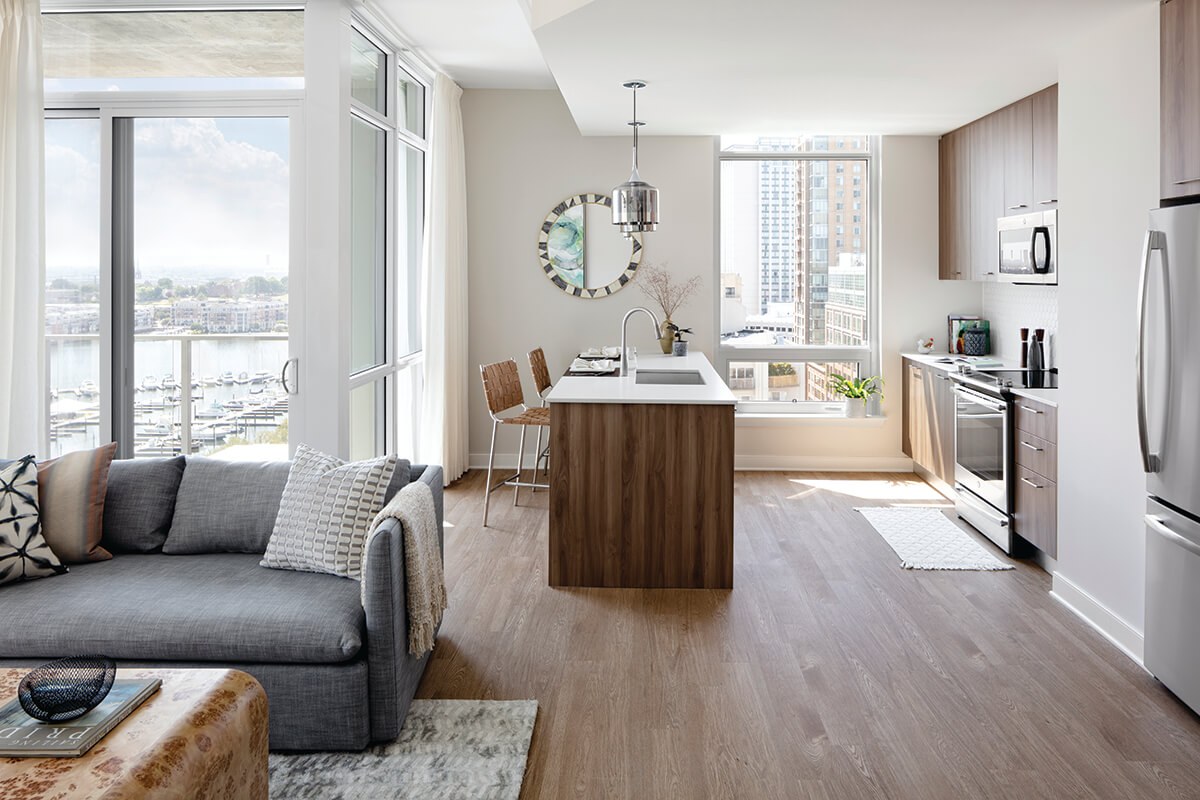 Like many such developments, Liberty Harbor East has an area where you can host dinner parties, cabanas by the pool, workspaces, a study lounge, and a demonstration kitchen for resident events. And now, with the Flagship Whole Foods Market and its harborview cafe in the building, residents have another perk.
And, of course, there's the requisite pet area—while Panning's apartment overlooks the building's dog park, and she loves seeing the dogs, she admits it's her cat that is most obsessed with the action.
Think of these high-end complexes as neighborhood-meets-cruise ship.
And that environment doesn't happen by accident—it's orchestrated to some extent. 414 Light Street, for example, has two managers responsible for overseeing the lifestyle program, which includes robust health and wellness offerings, managing community engagement and resident events, and ensuring overall resident satisfaction. "They've hosted dinners at Morton's and Phillips," says resident Green. "And for New Year's, we watched the fireworks."
Given that the complex has such a massive TV screen, Green decided not to have a TV in his apartment. So, during football season, he watched the Ravens with fellow residents. "It's sort of like a college dorm," says Green, "where you can meet other people, but in an ultra-luxury setting."
Convenience plays a big part in attracting residents, too. Green, who lived in a single-family home in D.C., says, "When I got an Amazon package, I had to worry that it might be taken. Here, I never have to think about it. I get a text when I get a package. And they can also take care of my dry cleaning." The 24/7 concierge staff also can help with travel, restaurant reservations, and groceries. Gorn says, "They do the mundane to the more elaborate."
---
AMENITIES AND PRICING
Here are some examples of what Baltimore's high-end apartments and condo towers have to offer:
414 LIGHT STREET APARTMENTS
414 Light St., 844-823-9996
Apartment features: smart home technology, walk-in closets, stainless-steel appliances
Prices: Studios $1,700–1,950; one-bedroom $1,900–2,700; one bedroom plus den $2,800–3,000; two bedrooms $3,200– 4,800; two-bedroom and den $4,700–4,800. Penthouse units include hardwood floors throughout the apartment and replaces, 10-foot ceilings, wine refrigerators, and private terrace gardens in select plans. Penthouses range from $4,000 to $8,000–plus.
LIBERTY HARBOR EAST APARTMENTS
1301 Aliceanna St., 443-701-4774
Apartment Features: designer kitchen with quartz countertops, tile backsplash, and under cabinet lighting; stainless-steel GE appliances; Kohler faucets; full-size washer and dryer; hardwood-style flooring in kitchen and living areas.
Prices: Studios $1,821–1,936; one-bedroom $2,190–2,406; two-bedrooms $3,716
Liberty Harbor's Horizon Level has some exclusive amenities, services, and features: roller shades to allow
for privacy over the expansive glass windows; upgraded cabinetry, countertop, and lighting packages; solid slap backsplash; 12-foot ceiling heights in select units; a private lounge with daily hospitality, tea service, fresh orals, snacks, newspaper delivery, and shoeshine.
Prices: One-bedroom penthouse $2,940–3,050; two-bedroom penthouses $3,867–4,349; three-bedroom penthouses $5,197–5,262
LUMINARY AT ONE LIGHT
100 E. Redwood St., 844-805-2109
Apartment Features: Apartments are complete with a gourmet kitchen, luxurious bathroom, and high-end, energy-efficient appliances, 360-degree city and harbor views, 24-hour concierge, rooftop infinity pool, fitness center and yoga room custom-designed by Under Armour, rooftop bark park and pet spa, rooftop Zen garden, grilling stations.
Prices: Studios $1,443–1,795; one bedroom $1,570–2,170; two bedroom $2,323–3,265; penthouse units $1970–4,095
2HOPKINS PLAZA APARTMENTS
2 Hopkins Plaza, 410-216-3044
Apartment Features: stainless steel appliances; floor-to-ceiling windows; full- size washers and dryers .
Prices: Studios $1,300–1,400; one-bedroom $1,500-1,900; two-bedroom $2,100–2,700
LIBERTY HARBOR EAST CONDOMINIUMS
1301 Aliceanna St., 410-421-7491
Condominium Features: Hardwood flooring through all living spaces; bathrooms with marble ooring, oversized showers
and baths; balconies with harbor or skyline views; designer kitchens with stone countertops and Thermador appliances; most residences offer living-room replaces.
Condo owner Amenities: Dedicated condo resident front desk concierge; automated and secured package room; Butter yMX intercom security system; social lounge.
Prices: One-bedroom $599,000; two- bedroom $799,000; three-bedroom
$1.3 million. Penthouse loft: four bedrooms, two stories, and 47,000 square feet with terrace, $4 million.