La Vie En Rosie
Nods to nostalgia make this bohemian nursery a darling place to play.
I learned about the concept of 'nesting' in our birth classes, and I heard that a really intense desire to clean or decorate can be a sign of impending labor. But I never really believed it until I was nine months pregnant and absolutely panicking—not because of anything serious, but because the shelves in the nursery weren't hung yet. Sure enough, my husband got them up and I went into labor the next day.
The room was carefully crafted to blend with the rest of our home: lots of neutrals and layered textures with a bohemian feel. When picking out some of the new pieces for the nursery, my goal was to choose items we loved so much that they could be placed in any space down the road. The rug, the dresser, the rocking chair—they could all work elsewhere if we ever wanted to switch things up.
Reworking old favorites is a recurrent theme. The rest of Rosie's room is filled with family heirlooms and antique accents that once belonged to me or my husband, Danny.
When I look around Rosie's nursery, I am always overwhelmed with nostalgia and gratitude. Almost every special item was either a childhood memento, or gifted by someone special to us. I hope Rosie feels all the love in here—because I certainly do.
Cactus + Dried Flowers
I love the feel that florals and greenery bring into a room—but after *many* dead plants and wilted blooms, I've learned that I'm better off faking it. The cactus is faux (because I even managed to kill a succulent once), and the florals were pulled and dried from a bouquet I was sent after Rosie's birth. Decorating with dried flowers adds precious detail and a feminine feel—and it's also a sweet way to preserve a few pieces of a meaningful bouquet.
Cactus and vase: Target. Amethyst crystal: SoBotanical Apothecary (on Light Street). Wooden stacking stones: Grimm's Spiel & Holz.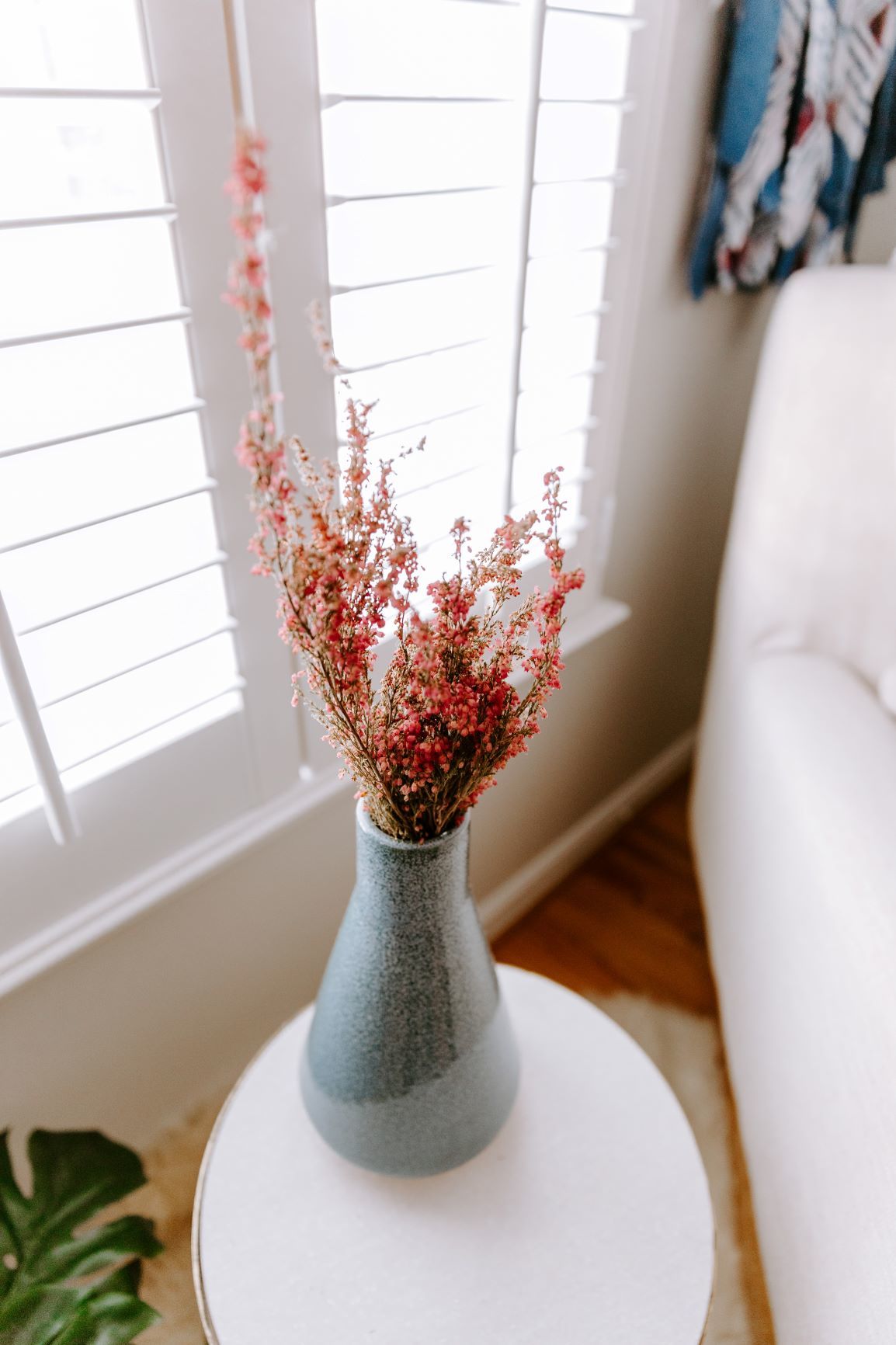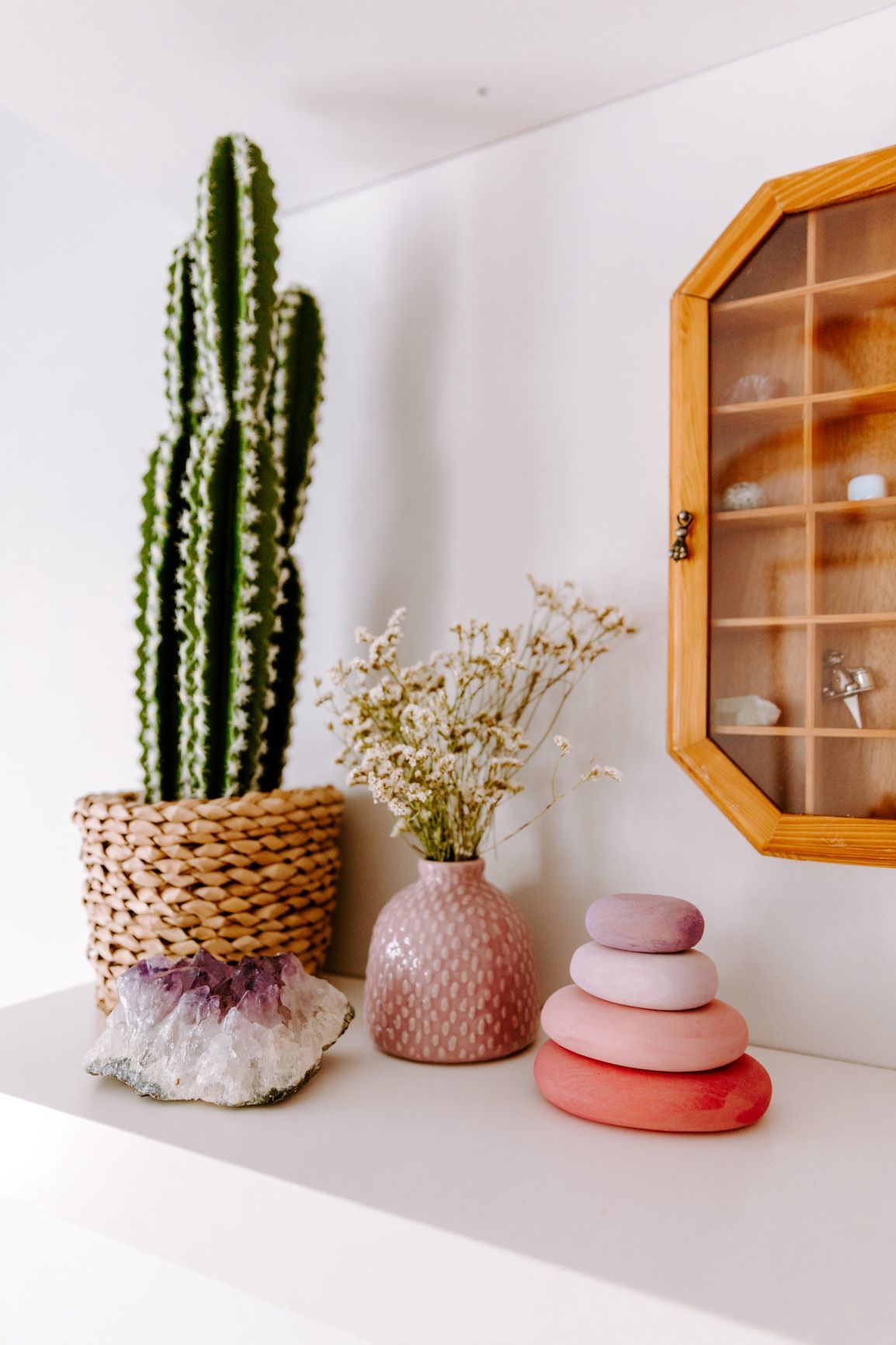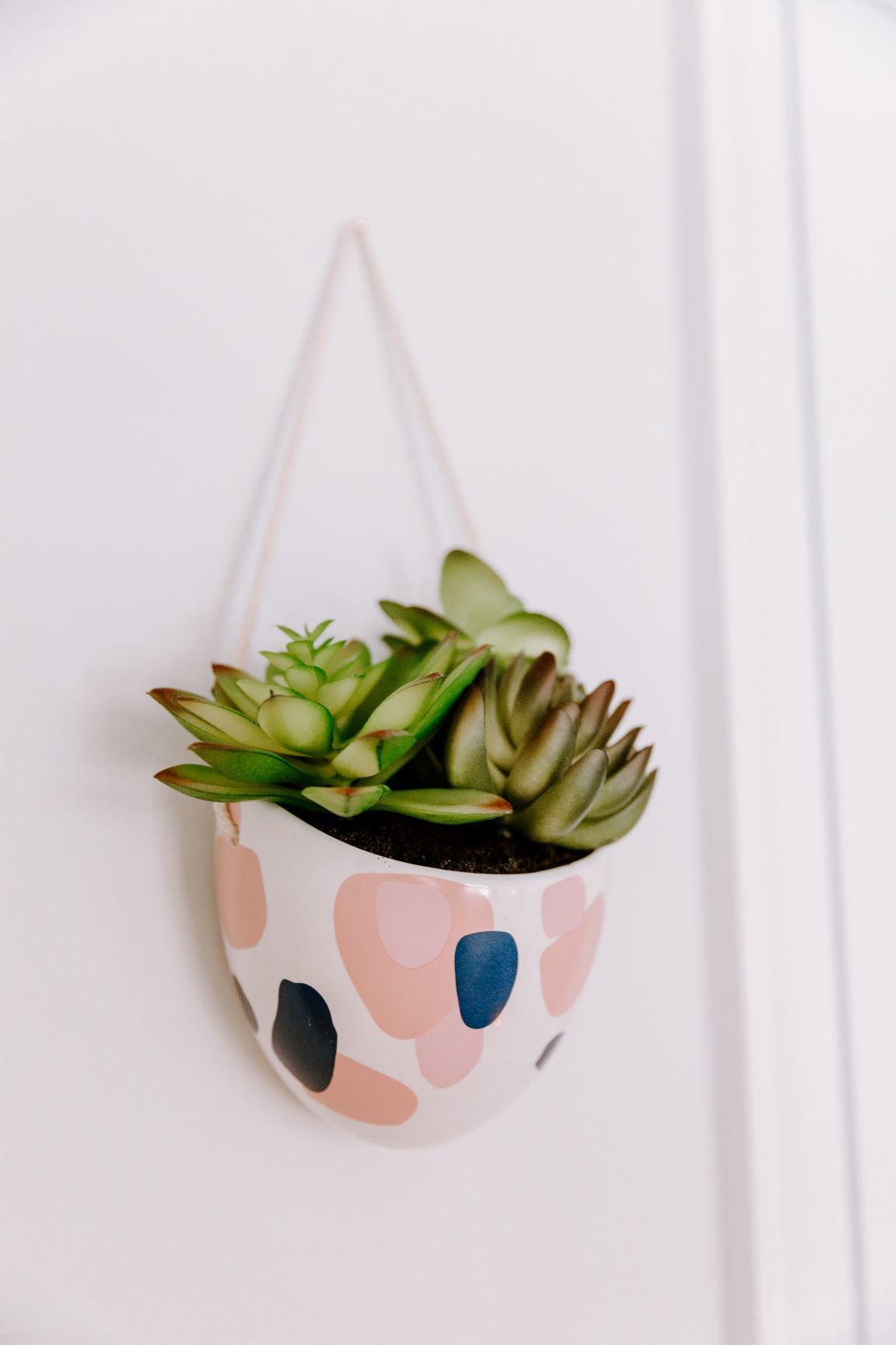 Dreamcatcher + Chair
This is the coziest nook, which is important since I spend so much time rocking Rosie in it. The chair checked all my boxes: cozy yet stylish, wide enough to curl up in, and enough neck support for naps. The wall hanging is a piece I've owned for years, but it never really had the right home until it found this special spot in Rosie's room. It's really meaningful to me, and it ties the style of the space together nicely. I hope it brings Rosie lots of sweet dreams!
Rocking chair: Nursery Works. Wall hanging: Indego Africa. Custom birth stat poster: Still Novel.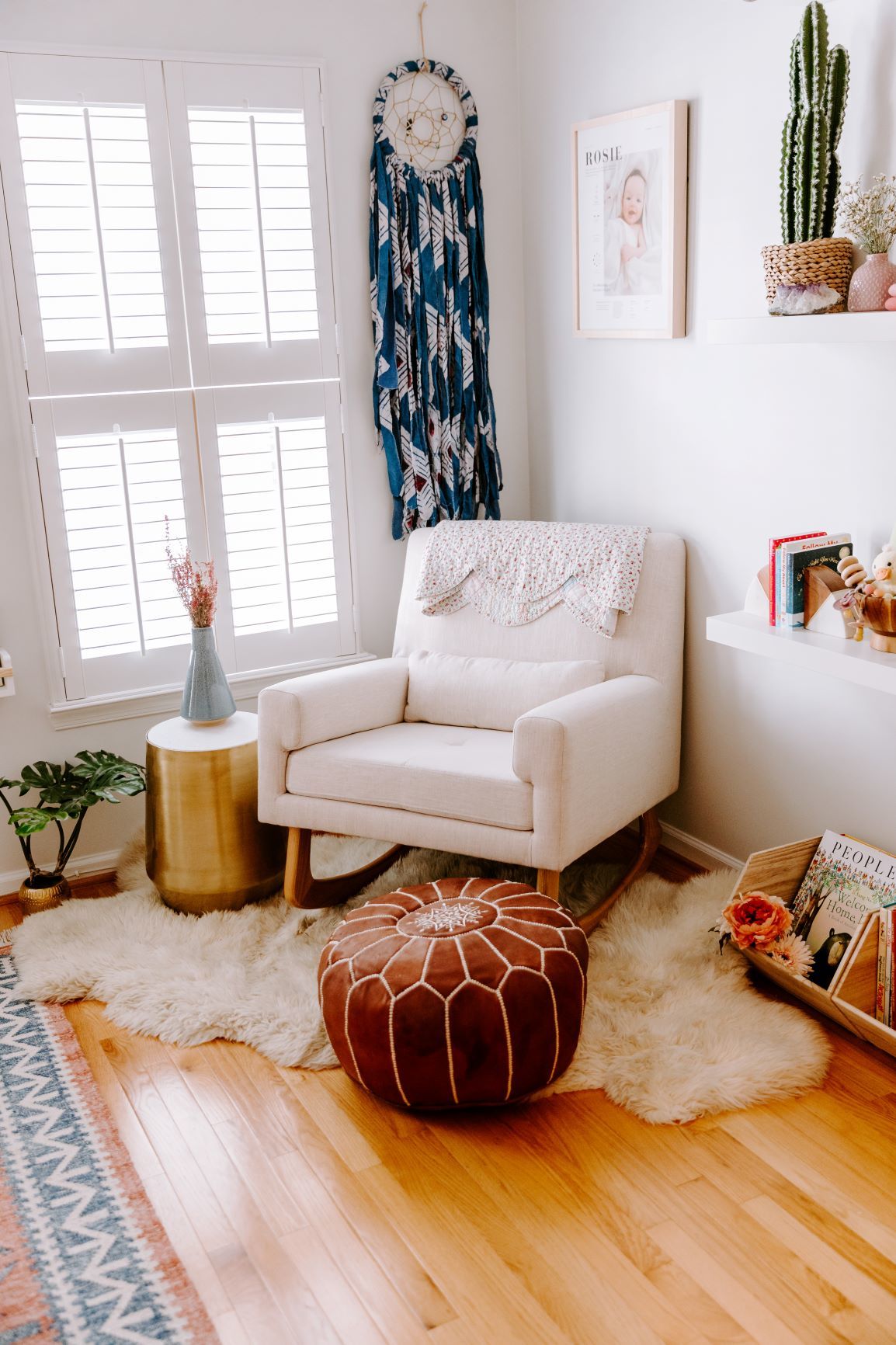 Rug
The warm, dusty tones of this Southwestern-inspired rug remind me of a sunrise, and it really gives the space a textured, lived-in vibe. I'm also in love with the poster on the wall. It says, "I'll keep you safe, you keep me wild," and I think it's such a perfect way to sum up my relationship with Rosie. Motherhood has felt so incredibly primal—it really is wild.
Rug: West Elm. Poster: Urban Outfitters.
Pouf
When mama needs to kick her feet up (ahem, all the time), this pouf is perfect. It's also a great second seat when Danny and our Frenchie pup, Sonny, join us for a bedtime story.
Pouf: Wayfair.
First Year Hanging
I know I'm not the only one who feels that baby books are a lovely tradition and important to keep—but they're also super hard to maintain, especially when you're a crazed parent with a newborn. My best friend gifted me this poster as a no-pressure way to jot down milestones on the fly, and encouraged me to scribble on it, cross things out, and generally not stress about making it too perfect. When Rosie ticks off a milestone, I can easily jot it down while I'm holding her—and then I'll transfer things to her baby book when I—eventually—have more time on my hands.
Wall hanging: Nestnotes.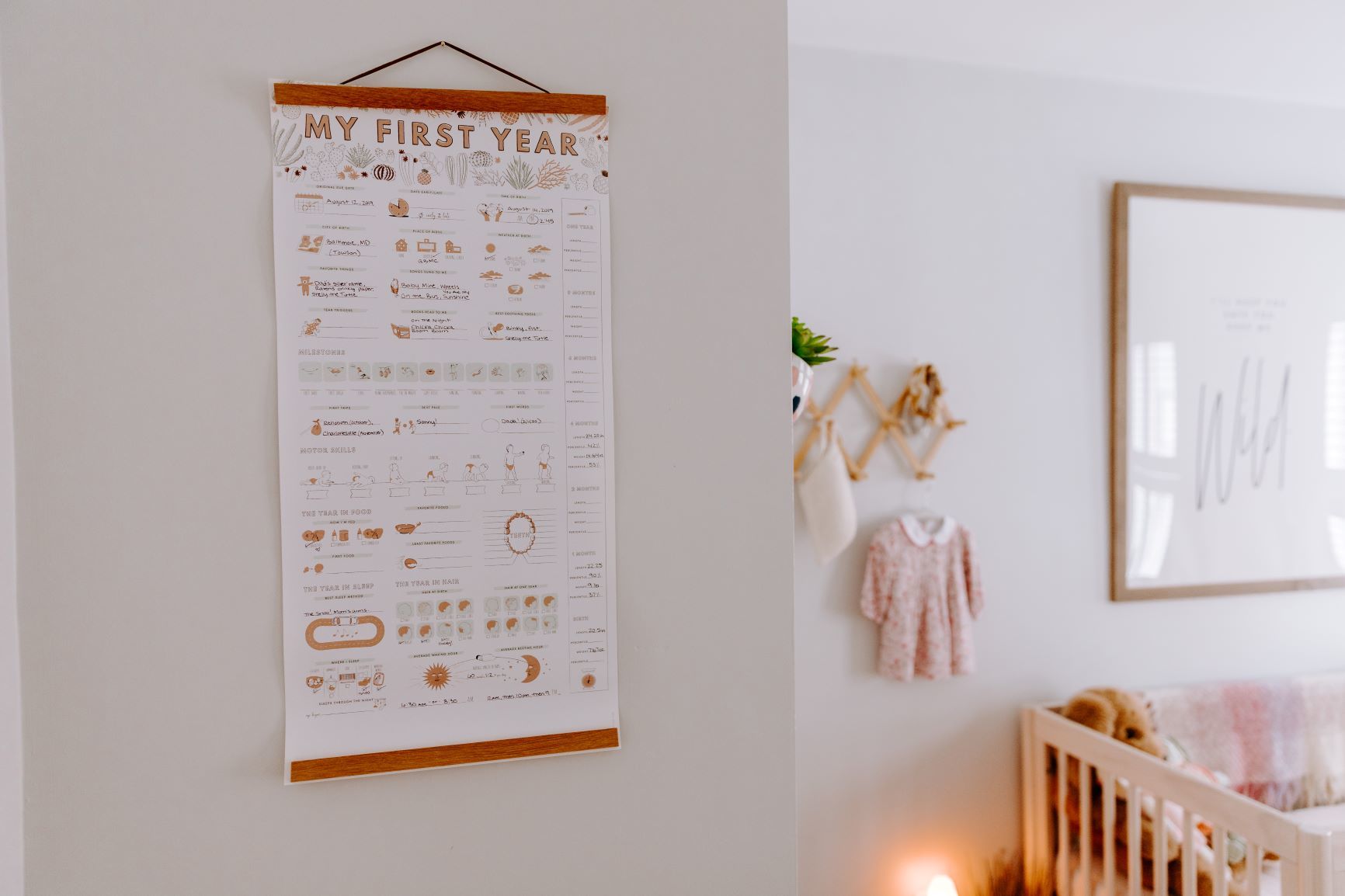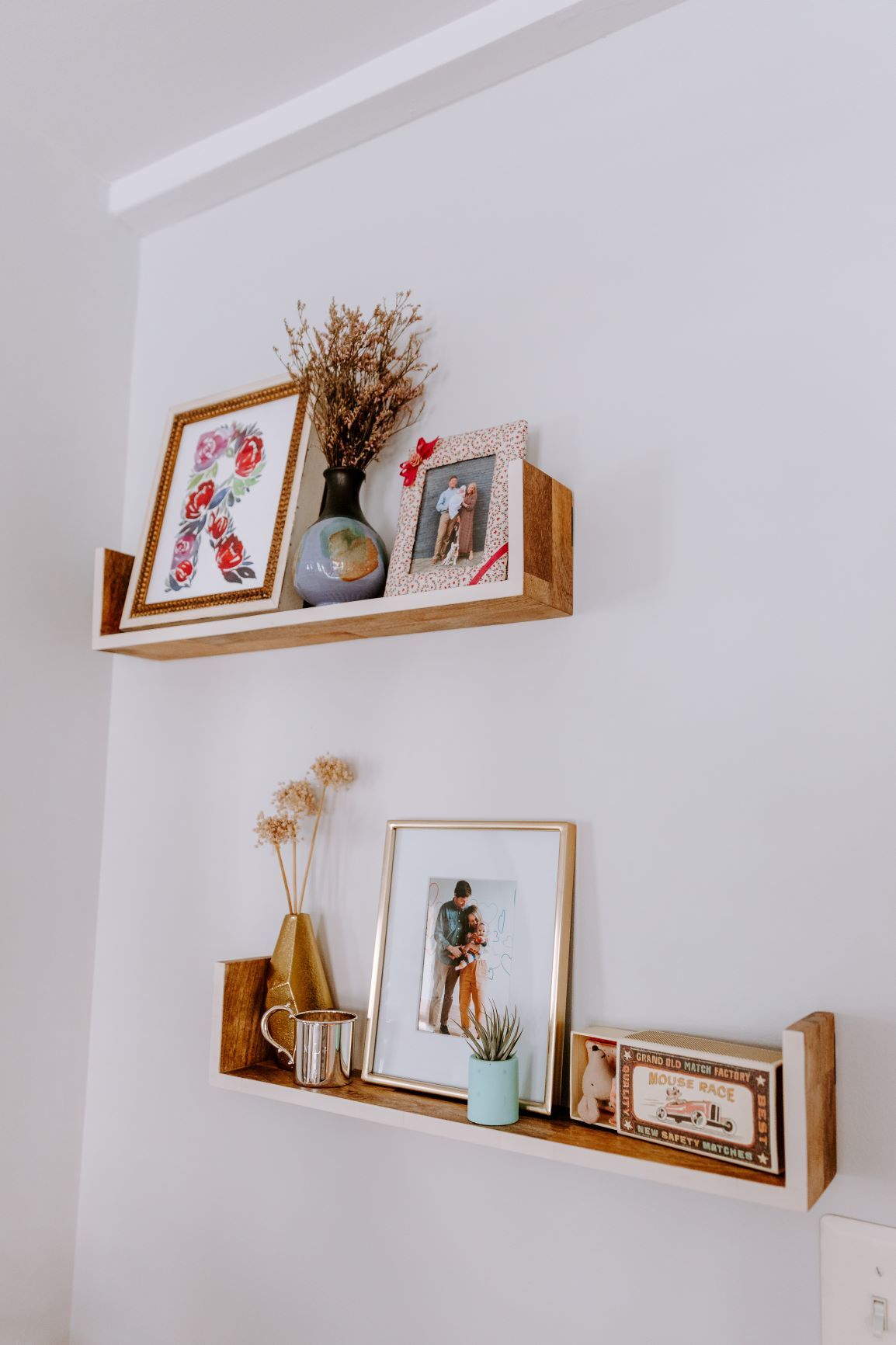 Photo Shelves
Remember when I said everything in Rosie's room was either an heirloom or a gift? The pieces on these shelves are no exception. That fabric floral frame is straight out of my own nursery circa 1987. The dried blooms on the bottom shelf? From my wedding bouquet. The silver cup, the matchbox mouse, the precious little air plant…all gifts from some of Rosie's biggest admirers. I love that every little thing has meaning behind it.
Shelves: Target.


Window Bookshelves
These classic books belonged to my husband and me as kids. Bless our mothers for keeping them in such good shape! At our baby shower, Danny's mom gifted us a box of all his favorites: Go, Dog, Go! and his Dr. Seuss collection. There were a lot of tears—it's so sweet to see treasured possessions come full circle.
Shelves: Amazon.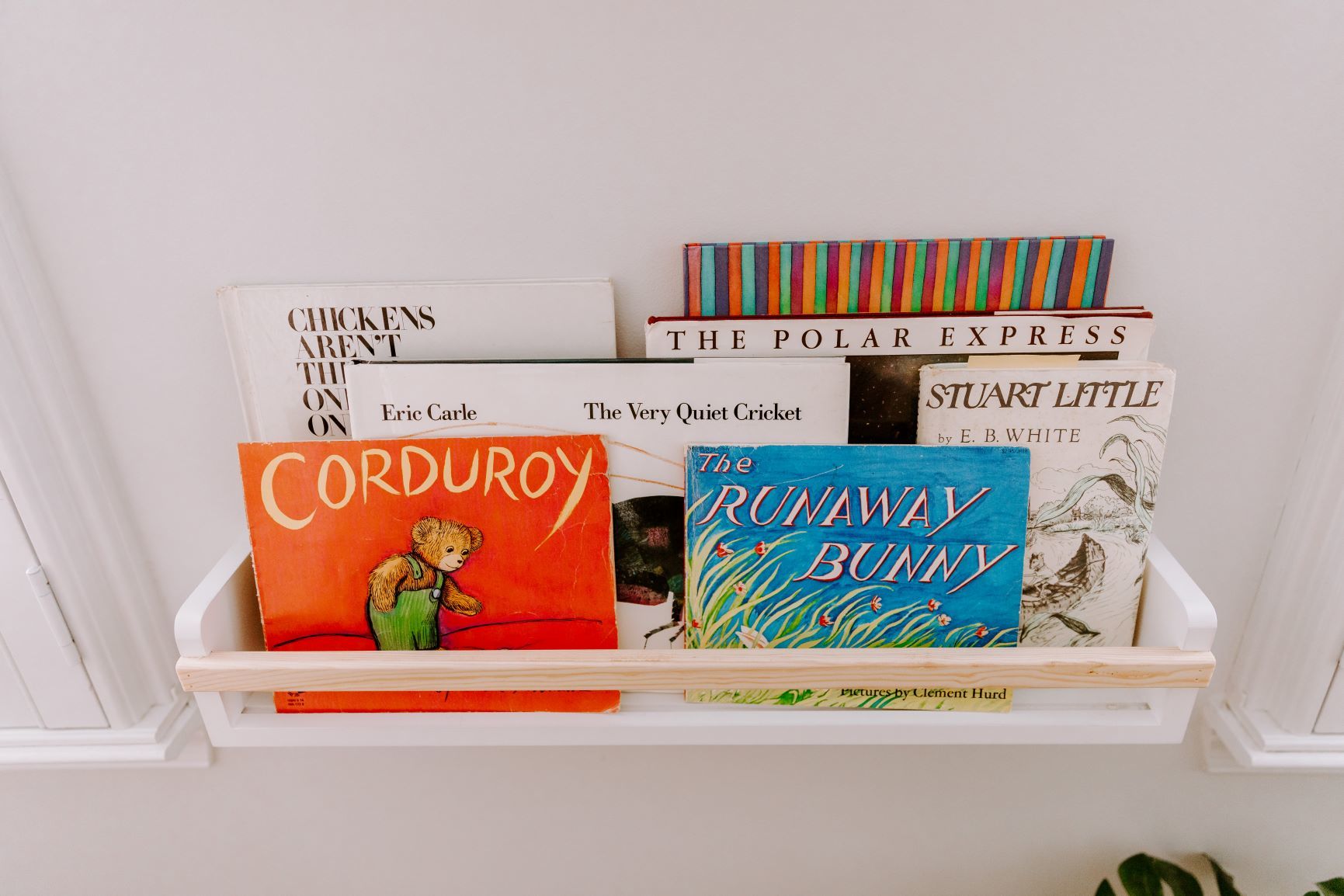 Storage Boxes
These sturdy storage boxes can be switched up and stacked to hold whatever—from books to toys to blankets and beyond. We have them scattered across the house to stash baby things in—super helpful for staying organized and keeping clutter under control.
Boxes: Target.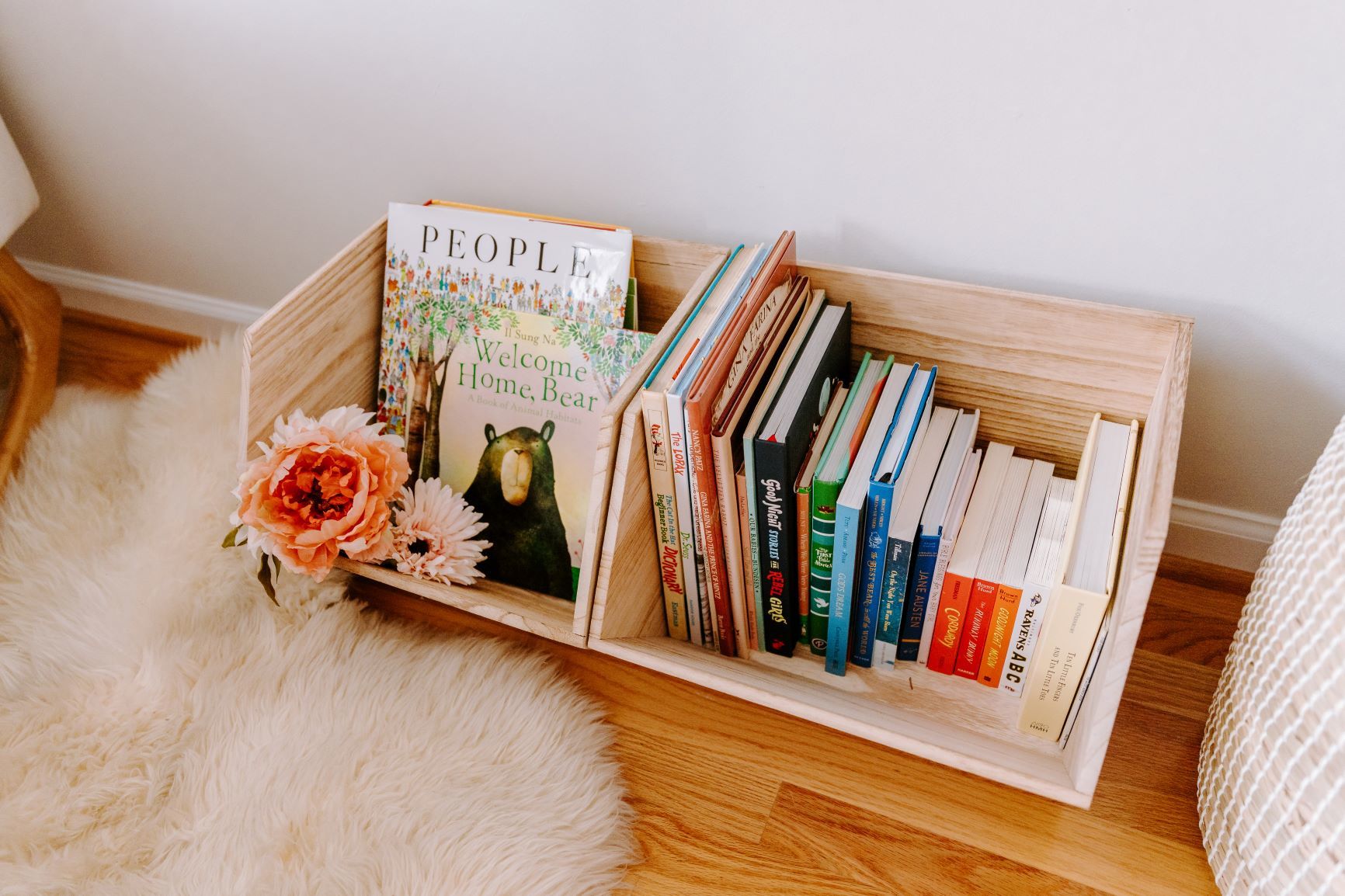 Wooden Toys
Especially in a small space, I really appreciate functional decor—pretty things that have a purpose. When Rosie isn't playing with this wooden stacking set, it looks chic just sitting on the shelf. We also utilized a wooden bowl and marble bookends to stylishly stash other favorite items we use often: rattles, books, and binkies
Bookends, bowl: Target. Organic rattle: Apple Park. Stacking set: Crate + Barrel Kids.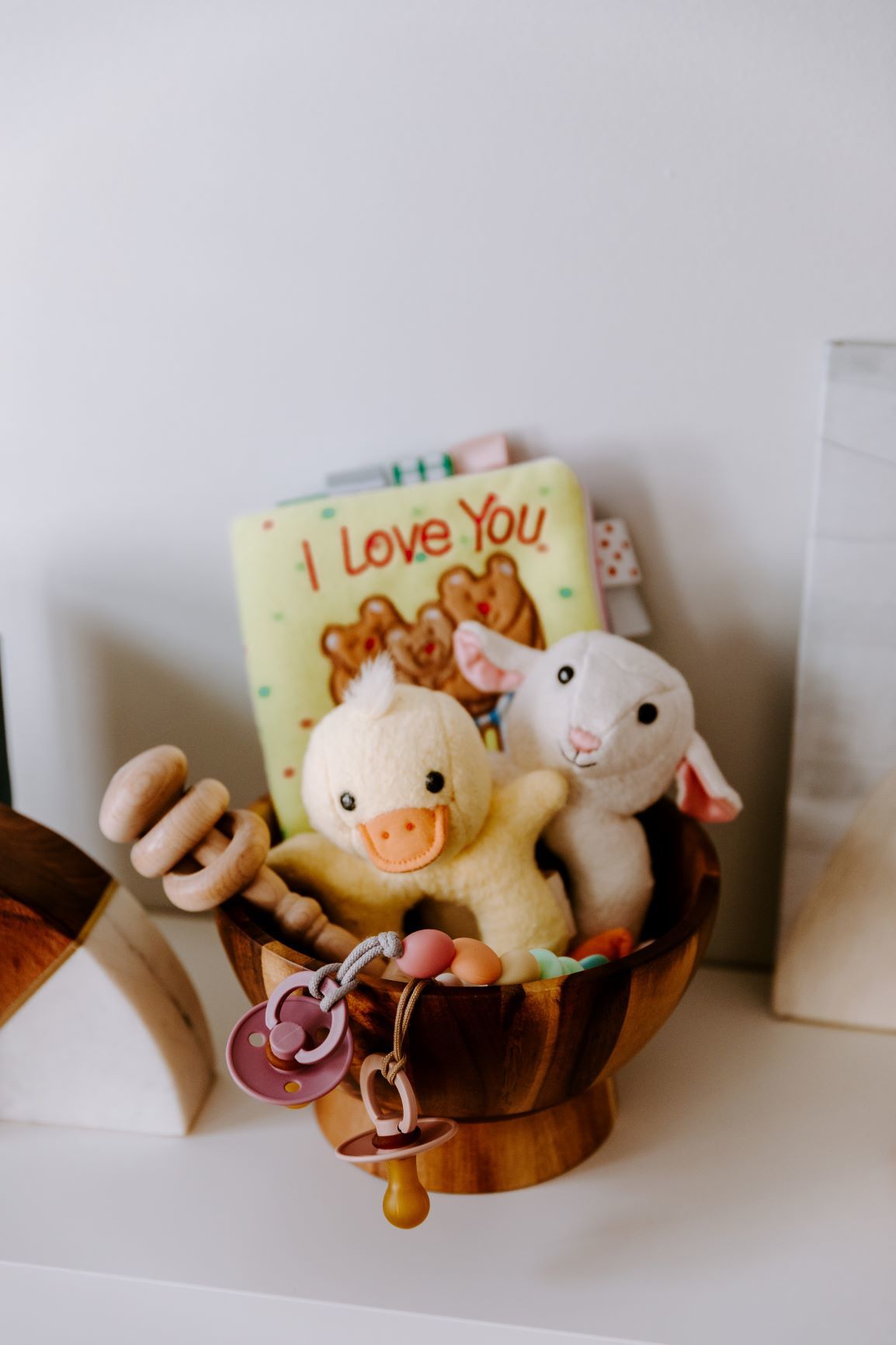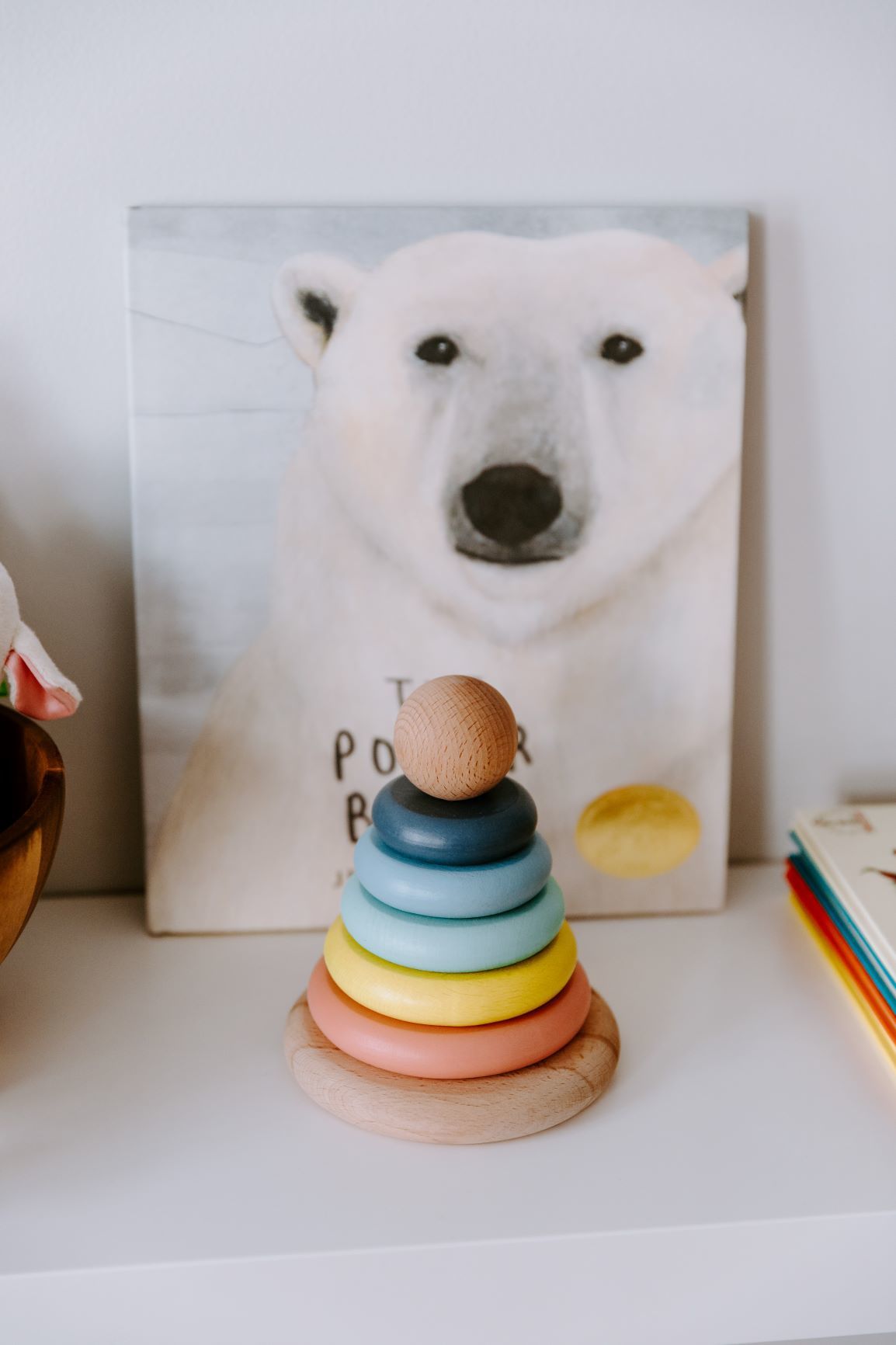 Trinket Box
This is another piece that originated in my own nursery. As Rosie gets older, it'll be sweet to see what sort of special treasures she wants to stash inside. The silver rattle belonged to Danny as a baby, and his mom gifted it to us for Rosie's baptism. It was meant to be an heirloom that we thought we'd keep safely tucked away on a shelf—but we handed it to Rosie once and it immediately became her favorite thing, so now it's a star player in her toy rotation. We always take it with us when going to a restaurant because we know it'll keep her entertained!
Trinket box: Vintage.