The Curtain Rises on Act II
Empty-nesters beautify their home for a new stage.
When Paul and Claudia Zohorsky bought their Ellicott City home in the 1990s, it was a practical decision: The house had the bedrooms and closet space they needed for themselves and their seven children. For years, the focus of the family's life was just that—the kids. Think school, carpool, sports teams, the works. But when the youngest child left for college, Claudia knew it was time for a change.
"With extended family and grandchildren coming back, this house was still a good space for us, so we decided to hunker down and retire here, but I wanted everything to be beautiful," she says. "The emphasis was on our new stage of life."
While there are no longer all those children tromping the halls every day, the home still needed to work for visits from the Zohorskys' grandchildren. That calls for plenty of seating—there are two separate seating areas in the family room, for example—and the couple wanted everything to be comfortable.
"The livability of the house is real, it's not a museum," she says. Zohorsky selected interior designer Kelley Proxmire to craft this new, beautiful space. Proxmire is a family friend and the two women share a love of color.
"I love Kelley's aesthetic," says Zohorsky. "I came from the North Shore of Long Island, where there was that bright, pink-and-green preppy style…I didn't want it to be all monotone or restricted in its sensibilities."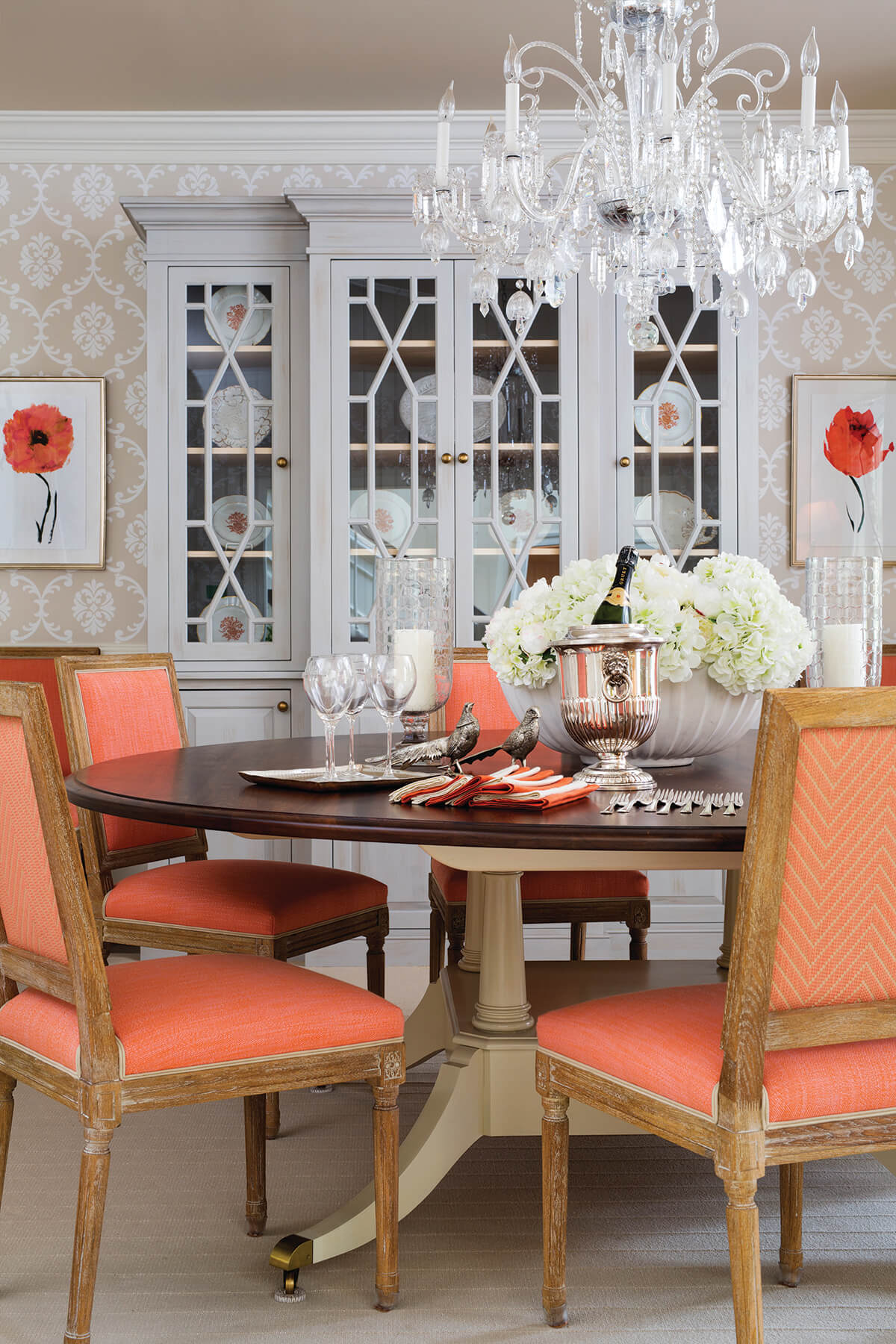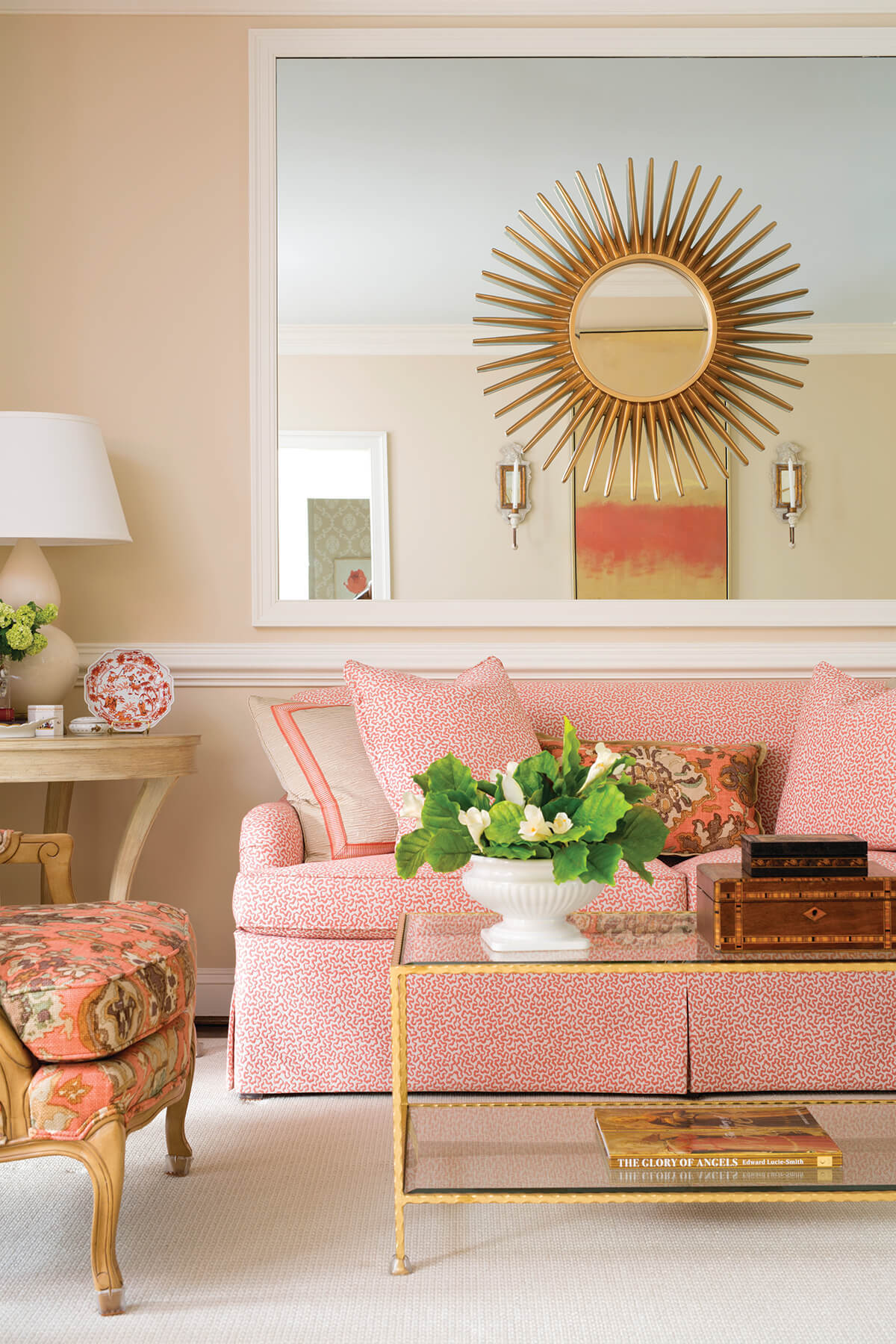 "I love color, it's just fun and happy," says Proxmire. "But I love for color to flow." In addition to making sure color transitions worked from room to room, Proxmire says she tried to keep large pieces neutral and use color on accent pieces. That way, as tastes change, it will be easier to update the space.
Similarly, custom wool rugs in soft neutrals ground each room. Proxmire loves the statement fabrics can make, and a good example is the Lee Jofa coral fabric in the dining room. That was inspired by the pattern of Zohorsky's fine china.
"I love the dining room," says Proxmire, noting the beautiful wallpaper above the wainscoting and the custom 72-inch round table, one of three custom pieces in the room commissioned from Shoemaker Country in Ellicott City.
Shades of coral emerge in almost every other room, from pops of color on throw
pillows in the more subdued library to the downright exuberant wallpaper in the
mudroom.
"That wallpaper is my favorite," says Zohorsky of the bright textiles from
Thibaut's Caravan collection. "I love the sense of freedom of it."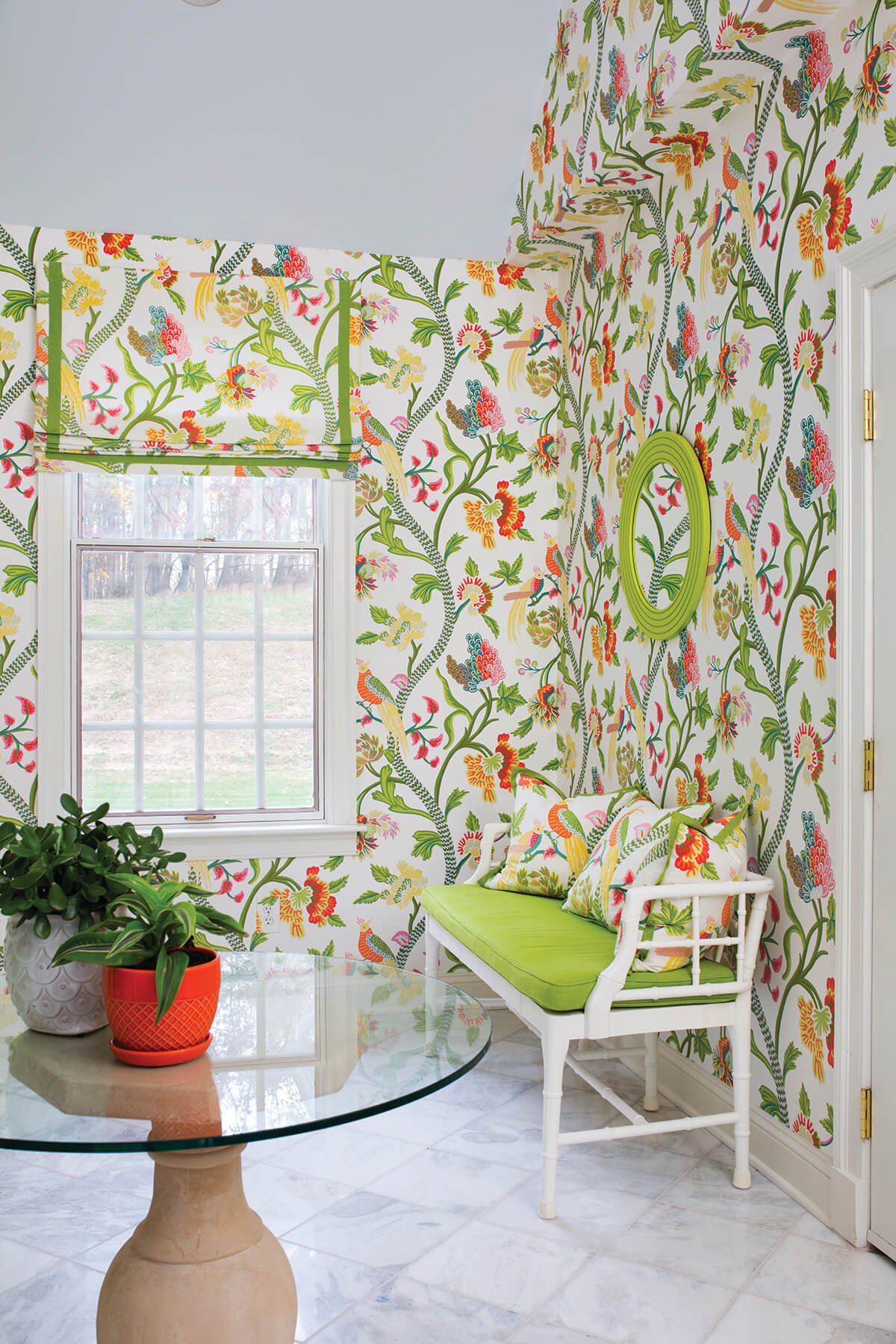 The pre-existing living room was lacking in architectural detail, so Proxmire conceived of the mirror-on-mirror treatment to give it a focal point. In a nod to practicality, she repurposed the Zohorsky's pedestal dining table, dressing it as a side table, though it can still be used as an extra dining area for large groups.
At the core of the home is the entry foyer, a neutral grounding point for a house of vibrant splashes of color. While Proxmire sources most of her materials from the Washington, D.C., Design Center, she loves a good find at a secondhand shop, and she's particularly pleased with the foyer's table.
Made of fiberglass, the pedestal (which Proxmire topped with stone) was once a prop at the former Woodward & Lothrop department store. Proxmire picked it up at one of her flea market-style haunts.
"I love one-of-a-kind pieces, and I often find them in vintage or junk shops," says Proxmire. "I call it 'The Hunt.' I absolutely love the hunt."
A room marked more by its serenity than its vibrancy is the master bedroom.
Zohorsky recalls that she selected the blue, gravitating to a fabric sample Proxmire brought.
"[She] would bring choices and let me pick," says Zohorsky. "Once she had a starting point in the room, she would work everything around it. It's such a natural talent for her."
Zohorsky describes the renovated house as a haven. She loves the library with its
arched windows and fireplace, where she has tea; another favorite is the bright, oversized ottoman in the family room, which is often where grandbabies are propped up for group adoration. And the colorful mudroom always brings a smile.
"This renovation is a gift," says Zohorsky. "We've done a lot of hard work with our
family over many years, and this is like the icing on the cake.