HD Marigold Owner Liz Smith Curates an Impeccable Collection of Old and New Pieces
At her Timonium design shop, Smith showcases tantalizing vignettes featuring colorful furniture, playful patterns, and unique knick-knacks.
Elisabeth "Liz" Smith remembers being a kid watching the popular 1970s sitcom, The Mary Tyler Moore Show, and loving the fact that Mary had baskets hung on her apartment wall for decoration.
An independent child, Smith saved up her money, walked with friends to a local shop in Lutherville, and bought a set of baskets for herself. In that same bedroom, she had a dollhouse where she designed rooms in the Chinoiserie style—that's the European interpretation of Chinese and other East Asian artistic traditions—inspired by those she saw at a dollhouse shop that was part of Cockeysville's antiques row.
"I've loved home décor and design from a young age," says Smith, now a mother of five. "I also love retail. I'm the girl that if there's a movie that comes out and has a scene with a shop in it, I'll go see the movie. That's how much I love retail."
After years working in the design field, she finally manifested her retail destiny when she opened a small storefront in Towson six years ago, HD Marigold, which she owns with her husband, Scott. The store relocated to Timonium in June 2021.
"For at least 20 years I told my husband that I had this dream of having a charming little store where you mix vintage pieces with, say, new custom pillows or antiques with a wholesale candle or accessory," she says. 
The HD stands for home and design. As for Marigold, Smith is an Anglophile, who drew inspiration from no less than Winston Churchill and Downton Abbey's Lady Edith Crawley, who both had daughters named Marigold. Plus, marigolds are a joyful, colorful flower with a very vintage vibe.
At HD Marigold, Smith curates an impeccable collection of old and new pieces. The store is laid out in tantalizing vignettes featuring colorful furniture, playful patterns, and unique knick-knacks. It's a store where you don't know if you want to shop or sit down and stay for the day. Smith attributes much of the store's success to the fact that items are arranged in a way that helps customers visualize how they will look at home. They can also avail themselves of free in-store design advice from Smith. 
"I love the process of curating each little vignette," she says. "We try to make the store look different every week."
Retail and décor are in Smith's blood. In the 1920s and '30s, her grandmother, a gifted seamstress, made custom doll clothes and would drive along the Eastern seaboard selling them to retailers at a time when that was unheard of for a woman. Smith's father, though he had a corporate job, was an art history major, and her mother was an antique dealer.
As a child, Smith would go to her mom's booth at Bentley's Antiques Show Mart (the Cockeysville store owned by former Rep. Helen Delich Bentley and her husband, William) on Sundays and wander in fascination from one end of the showroom to the other. Smith's mother eventually opened a consignment shop in Towson.
After graduating from Towson University, Smith became an early education teacher in Baltimore County. On the side, she would help friends and family with their interior design projects. She knew that once she had children she wouldn't return to teaching, so she took some courses at the Community College of Baltimore County and opened her own design business, Liz Smith Designs, which is still going strong. In fact, the design business is one reason HD Marigold is only open two days a week; Smith meets with her clients Monday through Thursday.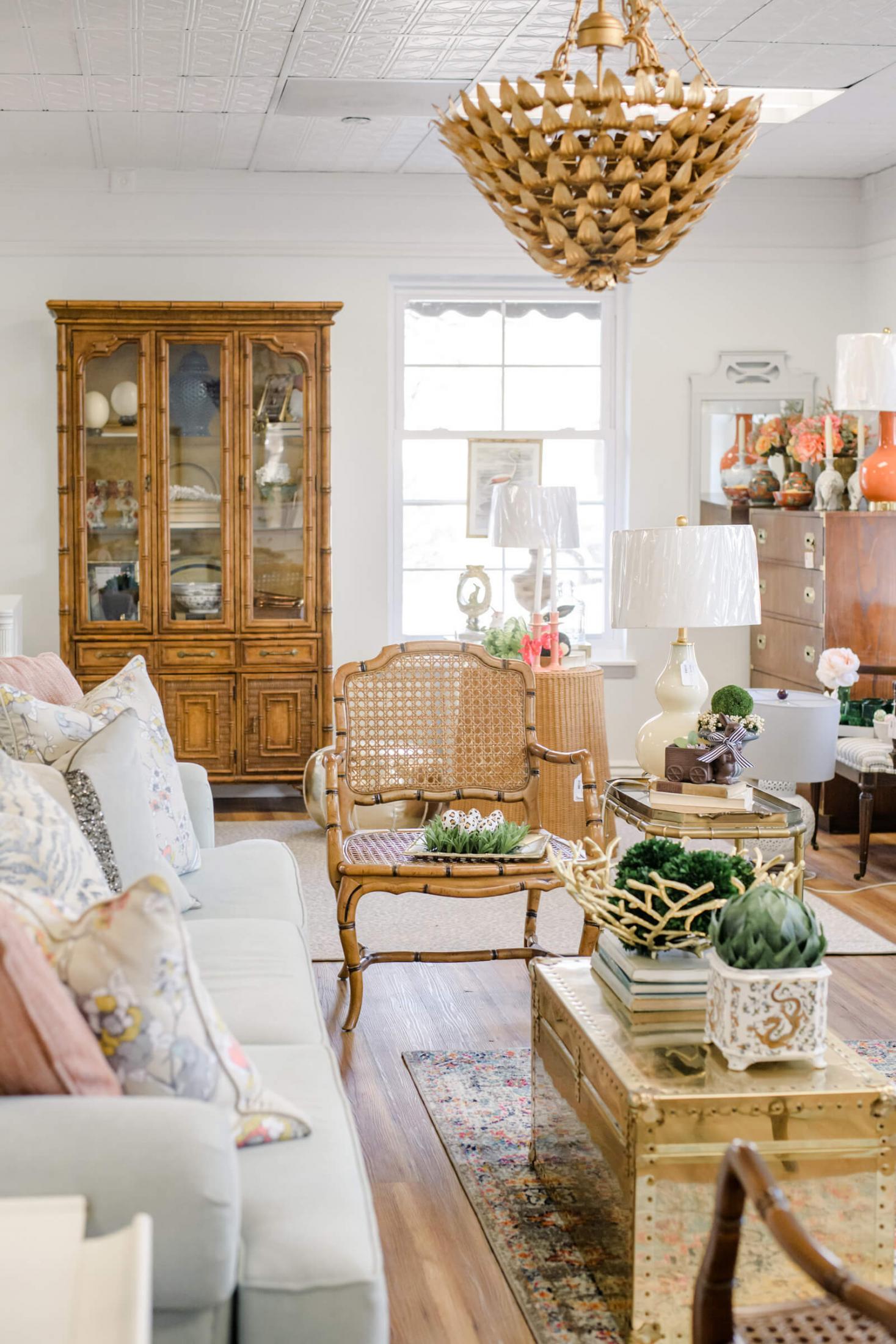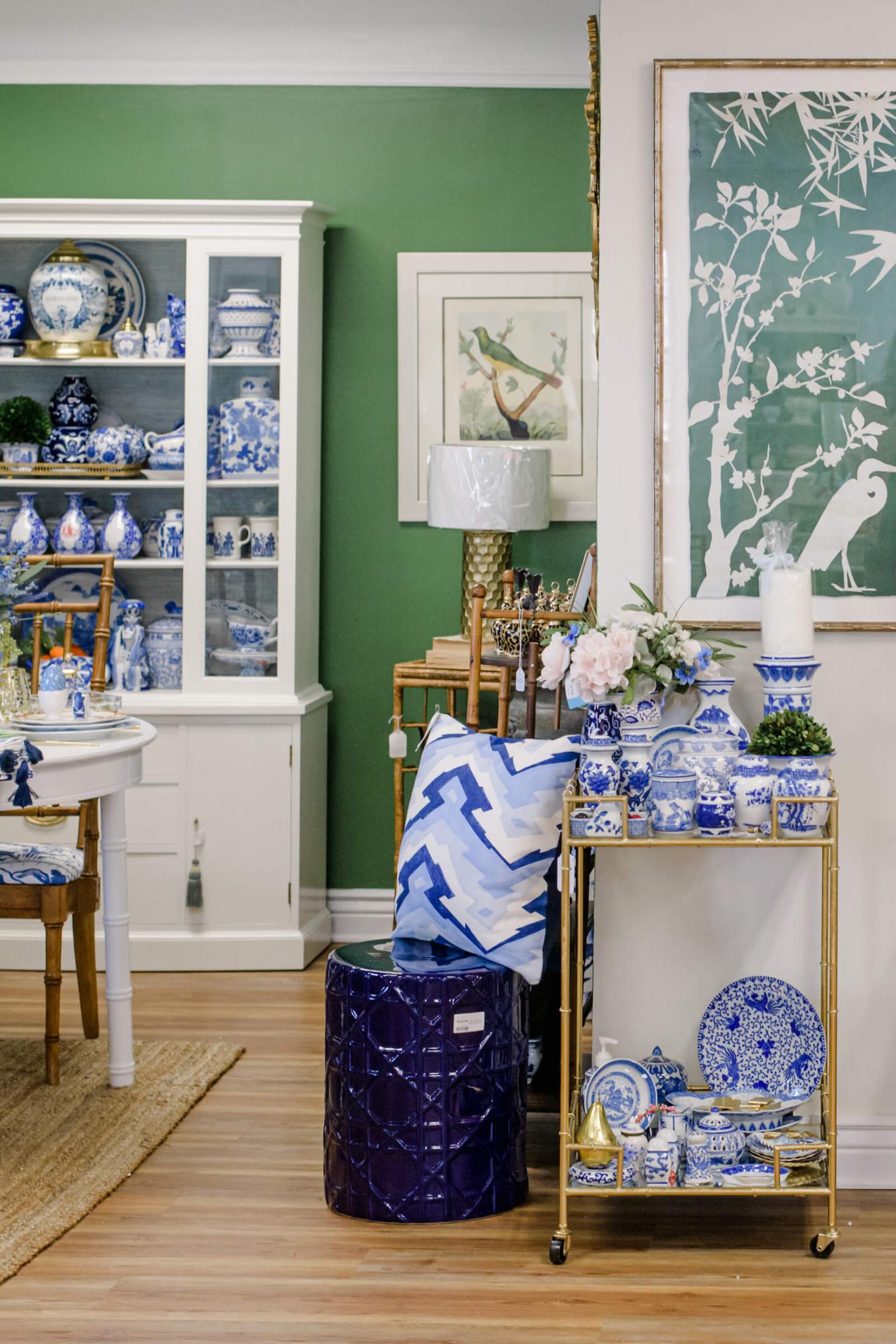 More importantly, the weekdays are when Smith's eleven stylists are out scouring the countryside for unique finds to bring back to the store. Smith selects many of the new, wholesale items for the shop and floral designer Andrea Stieff creates all the custom floral pieces, like the charming topiaries set in china pots.
Smith describes the style of the store as "grandmillenial décor"—a style marked by its transitional mix of old and new pieces with vibrant pops of color and bright patterns. Signature items include tobacco jars, blue and white china, and faux bamboo furniture. But perhaps the store is best known for its painted furniture.
"That comes from the long, slow death of 'brown furniture,'" Smith explains. Customers "don't want their grandmother's dining room suite, but if you paint it, it gives it new life."
"People, more than they used to be, are drawn to color," she continues. Smith says she cannot live without a pop of pink in her life and there's always something pink in the store. "We're getting away from gray and getting rid of the drab."
Given how quickly inventory sells, the shop has a new look every week. Smith's Towson location was growing so fast, she needed a spot that was larger and had more parking, which the new location has in abundance.
"Because of COVID, we got a stronger social media presence," she says. "I honestly don't know if we'd still be in business without it."
Each week, Smith photographs the shop and posts pictures to HD Marigold's account. In the captions, she tries to provide information on the pieces or suggestions on how to use them. "On Friday I often do a video 'Tour of the Store,' and people eat that up."
With followers far outside the Baltimore region, Smith often sells and ships around the country. She's had women show up from Virginia and D.C., but also as far away as New York, North Carolina, and Connecticut. She once had a pair of women show up with a truck they intended to fill and drive back home.
People come for Smith's eye. But they also come for the prices, which are reasonable and meant to ensure that inventory doesn't collect dust. "We love our customers and if we can make something look gorgeous, make our customer happy, and make some money, that's great," says Smith.
With pandemic restrictions lifting, Smith will return to doing more special events and her twice-yearly sale.
"We're not just a store, this is a place where we're reaching out, we're doing things," says Smith. "People tell me all the time that this is their happy place."