A Little Bit Country
Lisa Gaskarth's homestead is the perfect balance of warmth and quirkiness—plus farm animals!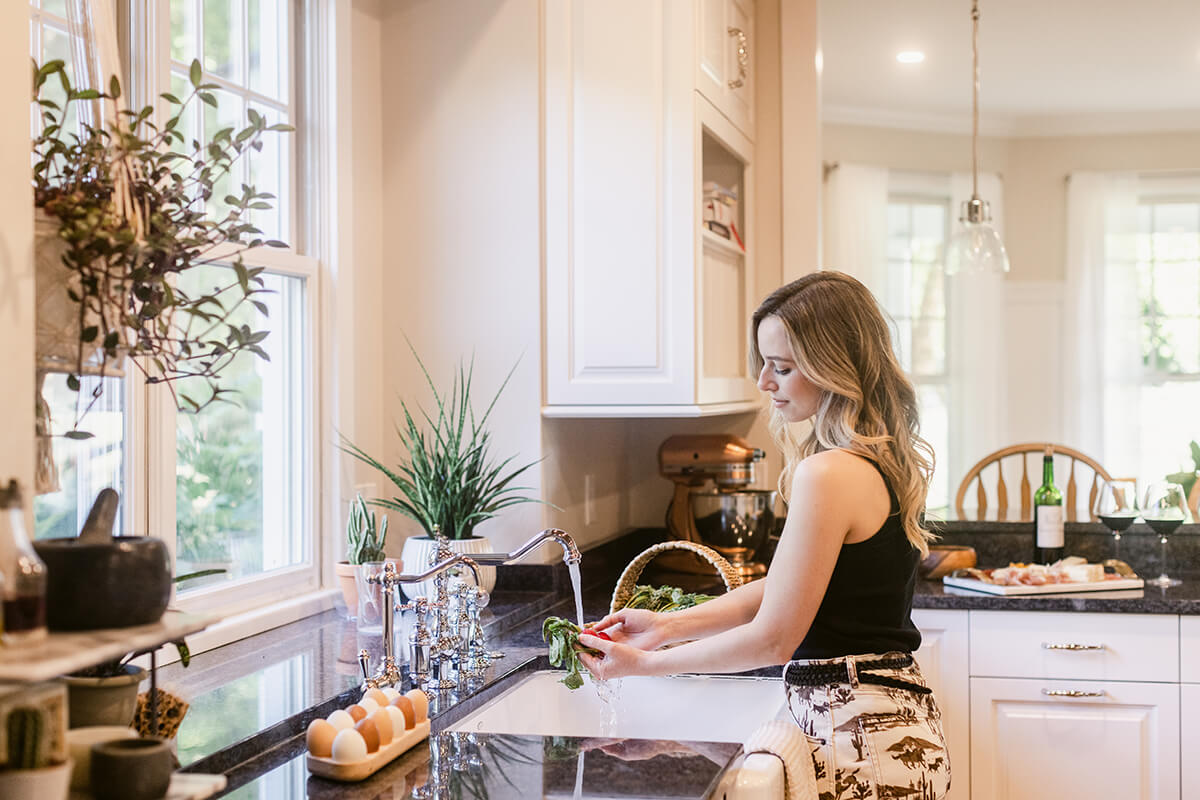 "Hi, kids," Lisa Gaskarth calls out as she walks across the yard of her beautiful 60-acre farm in Baltimore County. Three sweet but mischievous faces pop up—goats Poe, The Milk Man, and Gryff—knowing that when Mom appears, it means either treats or a walk in the woods.
Today, it's the latter, and they follow Gaskarth, clad in overalls, her phone stashed in her back pocket, behind the yellow barn that also houses three horses and a gaggle of chickens and onto a beautiful trail, engulfed by lush green grass and trees, just steps from her home.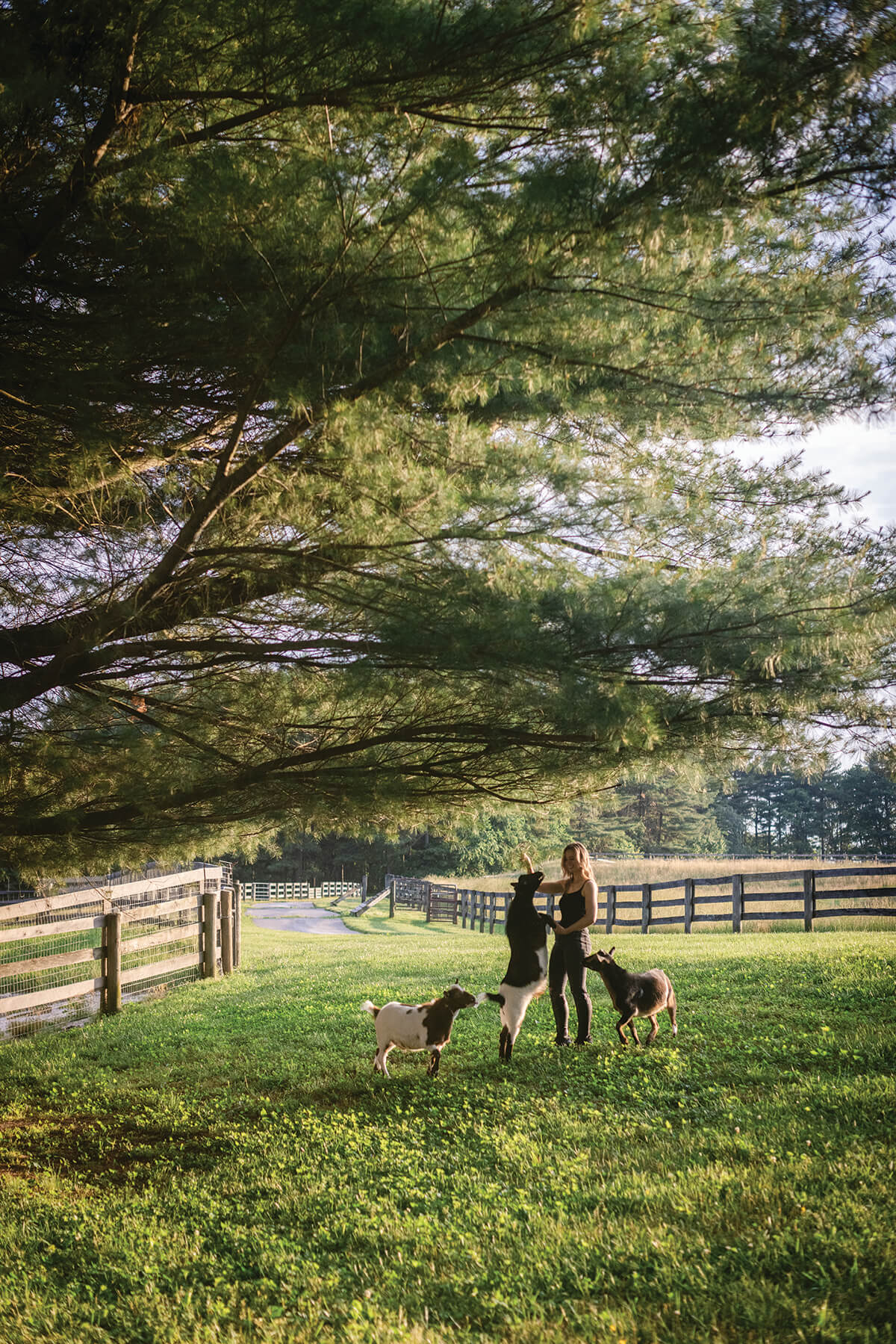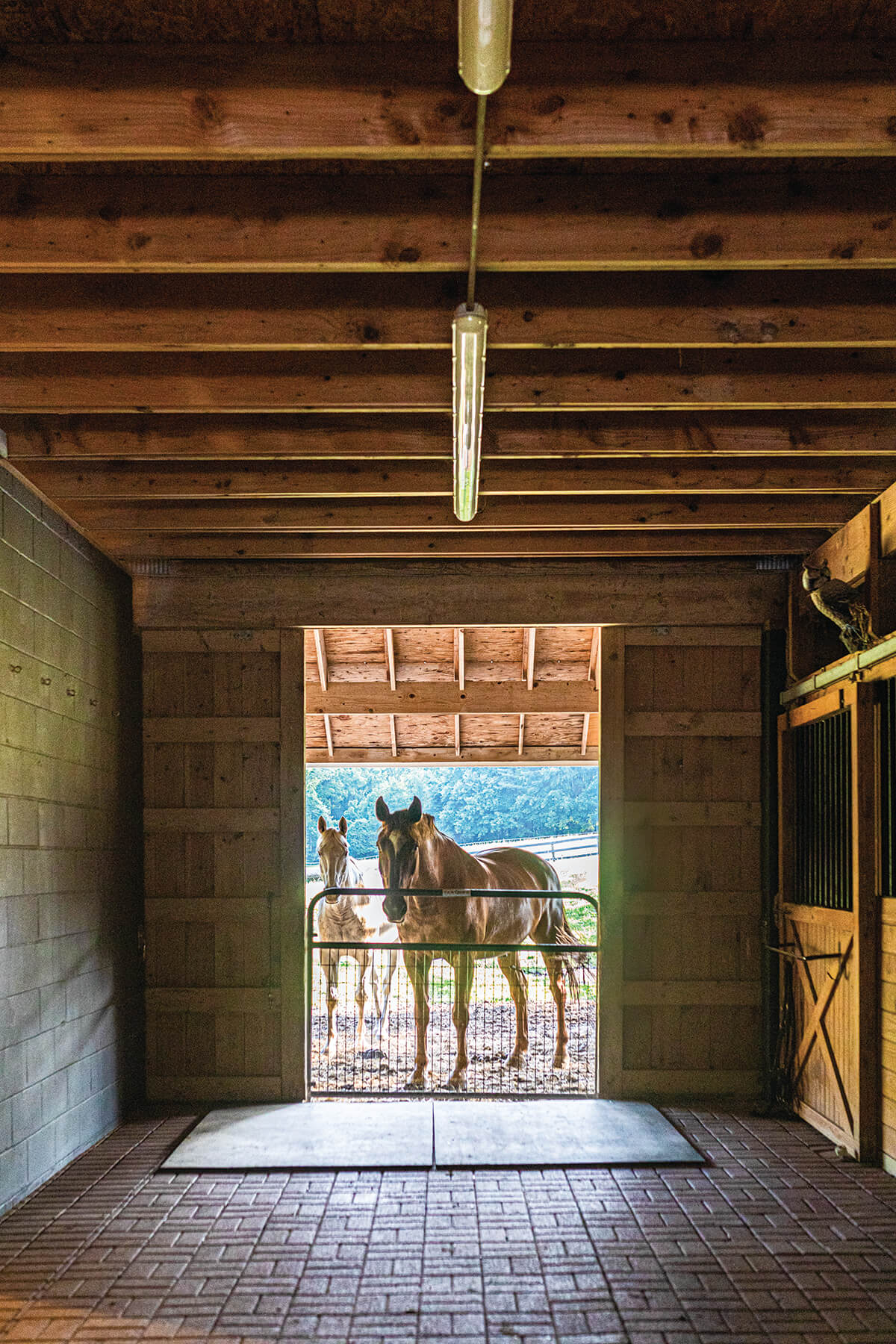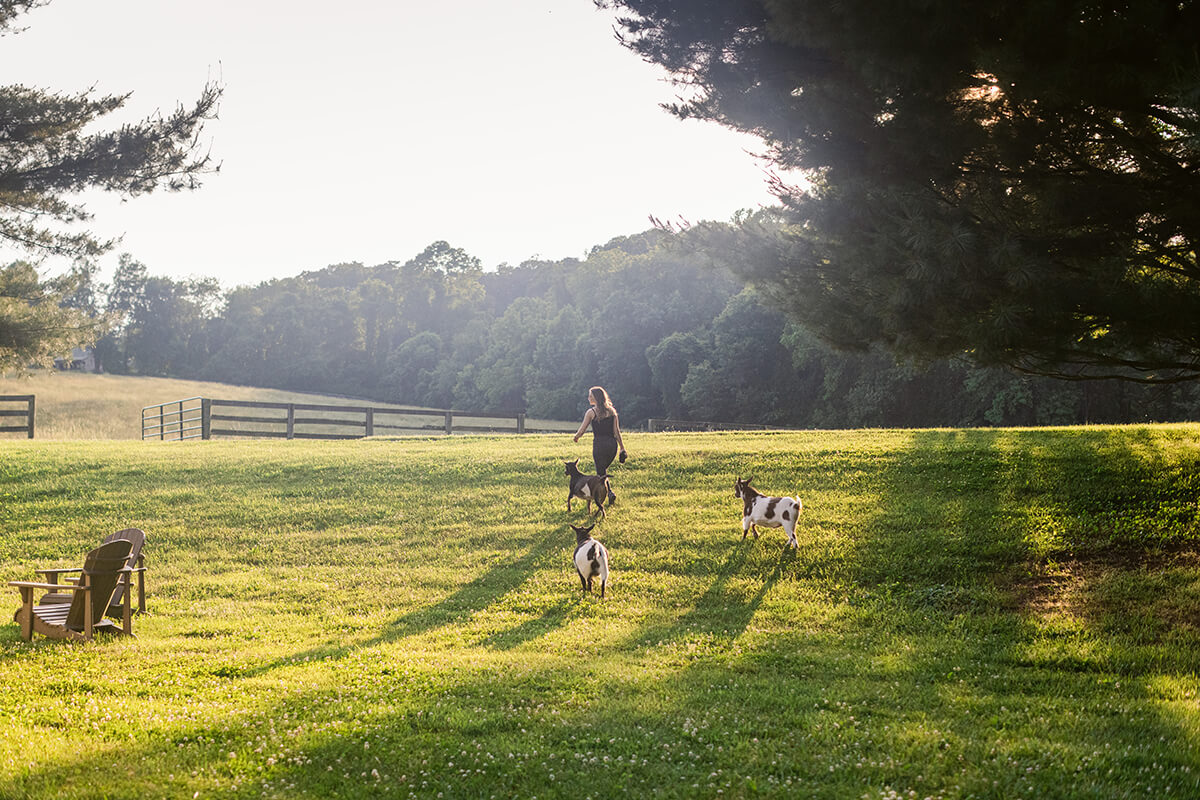 It's been a little less than two years since Gaskarth moved to Slade Run Farm, her own personal oasis tucked down a long, private road. But since so much of that time was swallowed up by the pandemic, she feels like she's finally getting to open up the windows and let the rest of the world in.
Gaskarth, the owner of Eight Seven Events, an event and wedding planning company, watched everything in her world come to a screeching halt in March 2020, but at least she was able to put all her energy into her new Victorian-style farmhouse, with its delightful wrap-around porch and in-ground pool.
"When we saw this place, it clicked," says Gaskarth. She had been looking for a farmette—a smaller, 10-12 acre property—but the acreage just spoke to her the minute she saw it. "We couldn't have possibly dreamed up a better property," she says.
Although she has a lovely office upstairs, Gaskarth spends hours working from the kitchen table with its perfect view of the barn, alternating between gazing out the window and checking the animals on her video feed. The kitchen, like the rest of the house, is warm and inviting, with six-foot-high wainscoting and a beautiful wood-covered ceiling. An empty carton—waiting to be filled with fresh eggs plucked from such fancily named fowl as Narcissa Malfoy, Bellatrix Lestrange, Luna Lovegood, and Professor McGonagall (she's a Harry Potter fan, needless to say)—sits on the gorgeous granite island.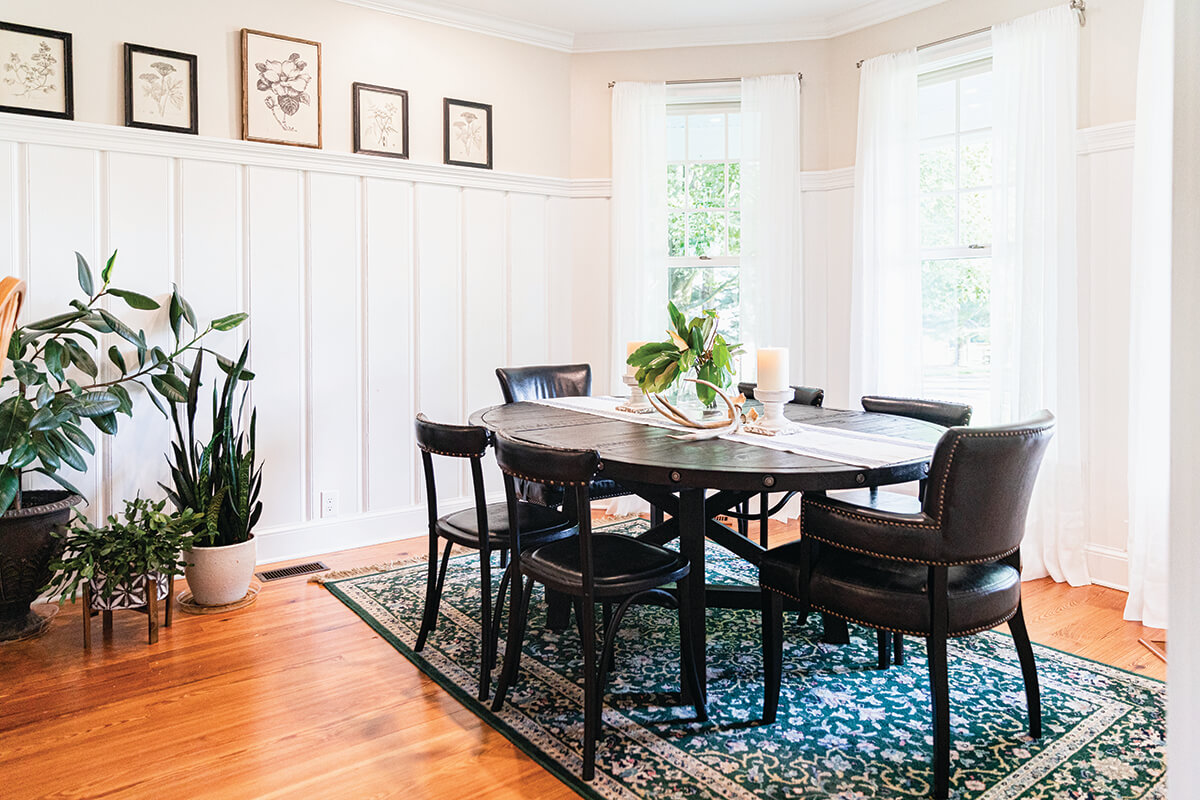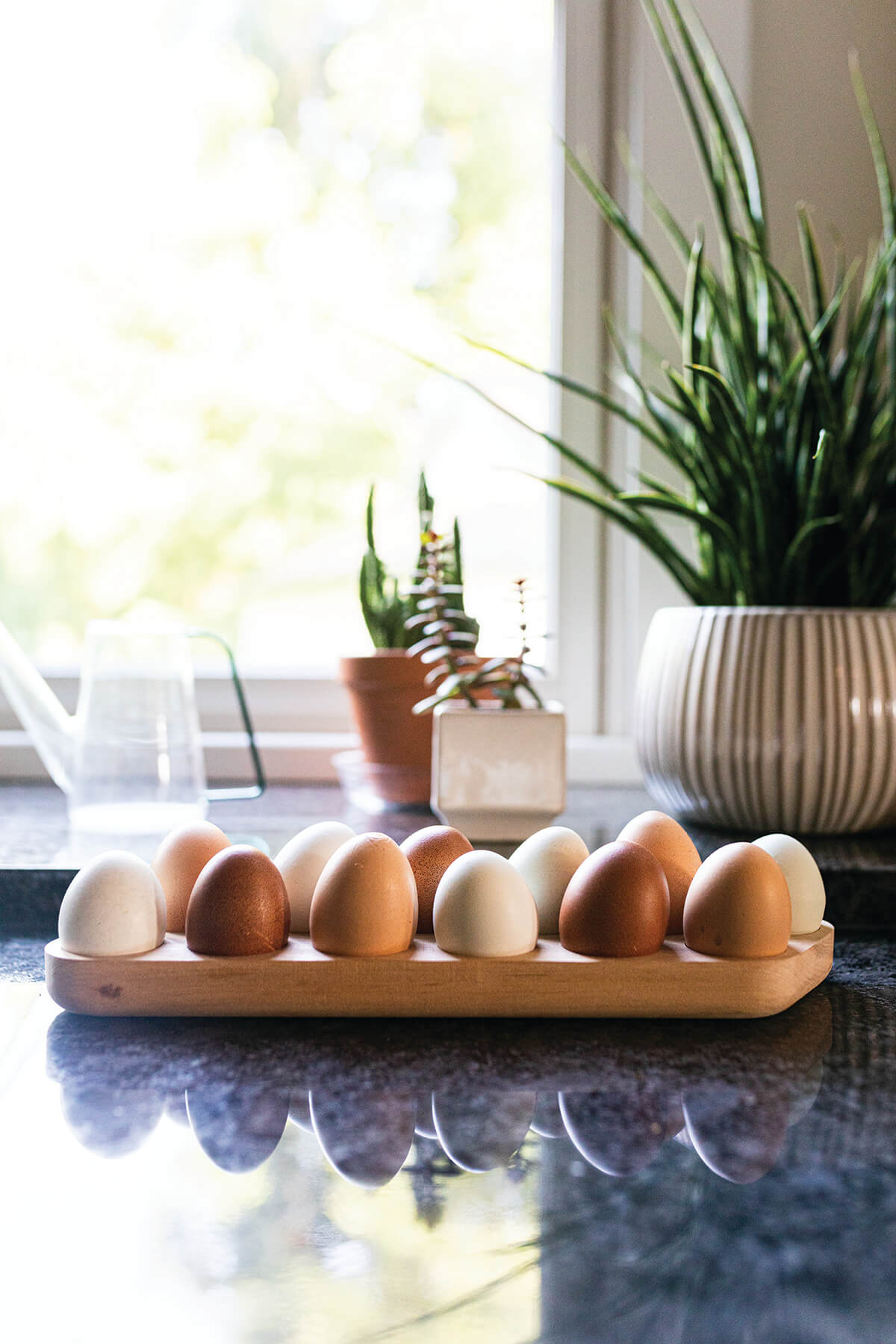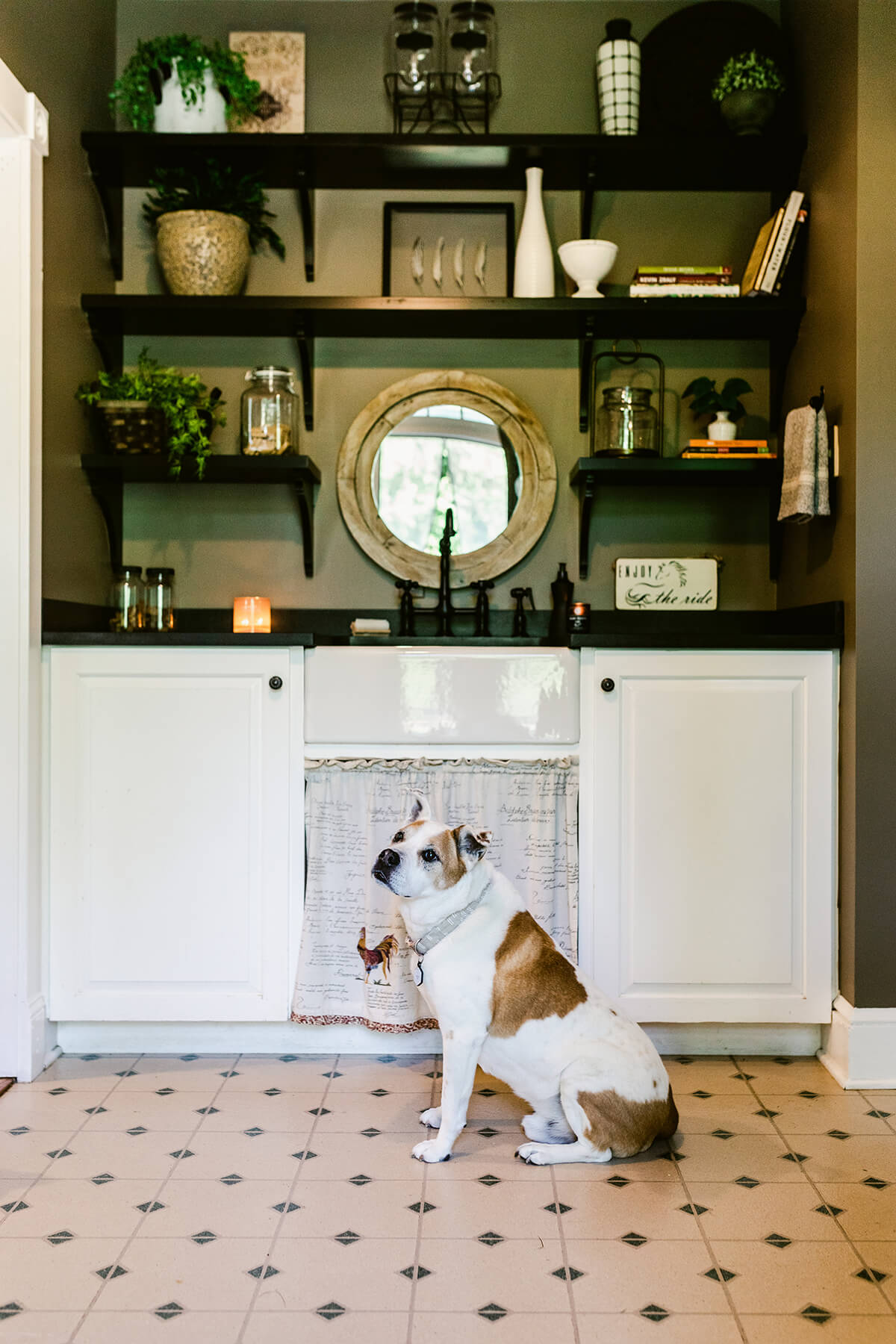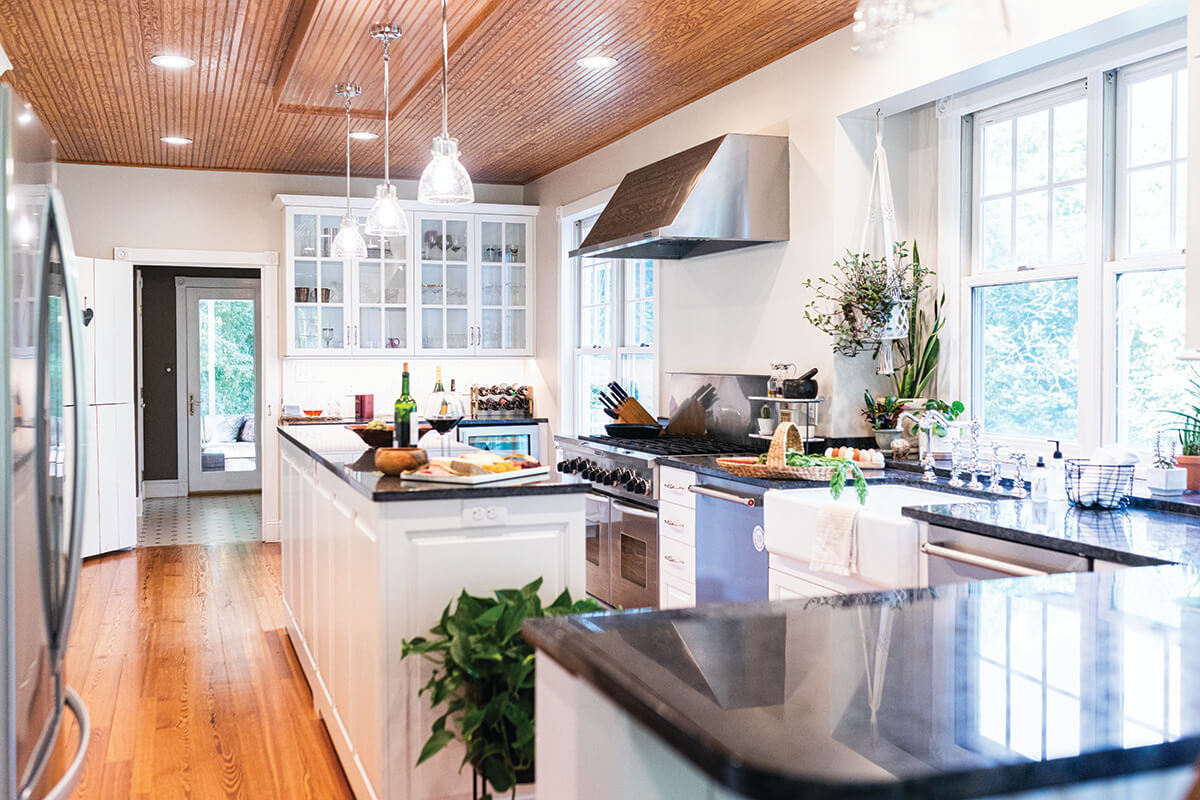 The whole house is bathed in light, thanks to countless windows, doors, and a sunroom that allows the light to tickle even the farthest corners. Gaskarth grew up in Timonium on land that had once been her family's farm, Kentucky Stables.
"My dad, his sisters, and their parents ran the farm," she says. There were lots of horses, and her dad began riding as a kid. "That's where I got my love of horses," she explains. She got her first pair of riding boots on her seventh birthday. They now sit on the floor-to-ceiling bookcase that's the centerpiece of the great room. It shares space with other childhood mementos and eccentric pieces of art that bring Gaskarth joy.
Her home is beautiful but comfortable—that rare intersection that means it's both inviting to her little niece and nephew for playdates, but also can pivot to an adult cocktail party with ease.
"I like neutrals for couches and chairs and beds, big pieces that I can keep for a long time," she says. "But I really like quirky touches." She scans the room, her eyes landing on her antique art, floor-to-ceiling arched wood-burning butler stone fireplace, and piano. "I think it's a little bit farmhouse, a little bit eclectic."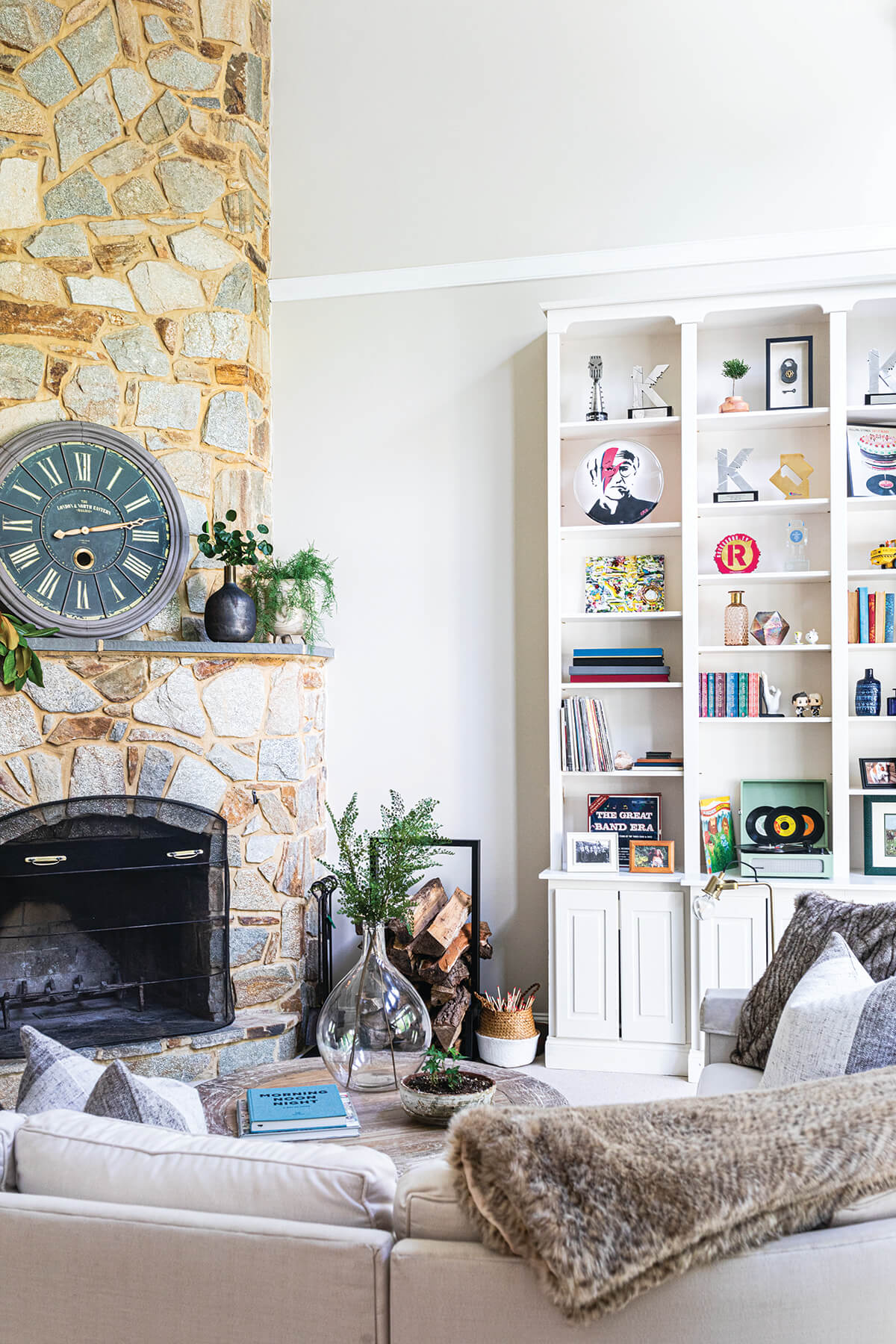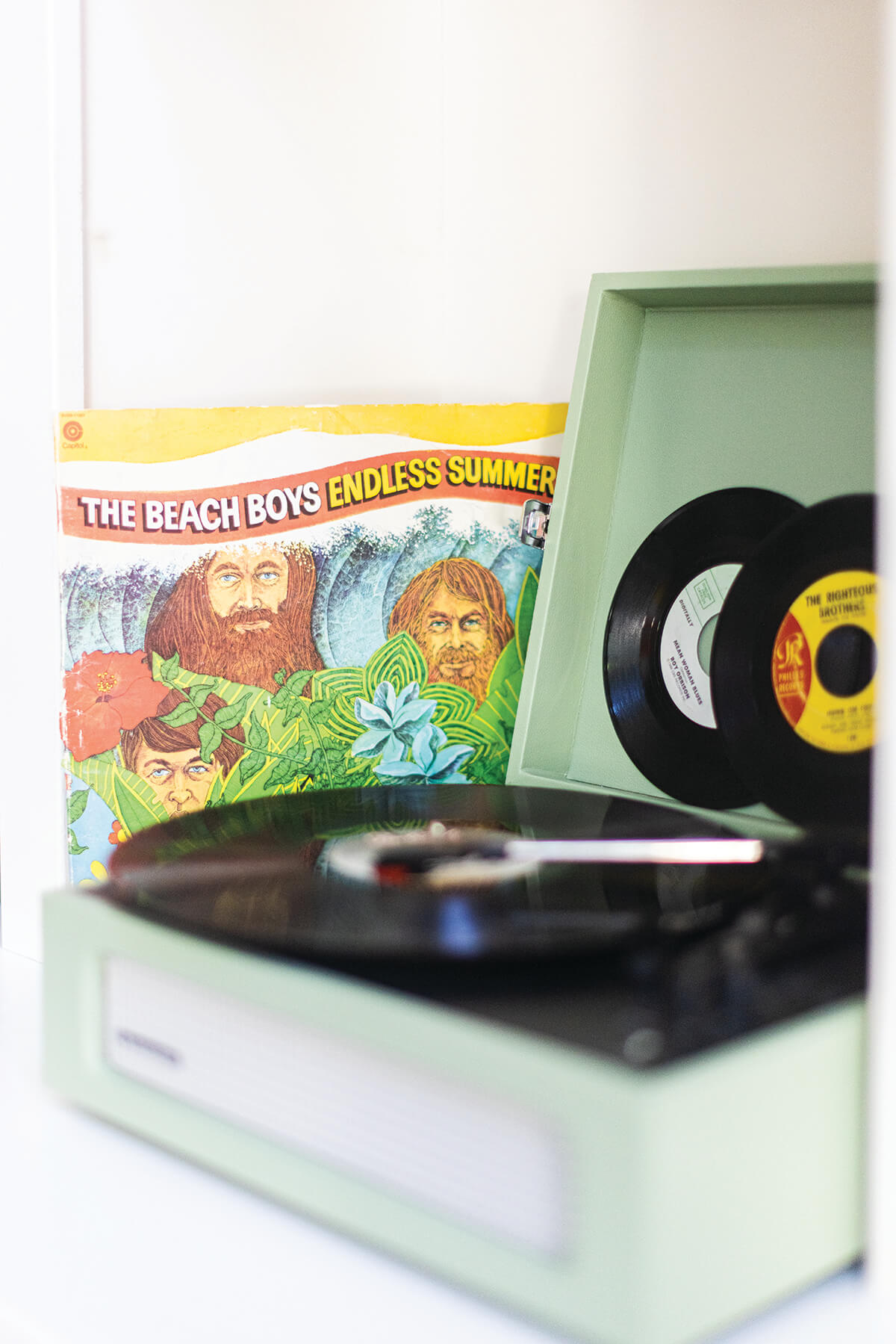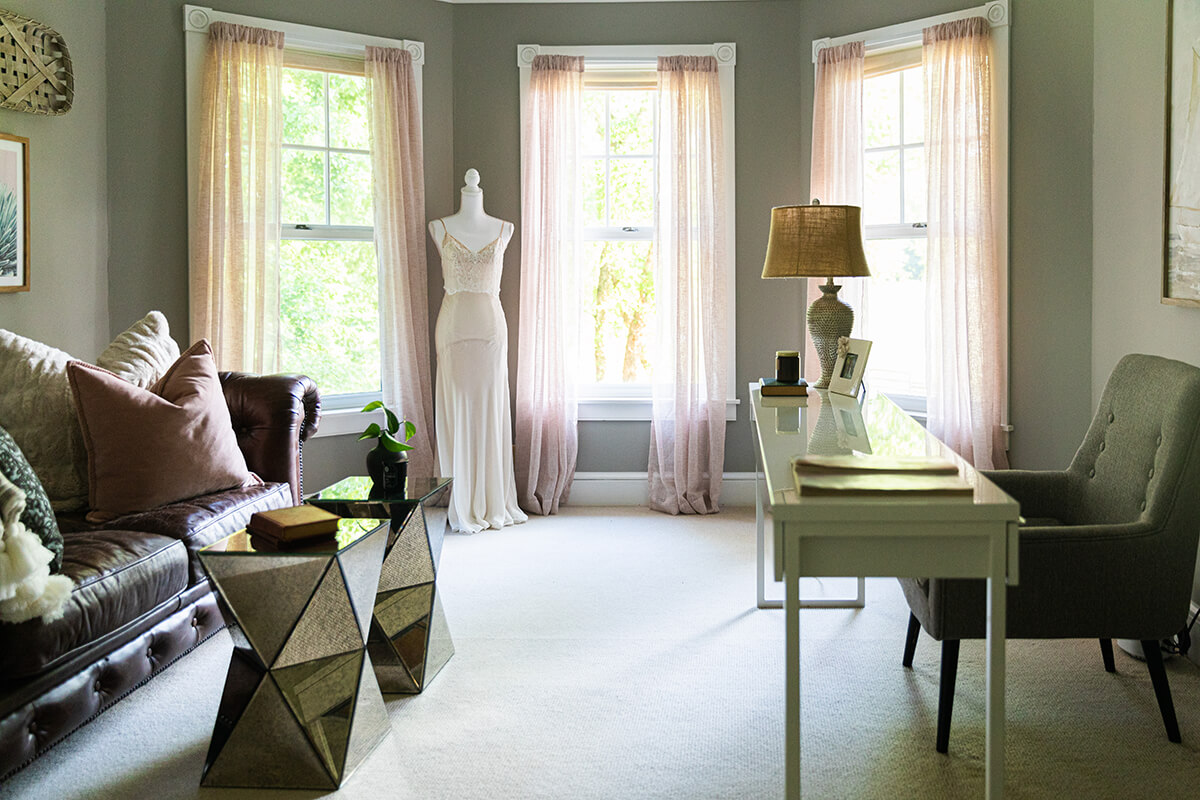 Gaskarth's bedoom suite on the first floor—past the "dozy den" featuring a perfect-for-napping oversized couch—is simple, feminine, and warm. The soft and creamy white walls allow her artwork to pop, along with an antique linen dresser tucked in the corner and trunk end tables nestled next to her bed. The real standout of the room is her wall of art.
"I just love a gallery wall," she admits. "I feel like you can put so much personality into it." It's also where she shows off all her finds from treasure hunting with her mom. "Most of these are from antique stores," she says, gesturing over her bed. There are many pieces, including framed vintage Army pillows from the 1940s, a California license plate to signify a place she once lived, a Wyoming license plate with its bucking horse and rider, and antique riding crops. A gallery wall gives freedom to imperfection. "I like things that don't have to be exact," she explains.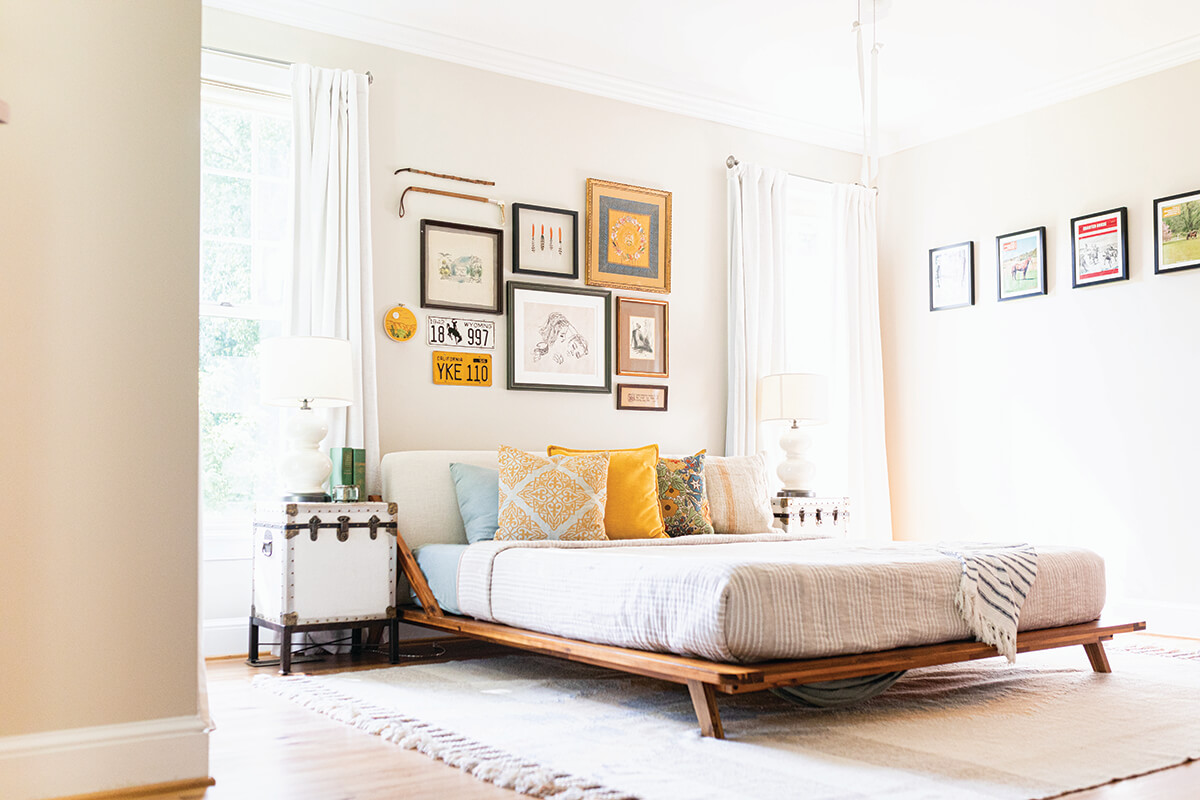 She also believes that once you put something on a wall or in a room, it's not stuck there forever. She loves moving items around within her own home.
"My mom and I have this thing—we say we go shopping in our own house," she laughs. Anytime she wants to redecorate a room, her first stop is always those boxes she hasn't quite unpacked yet or even other rooms in the house. There's nothing that can't be relocated, including artwork, couches, lamps, and plants.
If Gaskarth's home's downstairs is understated and smart with small nods to the farm, upstairs she let herself really lean into equestrian chic. She left the previous owner's toile horse and hounds wallpaper in one of the bedrooms and made it her own by adding a whitewashed wood-beaded chandelier and bold pillows on the bed. There's a simple dresser for company, often topped with fresh foliage from her grounds.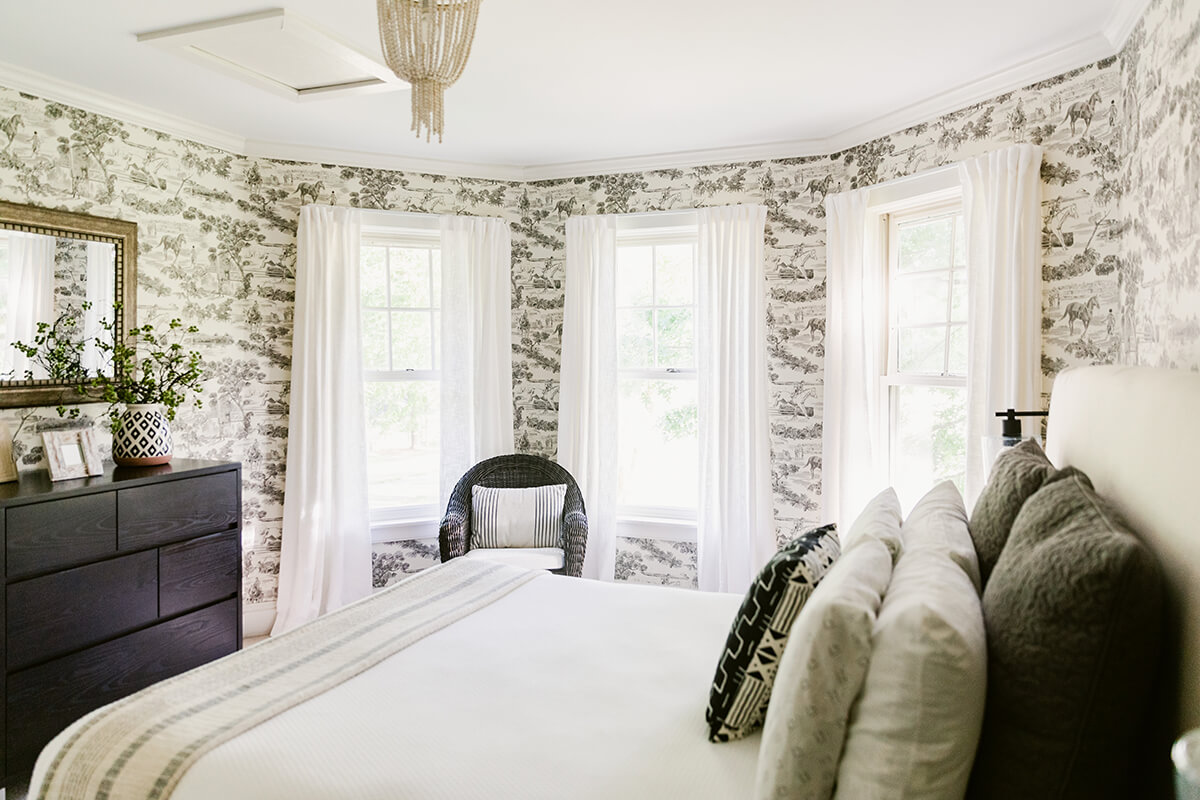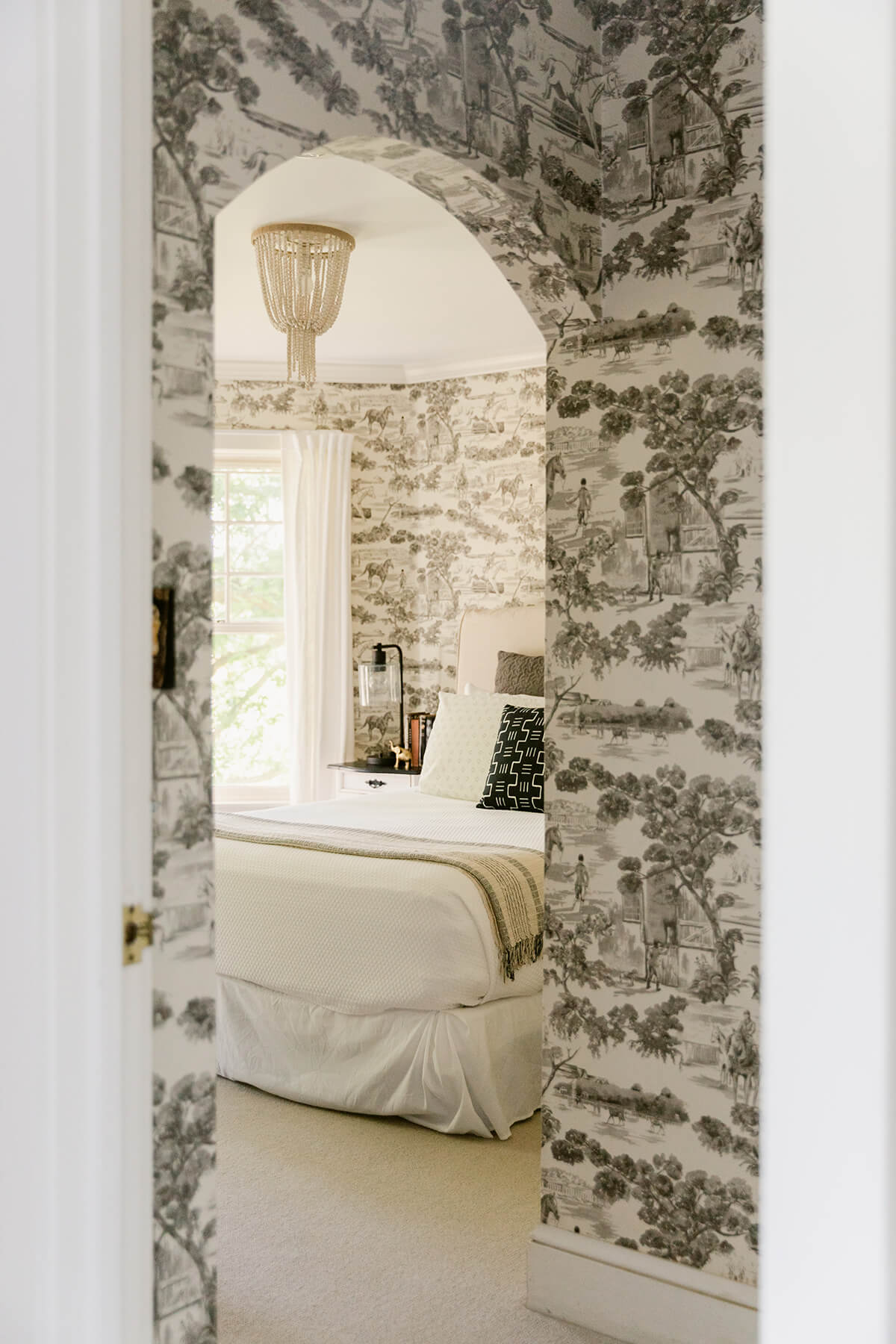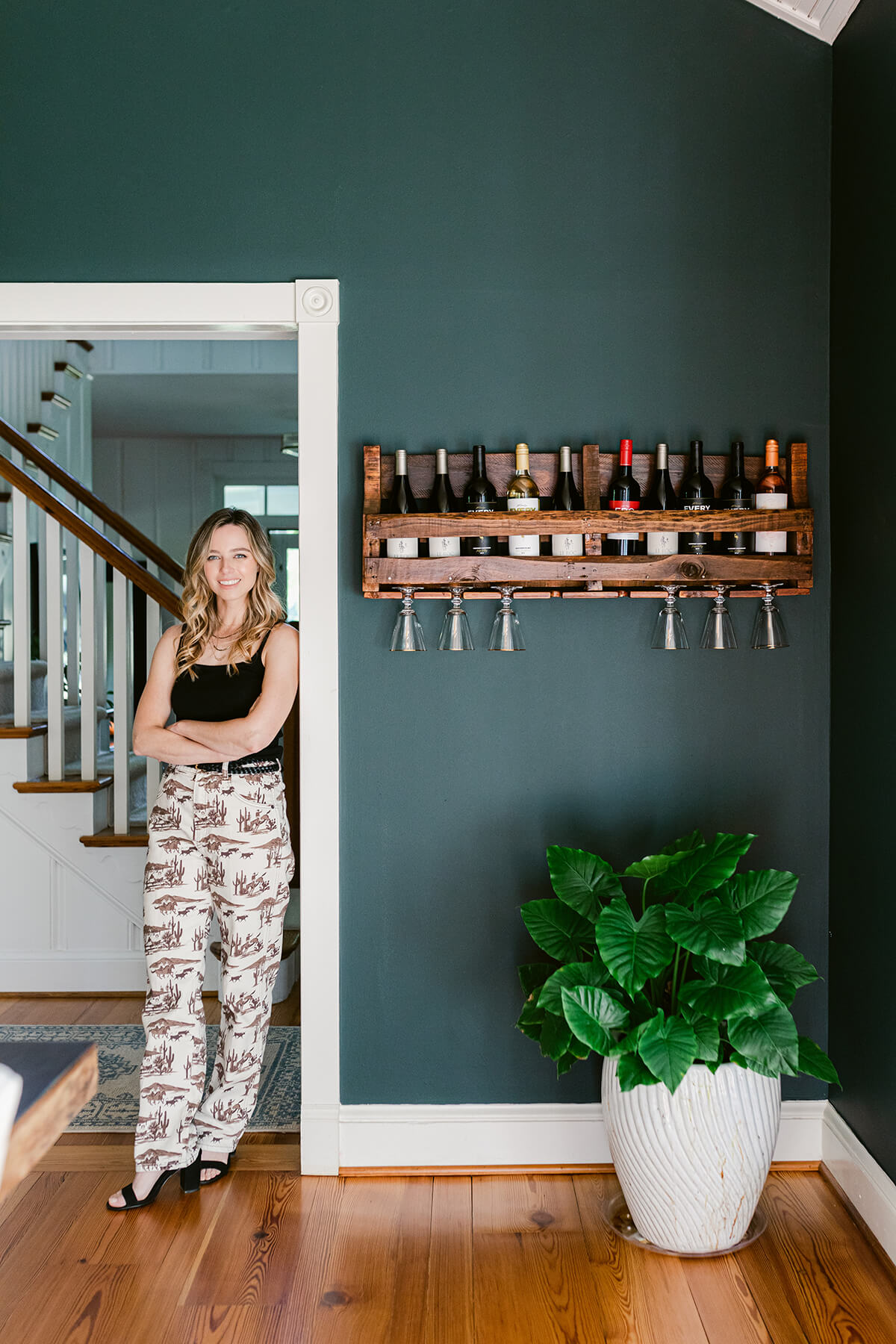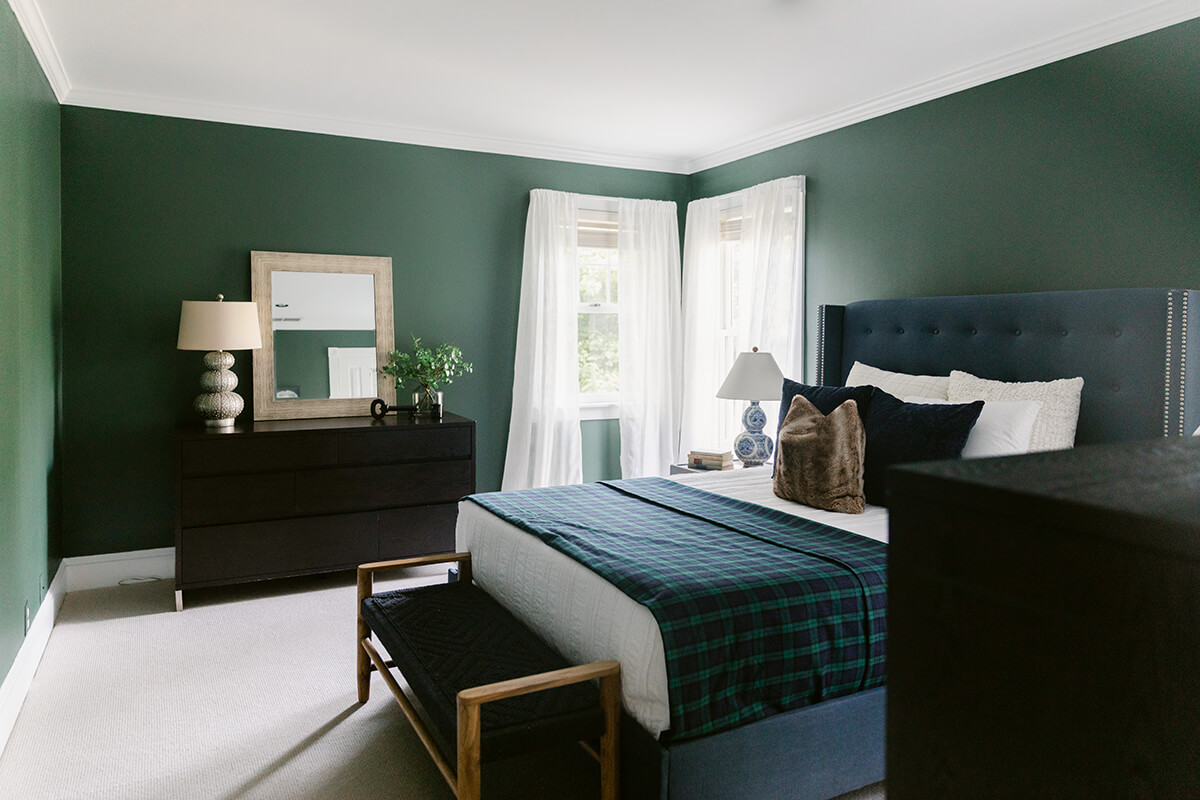 The second guest room—"the Ralph Lauren room," with its iconic plaid quilt, studded headboard, and deep green walls—has two hefty nightstands on either side of the bed. The finds from vintage store Laissez Faire were originally a frothy orange-pink color, so Gaskarth painted them gray, leaving one creamsicle stripe across the top as a playful wink to their original hue.
A few days after she first moved in, Gaskarth's niece and nephew asked to play with the dollhouse that had been left upstairs by the previous inhabitants near the reading nook—a bookcase filled with color-coordinated tomes next to a bench with a bird's-eye view of the barn. But when they went to move the little house, they all realized it actually was a laundry chute hidden under the roof. "And then they wanted to play with it even more," she laughs. "It goes all the way to the basement."
From the upstairs landing, you can see the home's two-story foyer, which includes a folksy piece of art depicting the farm, created by an artist at McDonogh School who was the teacher of one of the kids who previously lived there. "It's an interpretation of the property," explains Gaskarth. She looks up at the piece. "Cool and quirky," she says with a laugh. But because it's all about balance for Gaskarth, there is also a gorgeous antique saddle under the canvas, and a more traditional framed picture of a horse painted by a family member.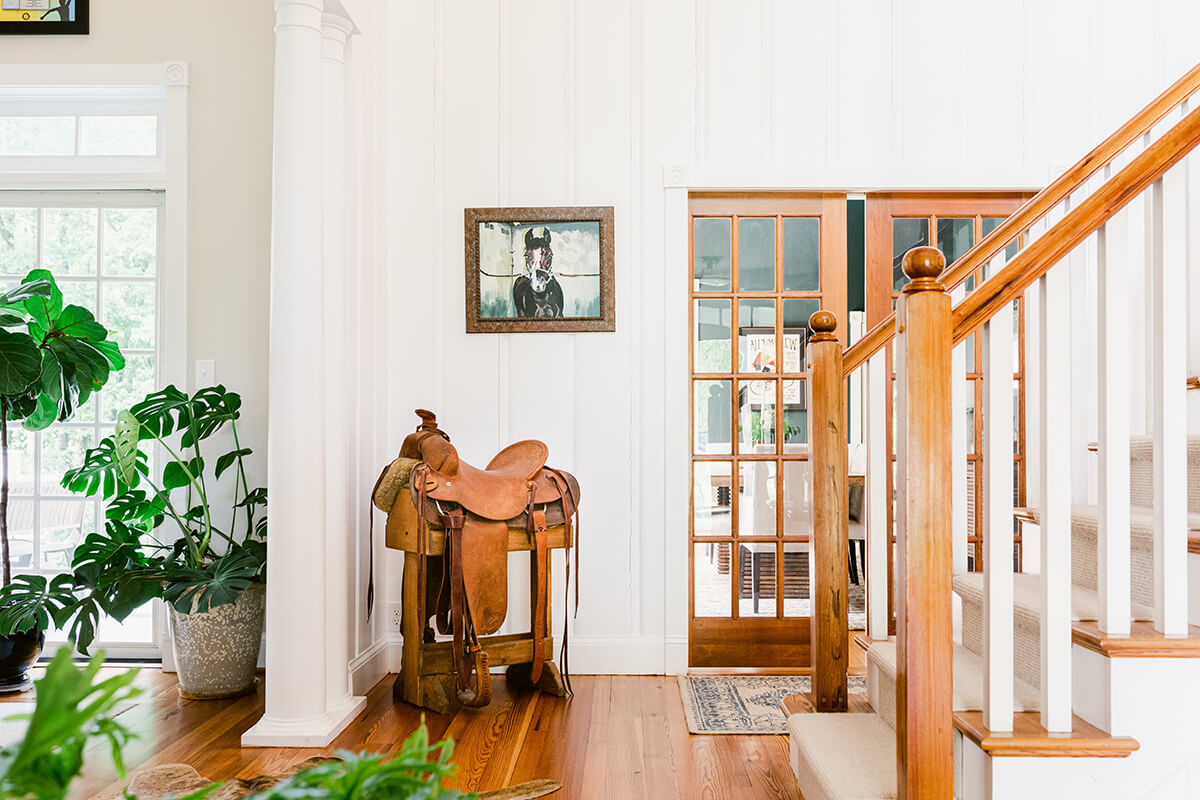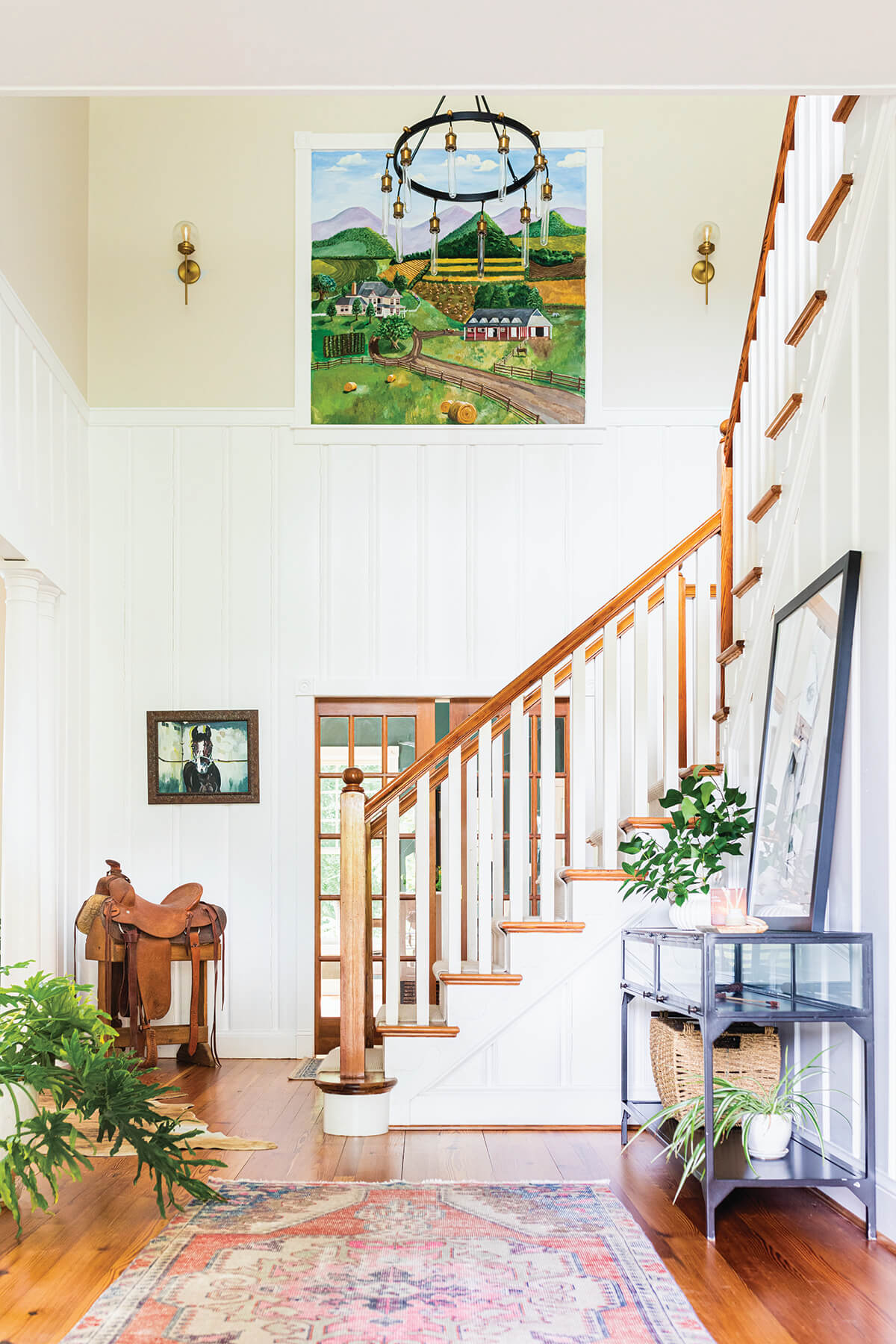 And while Gaskarth's home is pretty perfect, it's mucking stalls and grabbing a beer from the fridge in her tack room when she feels most at home. She'll hop on one of her horses, Theo, Maverick, or Valentino, past the peony bush that once belonged to her grandfather, and head out.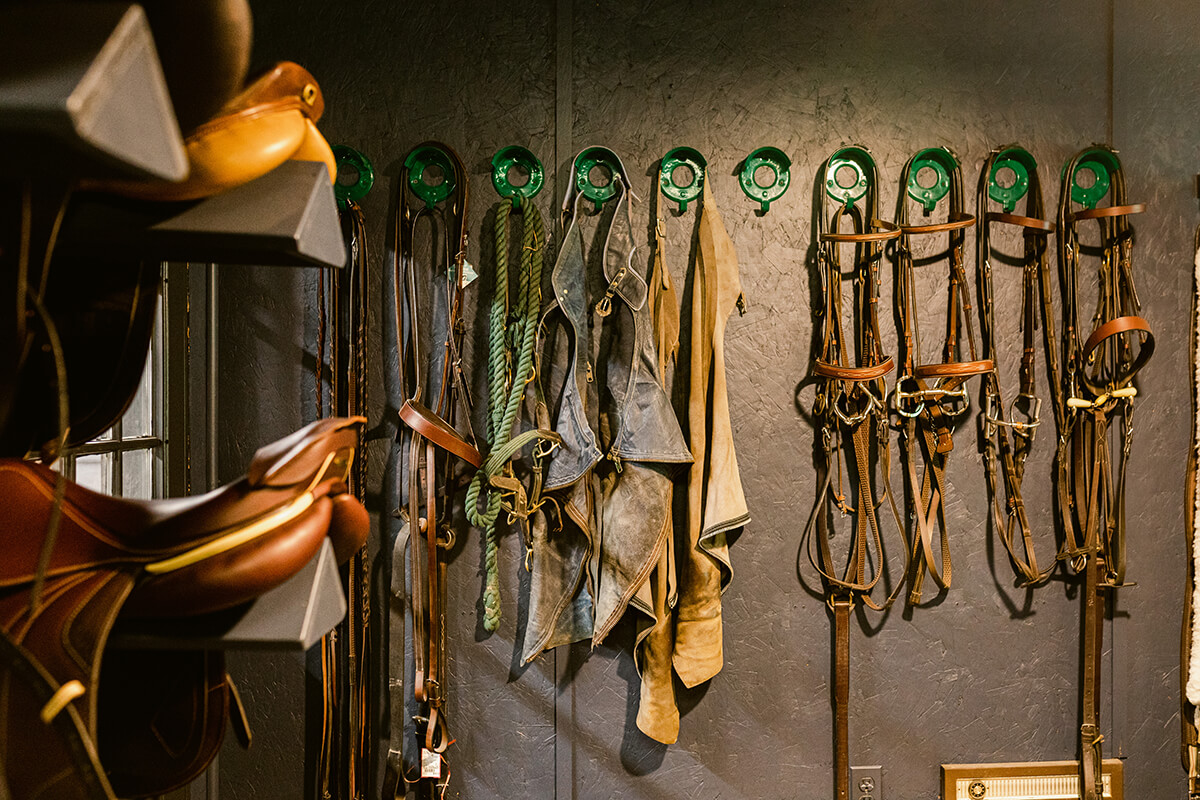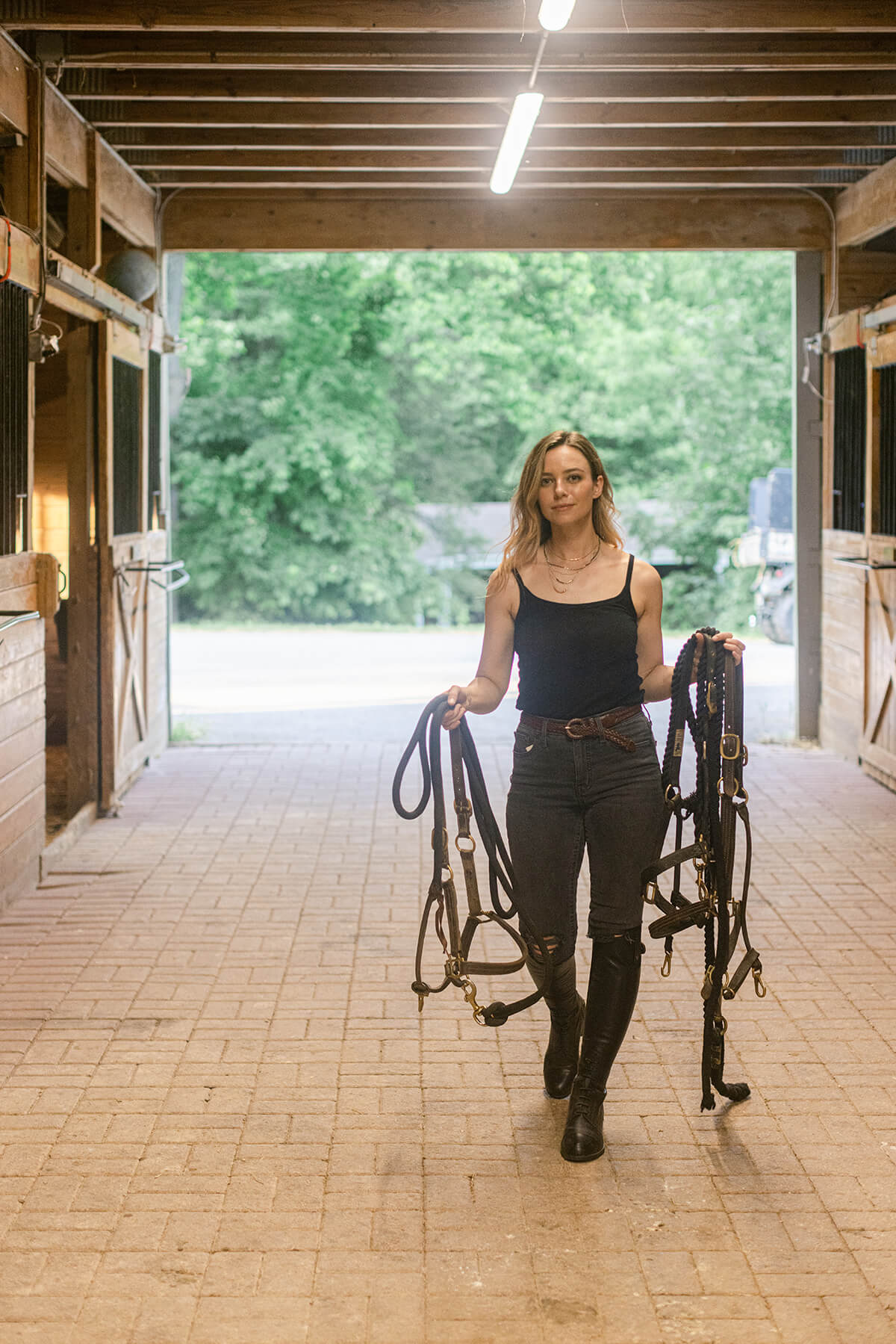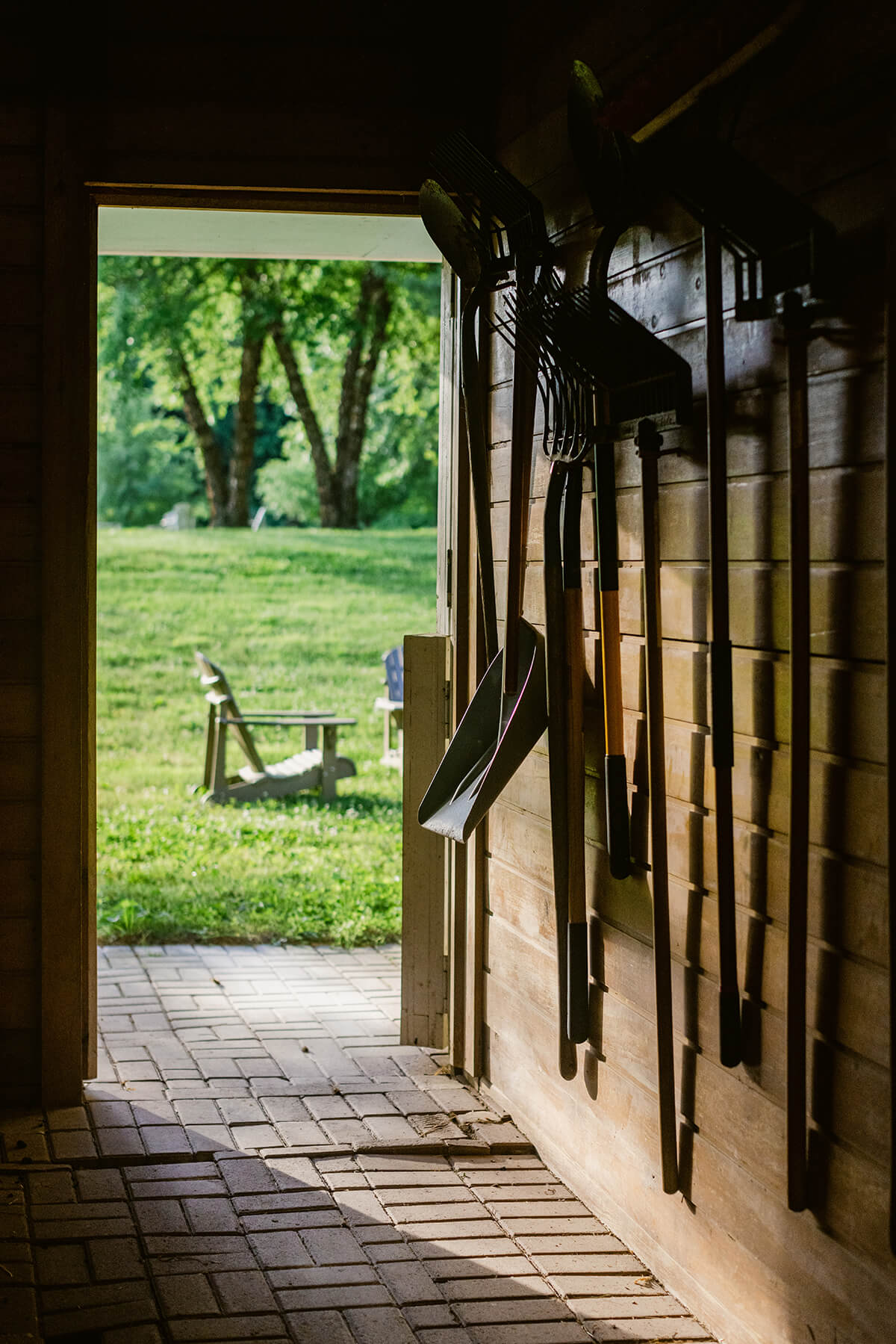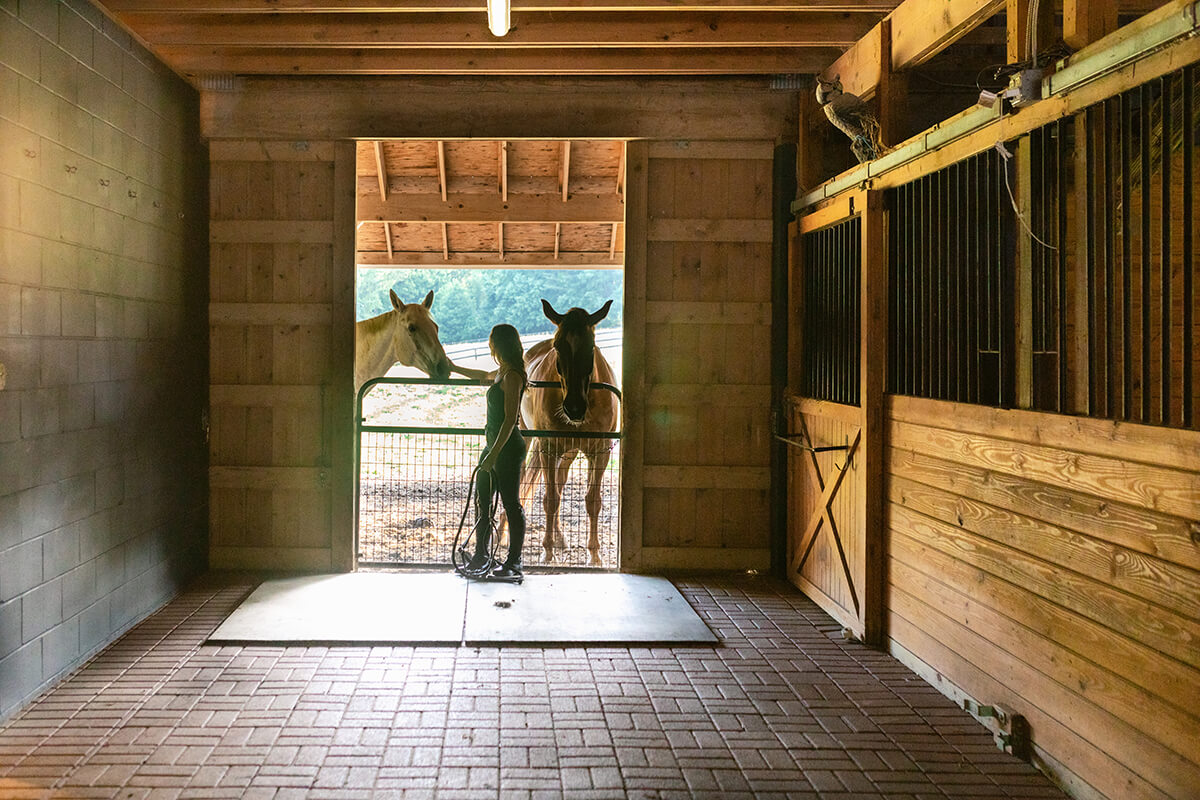 Sure, there is still work to be done—a mudroom that needs wallpapering, an office begging for a new coat of paint, dreams to turn the detached garage into a pool house—but, for now, there is just wind in her hair and endless trails ahead.