Home Made
Inside the Old Goucher home of Radica Textiles founder and designer Sarah Templin.
START FROM SCRATCH: My husband, Bruce [Willen], and I moved into the house in 2010 and had to do everything. There was no electricity, plumbing, or heating, so we did about a year of renovation before we could really move in.
MIX AND MATCH: Some of the furniture we got from Home Anthology, a store in Catonsville. We also have a lot of family pieces. It's a real mix of things we have acquired along the way.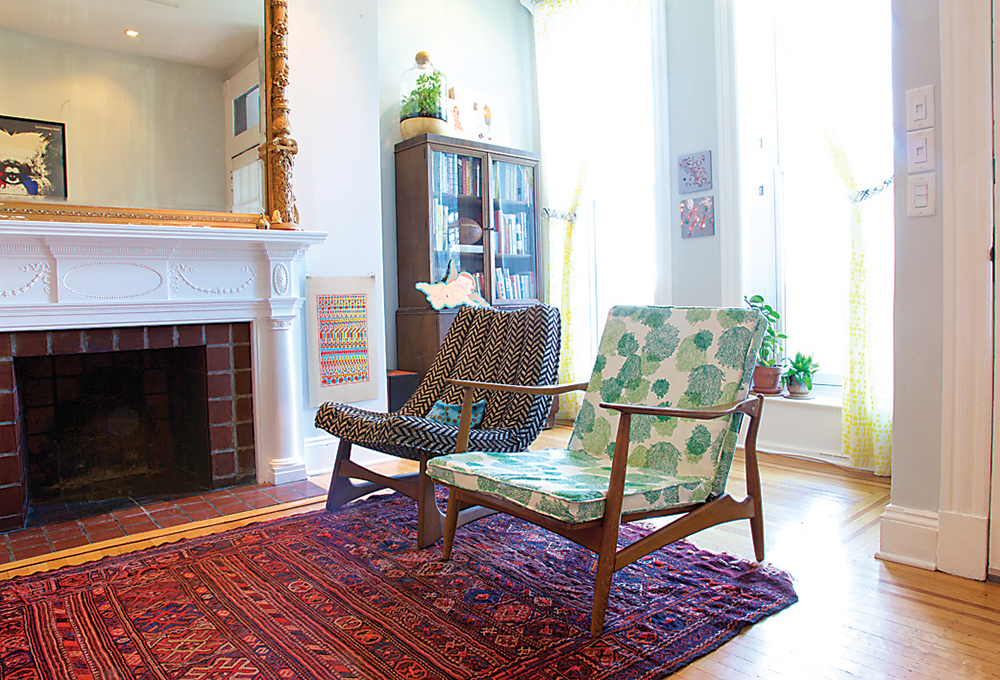 IN HOUSE: The couch is an old midcentury modern hand-me-down that's usually covered in a quilt or two. The back cushion is upholstered with my screen-printed Radica fabric. We also have some curtains and an armchair upholstered with my fabric as well.
DESIGN DREAM: In the living room, we have vintage theater posters from Poland, which just seems to have exceptional graphic designers doing these posters.
WALL OF FACES: In the dining room, we have a portrait wall, which contains mostly portraits that friends and family have made for us. A friend of ours had a wedding and, instead of having a photographer, he had someone doing drawings of all of the guests, so we have one of them. The portrait wall is constantly evolving.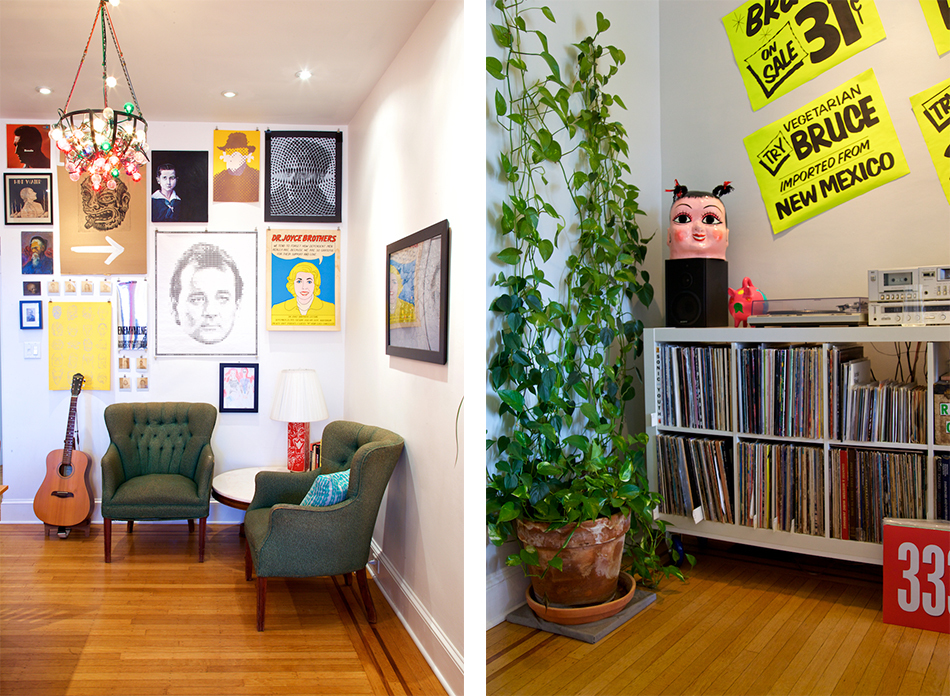 FROM CATHEDRAL TO CUPBOARD: The cabinets in the kitchen were all custom-made for us by Emmanuel Nikolaidis, who is a cabinetmaker here in town. The darker wood ones were actually made out of demolished church pews that we found.
IDIOSYNCRATIC ILLUMINATION: One year for Thanksgiving, all of the family came over but my grandfather was unable to get up the three sets of the stairs to get into the house, so we ended up moving the whole Thanksgiving dinner into my parents' garage. We made these impromptu chandeliers out of garden supplies. One of them is now hanging in our dining room. It's just one of those iron planters with Christmas lights thrown into piles in it.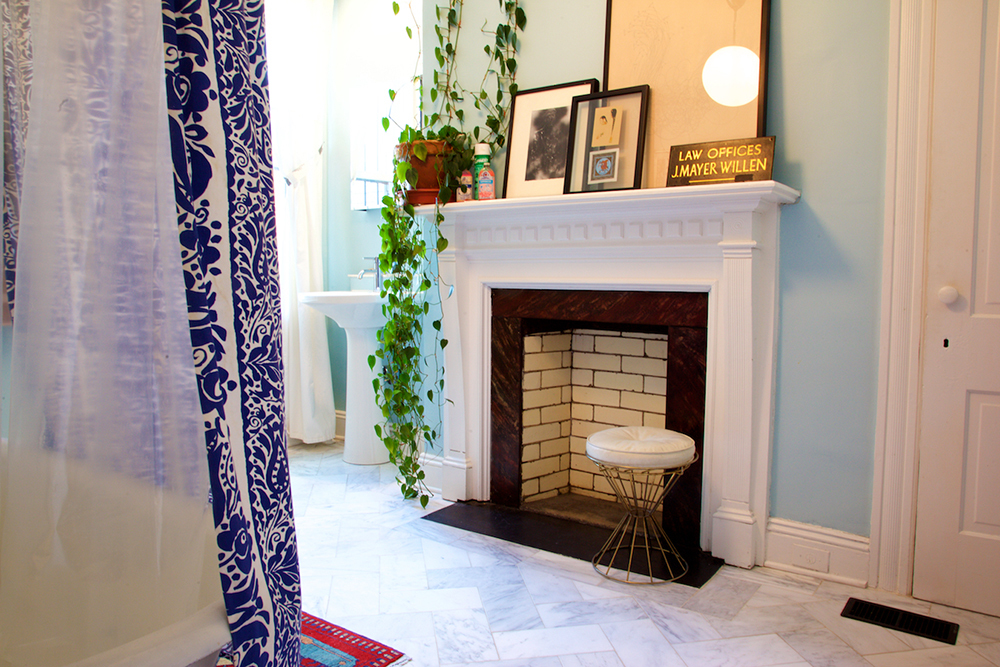 I SAW THE SIGN: Bruce does a lot of hand lettering for his company, Post Typography, and we are really into the look of old grocery-store signs, so I got this sign painter in the neighborhood to make those signs above the record player for Bruce's birthday. The hand painted "J. Mayer Willen" sign in the bathroom is from the law office of Bruce's grandfather, who practiced law in Baltimore until the age of 97 when his last client died.
FACE THE MUSIC: We have a lot of records from our friends' bands or that we found at thrift stores. We have a nice speaker system that is throughout the entire first floor, so we often have music playing.
NOW PLAYING: Lately, I've been really into Paranoid, the old Black Sabbath album. But also the new Peals album—Bruce's band—that is about to come out.