Interior Designer Laura Hodges Nails That Work-Life Balance
Hodges is passionate about her two greatest accomplishments—being a mom and running a design firm.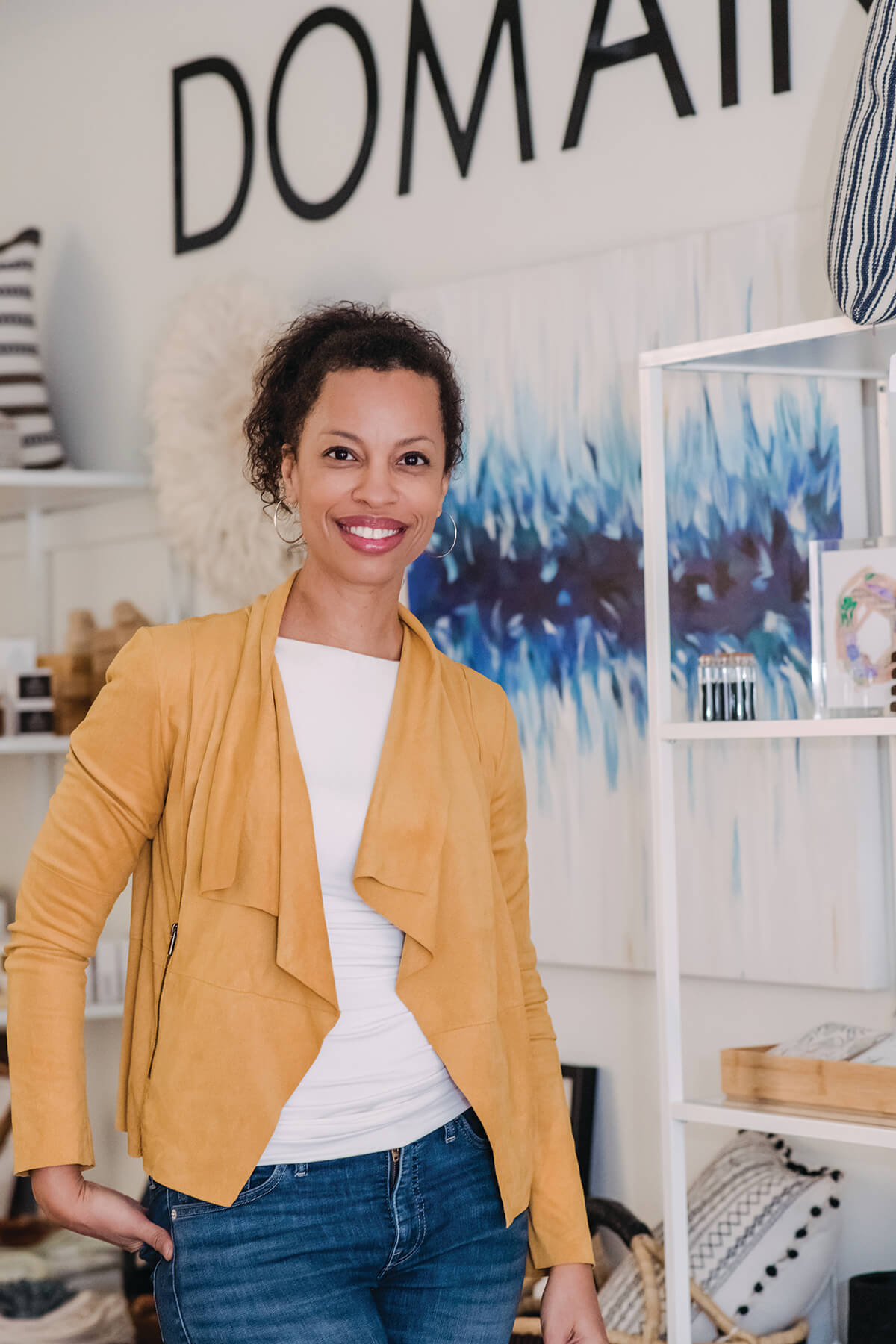 Laura Hodges is passionate about her two greatest accomplishments—being a mom and running a design firm. They weave together like a beautiful tapestry—each satisfying on their own, but even more beautiful when intertwined.
Her business, Laura Hodges Studio, a boutique interior-design firm, and Domain by Laura Hodges Studio, her home décor shop, share a storefront along Catonsville's Main Street—not far from where Hodges lives with her husband and two sons.
Hodges was born in northern England (to a British mother and Jamaican father) and lived there until she was five—you can still catch a slight accent when she speaks—but grew up in Montgomery County before heading to New York for college to study business, followed by the New York School of Interior Design. Hodges interned for award-winning designer Jamie Drake and worked as a design assistant for Thomas Jayne of the renowned Jayne Design Studio. "But I always knew I wanted to do my thing," she says.
That entrepreneurial spirit was kicking in, even when she was a design novice. One of Hodges' first solo projects was a client she found on Craigslist. The woman was looking for a trade—someone willing to help design her Manhattan apartment without charge, but in return the designer would have free rein.
"I could get my feet wet with her," Hodges says. "She gave me complete creative freedom and the freedom to not worry about getting things wrong or all the liability when someone is paying you."
They crafted a headboard together and shopped the local flea markets. She loved working one-on-one with a client outside the design firm. "I definitely want to do this on my own," she remembers thinking. The end result was a happy client. Twelve years later and "we're still friends," she says.
In 2011—while living in Jersey City—Hodges had her first son. "I wanted to stay home with him for the first few years," she says. And the baby made her realize she "wanted to be closer to family."
Having grown up next door to her grandparents, she wanted the same for her children, and so the family moved back to Maryland—this time, Baltimore County. A second son followed, and Hodges relished her days as a stay-at-home mom. But she still had that interior designer itch, and the need to start creating again was strong.
"I didn't want to jump straight into it," says Hodges. But as her younger son started preschool and she was able to carve out more time, she dipped her toe into small projects here or there. "My first design project in Baltimore was from a mom's group on Facebook," she says.
Someone had requested a recommendation for an interior designer. A friend replied with her name. And soon she realized her limited free hours—nights and weekends when her husband was home and able to watch the kids—were actually an asset.
"Sure, I can meet you on Saturday at 2 p.m.," she would say. Clients felt like she was being super accommodating. She'd piece together 15 hours a week she could dedicate to her part-time gig. (Plus, some evenings staying up until 2 a.m. and lots of weekends.) Not only was her availability influenced by being a parent, her design style was, too.
"I'm always thinking of the lifestyle of our clients, not just the aesthetics of the design," says Hodges. "As a mom myself, I'm very aware of the practicalities of design planning, whether it's the importance of organization, the durability of fabrics and finishes, or the ins and outs of balancing home life and work life."
She also started to realize that interior design is not only about selling someone on your designs, but about selling them on yourself.
"You have to stand behind what you are coming up with and pitch it to them and make them see it in the same way you are seeing and imagining it," she says.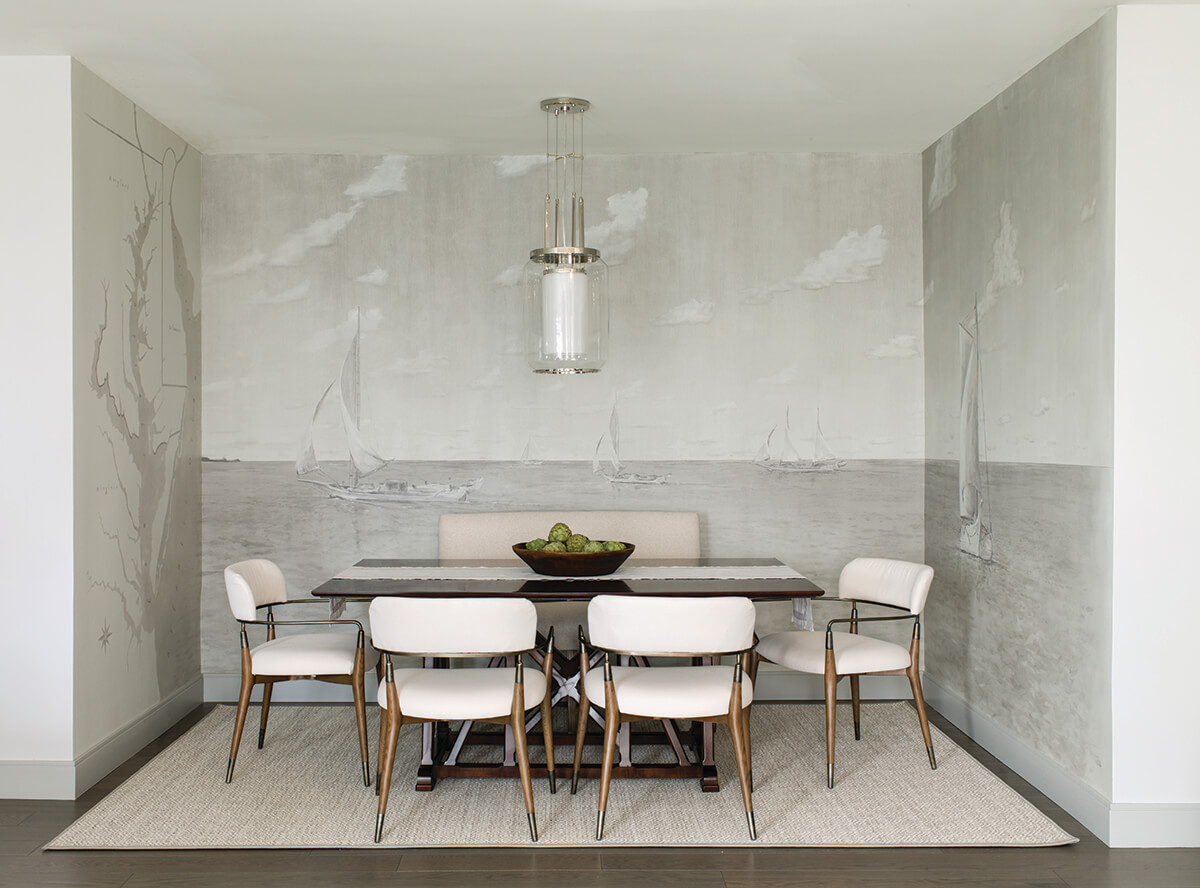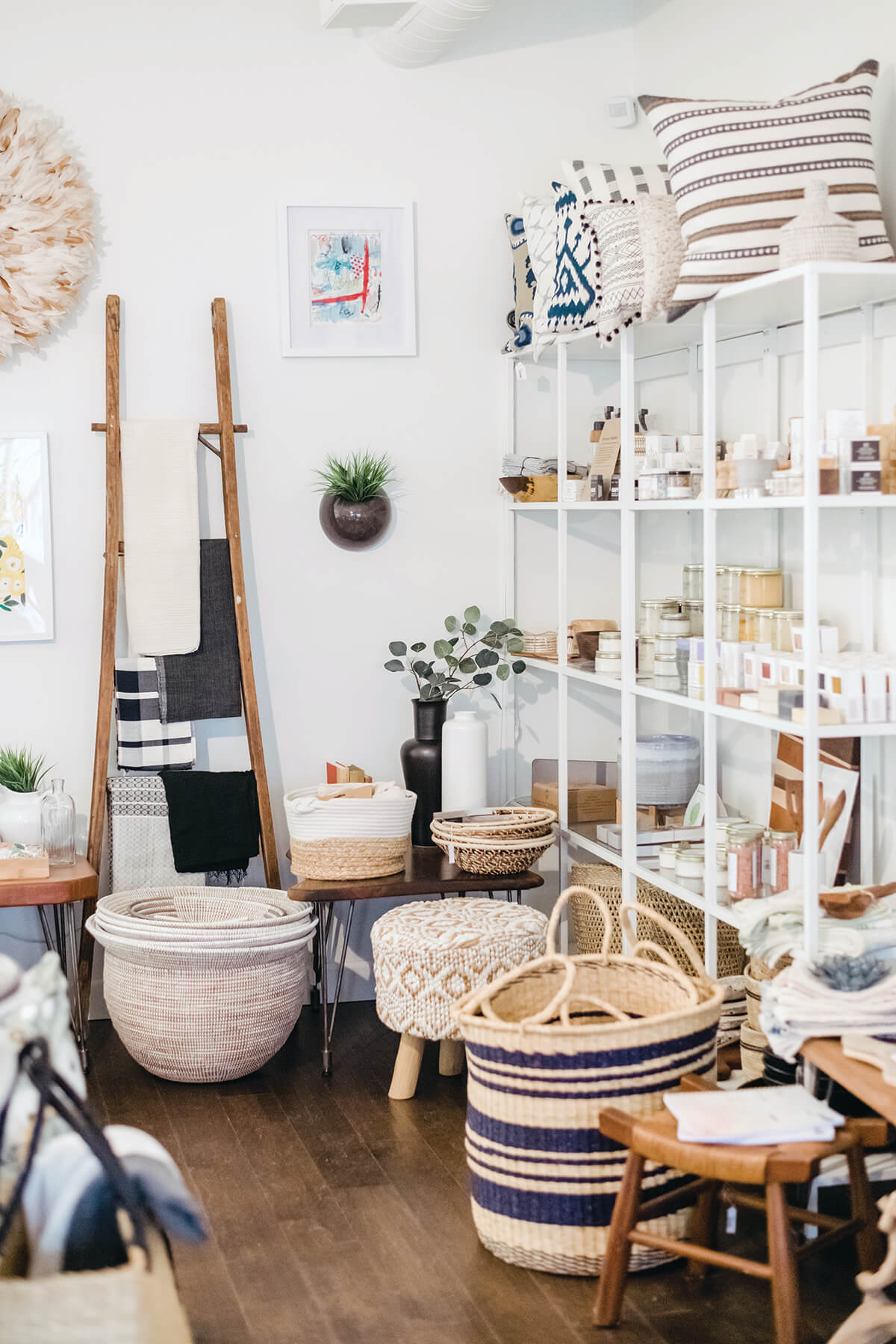 Part of that is with renderings and drawings, she notes, but the other part is just being a good listener and knowing that your role sometimes extends beyond designer.
"There's the sales part and the psychology part of it," she says. "You have to have a really good connection with your clients. They have to trust you fully—because you're spending all their money," she adds with a laugh. "You're also part marriage counselor because spouses want different things…you're the middleman who has to make it all work."
Two years ago, Hodges' husband, Tim, left his job to come work with her and handle the business and operations side of the company so she could focus solely on clients and design. "We treat it like a third child," says Hodges of their business.
Working with her husband is also a bonus for their clients, says Hodges. "I tell them, 'You're going to get a lot more time out of us.'"
It's not unusual for Hodges to wake up in the morning and immediately ask her husband, "Do you remember the desk we ordered? Is it on the way?" she says. "He's like, 'I'm brushing my teeth—can you stop?'"
One of the big changes they were able to accomplish was putting Domain online. When they got word in 2019 that Hodges was being named a "Next Wave" designer (AKA rising star) by House Beautiful design magazine and that the shop was also getting a mention, they knew they needed to take things from just brick-and-mortar to e-commerce as well. The timing was oddly fortuitous. That was December—three months before the pandemic hit.
Domain is a "small but very curated collection of fair trade, sustainable, beautiful
items," says Hodges. It's a "representation of our design aesthetic." Having a shop in addition to her design firm had always felt like a "pipe dream," she says.
When they found and bought the Frederick Road place, with its big picture window, it was initially as an investment property to rent out to another retailer, but Hodges fell in love with the space. "If not now, when?" she thought. After all, the timing was right. Her boys were both in school full-time. Her parents lived across the street as extra support, and business was booming. She decided to take the plunge.
"It's no longer an investment—it's now a life change," her husband told her.
The shop and her new design office opened in 2018—the same year Home & Design featured Hodges as one of their "Designers to Watch." Currently, Domain does more online business than walk-ins. "It's been great and unexpected." And she relishes calling her local vendors and telling them, "I just sold a piece of your art to someone in California."
When COVID-19 first hit, business ground to a halt. Everyone was scrambling to get groceries and toilet paper. No one was thinking about a full-house renovation in Hodges' signature style—warm, tailored, layers with an international feel from fabrics, colors, and textures.
Eventually, when things started picking back up, clients were still worried about finances. Calls ranged from, "We're going to hold off" to "The budget is a quarter of what it once was." Hodges understood.
"We're a luxury," she says. Someone isn't going to buy cheaper drywall, she explains, but perhaps they don't need a headboard made of the finest fabric. But as everyone settled into the long-term realities of the pandemic, she started getting calls.
"Well, if we're going to be home, we want it to be nicer," people said. Hodges was happy to do her part for the economy. And the way she saw it, work for her company also meant work for local upholsters and contractors, furniture makers, and electricians. "A lot of people benefit from all those projects."
It's been a stellar year, work-wise, and she's excited to see what 2021 will bring.
"As much as we loved the growth this past year, I don't actually have a desire to have a big company," says Hodges. "I love doing the design. I love the technical aspect of it. Not just managing other people's work—but getting in there and doing the drawings and meeting with clients, selecting fabrics, and coming up with clever solutions for design and storage issues, and designing custom furniture and cabinetry."
Says Hodges, "We're a small studio, we're a small shop. Right now—we're good just where we are."