A Backyard Oasis
New technology and design trends are reinventing the backyard pool.
We can all relate to the scene in National Lampoon's Christmas Vacation where Clark Griswold gazes out his home's frosted window, daydreaming about his family splashing and playing in the backyard pool that he plans to build with his generous end-of-year cash bonus—of course, he instead gets a one-year membership to the Jelly of the Month Club. But, in reality, our similar watery daydreams are too often interrupted with cost worries, fear of maintenance headaches, and imagined safety concerns that come along with a new pool.
But fear not. The standard backyard pool is undergoing a rebirth. Thanks in part to smart technology, energy-efficient products, and innovative design trends, pools are easier to maintain than ever, and the functionality of an outdoor entertainment area can stretch far beyond the warm summer months.
"We use a ton of technology that makes our pools easy to take care of," says Michael Shaffery, president of Baltimore-based Elite Pools. For example, a built-in cleaning system "that looks a lot like the irrigation system for a yard" systematically pushes dirt to the main drain. Plus, remote pool-management technology allows Shaffery to diagnose and fix any problems from afar—and allows you to switch on your hot tub from an app on your phone so it's hot and bubbling when you arrive home.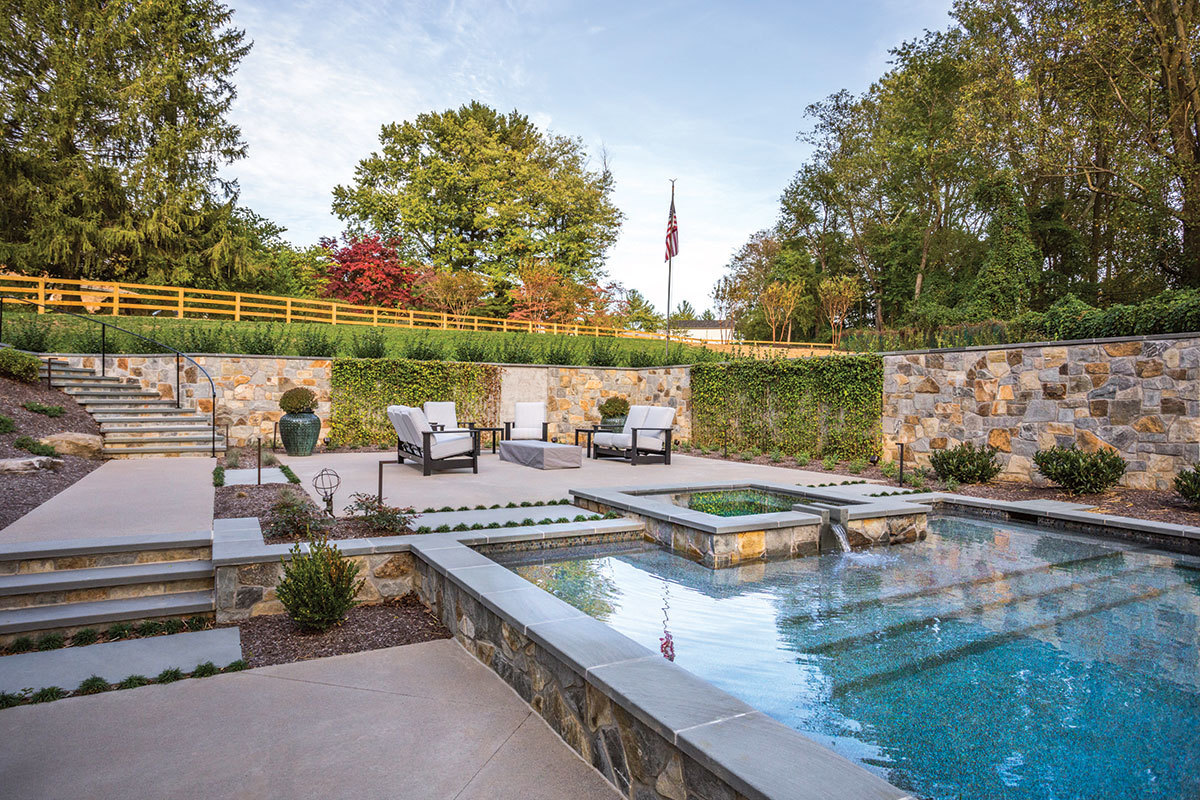 Spending a bit more upfront can pay off in energy savings later, says Matthew Thompson of Phoenix-based Lothorian Pools. Energy-efficient equipment is increasingly popular with his clients, Thompson says, like incorporating "LED underwater lights, variable-speed pumps, and high-efficiency heaters or heat pumps." A variable-speed pump can help reduce the energy costs of running a pool by up to 90 percent.
Combine these product advancements with fun new trends, like sun shelves (shallow areas for relaxing on the patio or playing with the children), built-in lounge chairs, and spillover or integrated spas (where an underwater dam separates the hot tub from the rest of the pool for a seamless look, with some slight mixing of the water), and it's a better time than ever to create the backyard oasis you've been dreaming of while gazing out that frosted window.
The "Wow" Factor
The pool at Christopher and Deborah Englert's newly constructed home in Lutherville-Timonium is more than a place to swim. Chris says the pool and patio space is mainly used for entertaining and offers a great place for guests in search of "a relaxing area with plenty of room to sit and sip a cool drink." Completed in July 2016, the 10-week project features lush landscaping, a trickling water feature, and mood lighting to create the perfect environment for chilling out.
On cool fall nights, the Englerts and their guests gather around the sleek, stainless-steel gas fire pit (which doubles as a table when not in use) or soak in the 36-square-foot spa. Custom lighting around the pool and landscaping give the area an extra "wow" factor after dusk. The built-in bench seat running the length of the 750-square-foot pool offers relief to cocktail-sippers on a humid summer evening, while covered patio areas with ceiling fans shield the midday sun.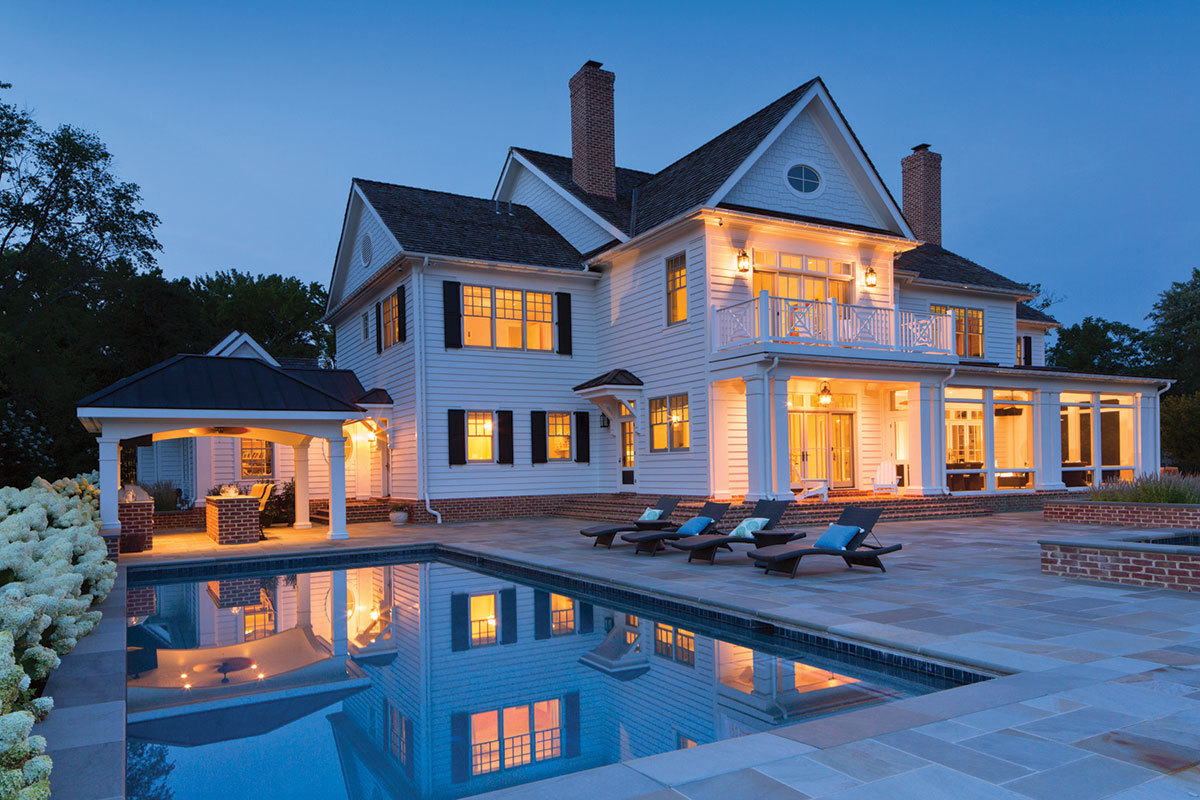 "We wanted the pool to be a progression of the house, another room to use," says Matthew Thompson, CEO of Lothorian Pools, which designed and built the pool.
A dramatic, 20-foot grade drop across the backyard created an extra challenge during the design process, as rainwater rushed through the proposed pool location. "We solved the problem by incorporating the stone retaining wall," Thompson explains. "This afforded us two big-ticket items: water collection and a powerful visual element that helped to create an intimate 'courtyard.'"
The pool was raised 16 inches above the patio floor to further reconcile the grading issue, allowing storm water to be directed around the back of the pool. And to create the transitional feel of an additional living space, building materials were chosen that best complement the Englert home's design. Ocean Blue Pebble Sheen, a plaster coating manufactured by Pebble Tec that incorporates tiny, vibrant blue and earth-toned stones, creates a natural, deep-blue water color in the pool and spa. Premium bluestone coping tiles cap the pool shell wall, while the spillway from the hot tub to the main pool is made from a custom designed and fabricated piece of bluestone. Technology is at work, too: At the press of a button, the Englerts can control—and even change the color—of their pool's energy-efficient underwater LED lights.
A Pool With a View
The McReady family residence offers 180-degree views of Duvall Creek, a bay off the South River in Annapolis, from its connected kitchen, dining, and living room. "For that reason, it was a very intentional decision to put the pool off to the side, so as not to block the water view," says Cathy Purple Cherry, principal of Purple Cherry Architects, who designed the home and its outdoor entertainment area with an assist from Campion Hruby Landscape Architects.
For Suzanne McReady, her husband, and three school-age children, the goal was to extend their living space into the outdoors in a 2,000-square-foot waterside entertainment area that includes a pool, covered cooking and dining pavilion, and patio.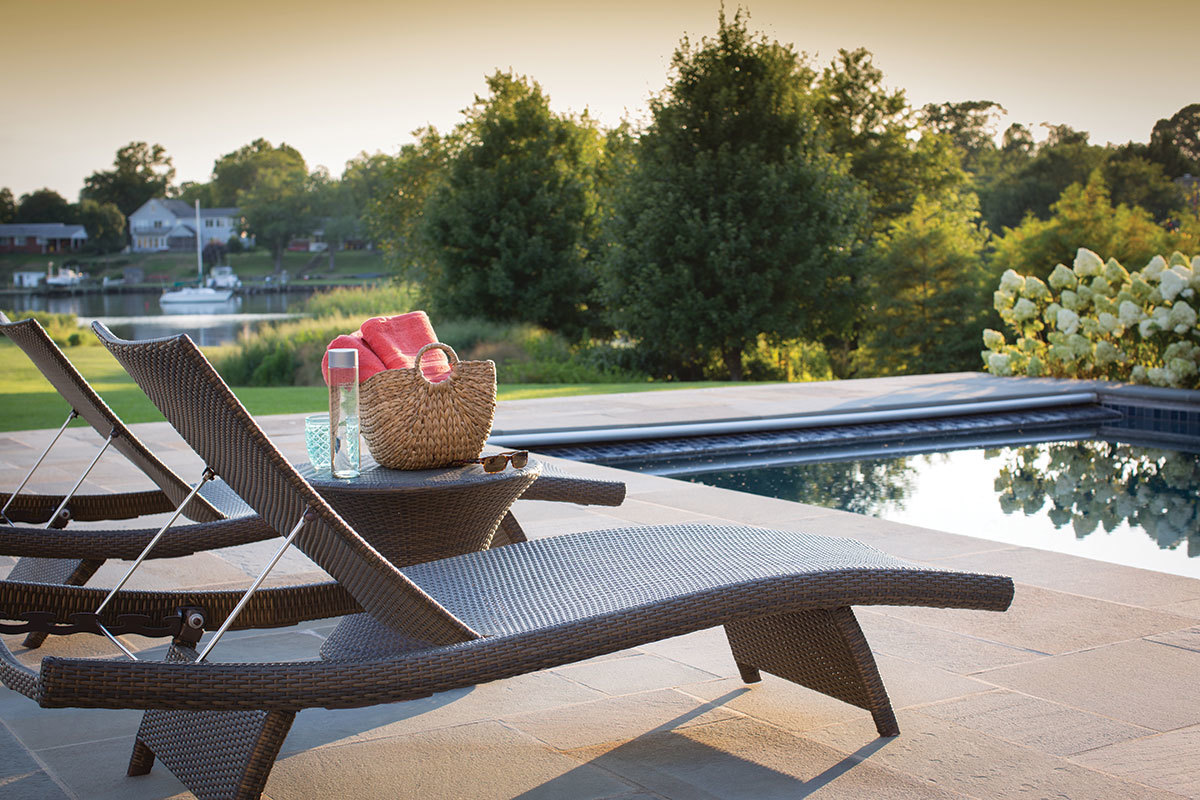 The McReadys opted to build the covered pavilion behind the pool, with recessed lights, a ceiling fan, and two brick islands topped with bluestone slabs—one for eating and another with a built-in gas grill and refrigerator for cooking and serving food. "In the summer months, we can enjoy family dinners without having to leave the pool area," says McReady.
A concern regarding offside pools that aren't in view of the main living space is the safety of young children. In the McReadys' case, windows off the side of the kitchen provide a direct line of sight.
Unlike some Annapolis residents who pack up for warmer weather in the winter, the McReadys reside here year-round, and wanted a patio space that didn't lose its beauty or functionality in colder weather. "We designed our outdoor space with this in mind, and we are able to enjoy the space for many months of the year," McReady says.
Feeling Blue
When Elite Pools works with a potential new client, they ask a variety of questions to get to know the client's needs: Have you had a pool in the past? Where do you like to vacation? Are you attracted to warm earth tones, or do you want your backyard to transport you to the Caribbean?
"The color of the water is going to invoke some kind of emotional response," Michael Shaffery, Elite Pools president, says. "If you're the type of person who hikes the Colorado Rockies and likes the land upon a mountain lake, that's a completely different color than Hawaii water or Caribbean water." Once Shaffery's team gets a feel for the customer's aesthetic, they choose the appropriate color coating from pool finisher Pebble Tec.
The rest comes naturally, Shaffery says: "The color of the water dictates the color of the tile and the color of the patio."
Over the summer of 2016, Elite Pools worked on an extra special project—Shaffery's family pool. For the project, which Shaffery values at around $500,000, Elite pulled out all the stops. A natural feel pervades the space, from the water's cool blue tone reminiscent of a clear lake, to the rugged boulders and landscaping that are incorporated into the pool's surroundings.
The spillover spa, set above the pool, cascades down a rocky waterfall element before landing in the main body of water. Across from the spa, a curving infinity-edge element creates the illusion from the perspective of a swimmer that the water vanishes into the property's rolling hills, while built-in ledges and a sun shelf provide plenty of options for rest and relaxation. And a 32-foot-long slide dumps adventuresome swimmers into the pool's deepest end.
"I built it as a showroom," Shaffery says, "making sure that my clients can see what the possibilities are."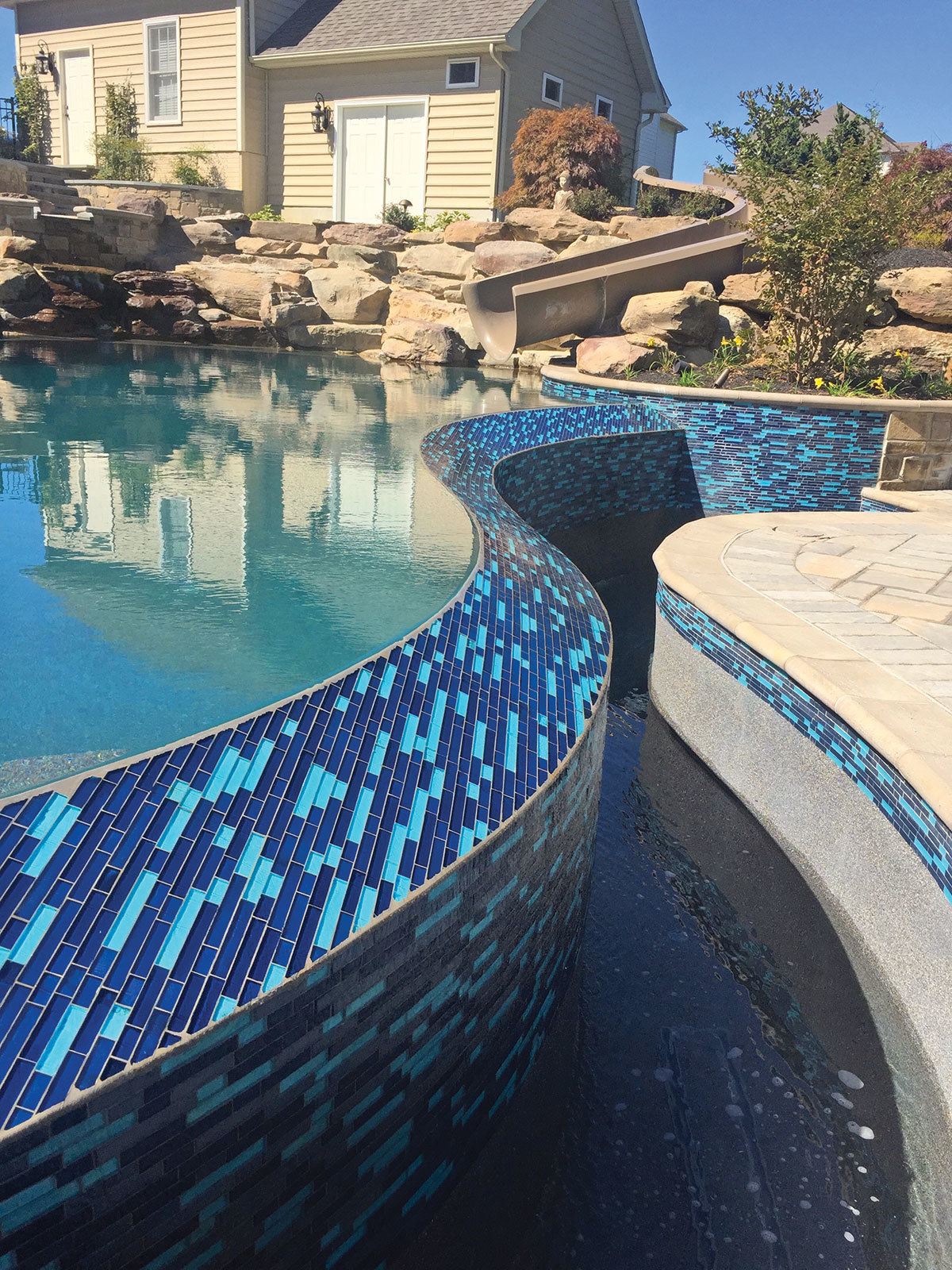 ---
Know Before You Dig
Research Local Codes
Be sure to check local regulations—they could dictate the size or placement of your pool. And if you live near tidal waters, wetlands, or bay tributaries, you should research Maryland's Critical Area Program, which dictates allowable lot coverage (including pools and patios) to prevent runoff.
Choosing Your Contractor
The next step is checking out pool-company references and prices, as well as how soon they can start work. Many homeowners choose to break ground in early fall, so their backyard won't be a sea of Maryland red clay during the nicest spring and summer weekends. And, of course, getting the permits comes next, which a qualified pool company should be able to help with.
Plan For Safety
Residential in-ground pools account for 58 percent of drowning deaths among children age 14 and younger, according to the U.S. Consumer Product and Safety Commission. So, the design process should begin with safety. Most Maryland jurisdictions require a fence with a self-latching gate to surround the pool, although some counties exempt pools with an automatic safety cover. "Automatic safety covers can only be installed in regularly shaped pools," says Cathy Purple Cherry of Purple Cherry Architects, who sees a movement back toward rectangular pools. "If you want an amoeba shape or kidney shape, you are not a candidate for an automatic pool cover and thus will need a fence."
Understand the Cost
While an in-ground pool can be installed for the cost of a new car, gunite pools (made of the highest quality and most permanent building material) start at around $60,000, with customization, spa elements, and landscaping adding to that price tag. "We build all scales of projects, from $60,000 to $1 million—it just depends what the client is looking for," says Elite Pool's Michael Shaffery.