Rooms With a Few
Todd Marks and Nikki McGowan clear space for their blended family of nine.
On a recent afternoon, Nikki McGowan was picking up her son Michael from school when the principal on carpool duty peered into the red MINI Cooper, where Michael, 8, and his 6-foot-3 brother Alex, 13, shared the tiny space with overstuffed backpacks and Michael's cello. The principal jokingly suggested, "Mommy needs to get a bigger car."
Little did she know. The boys have not only a sister, they have four stepsiblings. And the traditional two-story house they all share in Oella on the outskirts of Ellicott City is easy to spot on the block—its driveway is crowded with the MINI, two SUVs, and the Madame BBQ food truck, one of McGowan's assorted culinary business ventures.
McGowan and her three children share the household with Todd Marks—founder and chief executive officer of a software company—and his four daughters (ages 8 to 14) in a Brady Bunch-style arrangement that, surprisingly, seems to work, thanks to carefully calibrated schedules, lots of hooks and cubbies, and a live-in au pair, a 20-something German student named Laura.
McGowan and Marks, who plan to be married this summer, talk freely about the shared custody arrangements they have with their former spouses—meaning the house is only full half the time. "When the kids aren't here, we get to, you know, have coffee in the morning," McGowan cracks. Other mornings border on mayhem, as the seven kids attend five different schools (and next year it will be six).
The couple were introduced three years ago by a mutual friend, Vic Corbi, then-owner of Grilled Cheese & Co., who had catered corporate events for Marks and knew McGowan as a fellow culinary entrepreneur. "He thought we'd have a lot in common," says Marks, and indeed, they did. The two immediately recognized each other from their years in the same grade throughout elementary and middle school in Howard County.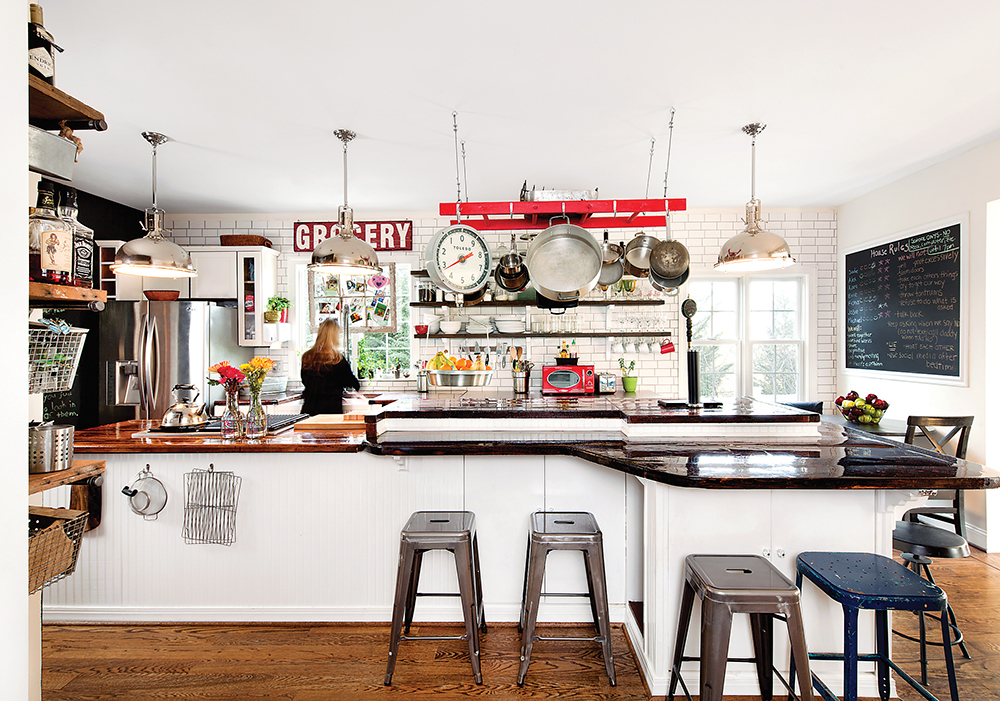 In addition to operating the food truck, McGowan had been working on a variety of other food-related businesses, from teaching kids' cooking classes to running the lunch program at a local school. Marks is known in the tech community for starting Mindgrub, which designs custom mobile and web applications. In their spare time, the couple are designing a workplace restaurant that will serve "food that's good for the brain," says Marks, a clever spin on his corporate brand.
"I have about 55 millennial employees," says Marks. "The idea is to do some testing on them and eventually establish a cafe concept to put in other corporate buildings." Adds McGowan, "Mind grub, get it? How perfect."
Marks built the house in 2004 on land he'd purchased a few years earlier. The property came with a small house, but it was more efficient to start fresh, he says. "The area is gentrifying—most of the neighbors renovated and added big additions."
He had a 4,800-square-foot, five-bedroom house built on the site—two other rooms were converted to bedrooms later—complete with a home office and lounge off the kitchen, and shortly thereafter he renovated the basement to accommodate his fledgling company. "My first employee helped me install the toilet," he says with a chuckle. Marks himself built the shower stall, framing stained-glass panels from the salvage emporium Second Chance in the tile walls to let in extra light.
Similar stained-glass panels are embedded above the opening between the living room and kitchen, flanked by built-in bookcases, also from Second Chance. Marks cut out the wall to install the matching shelves, which are topped with arched sunburst molding.
Marks isn't the only DIYer in the blended family. McGowan points to the thick cotton duck draperies. "Drop cloths from Home Depot" that she put up after moving in, she says.
Impulse has played its part in the décor, too. One day last year, McGowan, weary of the prosaic, tiled kitchen island, took a crowbar to it. That demolition led to a comprehensive overhaul, which McGowan did almost entirely on her own. The island was expanded and finished with white beadboard siding and the top of an old pine table, slathered with a thick coating of protective lacquer. McGowan also replaced the kitchen cabinets with open shelves supported by curved pipe fittings, and installed a restaurant-style faucet with a detachable hose over the porcelain farmhouse sink. An old wooden ladder, painted glossy red, became an overhead rack for pots and a vintage grocer's scale.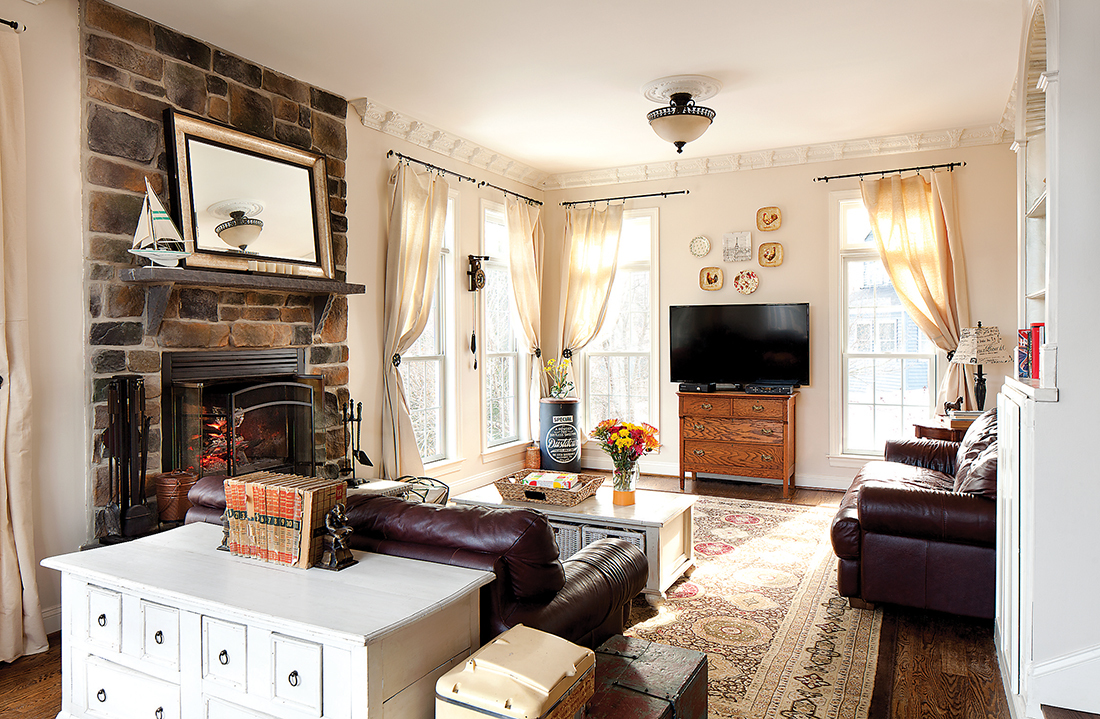 The kitchen also has large chalkboards, one of many strategies McGowan and Marks have devised for keeping home life reasonably orderly. The chalkboard over the breakfast nook lists "house rules," like work together, use kind words, and "call a family meeting if there's a problem." There's also a list of don'ts such as excessive pouting, slamming doors, throwing tantrums, and using social media after bedtime. Each child's name is accompanied by a series of stars and smiley faces to designate their adherence to the edicts. "Originally, it was to keep the kids in line," says Marks, who credits McGowan for the idea. Adds McGowan: "There's a new sheriff in town."
The other board—actually a chalkboard-painted wall framing the kitchen door—is used for grocery lists, schedules, and reminders. Other organizational strategies include cubbies for shoes and plenty of hooks in the entryway for coats and keys. While each kid participates in one or more activities—from sports and music to computer coding and Girl Scouts—"we try not to have more than three activities at the same time, so two adults can drive while another stays at home with the rest of the kids," says Marks. (The third adult is the au pair.)
McGowan's two sons have bedrooms on the main floor—the former home office and lounge—while three of the daughters live upstairs near the master bedroom. McGowan's 11-year-old girl shares a room in the basement with Marks's 10-year-old, its dividers and loft beds reminiscent of a college dorm room. McGowan built the platforms for the girls' beds with surplus doors.
For relaxation—if you can imagine such a thing in this house—McGowan says she likes to paint. That's rooms, not pictures. She holds up her hands to reveal spots of white. "Yesterday, I painted the bathroom." The day before last Thanksgiving, when guests were due to arrive, McGowan took a roller of white to the crimson-red living-room walls. "It was driving me crazy."
But that DIY task was lightweight compared to some they undertake. Last summer, McGowan and Marks worked together to build an in-ground, kidney-shaped swimming pool. Except for installation of the pool, they did everything themselves, including operating the backhoe to plow up the site and placing two-ton boulders for tiered landscaping, while the kids helped with the planting. "Todd and I just like to get things done," McGowan says. "When we take on a project, we just dig in."