Hopkins Researcher Says His Deadly Experiments on Owls Can Help Treat ADHD. PETA Believes There's a Better Way
Owl testing isn't the only concern raised at Hopkins by PETA and Stop Animal Exploitation Now.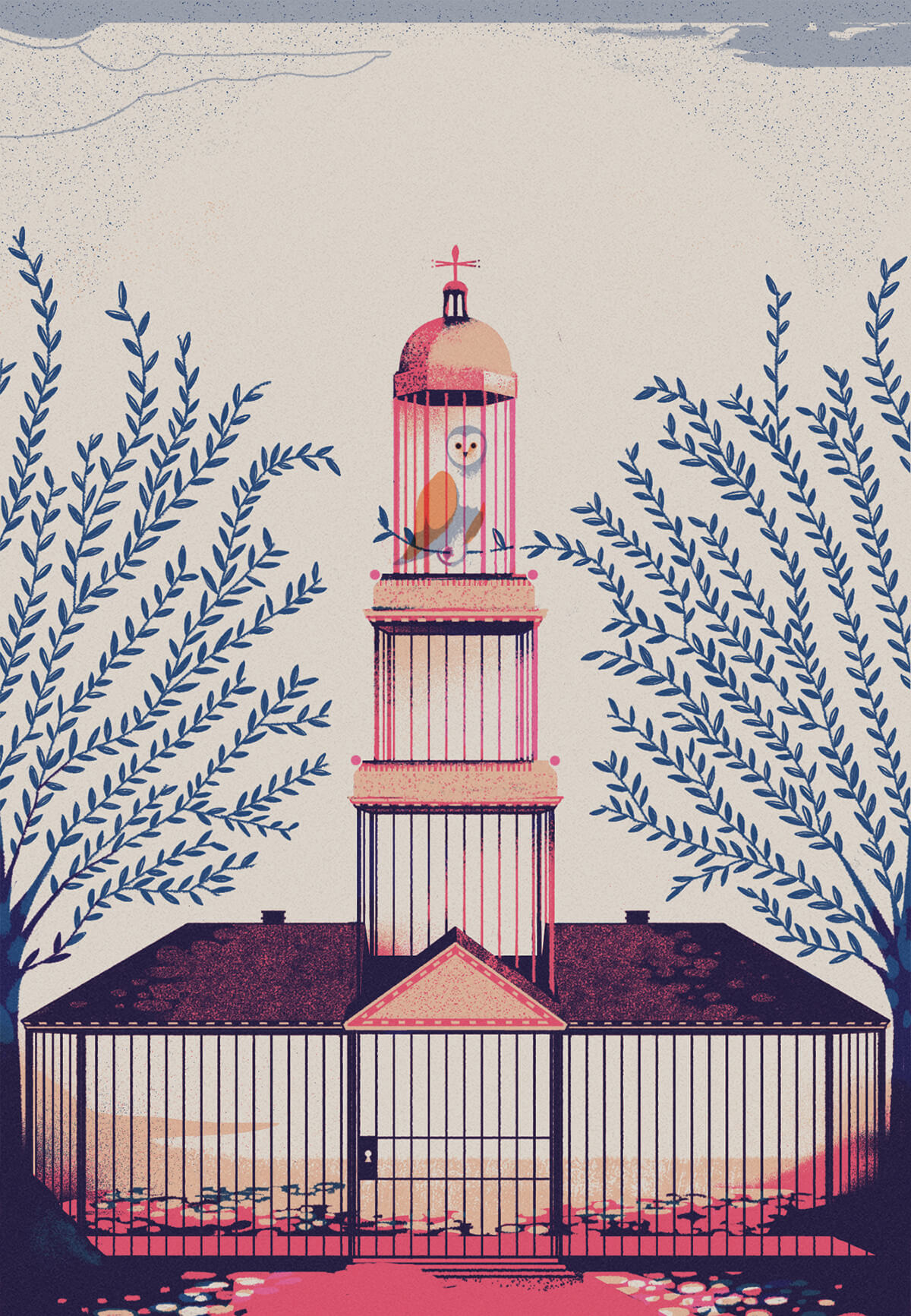 Four years ago, NPR visited an animal lab at Johns Hopkins University to highlight the research of Shreesh Mysore, an assistant professor who was conducting experiments to understand the brain circuitry of barnyard owls.
Specifically, Mysore hoped to learn how they processed sights and sounds, and how they focused their attention amid competing stimuli. Adept nocturnal predators, owls parse a lot of visual and audio information. Not only do their enormous eyes possess superpower-like night vision, their satellite-dish-shaped faces and asymmetrical ears enable extraordinary hearing even by the standards of other birds of prey.
The ultimate purpose of his research, Mysore told NPR, was to figure out what goes awry in the brains of people with attention problems, for instance, children diagnosed with ADHD. His work, he offered, could also provide help for those with autism or schizophrenia.
"Pretty much name a psychiatric disorder," Mysore said, "and there is some kind of attentional deficit associated with it."
It was the kind of attention researchers hardly ever receive. Mysore posted a link to the segment on his lab's blog and included it in subsequent grant pitches to The National Institutes of Health (NIH.)
Alarm bells, however, went off at the Maryland-founded People for the Ethical Treatment of Animals (PETA) when they heard the NPR story, which had not revealed how the research was being done. They asked experts to read Mysore's published papers, which described cutting open the owls' skulls, inserting electrodes into their brains, and bolting their heads in place while they were exposed to speeding dots and bursts of noise from computer screens and headphones for 12 hours at a clip. It was also learned that with the exception of pairs maintained for breeding, the owls were euthanized and their brain tissue harvested for further research. Not only was this treatment barbaric, PETA argued in its quickly launched effort to stop the testing, it was ineffective—such experimentation rarely leads to human therapies.
Since an initial petition drive, which has now collected nearly 500,000 signatures, PETA's campaign has grown into a multi-pronged crusade to end the experimentation on the 20-30 owls currently caged at Hopkins. They've filed FOIA requests and a lawsuit, organized a letter-writing effort and media outreach, held more than a dozen on-campus demonstrations—the most recent in mid-July—and picked up the support of Maryland state senator Ben Kramer and former Maryland secretary of health and mental hygiene Dr. Martin Wasserman.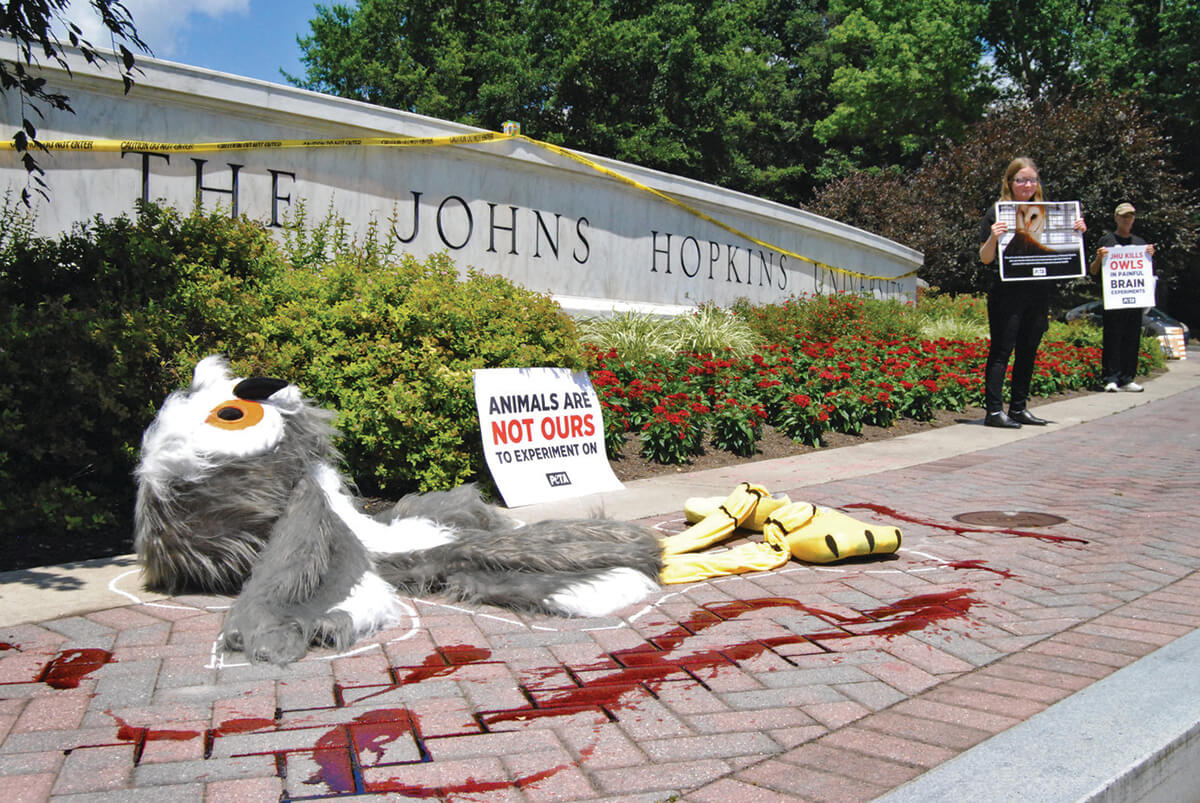 In signing on as a plaintiff in the federal suit to stop Hopkins' testing on the owls—which, like all birds, rats, and mice, are excluded from Animal Welfare Act protections—Wasserman emphasized he "wanted to be viewed as a physician-scientist, not a moralist."
"I'm a pragmatist and the first thing we have to understand is that there are a limited number of research dollars, and we have a lot of illnesses that need cures and treatments," says Wasserman, who is a Johns Hopkins School of Medicine graduate and member of the Physicians Committee for Responsible Medicine. "With the technology we have today, computer modeling, non-invasive imaging, cell cultures, there are alternatives, much better alternatives, that also don't kill any sentient being at the end of it."
The lawsuit that PETA filed in U.S. District Court last year challenged the exclusion of the owls from Animal Welfare Act protections. Mice, rats, and birds make up 90 percent of all lab animals, yet are excluded from protections. The complaint was dismissed in February after a federal judge ruled the owls' "next friend" plaintiffs—Wasserman; Lana Weidgenant, then a JHU student; and animal rights activist and actress Evanna Lynch, who starred in the Harry Potter franchise—did not have legal standing. But then in June, PETA declared victory on another front, prematurely it turned out, when the Maryland Department of Natural Resources revoked Mysore's permit and granted a new one that prohibited the euthanasia of the owls—which seemingly put a stop to the experiments. Previously, PETA discovered Mysore had been operating without a state permit from 2015-2018. (DNR doesn't oversee the testing, but researchers must apply annually for permits to keep animals.)
In a switch that garnered some local media coverage, the Department of Natural Resources reversed themselves over what they said was a clerical error. Mysore had applied for and been granted the wrong permit, according to DNR, which was intended for collected "wildlife." In this case, that term literally refers to animals caught in the wild, which have stricter standards of care and cannot automatically be euthanized—unlike animals bred for lab testing, such as Mysore's owls. He was granted a new permit to continue his work, including euthanizing owls.
While setting up a July protest at the Homewood campus, Alka Chandna, Ph.D, PETA's vice president of laboratory investigations, expressed frustration with DNR, but also with oversight of animal testing more generally at NIH and Hopkins.
"This was a second strike [in terms of DNR permitting] and shows disregard and contempt for the process by Professor Mysore, and demonstrates that no one seems to be paying attention, not at NIH, where the money comes from, or Johns Hopkins," she said.
"THERE ARE BETTER ALTERNATIVES THAT ALSO DON'T KILL ANY SENTIENT BEING AT THE END."
Johns Hopkins University led U.S. institutions in NIH funding in 2021, with $825 million in awards. Studies estimate at least 40 percent of NIH's annual $30.1 billion research awards have an animal-based component. To date, Mysore has received $1.9 million for his owl experiments since coming to Hopkins in 2014. Mysore's postdoctoral mentor at Stanford, retired neuroscience professor Eric Knudsen, first began conducting research on the brains of owls in the late 1970s, and was closing his lab as Mysore was coming to Hopkins to open his own. (Knudsen's wife raised owls for her husband's research and has raised them for Mysore. Phyllis Knudsen is listed as "subpermittee" on DNR permits.)
"The other thing that remains frustrating," Chandra continued, "is this is purely curiosity-driven research, there is no application. NIH grants are given to benefit human health. What part of assaulting owls, whose heads have been restrained and eyes pinned open, with various stimuli relates to ADHD? The priority should be studying and treating human beings who suffer with ADHD."
Reached by phone, Mysore would only say he plans to continue his research and testing on both owls and mice, which are the subject of a new round of NIH grant-funded experiments. Johns Hopkins said in a statement it remains "unwavering" in support of Mysore's research.
"Faculty proposing research involving animals are required to demonstrate the relevance of the work for human or animal health, the advancement of knowledge, or the good of society; why live animals are necessary for the study and why one species as opposed to another is to be used; and that the animals will be treated humanely."
Ironically, Hopkins has been one of most significant players on both sides of the broader animal testing debate for the past 40 years.
In 1981, the Center for Alternatives to Animal Testing (CAAT), affiliated with The Johns Hopkins University Bloomberg School of Public Health, was founded with $1 million from the Cosmetics, Toiletry, and Fragrance Association, which was coming under fire for the industry's extensive animal testing. CAAT's long-standing mission is to facilitate methods to replace the use of lab animals, reduce the number of animals in testing, and refine tests to eliminate  suffering. In a 2018 study, CAAT-led scientists found that computer-based modeling was not only less expensive and ethically sounder when it came to toxicology trials—it produced better predictive results. Relatedly, Maryland became the fifth state to ban animal testing in cosmetics this year.
Thomas Hartung, director of CAAT, notes that studies show 90-95 percent of the clinical trials and drugs successfully tested in animals fail when tested in human beings. However necessary animal experimentation may have been at one time, non-animal testing is more promising and cost-effective today, according to Hartung and other researchers. Dozens of HIV vaccines have been successfully tested in animals in recent decades, for example, but none have been shown to provide human beings with sufficient protection from the virus.
"We've been testing mice and rats for forever," Hartung says. "We can cure and treat everything in mice and rats, but it doesn't translate and isn't the most effective means of research. Sixty percent of treatments successful in mice do not even translate to rats. Human beings are much more complex."
Two years ago, CAAT received an $850,000 U.S. EPA grant, part of $4.25 million allocated to five universities to develop strategies that "reduce, refine and/or replace" vertebrate animal testing when it comes to toxic chemical testing. The EPA's goal is to eliminate its funding of animal testing altogether by 2035.
There is no doubt the experiments on the owls—beautiful creatures by all accounts, including Mysore's—remain a long shot to lead to an FDA-approved treatment for ADHD. In fact, NIH's web-generated scoring system has put the likelihood that Mysore's research will be cited in future studies at 5 percent—what NIH calls its "potential for translation." (Knudsen's average translation score was 6.8 percent over his decades of owl brain experimentation.)
Hartung is aware of the owl controversy. He says that he has not taken a close look at Mysore's research, not because it isn't troubling, but because he feels Mysore is being singled out.
"The animal testing that gets attention, it's by happenstance," Hartung says. "Owls have those large eyes and so people perhaps feel more affection for them. Is it different or worse than the experiments on the monkeys or guinea pigs?"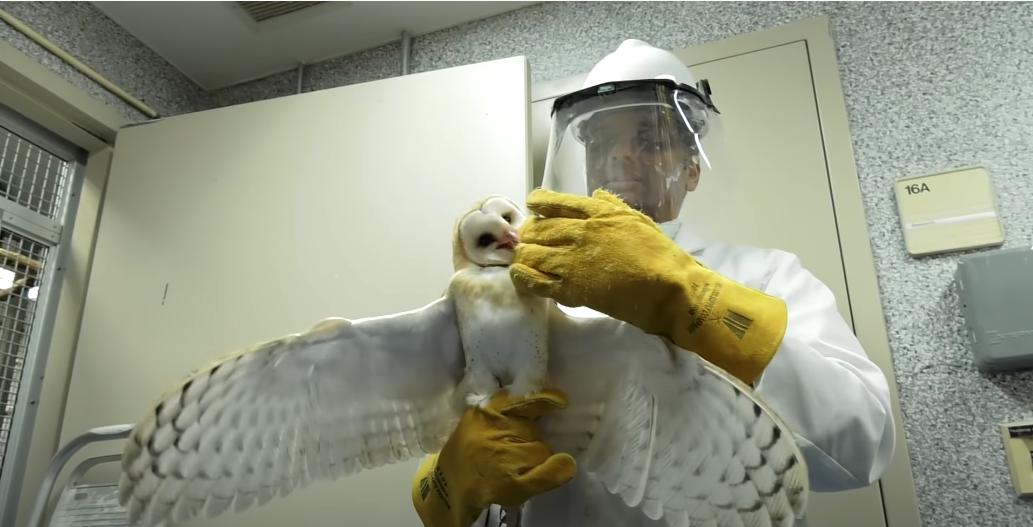 Confrontations between animal rights activists and Hopkins go back almost to the start of the movement, when the then-Anti-Vivisection Society of Maryland charged the School of Medicine with cruelty in 1890. Until it ended the practice in 2016, Hopkins remained one of two medical schools in North America still using live animals for surgical training. (The University of Tennessee at Chattanooga was the other.) More recently, Hopkins opposed the "Beagle Bill" in the Maryland legislature, which requires research labs to retire and adopt out dogs and cats no longer needed in testing.
The protests over the owl testing are also not the only concerns raised at Hopkins by PETA and Stop Animal Exploitation Now (SAEN, pronounced "sane"). A few examples: In April, the USDA, which inspects animal labs, cited Hopkins for cleaning, sanitization, housekeeping, pest control, and feeding violations, as well as failing to show they had investigated "alternatives to potentially painful surgical procedures" for testing on chinchillas, sheep, and rabbits. Last year, several monkeys suffered infections after cranial implant surgery and were euthanized.
In 2017, nine dogs were euthanized after complications during experimental surgery. (More than 41,000 animals were used in Maryland lab facilities in 2017, including 856 dogs.) The same year, a marmoset, a small monkey native to South America, was killed when a Hopkins laboratory worker unintentionally closed a cage door on its neck. (In one research project, marmosets were studied to tell if they could discern "pitch.") In 2016, a macaque, socially advanced monkeys commonly used in animal testing, was found dead after it chewed a hole into a ball and got its head stuck inside. The same year, Hopkins received a USDA warning for failing to ensure the psychological well-being of its primates, eight of whom had significant hair loss.
"IS IT DIFFERENT OR WORSE THAN THE EXPERIMENTS ON THE MONKEYS OR GUINEA PIGS?"
In 2014, Hopkins disclosed three of its monkeys had died by accidental strangulation and a rabbit was killed when it was left in a cage sent for high-temperature disinfecting. Going back to a 2002 published study, to one of the more infamous episodes of animal testing at Hopkins, 10 squirrel monkeys and baboons were injected with overdoses of methamphetamine—instead of Ecstasy—causing two deaths. The $1.3-million study, the New York Times noted, was led by Dr. George Ricaurte, "probably the best-known Ecstasy expert in the war on drugs," adding he'd received $10 million from the National Institute on Drug Abuse to study so-called "club" drugs.
Currently, more than 840 animals that are neither rats, mice, nor birds are maintained at Hopkins animal testing, including more than 300 monkeys, 120 rabbits, 53 pigs, 32 guinea pigs, 31 baboons, 31 ferrets, 10 dogs, eight sheep, and five cats.
In September 2020 during an Albert Einstein College of Medicine virtual seminar, Mysore himself acknowledged the data from his testing on head-and-body-restrained owls could be misleading.
"There are lots of reasons that are emerging now, even more so than before, indicating [research should be done on] freely behaving animals because of the way they engage with the environment," he said. The animal's ability to move, he continued, "affects neuro-responses…and could change the way the brain is solving problems." Working on head-fixed animals could cause him and others to "misinterpret" or "misunderstand" their responses.
Meanwhile, neuroscientist and PETA lab investigator Katherine Roe, who attended the Albert Einstein seminar, notes there are thousands of other researchers in quality studies with human volunteers, many using new neuroimaging tools beyond CT scans and MRI.
"The ability to study the human brain non-invasively has changed dramatically in my lifetime," she says, mentioning non-invasive transcranial magnetic stimulation. "It's being used to treat depression, but is also a tool that allows researchers to, very temporarily, disable a small region in a human brain and see what behaviors affects that region."
State senator Ben Kramer, who sponsored the beagle adoption bill, says that, as an international leader in biomedical research, Hopkins' opposition to that legislation was disheartening. So was the initial lack of response to a March letter he'd written to the school in reference to the owl testing. After a subsequent letter about concerns raised by DNR permitting issues, he did eventually receive a call from someone representing governmental affairs for Hopkins, indicating an interest in a meeting, which was more encouraging.
"I believe the way we treat animals is a reflection on who we are as human beings," Kramer says. "This notion every other creature on this planet serves no purpose other than to support humankind is antiquated. It's out of step with where we have evolved as human beings."