App For That!
Come on, get app-y with our picks for the top 25 travel apps.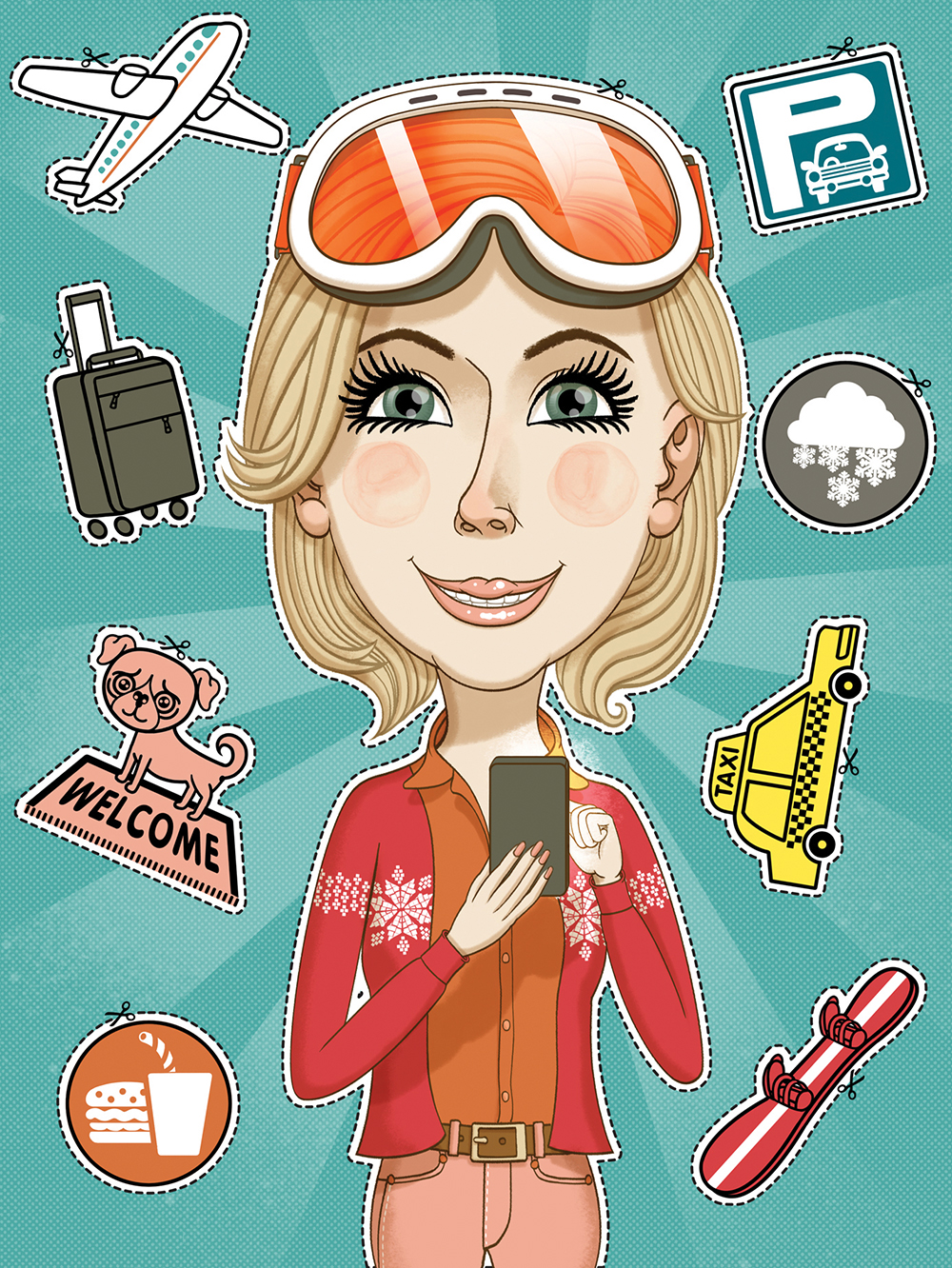 When the Orioles need to fly a last-minute call-up from, say, Norfolk to Minneapolis, Kevin Buck, the team's director of travel since 2009, employs his favorite travel apps to ensure the player is in the dugout by game time. The team charters flights well in advance for road games during the regular season, but player injuries and roster shifts often necessitate hastily summoned substitutes.
Fortunately, Buck has help at his fingertips. He uses Kayak's app to book the 100 or so urgent flights he coordinates each season.
"It's a really easy way to find flights quickly," he says. And to get players from airport to ballpark, Buck likes Uber for reserving a private car. "It's been a huge help," he adds.
Apps make traveling easier. Think of them as a palm-sized travel agent, concierge, and savvy local available 24/7. Apps can find the cheapest flight, help you pack, hail a ride, and even reserve a parking spot. One in four travelers books trips via mobile device, according to industry studies, and mobile travel reservations are expected to at least triple in the next two years. Many travel apps are hard to use or a waste of space on your smartphone screen.
We're here to help you sort through it all with this list of essential apps for a bon voyage. (Unless otherwise noted, downloads are free for the operating systems listed.)
Book 'Em
HotelTonight: The gold standard for same-day hotel apps, HotelTonight's user-friendly interface summons a vetted selection of deeply discounted rooms. Time-pressed travelers need just 10 seconds (three taps, one swipe) to make same-day reservations at fill-these-rooms markdowns. The app rates hotels ("hip," "luxe," "basic," "charming") and offers room descriptions. Favorite feature: express check-in. (Android, iOS, Windows Phone)
Kayak: Beloved by one-stop trip shoppers, Kayak has become the Swiss Army knife of search-and-reserve apps. Find good deals on flights, lodging, and car rentals, and use it to track flights, manage itineraries, and receive price alerts. Flight searches can be filtered to suit your tastes, for instance, in flight times (no red-eyes, please). Favorite feature: explore budget-based vacation options. (Android, iOS, Windows Phone, Amazon, Kindle Fire)
Hipmunk: The cool kids' flight-and-hotel aggregator, Hipmunk is famous for its Agony and Ecstasy indexes. The former ranks flights by painfulness, flagging "ugh" factors like multiple layovers and sky-high prices; the latter rates accommodations by desirability, highlighting value and amenities. Travelers can then book through the app. Favorite feature: searches integrate with iPhone, Google and Microsoft calendars. (Android, iOS)
Booking.com: Extensively critiqued lodgings, discount rates, and a pay-later feature make this app a hit. Not all of Booking.com's hotels, B&Bs, villas, and other properties let you lock in a rate sans credit card. But filters help users find the right room at the right price. Favorite feature: 24/7 customer helpline. (Android, iOS)
SeatGuru: Fed up with bruised knees and no laptop outlet? SeatGuru lets fliers consult 700-plus airline cabin maps to determine where they do (and don't) want to sit. Designed to suit the pickiest passengers, this app offers seat-by-seat descriptions (width, legroom, reclinability, window alignment, and power availability), plus reviews by fellow fliers. Favorite feature: Guru-rated flight searches. (Android, iOS)
Get Ready
TripIt: The efficient traveler's go-to app, TripIt organizes flight, hotel, rental car, and other confirmation numbers and reservation information into a unified itinerary available instantly on your mobile devices. Forward travel e-mails to your free TripIt account or have the app automatically cull items from your inbox. (Auto-importing is not available for all e-mail domains.) Favorite feature: supplies maps and weather forecasts. (Android, BlackBerry, iOS, Windows Phone)
PackPoint: Part valet, part mom, this packing-list generator uses your travel information to customize your checklist. Tell PackPoint your gender, where you're going and when, and what you're going to do (fancy dinners, hiking). The app does the rest, suggesting clothing, gear and gadgets you can't leave without. Favorite feature: syncs with TripIt to obtain personal travel info. (Android, iOS)
The Weather Channel: This popular app puts television's favorite weather broadcast into your pocket or purse. Easy to navigate, TWC app supplies travelers not only with current conditions at their location, but hourly and 10-day forecasts, local airport, beach, and boating conditions, radar, UV indexes, and weather news. Also searchable for weather forecasts/conditions at your destination. Favorite feature: customizable weather alerts. (Android, BlackBerry, iOS, Windows Phone, Amazon, Kindle Fire)
Yapta: Nothing sours a trip like discovering—too late—that you've overpaid for your flight. This price-tracking app alerts frugal fliers to airfare reductions so they can book with peace of mind or claim a refund/travel credit for booked flights. Yapta also tracks hotel prices, allowing users to reserve when the rate is right. Favorite feature: easy-to-use interface means you don't need to log in for updates. (Android, iOS)
Have Tools, Will Travel
FlightAware: This omniscient flight tracking/airport status app keeps tabs on just about everything aviation. Track commercial and private flights worldwide by airline, flight number, or route. Consult airport arrival/departure boards. Monitor gate/terminal changes and weather. Get airport delay information and receive automatic alerts. Favorite feature: airport delay "misery map." (Android, iOS, Windows Phone)
Google Maps: No other map app comes even close to competing with Google Maps. This ubiquitous tool offers voice-guided GPS navigation for drivers, pedestrians, transit riders, and cyclists, supplemented by conventional, street-view, terrain, satellite, and 3D images. Search nearby dining, shopping, and attractions to see reviews and hours, make calls for reservations, and let Google guide you there. Favorite feature: faster-route traffic alerts. (Android, iOS, Windows Phone)
OpenTable: Employ this mobile concierge to make dinner reservations anywhere. Search for restaurants by location or name, browse top and trendy dining spots, and then let OpenTable search for available dates and times. When you've chosen one, book it with one tap. The app instantly confirms the reservation and sends you a reminder in advance. Favorite feature: invite your dining companions. (Android, BlackBerry, iOS, Windows Phone, Amazon, Kindle Fire)
Entrain: Smartphones readily adjust to new time zones; not so your body. Developed by University of Michigan researchers, this app develops a personalized lighting exposure agenda to help your circadian clock quickly adjust as you travel. Input travel plans, wake-up and bed times, and Entrain formulates optimal hourly light exposures. Favorite feature: metrics page graphs your body's progress. (Android, iOS)
Instagram: Postcards for the 21st century, Instagram lets you take travel photos (and videos) with your smartphone, enhance and caption them, then share them instantly on Facebook, Twitter, Flickr, and other social-media sites. The app's filters make even ho-hum vacation pics look professional. Favorite feature: display photos on personal map. (Android, iOS, Windows Phone)
Get the Scoop
TripAdvisor: When TripAdvisor predicts Wildwood, NJ, will be the hottest under-the-radar destination in the country this year, believe it. (We swear, this is not a joke about Jersey.) The app provides access to more than 200 million reviews of hotels, restaurants, and attractions by travelers like you. Download its City Guides for top picks and maps of your intended destinations. Favorite feature: Guides can be accessed for offline use. (Android, iOS, Windows Phone, Nokia)
Yelp: Looking for a wine bar near your hotel? Yelp can find the closest, display customer reviews, and offer directions. This popular business-locating app integrates each establishment's basic info with maps, photographs, ratings, reviews, menus, and more. Search by category, price, proximity, and rating. Favorite feature: messaging lets you query locals directly. (Android, iOS, Windows Phone, Amazon, Kindle Fire)
AroundMe: Do you really need two local-search apps? Maybe not, but devotees of AroundMe prefer this thoughtfully designed, graphic-oriented app to Yelp. Choose a category icon (e.g. banks, coffee shops, movie theaters), tap, and AroundMe swiftly lists options and pinpoints them on a map. Selecting one provides detailed information and reviews. Favorite feature: uses GPS to give you directions. (Android, iOS, Windows Phone)
GateGuru: This handy travel-day companion stores your flight info and provides live updates on delays, cancellations, and gate changes. But GateGuru's genius is its local intelligence about airport amenities and maps, particularly those in your vicinity. Use it to find restaurant options and see how fellow fliers rate them. Favorite feature: in-app discount car rentals. (Android, iOS, Windows Phone)
Keep Rolling
Uber: The mobile way to hail a ride, Uber uses your phone's GPS to locate the driver nearest you and dispatch your preferred conveyance: taxi, sedan, luxury vechile, or SUV. The app estimates pickup time (and fare), texts you when your ride arrives, and automatically charges your on-file credit card once you've reached your destination. Favorite feature: GPS monitoring of driver's progress. (Android, BlackBerry, iOS, Windows Phone)
Waze: This app provides real-time, driver-sourced traffic and navigation advice. Waze's legion of local eyes on the road will alert you to traffic jams, road closures, and speed traps before you're ensnarled. Also provides step-by-step navigation. Favorite feature: closest and/or cheapest gas station locator. (Android, iOS, Windows Phone)
iExit: Traveling I-95 with two kids clamoring to eat at Olive Garden? This app's for you. Pinpointing your location/direction via GPS, it tells you what lies ahead exit by exit (up to 100 of them) so you can plan gas stops, bathroom breaks, meals, lodging, and other road-tripping necessities. Use for pre-planning or en route. Favorite feature: favorites list for quicker searches. (Android, iOS)
Specialty Travel
Airbnb: This private-lodgings app lets you research and reserve distinctive digs in dreamy locations. Users can communicate with their hosts, browse destinations, and imagine themselves slumbering in cottages, castles, windmills, and houseboats. Favorite feature: shareable Wish List. (Android, iOS, Windows Phone)
BringFido: Accommodating furry family members on your travels can be a hassle. BringFido is a dog-lover's best pal for finding pooch-friendly hotels and attractions like dog parks, doggie beaches, and restaurants where Rover is welcome, too. Research airline and hotel pet policies, and see which hotels and attractions earn BringFido's coveted 5-dog-bone rating. Favorite feature: pet travel helpline. (iOS)
Cruise Finder: This vacation-planning app searches more than 20 cruise lines, 220 ships, and some 12,000 itineraries worldwide. Filter by cruise line, destination, departure port or date and the app lists your options. Peruse stateroom descriptions and prices, deck plans, and amentiies. Favorite feature: track favorite cruises for price alerts. (Android, iOS)
Green Globe: An app for the carbon-conscious traveler, Green Globe features hotels, resorts, attractions, and cruise lines that meet its sustainable tourism standards for energy and water consumption, recycling, and all-around earth-friendliness. Such rigorous vetting limits your choices, but once you've found a certified green hotel room you'll sleep with a lighter conscience. Favorite feature: app-enabled hotel booking. (Android, iOS)
---
App Chat
Marian Marbury, founder, Adventures in Good Company, women's guided travel. Recent Travel: Galapagos Islands, Mongolia. Next Destination: Morocco. Techie Tip: "I love Hipmunk's Agony index. It will rate flights, in part, by how awful the connection is. It has a really nice graphical [flight] layover index." Also Likes: Trivago (hotel meta-searches), SugarSync (cloud file-sharing).
Kevin Buck, director of travel, Baltimore Orioles. Recent Travel: Dominican Republic, Sarasota, FL. 2015 Dream Trip: the World Series. Techie Tip: "We try to get Uber on all our players' phones so they can get a ride easily without having to pay cash." Also Likes: FlightTrack 5 (flight tracking), WeatherBug (real-time weather).
Jan C. Miles, captain, tall ship Pride of Baltimore II. Recent Travel: Chesapeake Bay. 2015 Destination: East Coast, Maine to Carolinas. Techie Tip: "When you go from city to city with Pride, you're looking for local knowledge. You get off the ship and you [want to know] how to get from here to there from a walking point of view." Also Likes: Citymapper (urban transport), PassageWeather (marine forecasts).
Local Apps
Favorite apps to help you explore Charm City.
Parking Panda: reserved parking for the plan-ahead driver. (Android, iOS, Windows Phone)
Charm City Circulator: route map, service updates, mobile alerts, plus real-time bus tracking to forecast arrival times for the free shuttle service. (Android, iOS)
Explore Baltimore Heritage: GPS-guided city history featuring over 50 landmarks (with stories and photos) and 12 themed, self-guided tours. (Android, iOS)
NPS Chesapeake Explorer: National Park Service guide to parks, outdoor activities, trails (historic, scenic, water), and tours in the Land of Pleasant Living. (Android, iOS)