Boys to Men
Twenty years after their Super Bowl win, the 2000 Ravens are still talking about what it all means.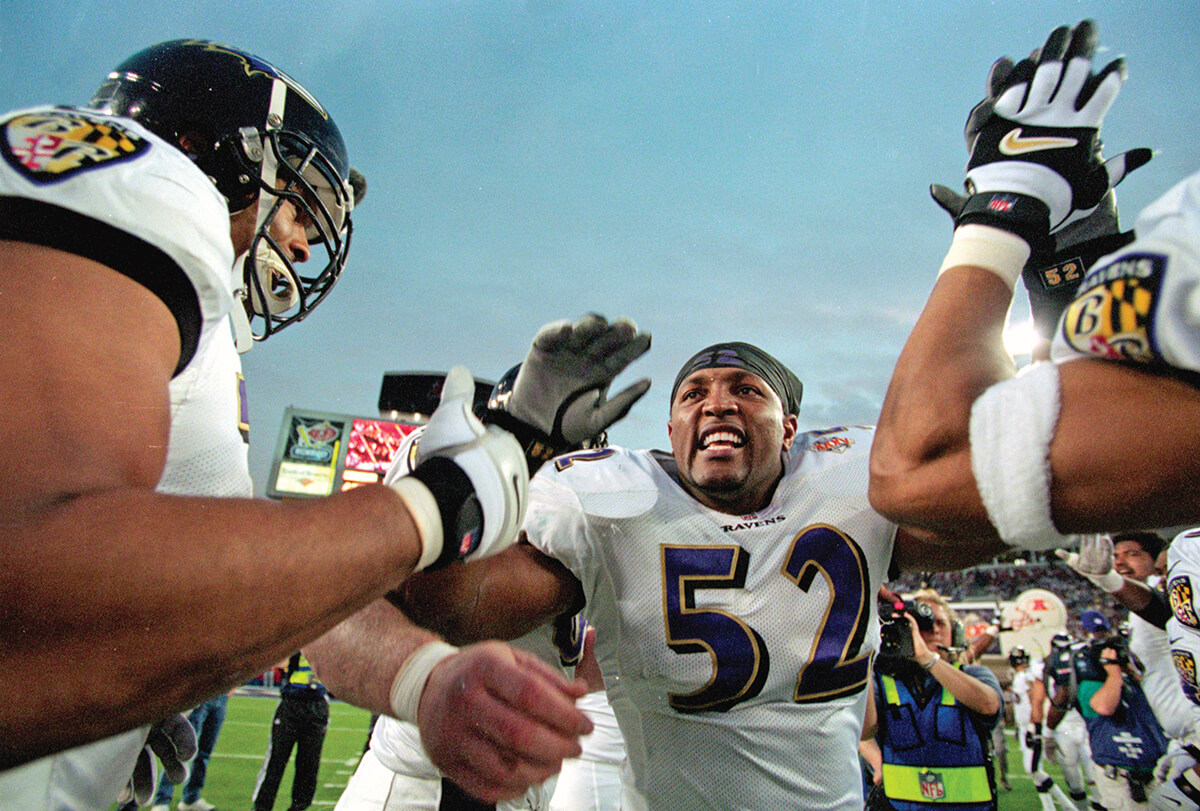 "Is it 20 years now?" Hall of Famer Jonathan Ogden, the Ravens' first-ever draft pick—that likeable, gentle giant and early face of the franchise—can't believe the first great season in team history was that long ago. He's sitting in front of a laptop computer set up for a live video call in his Las Vegas home, sporting a black T-shirt, beard, and a short afro (which he just brushed, he points out), and he leans back, sipping something from a red Solo cup. Seven of his former teammates—Jamal Lewis, Edwin Mulitalo, Jamie Sharper, Tony Siragusa, Duane Starks, Matt Stover, and Rod Woodson—as well their forever head coach, Brian Billick, appear on the screen with him, looking like a Ravens' alumni version of Hollywood Squares.
They're taking a trip down memory lane, watching and reminiscing about a game they were all a part of, and won, 34-7, over the New York Giants: Super Bowl XXXV. On this pandemic mid-summer night, the NFL Network is showing an edited, two-hour replay of the game to help fill the channel's void of new sports content, and the Ravens public relations department, in a treat for fans, decided to gather as many members of the Ravens year 2000 edition as they could for this watch party streamed on Facebook Live.
Siragusa is in his New Jersey living room, trying to get a good internet connection and playfully grumbling about why "a billion-dollar organization" like the Ravens is using video conferencing software called MegaPhone instead of Zoom. Starks is in his home office in Miami, with sports memorabilia framing his shot. Stover, who mostly lives in Baltimore, appears in the den of his house in Montana, where he likes to fish in the summer.
"How about that?" Billick says teasingly in response to Ogden. "How old do you feel?" Speaking from his home-office in central Ohio, Billick, now 66, looks largely the same as we remember him, except his hair is thinner and he's wearing a blue button-down shirt instead of a purple Ravens polo.
Ogden doesn't respond at first, but he's actually 46. And, like a lot of his former teammates who we once watched play football as young adults, he's a father of teenagers now. One of them, Jayden, just got home from high school football practice and made a brief appearance on screen, dressed in a Bishop Gorman High T-shirt, before ducking out of the frame.
Lewis, the team's rookie running back way back when, and one of the three famous Lewises on the 2000 team, jumps in the conversation from his place in Atlanta. "Forty years old," he says, his voice trailing off. "I'm 40."
"Forty? That's young," Billick says.
"Oh my goodness," Ogden says, to no one in particular. Then he rubs his face in astonishment, and flashes that trademark wide smile you may recognize from various local commercials over the years.
"Our fans knew one darn thing: we weren't going to get bullied," says Rex Ryan.
Yes, it might be difficult to believe, but it has now been two decades since January 28, 2001, the date the Ravens beat those Giants to claim the franchise's first NFL championship in just its fifth season of existence. It was a few hours of football that left a meaningful legacy for so many reasons.
For the older generation, the Ravens' convincing victory on a cool, clear night in Tampa marked a cathartic step away from the nightmare of the beloved Colts leaving town in 1984. Owner Bob Irsay took everything: the team's colors, its players, its history, including a Lombardi Trophy. (For some, seeing that Colts logo in Indianapolis still stings.) Baltimore was without NFL football for more than a decade until eventual Ravens owner Art Modell moved the Cleveland Browns to Baltimore, despite the objections of other NFL owners who wanted to put a new team in a bigger market or one that didn't take a slice of revenue from franchises in Washington, D.C., Philadelphia, and Pittsburgh. In an acknowledgement, perhaps, of the pain the Colts departure had inflicted on Baltimore, Modell left the Browns' history behind in Cleveland. No one there seemed particularly grateful.
The irony that it was NFL commissioner Paul Tagliabue—the man who, only a few years earlier, had told Baltimore city officials they should "build a museum" instead of a football stadium—who handed Modell the Ravens' first Super Bowl trophy, "was not lost on anybody," says Billick, who was standing on the field next to Modell as the trophy ceremony was broad- cast to millions across the world.
The Ravens' 2000 team is remembered for having one of the best defenses of all time, for its braggadocio while punishing opponents, and for the saga of Ray Lewis' murder trial—and the media circus that went with it. Outsized personalities, like Lewis and the massive, 300-plus pound defensive tackle Siragusa, who famously flopped on Oakland Raiders quarterback Rich Gannon during the playoff run to the Super Bowl, helped birth the first season of the still-running HBO all-access reality series Hard Knocks the next year.
The 2000 Ravens' offense was famous, too—for scoring just enough points once Trent Dilfer took over as quarterback mid-season. And, bigger picture, the team's first Super Bowl championship set the stage for what Baltimore fans have come to expect from modern pro-football life: winning seasons, playoff runs—highlighted by another Super Bowl win to end the 2012 season—all done in a gritty, gutsy way that reflected the city's personality.
"Baltimore's a tough-ass city," says former New York Jets and Buffalo Bills head coach Rex Ryan, who coached the Ravens defensive line in 2000, "and our fans knew one darn thing, we weren't going to get bullied. We had our own characters, there's no question we did, and we might not have been right for everybody, but by God we were good with each other."
"Has anyone heard from Corey Harris?" Two decades later, Duane Starks, the former cornerback who ran back an interception for a touchdown against the Giants, has lost touch with Harris, the former Ravens' safety with whom he shared a huddle. "He was one of the funniest guys on the team," Starks says, adding so was reserve wide receiver Billy Davis, whom Starks recalls wearing a "tinman" suit on the team airplane one time.
Life after pro football can go different directions, and the whereabouts of some of Starks' former teammates are better known than others. "We're all over the place now," says former linebacker Brad Jackson, who backed up Ray Lewis that season, "but most of us keep in touch."
Lewis, of course, is still a popular figure on the motivational speaking circuit. We most recently saw him give a virtual, area-wide high school commencement speech on Fox 45 in the spring. (The Super Bowl XXXV MVP was unavailable for comment when we reached out about this story.) Dilfer, after working with Lewis for a few years at ESPN and running private quarterback camps for many years, is now in Tennessee coaching high school football at the private Lipscomb Academy.
Others have settled into a kind of middle-aged retirement. "I fish and golf every day," says Siragusa, now 53. "That's all I do." Until a few years ago, he also co-hosted a home-renovation show, Man Caves, that ran for 14 seasons on the DIY Network.
Former linebacker Peter Boulware is co-founder of a Christian school in Tallahassee, Florida, where he lives with his wife and five children. Another former linebacker, Jamie Sharper, is an assistant coach at Georgetown University. As for Harris? He's living in Tennessee, having recovered from being so deep in debt that he sold his Super Bowl ring just a few years after earning it.
Garrulous tight end Shannon Sharpe is still talking, one of several former 2000 Ravens to join the football media in some form. He shares the mornings on Fox Sports' Undisputed debate show with famous curmudgeon Skip Bayless. Eventual Hall-of-Famer Rod Woodson worked for the NFL Network.
Billick works for the league-owned football channel today, and he is still coaching—the third-graders of the Upper Arlington Bears youth football team, that is. Billick's grandson, Brecken, is a linebacker and quarterback. "I'm the defensive coordinator," says Billick, who moved to Ohio this spring to be closer to the grandkids. "We have one defense. Sometimes they don't know their own names, and just getting them lined up is a challenge, but it's great fun." (It also raises the question of whether third-graders or pros are easier to deal with. "That's an interesting question. You know, one group is young and immature. Of course the third-graders are hard to work with too," Billick jokes.)
On the day we spoke, Billick was bringing a replica Lombardi Trophy to practice for the kids to take pictures with. The gesture was the reward for the previous week's win and, really, an example of the type of motivational tactics he was known for during nine seasons as head coach in Baltimore, be it showing a Sports Illustrated cover featuring the former division rival Tennessee Titans in the locker room, or the trust he put in players off the field.
It might sound trivial, but even amid the Lewis drama that stemmed from the linebacker's night out during Super Bowl week in Atlanta the year earlier, Billick never enforced bed-checks at the team hotel the night before games, which a lot of NFL teams do given the temptations right outside their windows. It made a difference for a team of characters that took care of conflicts and disputes themselves. To wit: Siragusa occasionally had players' cars towed from the Ravens' practice facility to the Owings Mills Mall, or let the air out of their tires, to send a message about something questionable they did on or off the field.
"I always told the players, 'You act like men, we'll treat you like men. If you act like children, I'll treat you like children,'" says Billick, who was inducted into the Ravens' Ring of Honor last year. "I was criticized for that decision, but I think that resonated with the players. They were not going to be that guy to screw this up."
Says Brad Jackson: "Brian was like a Jedi master."
"I told the players, 'You act like men, we'll treat you like men,'" says Billick.
Unlike the days of the legendary Colts, when retired players would stay here for life and open up businesses and restaurants in town (like Johnny Unitas' Golden Arm restaurant and Andy Nelson's BBQ), most of the players from the Ravens' first Super Bowl team no longer live in Baltimore. (A lot of people think Ogden does, because of some charity work he does around town and those ubiquitous commercials, but he actually lives in Vegas.) Still, there are a good number who stayed.
There's defensive lineman Larry Webster, now 51, who was one of three former Browns to win the Super Bowl five years after the move here. When that happened, it was a homecoming. Webster starred at Elkton High in Cecil County, and played at the University of Maryland, and lives in Baltimore County today. After retiring in 2002, and after admittedly having wasted a lot of the money he made as a player (not an uncommon story among NFL alumni), Webster spent a few seasons as a coaching intern under Rex Ryan. He also worked jobs as a security guard and Amazon truck driver, and then coached two seasons at Poly. Eventually, he went back to school at Maryland to finish his criminal justice degree. Now he is part of the Howard County Sheriff's department, working as a courtroom officer.
"You're going to have your ups and downs, but the best thing is to live and to learn," Webster says. "There are consequences or rewards for every decision you make."
You can see former fullback and special teamer Femi Ayanbadejo, who lives in Harbor East, walking the Inner Harbor to get coffee in Federal Hill almost every morning. He launched his own health care app after graduating with an MBA from Johns Hopkins in 2016, and this season, he became a game-day analyst for 98 Rock's flagship radio coverage of Ravens games. He is also "a part-time activist when I can be as well," he says, speaking out on racial and gender equity and LGBTQ rights issues. (His older brother, Brendon, does the same.)
There's O.J. Brigance, of course, still courageously fighting the debilitating effects of ALS, and who can be seen at events around the city and in his reserved spot in the press box at Ravens' home games. And there's Spencer Folau, a 6-foot-5, 315-pound former offensive lineman and eight-year NFL vet who is the strength and conditioning coach at McDonogh School, where his friend and former teammate Stover is on the school board.
You might see Stover, the former kicker (Justin Tucker before there was a Justin Tucker, basically) at Grace Fellowship Church in Timonium on Sundays, occasionally serving as a guest preacher, with the Ravens' old punter Kyle Richardson and Jackson in the pews. Jackson, who's involved in real estate, food, and other businesses, has worked with former teammates in the past, such as Adalius Thomas, who owns Grille 620 in Ellicott City.
"The 2000 team played its role in healing the city, played its role in putting Baltimore on the map, and it still continues to play its role in the community, which I think is pretty awesome," Jackson says.
Then there's the redemptive story of Jermaine Lewis, who lives in a remote cornfield-lined Baltimore County town you might think unfit for a Super Bowl hero: Boring, Maryland. It's a community of maybe 40 houses, a few hundred people, and one intersection, and, yes, it's as sleepy as it sounds. You can drive all the way through the town before you even notice you've left. "It's known for the fire hall," Lewis says, and today he lives right next to it on 11 acres he bought during his playing days.
Everyone who was watching Super Bowl XXXV seems to have a story about where they were when Lewis ran "that kick back for a touchdown"—right after the Giants' Ron Dixon had just done the same and given New York some brief signs of life. Lewis' run was the type of play kids imagine themselves making one day in a big game, and it was a game- clincher, "that sucked the competitive life out of the Giants," Billick says. It was even more meaningful given the loss Lewis and his wife had endured about a month earlier when their son, Geronimo, was born stillborn. In the wake of his death, Lewis, then 26, barely slept, but kept playing. He says he dramatically yelled his son's name when he was about to collide with defenders while returning kicks, as though a warrior in battle: "Geronimo!"
That loss is a pain no parent will ever get over, and Lewis endured more hurt over the balance of his career, and afterward. He says his 30s "were a blur." He separated from his wife, Imara, and relied heavily on alcohol to numb the pain of post-concussion syndrome (he estimated he had around 18 in his nine-year career), claustrophobia, and undiagnosed PTSD linked to head trauma. (Similarly, one of the other Lewises, Jamal, believes he might be living with chronic traumatic encephalopathy, or CTE, today.)
At one point, Jermaine Lewis says he was drinking vodka and orange juice every morning. He lost his Super Bowl ring in Miami Beach during a wild night out. Another night, back in 2011, he was arrested for DUI for the second time in six years after hitting a sign outside the Boring fire hall that told people when bingo was each week. "I felt so bad, because that's the only thing here, is the bingo," Lewis says now. "I had to replace the sign."
Seeing that he was embarrassed and in the news for the wrong reasons, Lewis' wife and a few friends convinced him to try rehab for the third time, this time at a center in Michigan designed for military veterans dealing with head trauma. "I thought I had it bad until I got there," Lewis says. "That helped me suck it up, and I actually became the leader in the house."
Lewis stayed for 60 days, double the time he expected, and hasn't sipped alcohol in the five years since. He doesn't even drink his former preferred chaser, orange juice, anymore. "Looking back, I was doomed," he says. "If you retire, you better have something to do, because otherwise every day could become a Saturday night."
Today, the Boring life is just what the 46-year-old wants. He spent the early days of the pandemic in the spring discovering gardening and searching the local Lowe's home center for bulbs to plant near the bricks he laid in his backyard. He likes watching the deer on his property.
He coaches football camps around the country for hopeful college recruits, and when he is not traveling to and from them, he trades stocks during the day, which scratches his competitive itch. He's back with his wife, and until this COVID-19 delayed season, he coached his son at national high school football powerhouse St. Frances Academy downtown.
"I've learned you're going to go through things in life, and it might take longer than you think," Lewis says. "But my outlook is so much brighter now. I feel like I've started over."
There is life after football, after all, when the boys playing a kid's game must eventually become men. When your youth coach doesn't bring a replica Super Bowl trophy to practice anymore for motivation, and when you look back on winning the real thing 20 years later and realize what a joy it was, and how much it really meant.