Mind Over Matter
O.J. Brigance keeps working, smiling, and inspiring other ALS patients.
There's a certain elegance to O.J. Brigance.
The chair he's sitting in behind the desk in his office at the Ravens Under Armour Performance Center in Owings Mills is his permanent perch. He's wearing black slacks, a perfectly pressed pink-and-white checkered shirt, and a simple gold wedding band on his crooked left ring finger. His short, graying hair is neatly cropped. A black ascot stylishly hides where the white tube from his ventilator enters his trachea.
Amyotrophic lateral sclerosis (ALS), one of life's ugliest diseases, has left him unable to speak or even breathe on his own. This once world-class athlete, the man who recorded the first tackle for the Ravens in their first Super Bowl, can't force his mind, the only part of his being ALS has spared, to move his dying muscles. Yet somehow, the corners of his mouth seem to curl upward.
His body won't surrender smiling.
Atop a cabinet in the corner are four game balls the team awarded him, and on the wall hang pictures with personalized messages from good friends like Ray Lewis. But the football mementos receive no more prominent display than the drawings and letters from school kids, or the quotations written on a dry-erase board that serve to motivate both him and the players he mentors.
It's a freezing Thursday in February, but Brigance is in a warm mood. He's the kind of relentlessly positive guy who doesn't mind Baltimore winters, because, as a kid growing up in Houston, he never got to play in the snow.
"We are all dealing with disability in one form or another," he says through an augmentative communication device, essentially a computer he controls by pointing his pupils at letters and buttons on a monitor positioned a few feet in front of his face. It's a time-intensive process, and, as he composes sentences, only the coldly mechanical sound of the ventilator activating every three or four seconds fills the room.
"I have refused to give in to my circumstance," says Brigance, who was diagnosed in 2007. "I don't think anyone would blame me for going into seclusion and [living] a life in the shadows, but that would be a waste. I recently received letters from a fifth-grade class [that] studied the story of Joseph from the Bible and thought his attitude was similar to mine in my fight against ALS. When I hear of how my trials have encouraged others, it shows me the purpose behind what we are enduring."
It is difficult at first not to feel pity for those unfortunate souls afflicted by this cruel neurological disease, which sentences Adonis-like men and petite, gentle women to lifetimes as prisoners in their own bodies. But spend some time with Brigance, 44, or some of the other 30,000 people living with ALS and you'll often hear them use curious words to describe their situation.
"I don't want to come off as a victim," says Mike Davis, 63, a Severna Park resident who was diagnosed with ALS in 2012. "I'm a survivor. I've got doctors and nurses that have done way beyond the average. If anybody had to get this disease, I wish they were as lucky as I've been."
Unlike Brigance and Davis, who had little to no awareness of the disease before they got it, Beth Tenser, 45, knew all too well what her future held when she was diagnosed in 2012. She was her mother Myrna's chief caregiver before ALS took her in 2005.
"This illness, I feel, is a gift," Tenser says through an iPad text-to-speech app. "I have met so many special people. I inspire them as they in turn inspire me."
ALS entered the country's collective consciousness in 1939, when baseball legend Lou Gehrig was diagnosed with the disease now unofficially named for him. The Yankees' Iron Horse was told he had three years to live. Two years later, he passed away at the age of 37.
Doctors and scientists have made frighteningly few ALS breakthroughs in the ensuing 75 years. Today, Dr. Justin Kwan, co-director of the renowned ALS Clinic at the University of Maryland Medical Center, says half of his patients live three to five years following diagnosis. As the disease progresses, patients lose functional use of their skeletal muscles, which usually leads to paralysis. Mercifully, many report no significant pain, though Brigance says he still gets itches he cannot scratch, and his muscles feel like they need to be stretched, as if he's been on a long car ride. The cause of death is most frequently respiratory failure, induced by the atrophying of the muscles used to breathe.
No one knows what causes ALS. While there is some evidence to suggest that abnormal proteins in neurons or abnormal DNA might exist in some patients with hereditary cases, Dr. Kwan says, 90 percent of patients at the Maryland ALS Clinic have no family member with it.
"As we better understand the human genome and it becomes much more feasible for us to sequence individual DNA, we need to understand how the environment influences a person's risk for developing the disease," he says. "I'm hopeful that within my lifetime we'll be talking about ALS like another chronic disease."
The road to diagnosis is often long and littered with incorrect conclusions. Unlike say, HIV, there's no simple blood test for ALS, meaning many other muscular and neurological disorders must be ruled out first.
"We test the motor neurons in their brains," Dr. Kwan says. "Studies show that clinical diagnosis, even in the absence of a specific test, is fairly accurate. It's an awful disease, and there's never an easy way to discuss it with a patient. But mortality is something that we all must face. I tell them we have to be optimistic and hopeful, but that they have to allow themselves to grieve."
Davis's initial inclination that something was wrong came in July 2011, when, out of the blue, he started having breathing problems. Various doctors theorized that his troubles stemmed from his weight (at that time he tipped the scale around 300 pounds) or a problem with his heart. Eight months later, he was told he had ALS.
"The doctor who diagnosed me literally cried giving me the death sentence," he says. "She sat on my bed. . . . you never want to hear a doctor say, 'We have to have a serious talk.' When you hear that, you're in deep shit."
Tenser began slurring her speech in September 2010. Overworked at her job as a graphic designer, she thought stress or even allergies were to blame. Nothing hurt worse than when people assumed she was drunk. Knowing the disease took her mother and her Aunt Betsy, she feared the worst.
"For eight years I felt like it was a black cloud over my head," she says. Asked what aspect of it scares her the most, she begins to cry as she types. Her response is gut wrenching.
"Death, of course."
Brigance was 37 when he first noticed muscle weakness in his right arm following a racquetball game. Although his playing days were over, he was working for the Ravens (he's the team's senior adviser to player development) and still in great shape.
"There was a time, probably a year and a half post diagnosis, when it really hit me," he says. "Initially, it had not severely impacted my physical abilities. When it became increasingly more difficult to brush my own teeth and complete other daily tasks most of us take for granted, that was the hardest part. The weight of possibly being dead by the age of 40 brought me to tears. Once my wife and I finished being sorry for ourselves, we decided to dry our tears and fight."
After they make peace with their diagnosis—if they ever do—ALS patients encounter a daunting new reality. As their muscles slowly wither, they lose their independence, their ability to speak and eat, and ultimately their life. But on a day-by-day basis, each is confronted with the same existential question we all face when we look in the bathroom mirror each morning: How can I move forward today?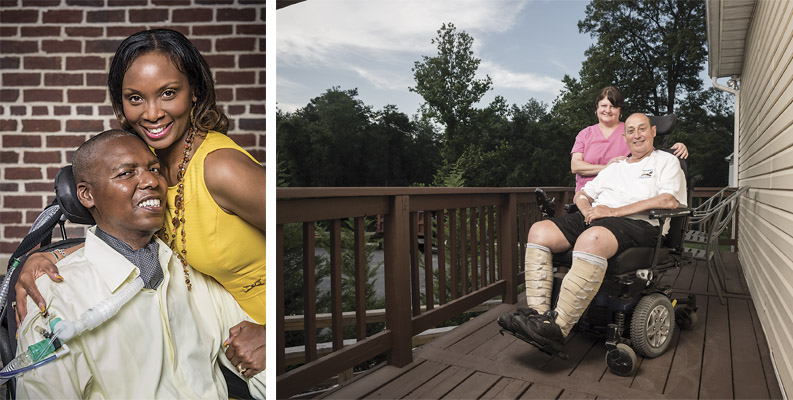 O.J. and Chanda Brigance have been together for more than 20 years, but their marriage is no longer just a union of two. A staff of four nurses, whom Chanda calls "angels from heaven," care for Brigance 24 hours a day.
Mornings are a three-hour process during which they administer personal hygiene and conduct the arduous task of transferring him into his wheelchair. After Brigance spends a full day at the office, the bedtime routine clocks in at nearly two hours.
In his autobiography, Strength of a Champion, Brigance credits Ravens owner Steve Bisciotti for ensuring "we'd have the top medical care in the world and access to everything we could have asked for."
His augmentative communication device, with which he has the ability to shop online, send e-mails, download books, and even operate the TV remote, cost more than $10,000. It takes Brigance, a man of forced patience, anywhere from 30 seconds to a few minutes to compose sentences, which are then read aloud by a computerized voice. Even this he has turned into a positive, saying it's made him a better writer and forces him to think before he speaks.
"Imagine if you were strapped to that chair with duct tape over your mouth," he says. "That is my life with ALS. My communication device re-opens the world for me. I know life would be very different and difficult without a caring support system. The simplest task can become monumental, often leading to frustration, anguish, and loss of hope. For those who don't have a support system in place, each day can be a burden just to live. Without mobility and strength, it would lead to home confinement and loss of purpose. Independence is a precious gift taken for granted all too often."
Davis faces a far different economic reality. A self-employed building contractor for most of his life, his hands were the tools with which he survived. Now, no two fingers on his left hand rest at the same angle. He can't even use it to cut food.
Health insurance was just a rumor to him for years until a friend recommended he buy a life insurance policy as he approached 60. After the mandatory physical showed that his blood sugar was off, he purchased a health plan from Aetna. While the $730 monthly premium and $4,000 annual deductible are significant expenses for a man whose business is waning as his health does, he still thanks God for it every day. Without it, he wouldn't be able to afford the 24 pills he takes daily, or the five-figure diaphragm-pacing device that helps him breathe. (Since the initial interview, Davis has switched to a plan with CareFirst.)
Like Brigance, Davis refuses to stop working. He uses a ramp he built and a wheelchair lift loaned to him by the ALS Association's DC/MD/VA chapter to get from the living area of his split-level house to the office in his garage, where he runs his general residential contracting company.
Davis's girlfriend, Mary Fricano, is his caretaker. They met 12 years ago at the dentist's office where she works, attracted by a shared sense of humor and easy rapport. They rely on her salary and his business to pay the mortgage and his medical bills. Financially, she concedes, they're barely hanging on.
"She stays with me for love, because it ain't for the money," he says, as they both laugh. His voice is labored and strained, and he stops to gasp for air every two or three words. He no longer answers the phone in the office, because he believes his tone scares off potential customers. Mary brings him a glass of water and reminds him to take his time.
"You lose things. I can't walk, I can't dress myself, I can't write. Imagine sitting in a chair, and you can't even get up to go to the bathroom by yourself. You psychologically have to adapt, because if you fight too hard, you get angry and frustrated. I've become a big toddler. I have a 3-year-old granddaughter who can do more than I can do. It's hard to accept."
After helping Davis prepare for the day, Fricano leaves for work around 7. When she gets home 11 hours later, she feeds him, bathes him, and helps him with basic hygiene tasks like brushing his teeth.
"I took care of my mom, and I took care of my dad," she says. "You have a certain relationship with your parents, and you have a certain relationship with your husband or your boyfriend. When something like this happens, you have to shift gears. You become a caregiver. The emotion is still there, but it's on the backburner. I can't feel. You become almost like a robot. It's like I'm two people. I'm the girlfriend, but I'm the caregiver."
Davis seems to fight an internal battle between hope and despair. In February, he was defiant, recounting his mother's fight against cancer from his dining room table. "She died from it, but she fought like hell for 10 years. She'd be ashamed of me if I give up. I refuse to."
But by June, an e-mail message was more resigned: "I fight the sense of overwhelming doom. ALS doesn't let you get false hope. It is fatal. You know that, and you can accept it and live your life as you see fit. There is a calming peace in that."
Throughout the disease's arc, many people go through stages of denial and depression, says Tremetris Harrell, director of care services for the ALS Association's DC/MD/VA chapter.
"A patient has to rely on their loved ones for everything," she says. "You do see what unconditional love is. Those who have strong family support and are connected to the chapter or their faith are more likely to accept the diagnosis, and not let the diagnosis control them."
The Brigances have leaned heavily on their belief that God has a purpose for O.J. It led them to establish the Brigance Brigade, a nonprofit foundation that has raised more than $1 million to equip ALS patients with needed equipment like button hooks, grab bars, and wheelchairs—as well as nursing services and communication devices. In April, its inaugural 5.7K (Brigance's jersey number was 57) drew more than 1,000 runners to Canton.
"This crisis instigated a sense of urgency to make a difference in the world around me," Brigance says. "ALS is devastating on the people who receive the diagnosis and their families. Though it is dire, it doesn't have to be a death sentence. The people who fight this battle are special folks who have great resiliency."
People like Mike Davis, who admires Brigance's strength, and like Beth Tenser, who calls him "a role model for us all." Sitting on the couch of the Pikesville apartment she shares with her father—and used to share with her mother—her fingers furiously peck away at her iPad.
"When you have so many people who care about you, I feel it is an obligation to live for them and for me," she writes as she smiles and her eyes begin to well. "Life is for the living."