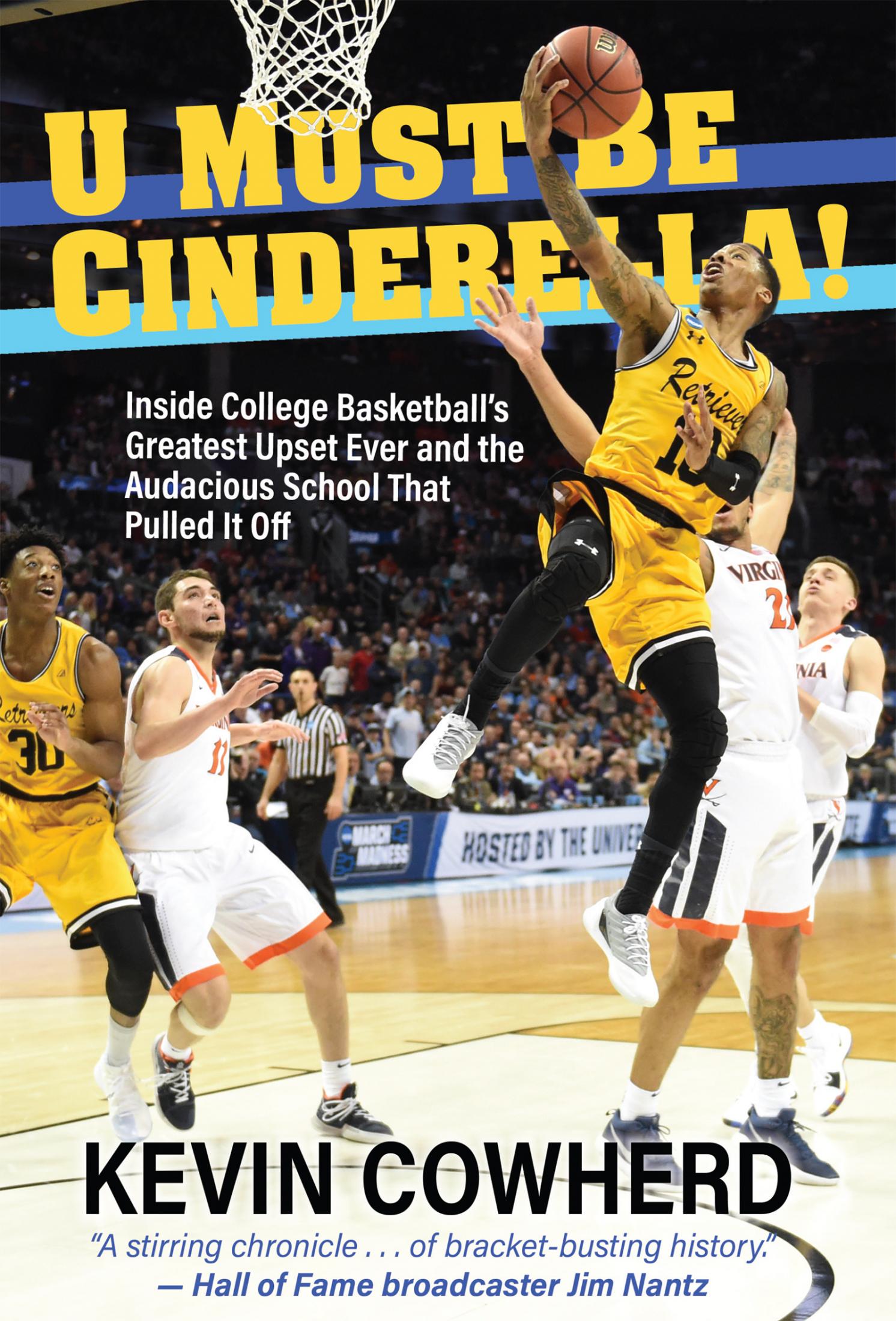 In 2018, the UMBC men's basketball team, entering the NCAA tournament as a 16 seed, did the seemingly impossible: They beat overall number one seed Virginia. And they did so relatively handily—the final score was 74-54. It was the first time a 16 seed had ever beaten a one seed in the history of the tournament. (We're talking 0-135.) It busted a million brackets and sent shockwaves throughout the world of basketball. Writer Kevin Cowherd has chronicled this astonishing feat in his new book, U Might Be Cinderella—capturing what it took for this scrappy little team to pull off the upset.
In advance of the upcoming tournament—alas, UMBC didn't make the cut this year (but Mount St. Mary's did!)—we chat with Cowherd about the book and how this team made the impossible dream come true.
Literally no one thought this would happen, right?
No one. UMBC was a 20-and-a-half point underdog. The expectation was, here's another mid-major team, a small school from Catonsville Maryland, that 90 percent of basketball fans have never heard of. Most people expected UMBC to get waxed. However, what I found so surprising is how confident UMBC was going in. They thought, 'Hey, we're not supposed to win.' They played loose and they all said there were no jitters going into that game. You're playing on a pretty big stage in the NCAA tournament. But these guys insisted. No jitters at all.
Watching the game, it almost seemed like the announcers kept waiting for Virginia to seize control. At what point did it become clear that this was really happening?
It was definitely in the second half. At halftime the score was 21-21. And when UMBC went into the locker room at halftime, they were convinced they could win. They hadn't shot well. They had defended very well and they thought if they could crank their offense up a little bit, they were going to win. And, from the very beginning of that second half, they went on a tear. I would say four or five minutes into that second half, that CBS announcing crew—Jim Nance, Bill Rafferty and the rest of them—were saying, 'Hey it could be something happening here.' By the middle of the second half, it was pretty obvious UMBC wasn't backing down and, unlike other teams that face higher ranking opponents, they were not cautious with their offense. They were not trying to slow things down. They just kept attacking the basket. Senior guard Jairus Lyles was just a superstar for them. Virginia never found that next gear.
If anything, Virginia was shellshocked. Panic seemed to set in.
[Virginia coach] Tony Bennett is one of the most relaxed coaches you will ever see. His demeanor, whether they win or lose, is pretty much the same. And in a couple of those timeouts, he had a look on his face that I have never seen before. He looked bewildered. He looked like he was searching desperately for an answer. He had no answers. And neither did his players. I'm convinced that if that game had gone on for five more minutes, Virginia would've lost by 30 instead of 20. That's how beaten down Virginia seemed and how energized UMBC seemed.
Considering how feisty his team is, it's interesting that UMBC coach Ryan Odom isn't the flashiest guy.
He's very chill. Very measured in his comments to his team and when he speaks to the media. He's just chill. There's no other way to describe this guy. He gets fiery on the sidelines. But he's not one of these charismatic fiery coaches. He's not a Jim Valvano. He's certainly not a Bobby Knight. He was the perfect guy for that program. Still is. He's a wonderful coach, a wonderful teacher. Cares about the kids. For that huge game, I think his relaxed demeanor really helped that team.
On the other hand, UMBC guard K.J. Maura is the kind of scrappy underdog the whole world can get behind.
He was the lightest and one of the smallest players playing basketball in 2018. So he's had doubters all his life. And he got more emails from small people, not just kids, who said, 'Wow. What a role model you are! Look at what you've done.' He was listed at 5'8"…I think he was more like 5'5" myself. The guy weighed 132 pounds soaking wet. And he's playing at a level—his passing, his shooting, his floor leadership—he's of someone who's 6 feet 5 inches tall. He used that height. He would attack the guy bringing the ball up. It was like having a rabid terrier nipping at you. He caused so much disruption. He was also their Energizer Bunny. He drove opposing teams nuts! If you go back and look at the tip off of that game, everybody is gathered in a circle, ready for the tip off. And one guy is bouncing up and down, almost out of the frame, and it's A.J. Maura. He had this wonderful motor. He was another great subplot to the main story. Just a wonderful guy.
Zach Seidel, the UMBC social media guy, also became an unlikely celebrity that day.
He was the head of digital media for UMBC. What happened was, Seth Davis, the CBS broadcaster, has this shtick that he does. A game will start and he will say, in this instance: 'Virginia. Sharpie'—meaning you can write in your brackets in ink that Virginia is going to win. And Zach Seidel took great offense to this. So he started this tongue-in-cheek feud with Seth Davis that went on throughout game and got picked up by Twitter followers everywhere. He became a media darling from the time that game ended to the time that UMBC finally lost to Kansas State [in the round of 32]. CNN, The New York Times, USA Today all interviewed him. He was bewildered by it. And a little uncomfortable with it. He's a delightful young man.
UMBC president Dr. Freeman Hrabowski had a unique relationship with the team.
Freeman is a rock and roll star as an academic. He is beloved by academics, university presidents, faculty members all over the country. And what he's done at UMBC, he's created this nurturing environment, especially for African-American students who want to go on to get PhDs and MDs. He has created this wonderfully diverse community. He took [guard] Jairus Lyles under his wing. Freeman Hrabowski was his mentor. And he was the one who convinced Jairus, as a fifth-year senior, to stay on at UMBC. Jairus just loved everything that Freeman Hrabowski talked about in terms of what it's like to be a young Black athlete these days. Dr. Hrabowski kept telling him, 'You could go onto another basketball school. You're a great player. You could probably play in a Power 5 conference, but if you stay here at UMBC you will have a legacy. You will be someone that people will look up to. You can make more of an impact staying here.'
A funny anecdote from your book is that, once the team won, the kids on campus didn't know what to do with themselves.
It was spring break. But in addition to spring break, this is the school where the big athletic team on campus is the chess team! The game ended close to midnight on Friday, March 16. Here come the few kids that are on campus. They're bursting out of their dorms, and they're going, 'Now what do we do?' Because they had no idea. How do you celebrate at a school that had no athletic legacy to speak of? And here you've pulled off the biggest upset in college basketball history. You can go on YouTube and find a video and see these kids pouring out of these dorms going: 'Where do we go? What do we do now?'
Reading the book, I could tell you had a lot of compassion for Virginia.
They were a classy team. And I had never seen a classier losing press conference with Tony Bennett than I saw that night. He tried to tell his players, 'You have to be able to take this. We have gotten praise all year.' They went in 31-2. They won 17 conference games, the first time in ACC history that had happened. People adored this team. And now here comes the most devastating loss of their careers.
Tony Bennett was just wonderful in the way that he framed the loss for his players. Some of these players really struggled. One guy, Kyle Guy, their all-American guard, really suffered from depression and anxiety as a direct result of that game. He got a lot of hate mail, as all the Virginia players did. It took him a whole year. Of course, the beautiful part of that story, one year later, guess who wins the NCAA tournament? National champion, Virginia. Eight out of 10 times, maybe 9 out of 10 times, Virginia stomps UMBC. But on that night, UMBC was the better team. To a man, they all credit losing to UMBC as the impetus to their next great season. They learned a hard lesson. You can't take any opponent for granted.