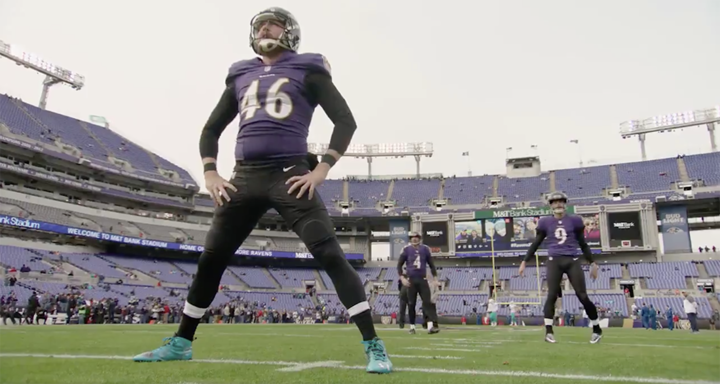 Monday Night Football was a success for the Baltimore Ravens with a 23-16 win over the Houston Texans. It wasn't an ideal victory, but they managed to come out on top, keeping the team's playoff hopes alive. 
Joe Flacco and the offense struggled to move the ball down the field and the crowd at M&T Bank Stadium wasn't shy about expressing their disappointment with a chorus of boos in the fourth quarter. After 100 yards in penalties for amateur mistakes—we're talking to you, Matt Judon—the defense still managed to force three turnovers that made all the difference in the game.
The real hero of the night was the special teams squad, aka the Wolfpack. Veteran punter Sam Koch set up the team's first touchdown with a completion to wide receiver Chris Moore on a fake punt. Koch is now 2-for-2 on the season in completions on fake punts and 4/4 in his career with 48-yard and a quarterback rating of 116.7. Flacco says that he would make a pretty decent backup, backup QB if it ever came to it.
"He definitely has the ability to throw the football," Flacco said in a post-game conference. "Whether he has any idea about what's going on back there, who knows." 
Koch also showed off his crazy accurate leg for the second week in a row by dropping five punts inside the 20-yard line forcing Houston to drive long distances to score. After Monday's game, he was named AFC Special Teams Player of the week, leading the league with 29 punts inside the opponents' 20-yard line and a net punt average that puts him just outside the top 10.
Fellow Wolfpack member Justin Tucker shined on Monday night, as well, making a 53-yard field goal look like a cakewalk. He was 8-for-8 in November for field goal attempts and was named AFC Special Teams Player for the month of November. It's his fourth time earning that title in his six-year career. 
With the Ravens offense ranked 31st in the league (yikes!), Tucker has been the team's primary scoring weapon. His seemingly bionic leg has an 88.5 success rate, making him the 12th best kicker in the league.
Going into Sunday's game against Detroit, the Ravens and the Lions—which both have had slow starts and struggling offenses—don't look all that dissimilar. Seems to be a safe best that the Wolfpack will make the difference once again.
"I'm glad we were able to have a good night on Monday night," Tucker said. "That's why you play the game . . . have a big night and get a win with your teammates."