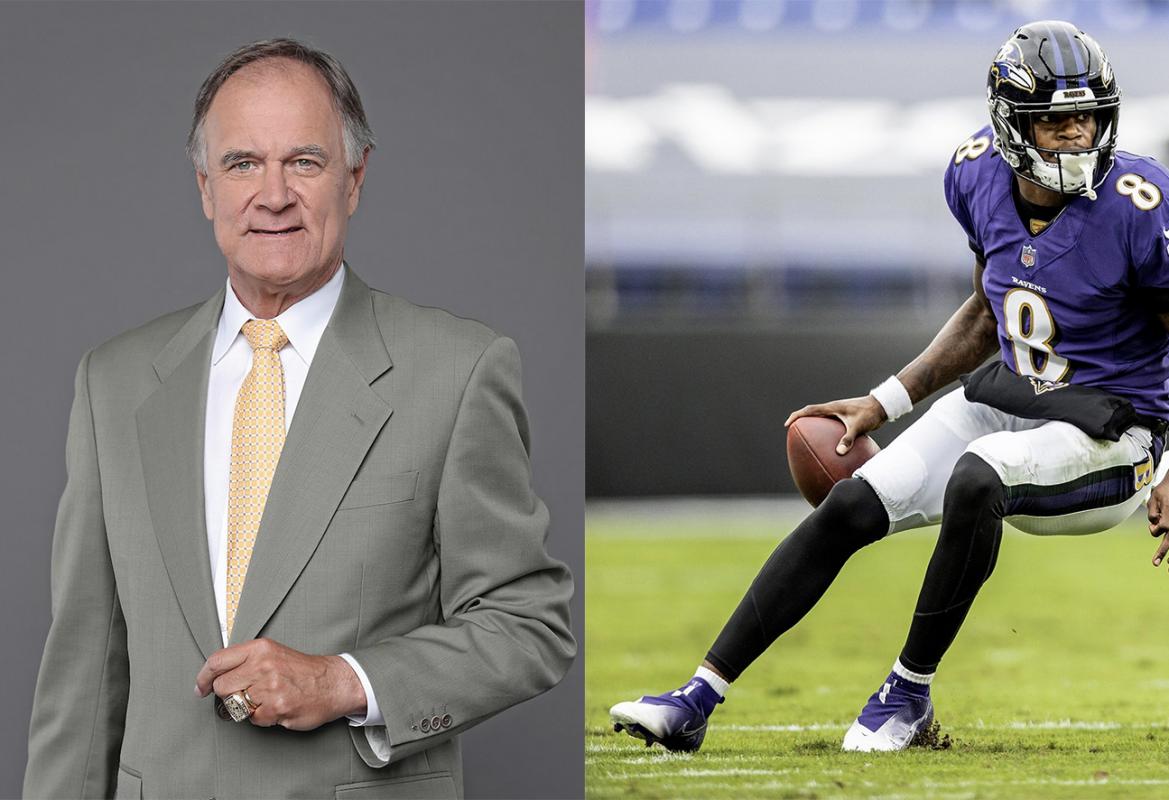 —Courtesy of Brian Billick and the Baltimore Ravens
There aren't many people who follow the Ravens with as much expertise and keen insight as their former Super Bowl-winning head coach, Brian Billick. He was inducted into the Ravens Ring of Honor in 2019, and in 2020 he published a book, The Q Factor, that in part chronicled the franchise's decision to draft a talented quarterback named Lamar Jackson. It also delves into Jackson's progression in his first couple years in the NFL.
As we wrote last year on the 20th anniversary of the Ravens first championship, Billick—who engineered the then-highest scoring offensive lineup of all time in 1998 with the Minnesota Vikings—is still spending time coaching, now as defensive coordinator of his grandson's youth football team in Ohio. And although he's recently left his longtime analyst position with the league-owned NFL Network, Billick is still keeping close tabs on his former team, and its quarterback, as they prepare for the 2021 season. 
With all this in mind, we caught up with Billick, 67, to get his take on Jackson and the Ravens heading into this season. (Note, we spoke to Billick before Jackson tested positive for COVID-19 last week. On that note, Ravens coach John Harbaugh said this week that Jackson should be back at practice by Saturday.)
What are your general thoughts on the Ravens heading into this season? Obviously there's a lot of attention on Lamar Jackson to start the year.
Lamar is, and we overuse the term, truly a unique talent, and the Ravens have a total commitment to that style of play. They're fine with him running the ball 140, 150 times a season because he's so dynamic at it. They're just so different from how anybody else plays. They're going to continue to give defenses problems. And, defensively, they're always good. What they're missing right now is that dominant outside pass rusher. [Defensive coordinator] Wink Martindale will do a great job of compensating for that with unique blitzes and other things to bring about the pressure. But there's no reason to think they're not going to be as solid a defense as they've been. They've been a top-10 defense. So when you combine that with what they're doing offensively, and then Justin Tucker and punter Sam Koch—those guys are as good a special teams combination as there is in the league. With that trifecta, they're as good as anybody.
Offensively, what do you think of what the Ravens did in the draft adding wide receivers, like Rashod Bateman, in the first round?
Everybody talked about that. I get that. Anytime you get a good wide receiver, it should help. With the nature of what they're doing, given the fact that they're going to run as much as they do, it's nice to have, but I don't think they're dependent upon it. It's always good to have options, but obviously with the tight ends down the field, Hollywood Brown, they've got the deep threat, they've got plenty of threat in the passing game. They're going to be a sub-450 pass team because of the way they run the ball.
On Lamar, he's talked this offseason about his mechanics and footwork and staying "open." What do you think of his development as a passer heading into this season?
[He's] constantly working on that. At this point, it probably is what it is. To think that there's now going to be this jump and all of a sudden he's going to be this pocket proficient passer, that's just not Lamar. He's good enough out of the pocket. He's not a 50-throw-from-the-pocket guy. But combined with the other things that he does with the play actions and him getting outside, he's plenty good. 
At this point, is it a combination of maybe becoming a more unpredictable offense? I know some pundits broke it down, particularly after the playoff loss to the Buffalo Bills, and found that out of certain formations, the Ravens were running the ball most of the time, or passing.
Everybody has tendencies. Every team does, particularly when you get to year-end and you constantly work to counter them. If they've got certain formations where they're heavy-run tendencies, I got to believe Greg Roman is going to turn around and now have a number of play action passes off those formations. To say, if you really want to build the box [multiple defenders near the line of scrimmage] and bring certain run pressures, then we're going to play action and take these shots down the field. But everybody by year end has certain tendencies—because you're good at it. My coaches used to say "We can't do this because we did it really well last week, or we did it well last year. So we got to change." But my whole point was, "Let's make them show us that they can stop it. Then you can change it." If you do something well, keep doing it.
What do you think Lamar's biggest strength is?
It's clearly running the ball in his ability to turn a quarterback scramble into a 50-yard touchdown and to convert on third downs. You can do a good job on first and second down, and you can do a good job in coverage on third down, but he can run around and convert those two or three extra third downs that keep the drive alive and make them truly dynamic.
Do you think contract negotiations will play a factor in his or the team's performance this year?
The contract will get done, they're committed to it. The devil's in the details, but they'll get it done. Now, will it be that half-a-billion-dollar Patrick Mahomes contract? I don't know about that, but he's going to get one of these $100 million-plus contracts, which is what the going rate is. He's young enough that giving him a large guarantee is not a big deal. If you're guaranteeing large chunks of contract on Aaron Rodgers, that's tough because what's the timeframe? But Lamar is so young, you can guarantee the entire contract. You have minimal vulnerability because he's so young, he's going to play through the life of the contract. He's going to give every dollar. So why not go ahead and guarantee it?
Where does Lamar rank, as far as you see, in the league right now in terms of his ability to read coverages in the passing game?
Because of the nature of what they do, he hasn't had to. People aren't getting very multiple in the coverages, because it's all about building the box. So they're facing a lot of single high defense and that's easy to read. He's never going to be, by design, a 500-plus, 550-plus throw guy where teams have to do multiple coverages to account for that. Based on what he's seeing and what teams need to do to stop that offense, he's fine with what he's seeing.
When Lamar gets criticism for having a Fun Day for kids in Florida, running drills on an asphalt basketball court, how does that strike you?
He's a phenomenal athlete. He's doing fine. He's working with kids. I don't see the downside to this at all. These guys are going to have lives outside of what they're doing. He's giving back to the community. You can't hermetically seal these guys during the offseason. It just doesn't work that way.
Do you think, in general, an offense with a run-pass ratio like the Ravens can win a Super Bowl?
We'll find out. It hasn't, but this is unique. The other thing they're totally past—which people will continue to talk about—is [the idea that] when you expose your quarterback to that many hits, at some point, he's going to get hurt. Maybe, maybe not. This guy has shown a unique ability to stay healthy and to protect himself. They're not concerned about that. Now, at some point he may get hurt and people are going to go, "See, we told you." I don't know if that's fair or not. As he gets older, certainly that's going to have to change because his game will have to change, like all older quarterbacks. But right now that's just not part of what they do.
And the strength of what they do is they've totally bought into it. For some of these other teams that are taking, what they think of as Lamar Jackson types—whether it's Chicago and the kid they took out of Ohio State [Justin Fields], or what Philadelphia is doing with their guy—you got to buy in the way the Ravens do and totally structure around that style of play. These other teams kind of do it piecemeal in that they really don't want to expose the quarterback that much. Lamar has progressed enough as a thrower to augment what he does running the ball. These other guys don't have that luxury. They have to develop at a higher level as a passer because they're not going to run the ball as much as Lamar. The strength of the Ravens right now, and you've got to give John Harbaugh the credit for it, is they bought in. 
Where does that come from? John? Former general manager Ozzie Newsome? Current GM Eric DeCosta?
I think it's a combination of when they took him, they saw the talent and John Harbaugh told them, we'll find an offense that works for this guy. Well, they've done it. It's unorthodox, and a little bit high-risk with the injury, but they're all in, and that's to their credit.