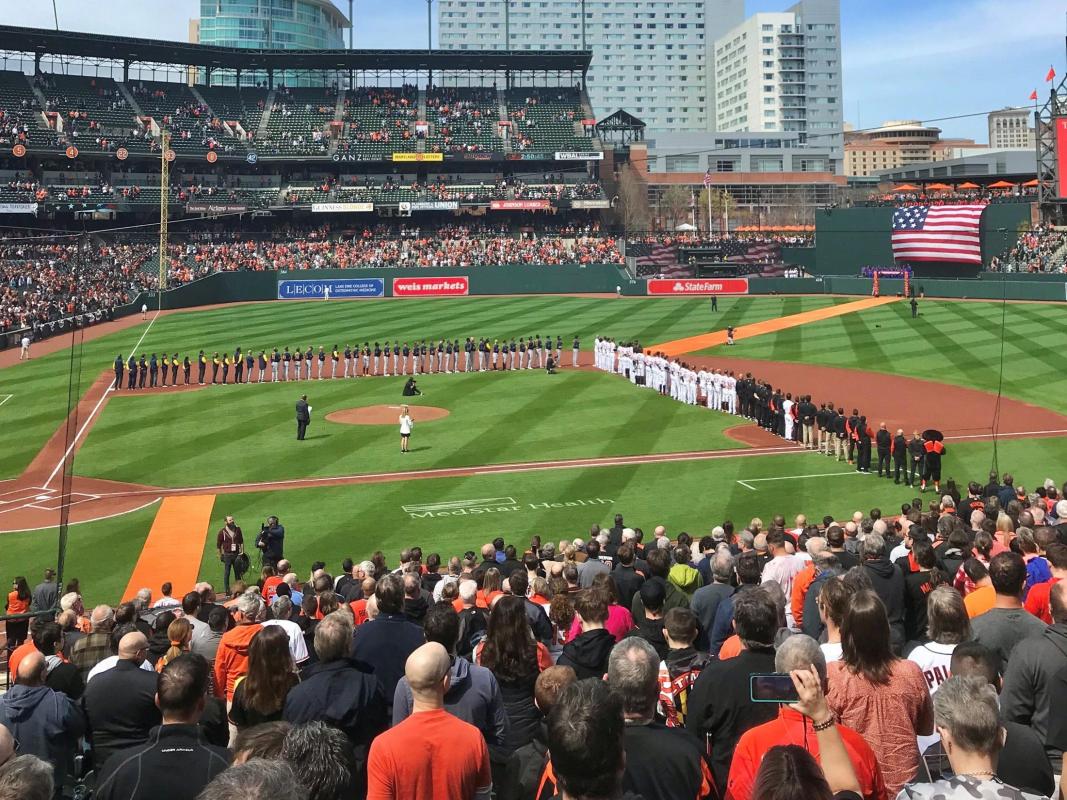 Photography by Corey McLaughlin
The night before the biggest game of his life, Bruce Zimmermann walked on to a quiet, empty, mostly dark Camden Yards field to imagine how things might go the next day—and take in the setting.
In a scene from a baseball fairytale, a little after 9 p.m. on Sunday, with no one else around, the 27-year-old that grew up a 20-minute drive away near Ellicott City stepped on the pitcher's mound at Oriole Park and gazed at the sights.
There was the Opening Day logo spray-painted in white in the grass behind home plate. The new deeper, and higher left field wall, reconstructed in the offseason, to help pitchers just like him. And, of course, his eyes drifted to the iconic brick warehouse in right field, gently lit in the black sky.
"It was storybook, in a way," Zimmermann said.
So was what happened the next day.
In the 30th Opening Day in Camden Yards on Monday afternoon—and the first home opener in two years where most of the stadium's seats were filled—Zimmermann's performance compelled thousands of fans to chant his first name, as if he were the New Jersey-born lead singer of the E Street Band.
Bruuuce!
On a warm spring afternoon, the 6-foot-1, 220-pound leftie buttoned-up his No. 50 Orioles jersey and threw four scoreless innings. He tossed 66 pitches in all, and allowed only three hits to power the Orioles to their first win of the year, a 2-0 victory over the visiting Milwaukee Brewers. (If you're a fan of symmetry, it was the exact same score the Orioles won their first-ever game at Camden Yards, 30 years ago.)
For a guy only beginning his second full big-league season, who grew up in the Baltimore suburbs, went to high school at Loyola-Blakefield, and then had a mostly unremarkable stint pitching at Towson University, it was as magical a day as they come.
"This one will always be up there for sure," Zimmermann said afterward, standing near his locker. "I have to put it right there with my debut, maybe a little bit more, with everything and the environment. The first time seeing Oriole Park like that, as a player, was incredibly special."
It was for those of us in the crowd, too. For one thing, the noise was back, along with the sense of a freewheeling, communal experience that, even with limited crowds last year, has been largely missing from Camden Yards since 2019 because of the pandemic.
On Monday, when Orioles outfielder Cedric Mullins smacked a go-ahead, two-run single in the second inning, scoring lightning-fast shortstop Jorge Mateo all the way from second base, the cathartic sound of celebration was reminiscent of a big playoff moment.
"Oh yeah," Mullins said. "That was awesome. It was an exciting moment. And we're going to have a lot more."
Frankly, Opening Day 2022 felt almost normal, as if we had we not lived through the past two years.
I was one of the rare few to attend the last two home openers. In 2020, I sat with a few dozen onlookers in the press box for an eerie July game against the Yankees played in front of no fans and in near silence with hand sanitizer use strongly encouraged.
Last year, a limited capacity of roughly 10,000 fans took in the O's more traditional early April opener against the Boston Red Sox. We wrote then that it was a step toward life as we used to know it.
This year's Opening Day marked another, and perhaps the biggest—in a baseball context. It was a crisply played game in which health protocols and COVID-19 worries finally seemed secondary to what happened on the field.
Before Zimmermann's first pitch, fans strolled down Eutaw Street in orange-and-black gear, without masks, some in pursuit of a fresh Boog's Barbecue sandwich, others in search of a table at Dempsey's Brew Pub on the first level of the warehouse.
Yet a few other architecturally-inclined minds—and some kids in search of baseballs from the Brewers warming up on the field—headed straight to something new: the remade left-field stands.
In the offseason, the O's removed roughly 1,000 seats from the short porch in left, making the field larger and home run wall a little higher, a design intended to reduce the number of home runs that fly out of the park, some that would be routine flyouts in other pro stadiums.
If it looks like someone—or specifically, construction workers—carved a slice out of what used to be there, that's exactly what happened. There's also now an awkward sharp corner in deep left field that we hope no one runs into full speed.
One game into the season: So far, so good.
Eventually, everyone (the crowd was announced as a sellout of 44,461 but there were obvious empties to the contrary) found their seats, and the lower bowl filled beneath a clear blue sky and gentle sun, as the orange carpet was rolled out in center field to cap off orchestrated pregame ceremonies.
As part of the festivities, Mullins received a giant Silver Slugger trophy—marking his peers voting him the best hitter in all of baseball at his position in 2021, following a breakout season in which he became the first Oriole ever to hit 30 home runs and steal 30 bases in a season.
Fan favorite, cancer-beater and longest-tenured O Trey Mancini, who started at designated hitter, received the loudest ovation. First baseman Ryan Mountcastle, who set a team record for home runs by a rookie last year, beating a mark previously held by Cal Ripken Jr., enjoyed a loud welcome back too.
After the game, Orioles manager Brandon Hyde, who, like the rest of us, didn't sign up for the circumstances of the past two years, said, "It was fun to hear Orioles fans cheering, and a lot of them. Our guys fed off the energy."
Also during pregame, on the scoreboard in center field, Baltimore-based poet and author Kondwani Fidel delivered a video tribute to Camden Yards' 30-year anniversary that gave us chills.
The Morgan State University choir, which performed the national anthem at Oriole Park on April 6, 1992, did the same this year (more symmetry!), while a giant flag from Fort McHenry was draped behind the green facade.
And, for the ceremonial first pitch, Kortez Baker, the son of slain Baltimore City police officer Keona Holley, as well as relatives of the three city firefighters who died in action in January, and the one who survived, John McMaster, took positions near the mound.
Then there was Zimmermann, who became the first Maryland-born pitcher to start a home opener for the Orioles since 1990, and first to ever do it at Camden Yards. And it happened nearly four years after he first joined the Orioles organization as a minor-leaguer via a trade that sent pitchers Kevin Gausman and Darren O'Day to the Atlanta Braves.
Before the game, Hyde said he hoped Zimmermann could handle the obvious butterflies in anticipation of the moment. He started 13 games last year after being called up late in 2020, but had never started Opening Day in his hometown ballpark. (Thus the night-before walkthrough, perhaps.)
After the game, Hyde said, "Zim pitched extremely well," and highlighted his effective mix of fastballs, changeups and curveballs.
So how was Bruuuce's anxiety level? "Pretty manageable," Zimmermann told us. "It was high, but I knew it was going to be high. It was another start, with a lot of added adrenaline. I was more concerned about just getting through a clean first inning and setting up the rest of my outing."
After a 1-2-3 first inning, we heard his first name being chanted a little bit in appreciation from O's die-hards. And, after the second inning, when he struck out a batter with an off-speed pitch and a runner on second, it felt like we were at Springsteen concert. Same at the end of the third, when he got out of a bases-loaded jam following a brief mound visit from pitching coach Chris Holt.
"Walking off and hearing the Bruuuce chant and everything," Zimmermann said, "that really hit and fired me up a little bit more."
So did the knowledge that a large crew of longtime supporters, including his parents, aunts and uncles, and former college coaches were in attendance behind home plate.
Admittedly, though, Zimmermann tried not to look at them. He feared even a momentary distraction in the loud, jumpy environment could veer him from the vision of success he'd had on the mound in the quiet moments at Camden Yards the night before.
"Internally, there was a lot going on," he said. "Usually, I do try to peek up, but [with] the magnitude of the day today, it was just kind of, 'Stay focused as long as possible.'"
That was about four innings. On the surface, a performance of that length might not seem like something worth much glory, but it was the most that was expected of him. Given an abbreviated spring training stemming from labor negotiations between Major League Baseball owners and players that delayed the start of preseason and Opening Day, Zimmermann's pitch count on Monday was predetermined to be 70.
He finished four just shy of his maximum, and he looked sharp, striking out four and allowing two walks. Two-thirds of his pitches were strikes, a very good sign of things to come.
"It's a long season ahead," Zimmermann said, "but getting this win and everything about today was the perfect way to set off a hopefully long, healthy, successful season."