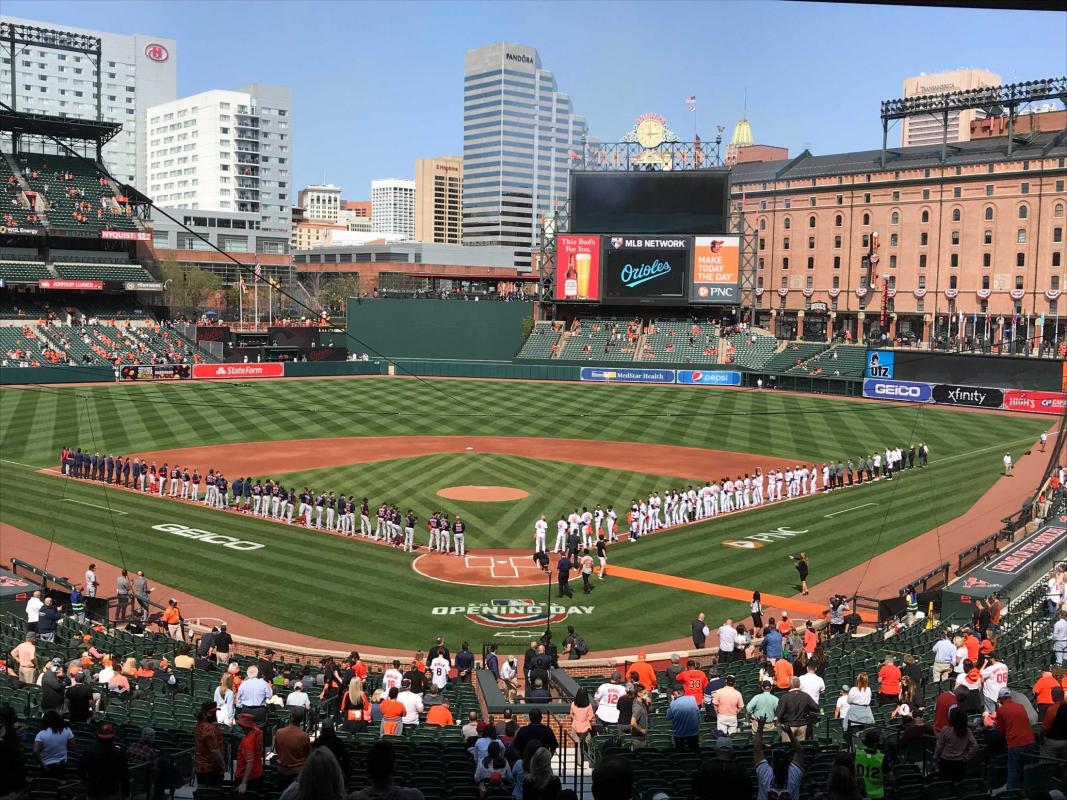 Photography by Corey McLaughlin
It wasn't all the way back to normal, but it was close.
Finally, around 2 p.m. on Thursday afternoon, more than 18 months since fans were last allowed into Camden Yards, the ushers opened the black gates around the stadium again, breathing life back into the beautiful place.
People—real people! strangers!—wearing Orioles jerseys, t-shirts, and hats (and masks) strolled down Eutaw Street. Some lined up for food and drink while others snapped smartphone pictures of the scenes they used to know, and have longed to see.
Noise bounced off the brick warehouse and echoed in the concourse. The smell of cooking hot dogs and spicy sausages moved through the air. And the green seats around the stadium slowly started to fill, though exclusively in groups of two and four. Pod seating, as it's called, is hopefully a final remnant of the social distancing era.
On this Opening Day—just like last year's without any fans at all—no long, wide orange carpet lay across centerfield for O's players, coaches, and staff to run across during introductions. Instead, a shorter, smaller version led from the home dugout toward home plate. "Because of COVID," Orioles manager Brandon Hyde said before the game.
The grand treatment wasn't quite appropriate yet anyway. For any other home game, we'd report that only 10,150 people showed up to watch the O's play the visiting Boston Red Sox. But in this case, the attendance marked a sellout—the max capacity being 25 percent lower than usual—as COVID-19 vaccines continue to hit arms and the world tests the waters on large public gatherings again.
"Welcome home!" local sports broadcaster and pregame ceremonies emcee Rob Long bellowed around the stadium. That was the common sentiment of the day.
The good news is that, in a world that seems like it's been completely upended because of the pandemic, the charm of Camden Yards has not worn off since the end of the 2019 season—the last time anyone other than players, employees, and media saw the place.
As I walked the concourse after the gates opened, it felt almost like old times again. You can feel it for yourself, hopefully 81 more times this year barring outbreaks, variants, or whatever else. (Maybe even more if… playoffs?!)
However, some things have changed.
Masks are still required, and perhaps the most pertinent new information is about the reduction of "touchpoints," the team says. There are no more paper tickets, for instance. You need to use a digital device and the stadium's free Wi-Fi, if needed, to get in. To speed up entry, no bags are allowed this year, unless for medical or childcare reasons. You can also skip lines and pre-order food and drinks via an app or QR codes now.
The stadium has also gone fully cashless. Get used to using "Reverse ATMs" instead, which give you a plastic card in exchange. And we miss hearing former play-by-play announcer Gary Thorne's voice, via the MASN television feed, narrate everything that's happening out on the field  while going to buy something or hitting the bathroom.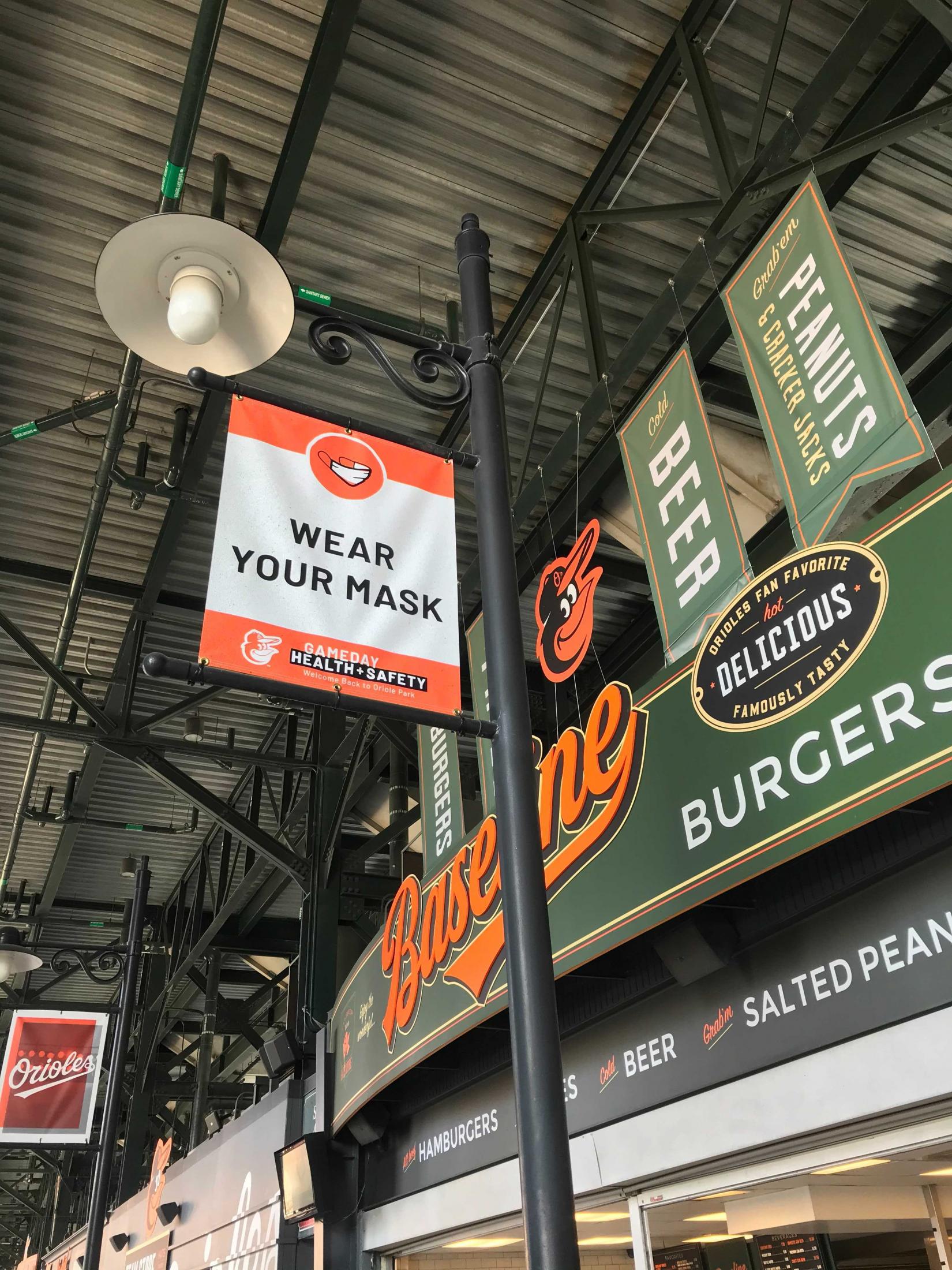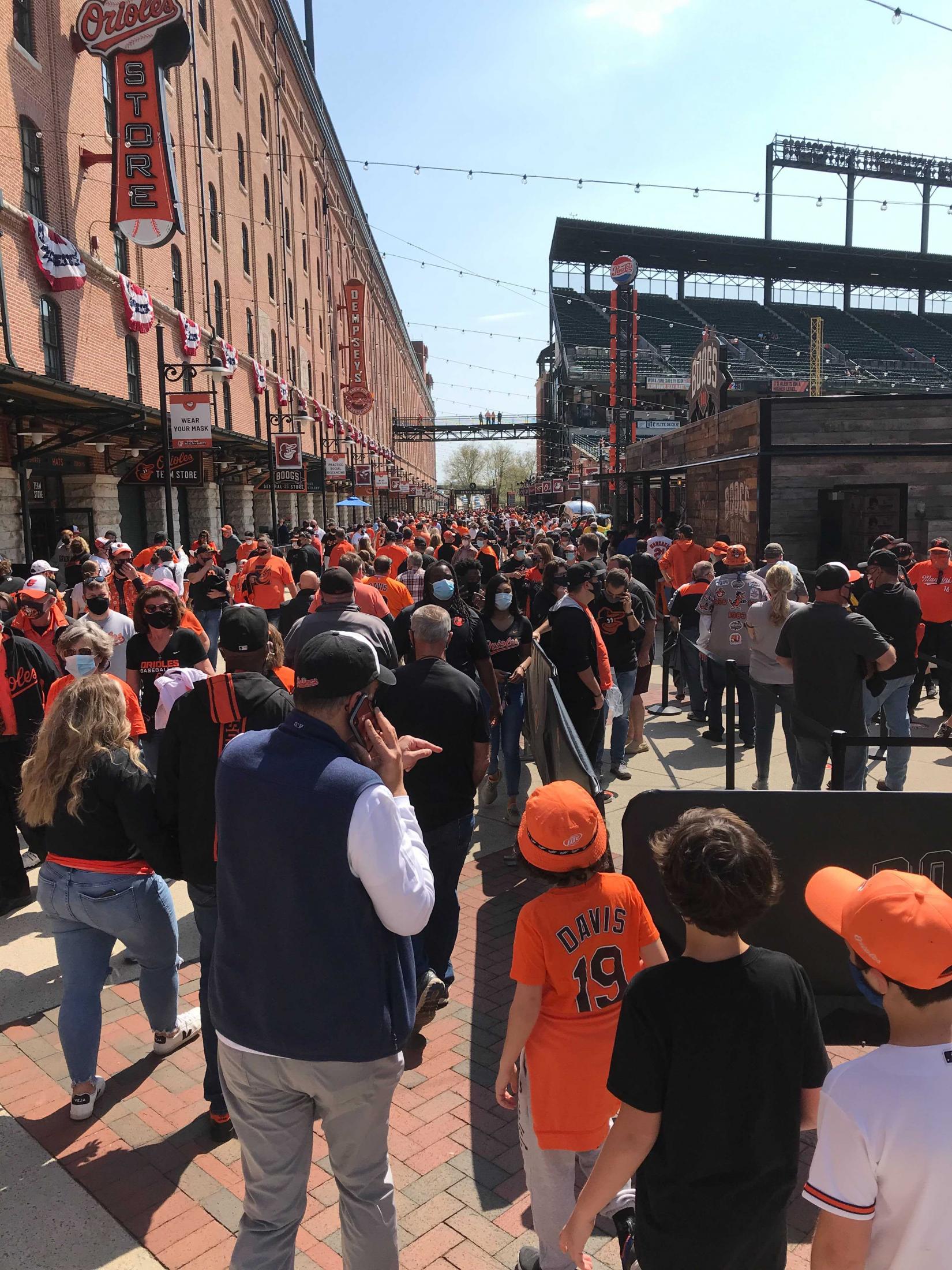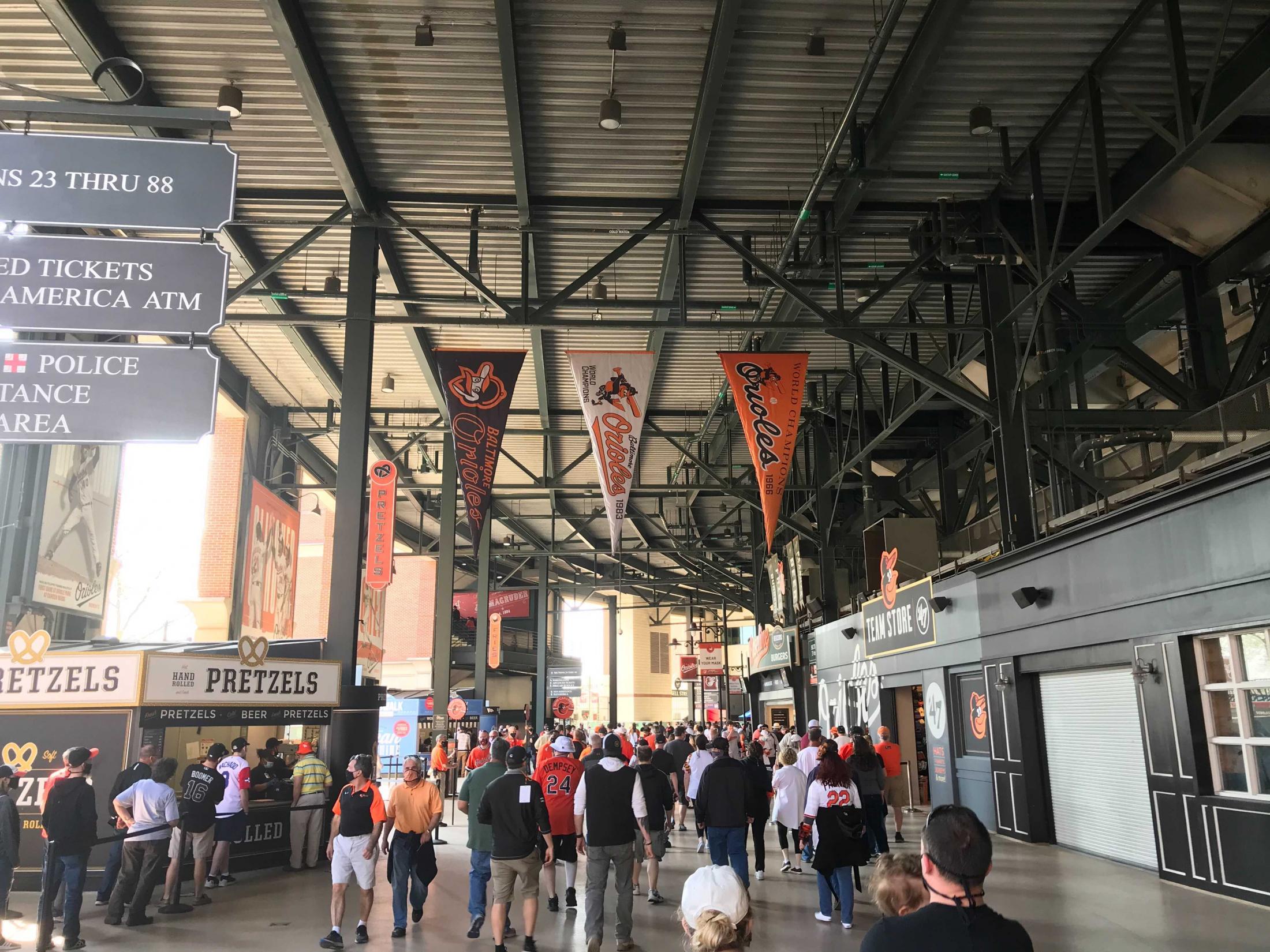 Despite all of the COVID changes, the stage, setting, and gathering place—which, we think, people realized they desperately needed throughout the last year—are all still there.
"It's good to be back," one usher told me spontaneously on Eutaw Street. "When you're not here, you feel like you're missing your second home."
Some of our favorite furniture is still around, too.
Fan favorite Trey Mancini is back at first base and taking swings a home plate, just about a year after the 29-year-old was diagnosed with Stage 3 colon cancer and underwent months of chemotherapy. Fans and the Red Sox gave him two standing ovations, once during pregame introductions and again before his first at-bat. You probably couldn't see Mancini crying between the brim of his hat and the blue surgical mask on his face during the first occasion, but he said he was.
"It was nothing short of what I expected. We have the best fans in baseball here," Mancini said after the game. "It meant the world to me. Even though it was 25 percent capacity, it felt like a full stadium out there. I have goosebumps thinking about it still."
"That was a really emotional start to the home season," Hyde said. "The ovation was awesome. I know Trey really appreciated it. That was an incredible moment by our fans, how loud they got. It was an awesome start to the day."
Thankfully, we also spotted the Oriole Bird from afar, waving a big flag from his perch for the year in the bar in centerfield. We thanked God we were country boys in the seventh-inning stretch, and watched ketchup win the first animated hot-dog and condiment race of the year.
West Baltimore native Zadia sang the National Anthem. And we even heard a few good ole' boos, too, as former Boston mayor and current Secretary of Labor Marty Walls threw out the ceremonial first pitch next to Baltimore mayor Brandon Scott (whose pitch was just a little outside, but not bad). Ironically, it was billed as a sign of unity between the cities.
And, oh yeah, the results of the game are almost the footnote in all of this, though not for those on the field.
New signage around Camden Yards reminds people to "Wear Your Mask," wash your hands, and stay six feet apart. But early in the game, Hyde was in no mood to comply. There he was, in the fourth inning, angrily pacing the first baseline dirt and yelling in the faces of a pair of umpires with his black mask pulled down around his neck. He was arguing an unclear hit-by-pitch call that went against third baseman Rio Ruiz.
Based on Hyde's description of the confrontation afterward, his fury didn't quite match Earl Weaver's hottest level.
"I was just asking, 'How could you see that as a swing?'" Hyde said. He had a point, but still, home plate umpire Jeremie Rehak ejected him, surprising Hyde. "According to Jeremie, I asked one too many times, I guess," Hyde said, sounding like he was still fuming after being forced to watch the rest of the game on TV from his office. "That's the quickest ejection I ever had."
The Red Sox won, 7-3, scoring the game's final five runs after catcher Pedro Severino hit his first home run of the season to put the O's up 3-2 in the fourth. Opening Day starting pitcher Matt Harvey, once the focus of many a New York newspaper tabloid when he was with the Mets, looked decent in the latest stop on his career rejuvenation tour. The talented Ryan Mountcastle had a Ryan Mountcastle day, slapping an opposite field home run to deep right center and overthrowing Ruiz at third on a throw from left field—a position Mountcastle is still learning to play. Centerfielder Cedric Mullins made a beautiful diving catch.
Importantly, after taking a few deep breaths toward the end of an emotional day, Mancini got a hit in his last at-bat, which he hopes will help him climb out of an ugly 5-for-28 hitting start to the season. But, most meaningful, if you ask us, is that the crowd cheered again when it happened.
"There is definitely more emotion in the game with fans," Hyde said. "Our players really fed off the energy early. Unfortunately, we couldn't hold on. But it was a good feeling to hear the fans back in Camden Yards."