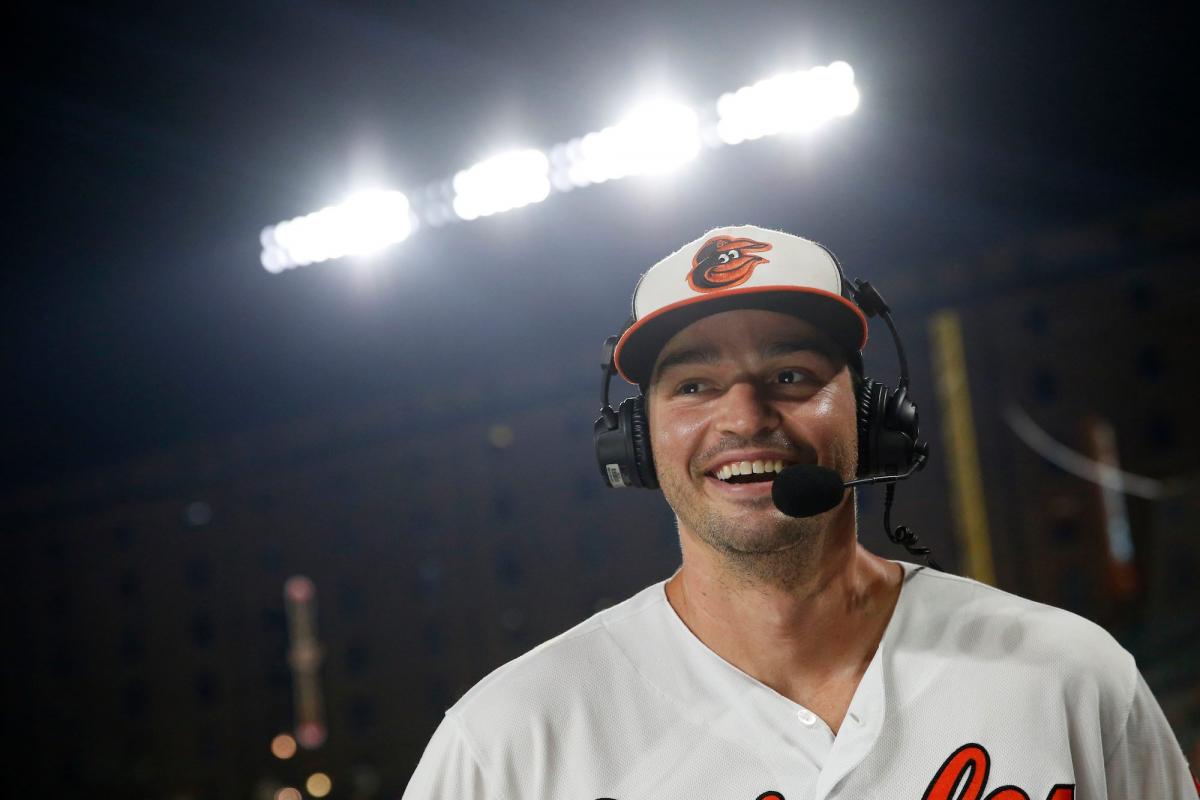 Baltimore Orioles
Here is some much-needed good news: Orioles fan favorite Trey Mancini is cancer-free.
He's about the most down-to-earth baseball star we've ever encountered, so when the 28-year-old—considered the elder statesman of the O's during their current rebuilding project—was diagnosed with Stage III colon cancer in February, the outpouring of support he received was not surprising.
Nine months later, we're pleased to report that Mancini is on the other end of his cancer battle. On a Zoom call with reporters this week, he said he finished chemotherapy treatments in September, recent blood tests show he is cancer-free, and he is very much looking forward to being back with the Orioles in 2021, starting with spring training.
"I'm feeling great," Mancini said. "I feel totally like myself. I'm working out and hitting…There's no reason for me to believe if spring training started tomorrow, I wouldn't be ready to go, because I really would."
Given the shocking nature of his story—a colon cancer diagnosis in his 20s, followed by surgery to remove the tumor and chemotherapy—and recognizing the platform he has, Mancini said he plans to advocate for colon cancer awareness and early screening, as well as help pay for colonoscopies for young people in the years ahead.
The awareness efforts started almost immediately. In late April, The Great Mancini—as we called him after a remarkable 2017 rookie season—wrote a first-person essay for The Players' Tribune about his diagnosis, and he continued to speak out after he started chemo that month.
Along the way, upon further reading, we learned this fact: In the U.S., approximately 10 percent of colon cancer cases are found in people under the age of 50, but the resulting incidences and deaths are increasing in that age bracket, while decreasing in those over 50. "And we're not sure why," Mancini says.
In June, the Orioles started selling #F16HT t-shirts, featuring Mancini's jersey number within the obvious cancer-fighting motto. The t-shirt sales have raised more than $80,000 so far to benefit the Colorectal Cancer Alliance (CCA)—a Washington, D.C.-based nonprofit that provides support to colon cancer patients and their families and funding for research. Mancini is on the group's "Never Too Early" advisory board.
"It's just another testament to everybody in Baltimore and their support and rallying around me during this really tough time," Mancini said of the fundraising effort. "It means the world to me."
We know you want to hear more from the guy, so what follows here is a lightly edited transcript from the Zoom Q&A Mancini did with reporters earlier this week.
Has your perspective changed, given what you've gone through this year, and in the context of a pandemic, too?
My perspective has changed a whole lot. My ultimate goal has always been to come back and be back to myself on the baseball field, but that really plays second fiddle to just wanting to be healthy. I've always appreciated being healthy, but never like I have this year. It's so important in life. I don't want to say I took it for granted before, but I have a newfound appreciation for it. In the future, every three months I'll go get checked up and have appointments with my oncologist. We're going to stay on top of it from here on out, and that's my new normal. I'm also very excited to get back to normal life, too.
What has your mindset been like throughout this experience?
It's been getting through every day. You're going to have good days and bad days. Everybody I talked to before I started chemotherapy, and even before my surgery, they said you're going to have some really good days, some really bad days. Don't get too high on the good days. Don't let the bad days drag you down and make your outlook a lot worse. You got to make it through the next day, and I did that. Honestly it flew by. I thought it was going to be the longest six months imaginable, but luckily I have the greatest support system in the world. [My girlfriend] Sara literally took care of me every day and made my life so much easier. I'm forever grateful to her for that. It was really tough, but luckily I was surrounded by some great people that made it better.
"You're going to have good days and bad days. Don't get too high on the good days. Don't let the bad days drag you down and make your outlook a lot worse."
What are the next steps for you in the months, and even years, ahead?
I get checked up every three months for this first year and then I believe it goes to every six months for the next few years after that. It's bloodwork and getting scans. Making sure everything looks good. Because the biggest worry is a recurrence. You pray that never happens. I feel really good about things. I've had pretty extensive blood tests and scans and everything looks great. There was no trace of tumor DNA or cancer in my bloodstream. But it's still something you have to monitor. At the same time, that's something that's largely out of my control.
I'm doing everything I can physically to be ready to play, and to still have a long career. I'm feeling really good about that. Another thing you worry about before chemotherapy are the side effects. Luckily, I'm feeling really good. Neuropathy can be a long-term side effect of it sometimes, but I'm totally good in that regard. My coordination is just as good as it was and everything feels fantastic. I feel strong and like myself.
Have you thought about why this has happened to you?
Sometimes I'll wonder what it was that caused it. My dad had it, but he was close to 60 years old when he had it. I didn't test positive for any genetic disorders that were inherited from him. There are so many things that it could have possibly been. I got to a point of thinking there's no use in in guessing what it could have been. It could have been multiple things. Sometimes you're just unlikely in that regard. I didn't really ask why too much. I just wanted to attack it and get back to being myself.
How do you plan on advocating for early screening and cancer awareness moving forward?
I'm just getting started with that. It is something that is very important to me. I've gotten to know a lot of amazing people that that work with the CCA and people who have had colon cancer, as well. They've all helped me tremendously throughout my process. Being able to give back them to is really important to me and something I'm going to continue to do in the future. I have a few ideas to plan events to benefit the CCA and to help with early screening because people are getting it at a much younger age now, We're not sure why, but there is a reason. We want to find that out.
And obviously colonoscopies, they can be expensive. Especially if you're a younger person, so [I'm thinking of] helping people who can't afford it that are in a high-risk population. It's easy to say, "Go get screened. Go get a colonoscopy," but some people just can't afford to do it.
"Wherever they want me to play, whatever they want me to do, I'll do it. If they want me in the outfield, I'll play outfield. If they want me at first, I'll be there. I never take that for granted—getting to play major league baseball every day."
Have you talked with the team about what position you'll play in 2021? So many things have changed with the club since you've been out.
Not exactly. I've been through a lot this year so that was kind of the last thing on our minds, but obviously now that we've turned that corner, it's something everybody is thinking about. I said it my rookie year and I'll say it again: Wherever they want me to play, whatever they want me to do, I'll do it. I never take that for granted, getting to play major league baseball every day. It's been my dream my whole life. If they want me in the outfield, I'll play outfield. If they want me at first, I'll be there. DH, I'll be there. If they want to try me out at second base, I'll do it. I don't recommend that, but literally whatever they want, I'm thankful to go out there and perform for the team.
How long will it take you to get back into game shape?
Not long at all. When I get there in February, I really think everybody will look at me and think that nothing happened if they didn't know what happened. I've been inspired. Ever since I finished my chemo, that was a huge milestone for me, then all my attention turned back toward baseball. I'm working out five times a week, and I'm hitting those days, too. Right now, I'm still [hitting off a tee]. It's something you want to slowly progress into. I had a pretty good amount of time off. You want to retrain your muscles. I have an inkling sometimes to go in there and take swings at 100 percent right at the beginning, but you have to remember you're not totally conditioned for that. But by the time December rolls around, I'll probably be ahead of where I normally am in an offseason.
How creative did you get with workouts in quarantine? We saw the dog squats…
The puppy squats. I think that was really the only off-the-wall workouts. I was able to do these 25- to 30-minute cardio/light weight workouts on the weeks that I felt good. Since I got treatments every other week, in that off week I felt good enough to workout. That helped me tremendously. Once I was done with chemotherapy, I didn't start at ground zero. Because of those workouts, I maintained a decent amount of my strength. Any day I felt good, or even if I didn't feel good, I'd go take a long walk or something. You want to lay around all day when you're not feeling well, but getting up and moving around really does help in your recovery.