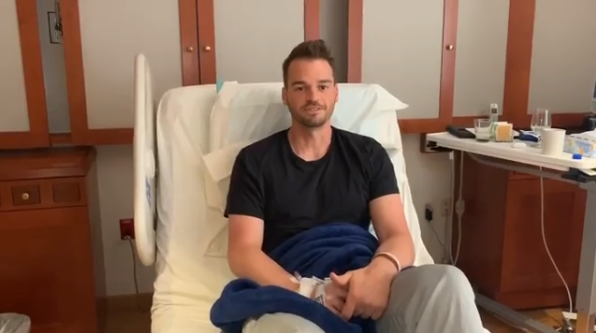 Trey Mancini
Trey Mancini was still woozy from the anesthesia, and when he woke up in the doctor's office in Florida, his girlfriend, Sara, was squeezing his hand.
Then the doctor began to speak, matter-of-factly—as the 27-year-old Mancini describes it in a first-person essay he published in The Players' Tribune this week— about the results of the emergency colonoscopy he'd just undergone.
He started by eliminating all the possible things it could have been…Before he even said the word cancer I was thinking to myself, there's no way that he's about to say what I think he's about to say.

And then he said it: They had found a malignant tumor in my colon. My dad's an OB-GYN. I'm familiar with the way doctors talk. I knew immediately that this was real.
That doesn't mean it wasn't shocking.
This was in February, just weeks after Mancini—the Orioles most established player and biggest fan-favorite on the current roster—arrived in Sarasota seemingly healthy for his seventh spring training with the team. He was coming off the best year of his pro career.
Stage three cancer? In his 20s? He had felt a bit more sluggish than usual during practices in Florida, but didn't think anything was seriously wrong. He had already chalked his tiredness up to old(er) age, though he was excited, too.
Even the doctors, before the colonoscopy, paired with an endoscopy—where they thread a tiny camera down your throat and into your intestines—said they were expecting to most likely confirm that he had celiac disease, based on a pair of blood tests that showed he had low iron levels.
And less than a month before all that, Mancini was enjoying the last bit of the off-season in Miami with friends for Super Bowl week in late January. We spoke with him then, for a story in the April issue of Baltimore, and talked mostly about the ins and outs of the O's data-driven organizational overhaul.
But, as we finished, we chatted casually about non-baseball matters, too. Health was not one of them. Was the O's first baseman and outfielder actually going to the big game? "No, no," he said, almost stunned at the suggestion. "I think the cheapest ticket is like five grand. I like watching on TV anyway, so I think I'm just going to do that."
The response was typical, humble, and down-to-earth Mancini. He probably wanted to see the commercials as much as the game itself. The $5 million per year deal he signed in January—a huge upgrade from a $575,000 per year salary in 2019—clearly hadn't changed his outlook on life.
And, without any hyperbole or exaggeration, cancer still hasn't warped his view. "I want everybody to know I'm O.K.," he said in his essay.
A week after the colonoscopy, Mancini had surgery to remove the tumor. He then started receiving chemotherapy treatments on April 13, and will do so every two weeks for six months at a Baltimore hospital. "I would say I've been handling the chemo pretty well so far, so hopefully it stays that way," he told us in a text on Thursday, after we shared a message of support.
But even if baseball were to return in 2020—if the COVID-19 pandemic eases in the weeks and months ahead, and large public gatherings are allowed again—Mancini says he would probably still miss the entire season. What's more, during the social-distancing era, he can't have any visitors in the room with him during treatments.
As he wrote:
I know reading everything and seeing that I had a malignant tumor removed from my colon, it's a lot to absorb—believe me, I know.
I'm not really big on social media, but I posted a video on Instagram after my surgery because I wanted people to see that I looked like myself and I was in good spirits. And I have no doubt that, even when I'm doing chemo, I can work out and do some things. So, whenever the time comes for me to come back to baseball, I'll be ready.
But I just want to make sure that I am physically fine before I go out there and start trying to perform again at a major league level. Don't get me wrong—I have bad days. I ask, "Why me? Why now?" And that's when Sara's been really good about kicking me in the rear. But she doesn't have to do that too often, because I truly know how blessed I really am.
Mostly, Mancini is thankful. He was already appreciative to the team that drafted him out of Notre Dame before all this. He's repeatedly pledged his commitment to the Orioles' rebuilding project over the last few seasons, even as he was paid close to the Major League Baseball minimum salary after finishing third in American League Rookie of the Year voting in 2017.
As the organization has transitioned from a veteran-heavy Buck Showalter-guided playoff contender to Baby Bird-flavored rebuild under new leadership of manager Brandon Hyde and general manager Mike Elias—no player, in fact, has been as publicly loyal to the franchise as Mancini has.
He was finally rewarded in January, with the more than $4 million raise, and says he still wants to be around for the long-haul.
"Of course, of course," he said in January, when we had asked if he was happy to be with the team, in the wake of other valuable players like Jonathan Villar and Dylan Bundy getting traded in the offseason. "I've always, always loved my time in Baltimore and even in the minor league system from the second they drafted me, I've always loved it."
And, practically speaking, without a routine pre-season physical ordered by the O's, including blood tests, the cancer would have been even worse if discovered anytime soon at all. "There was really no indication that anything was wrong other than me just feeling a little more tired than normal," he wrote in The Players Tribune. "Everything that comes up when you Google colon cancer? I didn't have any of it."
For that reason, Mancini—of course, with the perspective that he had—is already talking about becoming a spokesperson for for things just as simple as getting regular physicals. First, though, he has treatments of his own.
"I've got other things to worry about right now," he says. "I know that. But still, every once in a while I catch myself thinking ahead—to when chemo is over, to when they remove my port, to when I can start going full-speed again."