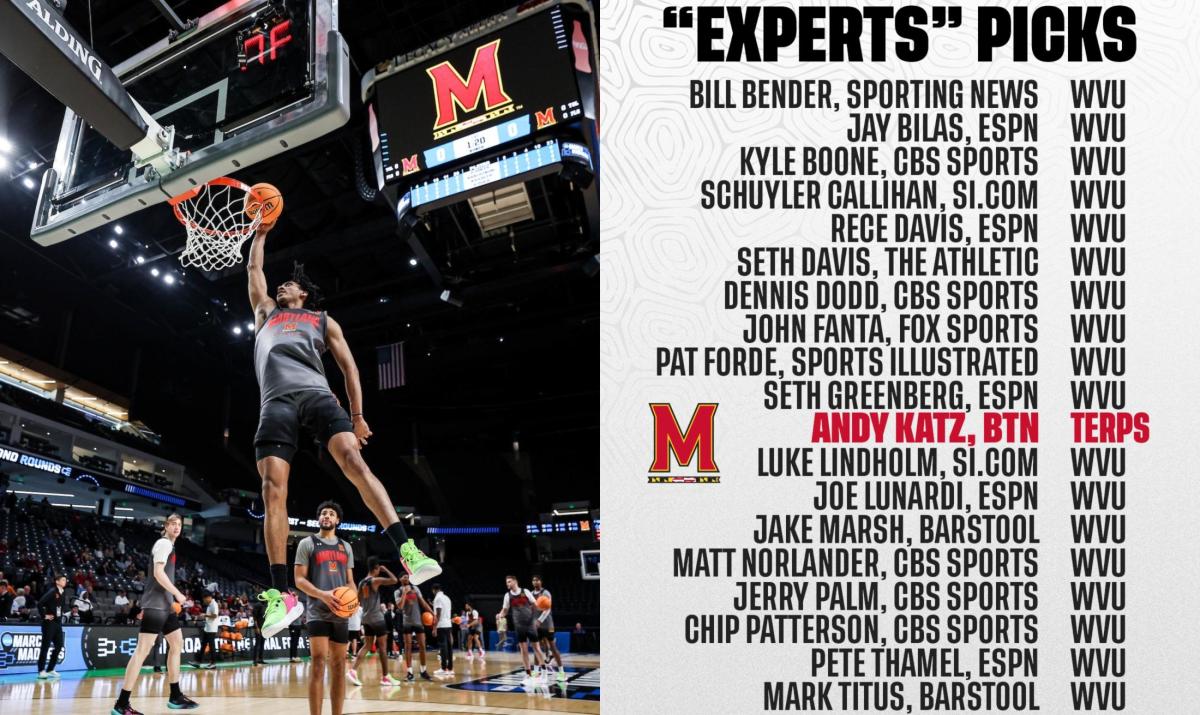 —Courtesy of Maryland Basketball via Facebook
Two years ago, when the Maryland Terps were last in the NCAA tournament, they were a 10 seed with a tricky matchup against 7 seed U Conn.
I remember quite vividly that, at the time, a graphic was circulating on Twitter showing that every pundit was picking against Maryland, except for one—ESPN's Jay Bilas. The disrespect!
Well, you know how the story goes. Maryland (handily) beat U Conn, 63-54 and had plenty of bragging rights.
In fact, then Terps guard Darryl Morsell even tweeted about it after the game, reposting the graphic with the word "Experts???" followed by two thinking emojis. And very briefly, Jay Bilas was a hero among Terp fans.
Fast forward to this year. The Terps got an 8 seed and were going up against a talented 9 seed, WVU. A similar graphic was posted on Twitter, this time showing that 25 of 26 experts were picking WVU, the lower seed!
According to this graphic, the only person who picked the Terps was Andy Katz, of the Big 10 Network.
After the Terps beat the Mountaineers (barely), guard Hakim Hart tweeted the graphic with a message strikingly similar to the one Morsell had posted two years earlier: "Experts????"
Now, there's a well-known phenomenon in sports called locker room fodder. A team finds out they've been disrespected and it amps them up even more to prove the haters wrong. Us against the world, we can't get no respect—you get the point. It's a huge motivating factor.
And College Park alum and avid Terps fan Rudy Gersten knows that phenomenon all too well.
He is the mastermind behind both graphics.
"I'm always looking for ways to give my team that little extra edge," he explains from Alabama, where the Terps will next play the overall No. 1 seed University of Alabama on Saturday. "And I'm a super passionate fan. I'm not saying it's the reason we won the game, but it helps to have a little bit of extra motivation. And one of the biggest motivations in sports is the disrespect card."
So what Gersten did was hand pick a select group of pundits who chose WVU—ignoring the many others who picked Maryland, just like he had done two years against U Conn.
Then he put it on a very official looking graph and tweeted it.
The crazy thing about Gersten's Gambit, as I now like to call it, is that I fell for it—twice.
Like, maybe you could believe that a bunch of experts were picking a seven seed over a 10 seed. But every expert but one picking a 9 over an 8? That doesn't pass the smell test. And hold up—aren't there way more than 26 college basketball experts?
This, dear readers, is the power of the official looking graphic. It can convince even the most media savvy of observers, like me. (Fool me once…)
"I'm a straight shooter," says Gersten. "I'm not somebody who is going to post incorrect information or dishonest information ever. That's not what I'm about. But everything I put in there was true, right? It was just incomplete."
Gersten says 2021 was a bit easier, as most of the pundits, in fact, were picking U Conn. This year was a bit more challenging, as the predictions were pretty evenly matched. In fact, if you check out his graphic, you'll see that he had to scrape the bottom of the barrel to find some of his experts: Iain MacMillan from BetSided, Ross Bentley from the Hartford Courant, Matt Postins from Heartland CS, whatever that is. Not exactly Dick Vitale.
The key, says Gersten, is picking the right expert to be pro-Terps. They need to have a high profile—and lots of Twitter followers, where they can crow to their fans about their superior analytic skills, which is exactly what both Bilas and Katz did.
"Andy Katz owes me a beer," Gersten says.
So is Gersten responsible for the Terps win? He quickly says no—it was the coaches that had the great strategy and the team that executed it. But they only won by two points, so maybe Gersten's graphic provided that little extra edge?
"I will say this," Gersten says. "I talked to a player on the team after the game. He told me point blank that we talked about this in meetings and in our chat rooms this week, and [even] the coaches were talking about it. The players mentioned it after the game as something that helped motivate them. It was a really cool thing."
Gersten considered creating another graphic for Maryland's upcoming game against Alabama but there's one problem—everyone really is picking against Maryland this time.
Terps against the world.