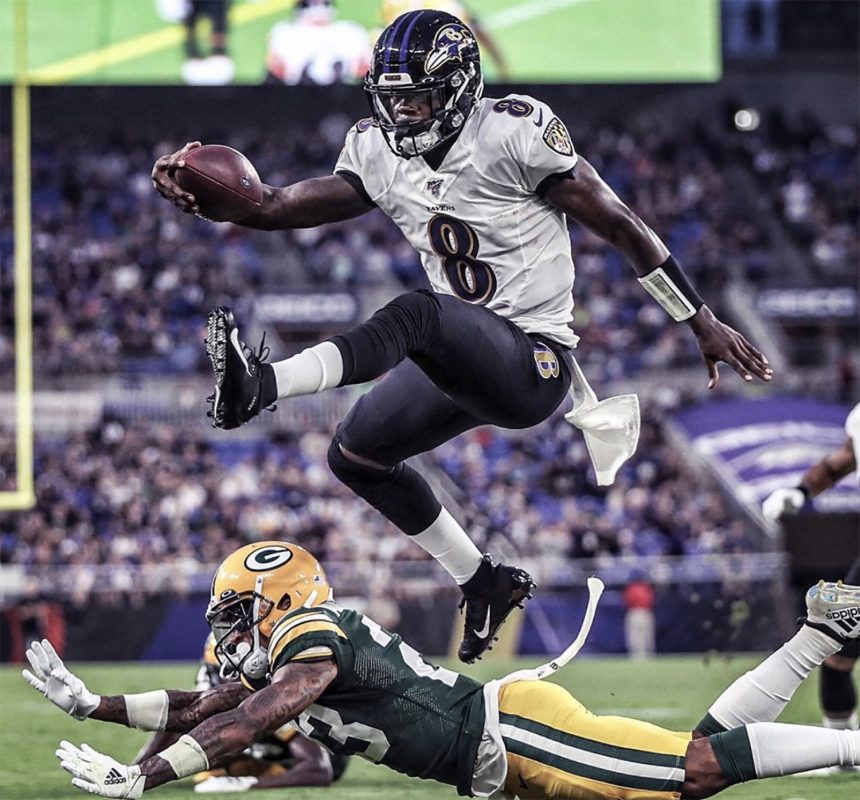 Baltimore Ravens
Football season is here, and—potential injuries aside—we're excited for everyone involved. The home opener against the Cardinals this Sunday marks the official start of a new era, of sorts, for the team.
Most notably, there's a fresh face of the franchise. You've likely seen him on the purple-and-black Ravens-branded "Never Less" billboards, wearing jersey number 8. We'll start this "What to Watch For" season preview with him.
Lamar Jackson and the Debut of the Ravens' Revamped Offense
We don't know exactly what it will look like, but we know it will be different. For the first time in a decade, someone other than Joe Flacco begins the season as the Ravens starting quarterback. The team has put its full faith in the 22-year-old Jackson, who went 7-2 as a starter on the fly as a rookie. The Ravens have reimagined their offense around the talents of the 2018 first-round draft pick and former Heisman Trophy winner, employing a healthy mix of running and passing from the freakishly fast QB. But will the plan work?
We saw glimpses last season and this preseason of what the new era could possibly look like—a few can-you-believe-that plays per game, both good and bad—but those games don't really count. We'll start to see the full potential, more of the playbook, and if the offseason work Jackson put in to improve his throwing makes a difference, starting Sunday.
"I just can't wait to put on a show," Jackson, the affable 22-year-old, said this week. He tends to do that.
This highlight reminds us of the big point you need to know about Jackson's approach to playing quarterback: "If I am not passing, if I do decide to run, I am trying to score a touchdown or get a first down," he said this preseason. "I am not trying to get two yards and get tackled. That's not how I play. That's not why I'm here."
Enjoy the Fancy New Things at M&T Bank Stadium
There are now escalators–16 of them!–to the upper deck, as well as a field-level party suite and a self-serve and self-checkout beer market. And more high-definition video boards and fresh LED stadium lighting that the gameday staff can turn on and off as if they were parents waking up their sleepy kid for school. And new food options featuring a healthy amount of crab dip, like a Chesapeake Hot Dog. (Mmmm, repeat: All hot dogs should be Chesapeake Hot Dogs).
The amenities represent the completion of a three-year, $120 million renovation to M&T Bank Stadium aimed at attracting fans to watch games at the Ravens' home venue in lieu of sitting on their couches or casually paying attention on their smartphones. To which we say, right on. Humans are meant to enjoy the outdoors and be around other people. Go have some fun.
Six Players To Talk About With the Big Football Fan at Your Tailgate
A lot of unfamiliar names fill the Ravens' 53-man roster, the most notable being running back Mark Ingram and safety Earl Thomas (who signed a $55 million contract to come play here). When it comes to new additions, that's the bare minimum you should know. Here are few more players to talk about if you find yourself in a football conversation with a well-versed fan:
Marquise Brown, wide receiver
Anyone who embraces the nickname "Hollywood" and wears a diamond chain of his own likeness will receive attention. The rookie from Oklahoma, a first-round pick, grew up in Hollywood, Florida, and he's also got, forgive the pun, leading man skills. A 5-foot-9, 170-pounder who can run with the ball or go a long way to catch it in a small amount of time. "He's electric," sums up Ravens general manager Eric DeCosta.
Marlon Humphrey, cornerback
The trendy thing for media members to say right now is that, "Marlon Humphrey could be one of the top five cornerbacks in the league this year." If true, that would be a big bonus for an also rebuilt Ravens defense. But even Humphrey, the third-year pro out of the University of Alabama who has arms for days to swat away opposing QB's passes, doesn't know if he's worthy of great expectations. "It's just hype," he said. "There's not really substance behind it." Okay then.
Cyrus Jones, cornerback and punt returner
Gilman, represent! Jones, who attended and played at the Baltimore private school from 2008-2011, is now the Ravens' top punt returner, special teams coach Chris Horton confirmed this week. He might return kickoffs, too. It's comforting to have a homegrown guy on the team. Off the field, he enjoys rapping in his spare time.
Trace McSorley, backup quarterback
The rookie put together a series of quality performances this preseason (16-for-24 for 203 yards and two touchdowns against the Eagles, 15-for-27 for 171 yards against the Redskins). I watched McSorley play in many games at my alma mater Penn State, and he was critical to the team's success the last four years. "The kid is a winner," has been said many times by many commentators, and it's true.
McSorley led Briar Woods (Va.) High to three state championships and a 55-5 record in four years. And he won a program-best 31 games as QB at Penn State. It didn't surprise me that he proved his wares this preseason when given the chance after Robert Griffin III was injured. If McSorley is called on to fill in for say, Jackson after he refuses to slide to protect himself and gets injured, the Ravens will lose some speed at the position, but they'll be in good hands. McSorley is also a run-pass option.
Patrick Ricard, fullback and defensive tackle
The big guy (300 pounds) plays both offense and defense. It's one thing to do that in high school, or even college, but it's almost unheard of in professional football. That's why people call him "Project Pat," which doubles as a title for one of his off-the-field passions: Reviewing local restaurants.
Justice Hill, running back (and a fantasy football sleeper!)
For those looking to have a Raven or two on their fantasy football roster, we suggest rookie running back Justice Hill. Aside from having a perfect name for a television drama (for its title or a character, really), the 5-foot-10, 200-pound jitterbug, who played in college at Oklahoma State, impressed coaches and teammates immediately this preseason with his speed and power. Expect him play a good amount off the bench. "I think he's the complete package," says Ingram, the guy who will start at running back, "and I think he's going to have a great career."
Save the Date for These Must-Watch Games
About one big game every few weeks. That's convenient.
Week 3: Ravens at Kansas City Chiefs, Sunday, Sept. 22, 1 p.m.
A date a Super Bowl favorite and the only team to beat the Jackson-led Ravens in the regular season last year.
Week 5: Ravens at Pittsburgh Steelers, Sunday, Oct. 6, 1 p.m.
The Rivalry: Part 51. The Steelers have won four of the last six meetings. Boo.
Week 9: New England Patriots at Ravens, Sunday, Nov. 3, 8:20 p.m.
Tom Brady. Bill Belichick. Fun. This is the scheduled Sunday night nationally-televised game of the week.
Week 12: Ravens at Los Angeles Rams, Monday, Nov. 25, 8:15 p.m.
A trip to play the defending NFC champions on Monday Night Football.
Week 17: Steelers at Ravens, Sunday, Dec. 29, 1 p.m.
A regular season-ending home game against the Steelers. What else could you ask for? Maybe temperatures at least above freezing, and a shot at the playoffs.
Harbs Says…
There are few head coaches in the NFL with more longevity than our dear John Harbaugh, now entering his 12th season on the job. Only the Patriots' Belichick, the Steelers' Mike Tomlin, and the New Orleans Saints' Sean Payton have longer tenures with their teams.
We're fortunate to have Harbaugh under contract in Baltimore through 2022, and to be treated to congenial and worthwhile NFL-required media availabilities all season long. The guy appreciates storytelling perhaps as much as he does a proper tackle.
Harbaugh, who often draws inspiration from the military, quoted a former Secretary of Defense in response to one question this week. "[It's like the] Donald Rumsfeld quote from a few years back: You have to know what the unknowables are, and you can't worry about them too much," Harbaugh said. "I don't know what's going to happen on Sunday. We don't know how certain things are going to look or how guys are going to respond. We might have confidence. Whatever happens, we'll deal with it. But that's the beauty of it. That's what's exciting. That's the drama."
The Realistic Expectations for This Season
Let's end with the nitty-gritty. How will the 2019 season turn out? Here's one fan's opinion: The defense will be above average, and the offense will be good, but probably experience growing pains and might even look overmatched against stronger opponents like the Patriots or Rams. But it should be clear by midseason what potential a Lamar Jackson-led offense has long term. Meanwhile, of course Justin Tucker will be great.
With a difficult schedule and so many new players on both sides of the ball (linebacker Matt Judon will now be the face of the defense), a 9-win, 7-loss season with a chance at a playoff appearance feels reasonable. But no one should start calling for owner Steve Bisciotti to fire Harbaugh or DeCosta even if the team finishes 8-8 or a little worse. It'll still happen, though.