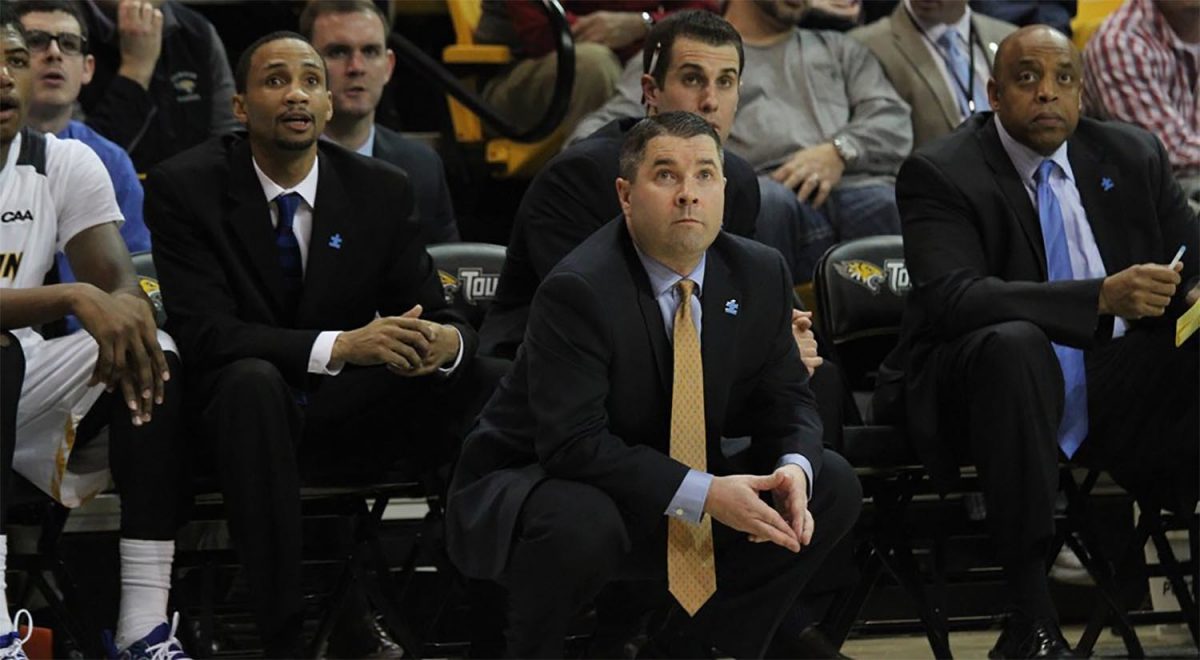 Win or lose on Saturday—but preferably after a win since "it's kind of what we're paid to do," says Towson University men's basketball coach Pat Skerry—he will eventually settle into a comfy chair at home at night, likely with his 10-year-old son, Owen, and wife, Kirsten, nearby. The family television will be tuned to—what else?—basketball, and on the screen the Skerrys will once again proudly see the fruits of their labor, the campaign that they started.
If you watch a college basketball game this weekend—and, even in February, millions of people will—pretty much every coach, even the well-known ones, will be sporting a blue puzzle piece-shaped pin on their suit jacket lapel.
What's that for, you may ask?
Well, that's the point. It's for autism awareness. For the estimated one in 59 children in the United States today, like Skerry's son, and more than 70 million people worldwide living on the broad autism spectrum. And it's specifically for Autism Speaks, the advocacy organization pushing for more research into what's hypothesized to be a brain and nervous system disorder, but whose cause is still largely debated as diagnosis rates continue to rise.
"It's something that's dear to us," Skerry says, "but it's also the largest developmental disorder in the world."
This weekend, in what's become a very visible nationwide autism awareness push, nearly 400 coaches will wear the small pins, which are shaped like a puzzle piece as a nod to the complexity and nuances of the disorder. And at Towson, which hosts the College of Charleston at 4 p.m. Saturday, you can find the campaign's co-founder wearing his while the Tigers don blue Under Armour jerseys in honor of Autism Speaks' signature color.
Skerry started all of this nearly a decade ago, around the same time he was hired at Towson, with coaching colleague and friend, South Florida assistant Tom Herrion, whose son is also autistic. Since then, it's grown from a truly grassroots effort. In 2014, the Skerrys hand-mailed pins to coaches around the country, and explained why they should wear them during televised games in February. The purpose was to raise awareness of the challenges of life with autism, which can include a variety of symptoms typically including trouble picking up social cues, engaging in repetitive behavior, and sensory issues.
It's expensive. The average family with a child with autism spends more than $60,000 per year in care, and not all states provide health insurance coverage. When Owen was diagnosed, the Skerrys could afford it, but knew not everyone could do the same. "Not every family has the resources that they need, especially financially," Skerry says. "We wanted to create more exposure about where to look for them."
Eighty-two coaches participated in the first year of the campaign, and its footprint has grown each season. In 2018, close to 350 coaches and television broadcasters—many of them appearing on national television games—brought attention to the cause. "The next step is, I want to make it better and bigger," Skerry says. "I always say it's an awareness weekend, and I would like it to grow into an acceptance weekend."
We don't want to use the stereotype of Dustin Hoffman's character from "Rain Man," as an accurate portrayal of each of the millions of people who live with autism, because it's not, though it is based on a true story. And in fact, at first, that was Pat Skerry's only impression of a developmental disorder. But the fuller truth is that not everyone with autism is a savant, nor is anyone diagnosed identical to the next. "It's a spectrum," Skerry says, "so no two people are exactly alike."
In the case of the boy closest to him, Owen Skerry was diagnosed at age 2, around the time symptoms in children usually present. Today, he attends the specialized Trellis School in Hunt Valley and has regular appointments with occupational therapists and speech pathologists. Along the way, Skerry and his wife have cherished small moments of growth, like a cry-free swim class or Owen trying a new food. Skerry says Owen is doing well, and his wife Kristen, "is the real hero in our daily mission."
For reasons like these, Skerry is going to keep spreading the word about what autism really is, answer any questions about it—such as how to best interact with a person on the spectrum (asking questions about their routine is a big suggestion)—and consider the bigger picture and open-mindedness in unfamiliar, yet increasingly prevalent circumstances.
"There's nothing harder or worse sometimes for a parent that's maybe out to eat or at a store with a child, or an adult, and there's an issue or disturbance or a meltdown, and people prejudge, or stare," Skerry says. "We're not asking anybody to be perfect, but this is something that affects a lot of people. We're sensitive because we've seen it."
But he doesn't want to be pushy, either. He's not asking for money, though Autism Speaks definitely accepts donations and he admits more funding for grants and research would help the cause that he's so invested in.
Skerry just wants people to pay attention, to come to Towson's game Saturday, understand, and be aware. He also wants all those coaches to wear the blue pins, for kids like Owen and everyone else trying to put the puzzle pieces together.