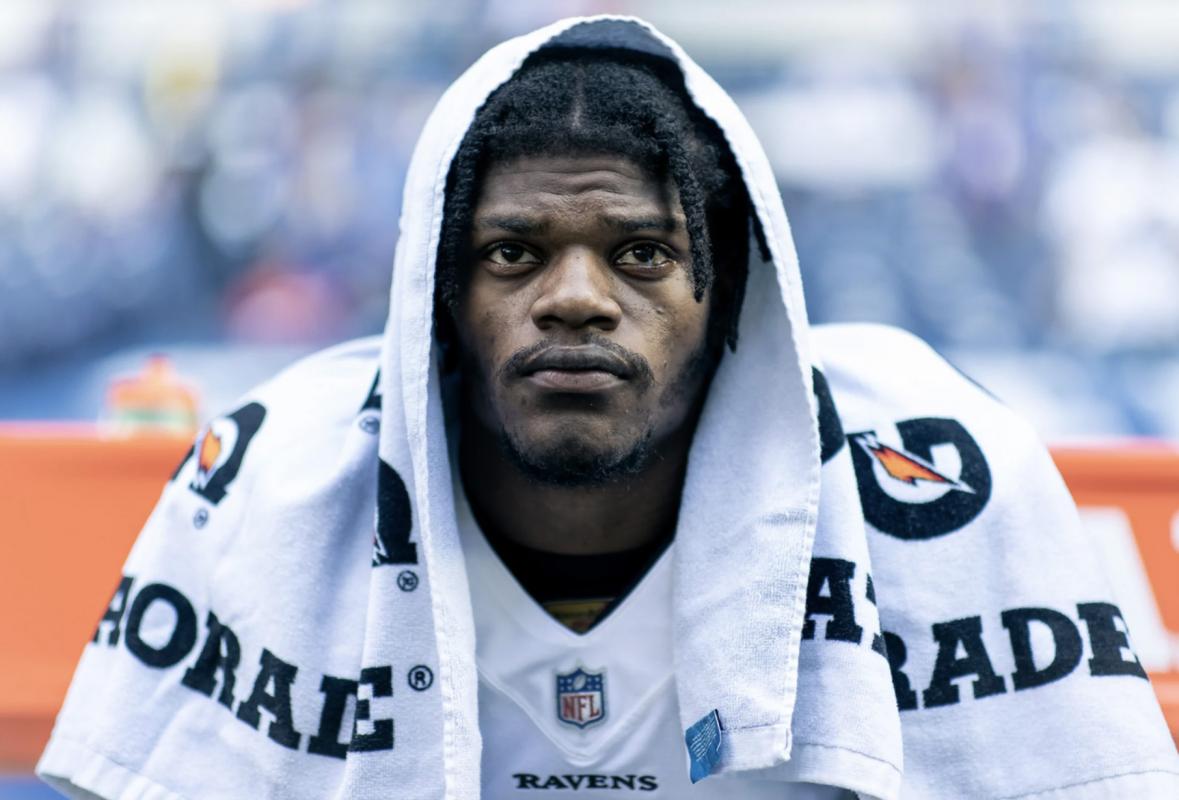 Shawn Hubbard/Baltimore Ravens
Former Ravens coach Brian Billick, who led the franchise to its first Super Bowl championship two decades ago, has been following Lamar Jackson's career since before the Ravens drafted him. In fact, that's a big part of the premise of Billick's recently released new book, The Q-Factor: The Elusive Search for the Next Great NFL Quarterback.
Billick, working now as an analyst for the league-owned NFL Network, was approached by his co-author James Dale before the 2018 NFL Draft about the idea of chronicling the top college quarterback prospects in that year. They would then follow the players' development over the next few years as a way to analyze the often-flawed NFL draft process itself.
More often than not, the success stories of highly-ranked QBs that "made it," are outnumbered by the "busts," in the form of top college players that don't pan out to their hype as pros, or "misses," like every NFL team passing on Tom Brady multiple times until the New England Patriots selected the future Hall-of-Famer 199th overall in the year 2000.
"We were intrigued by the idea of the failures of first-round picks, and why, at best, it's 50-50," Billick told us recently by phone from central Ohio, where he lives now, while referencing a few recent head-scratchers. "In what world does Mitchell Trubisky get drafted before Patrick Mahomes? In what analysis does Josh Rosen get taken before Lamar Jackson? But it happens, more often than not.
"The 2018 class seemed to be the perfect laboratory to track. It was a big and diverse class in terms of the individuals and their talents and backgrounds. We wrote it in real time. We used the prevailing mentality of coaches and scouts and whatever evaluation I could lend to it. And then we tracked for the two years to see how they did, as a backdrop to analyzing the process itself and where it's flawed and where it needs to be better."
The result of the experiment is 270 pages describing the inexact science of how and why the five first-round quarterbacks from the 2018 draft—in order, Baker Mayfield, Sam Darnold, Josh Allen, Josh Rosen and Jackson–have succeeded or not. Of the five, Rosen is pretty much out of the league already, Allen is blossoming into a top player with the Buffalo Bills, Mayfield and Darnold have been "meh" with the Browns and New York Jets, respectively, and Jackson–the lowest drafted of them all–has done the most, winning the NFL MVP award last year in his first full season as a starter.
In the book, Billick describes Jackson as "a one-man case study."
"There's three aspects, there's the physical, mental, and emotional, and then there's the fit with the team," says Billick, who, when he was hired with the Ravens, was considered an offensive "genius" that lorded over arguably the greatest defense of all-time during the Ravens' first Super Bowl-winning season back in 2000. "Physically, they can all play. The worst busts in the NFL in the first round—I don't care if it's JaMarcus Russell, Vince Young, Ryan Leaf, the list goes on and on—they all could physically play. That wasn't the issue. For some, it was either they mentally and emotionally couldn't step up to the next level and handle it. Or the team they went with was not a good fit. All it takes is one of the three to not be right, and you're going to have a bust. Lamar Jackson was the ultimate in going to a team that fit."
"In what world does Mitchell Trubisky get drafted before Patrick Mahomes? In what analysis does Josh Rosen get taken before Lamar Jackson? It happens, more often than not."
You probably know the basics of the Jackson story by now: Pro scouts and coaches questioned whether the former Heisman Trophy winner could be a legitimate NFL starting quarterback, whether his arm strength was, well, strong enough, and whether his running-all-over-the-place style could fit in the league. The Ravens took a chance that it could. More importantly, Billick says they were in a position to take a chance, having the oft-maligned but still productive former Super Bowl champion Joe Flacco in place as a starting quarterback.
The Ravens' experiment has worked so far, Billick says, because they didn't draft Jackson out of a "need" at the time. For context on this point, he references the much-talked-about mistake he made in drafting eventual first-round bust Kyle Boller in the 2003 draft, a decision he's linked with to this day and one that ultimately led to his firing in one way or another. (Apologies to longtime Ravens fans for mentioning Boller, but he's doing well now.)
"We talk about it in the book, need is a terrible evaluator, and we lived it with Kyle Boller. Team after team does that, where it warps your sense an evaluation of a player. But the Ravens had Joe Flacco. They didn't need Lamar Jackson. They simply took what they thought was a good player and manipulated the draft at an excellent time," Billick says, referencing the Ravens moving up a few spots to draft Jackson with the 32nd overall pick. "It was just a perfect sequence of events."
The other part of the right mix is that John Harbaugh was open to reinventing the Ravens offense to a run-heavy scheme that fit Jackson's skills. That story is still playing out. After supplanting Flacco midway through his rookie season, Jackson put together a spectacular 2019—winning MVP unanimously and putting the Ravens on the Super Bowl contender map. But to paraphrase a well-used William Shakespeare line: heavy is the head that wears the Madden cover.
In other words, with great success comes great expectations to one, win, and two, to keep the hope alive that they can keep winning. It's a tale as old as time, or at least as old as Shakespeare's play King Henry IV. Jackson is simply another living example. The Ravens have only made the playoffs the last two years because of him, but they've had two duds in each of his two playoff starts, too.
With great success comes great expectations to one, win, and two, to keep the hope alive that they can keep winning.
As much as basically everyone loved things last year, the critics are becoming more vocal this season despite the Ravens having a 6-3 winning record that most all other teams are envious of. And despite a host of injures, notably along the offensive line with superstar tackle Ronnie Stanley out for the year. Maybe it's because we can't be there in person to cheer or boo, or maybe it's just the stink of 2020 in general that is wearing everyone down. Or that the eye-popping plays haven't been happening, the stats not spectacular enough.
Whatever the catalyst may be, after their loss to the hated Patriots last Sunday night in a game that the Ravens were favored to win, headlines and stories this week have ranged from "The Ravens offense is predictable" and "Jackson says opponents are calling out plays" to center Matt Skura posting on social media telling people to stop harassing him and his family with "hateful and threatening messages," after the center struggled to snap the leather football in a driving rainstorm in New England.
Jackson didn't like seeing it. "It happened to everyone," he told reporters this week. "Some of the fans are not out there–or none of them are out there—doing what we're doing. Skura has a lot to do out there; he has to make checks—and stuff like that—for the line. There are a lot of things that go on, and people shouldn't be messing with his family at all. That's a human being at the end of the day. That's my teammate. That's my brother. So, yes, that's just 'B.S.'"
We asked Billick about the criticism. As a former NFL head coach required to do press conferences, he knows the public eye well. He managed the Ravens through the media circus surrounding Ray Lewis at the turn of the century, after all. And Billick's take made it sound like if he were writing another chapter of his book covering this stage of Jackson's career, it might be titled "Chill out, everyone. Give the kid a break."
Billick's take made it sound like if he were writing another chapter of his book covering this stage of Jackson's career, it might be titled "Chill out, everyone. Give the kid a break."
"Last year was such a unique special year, and unfortunately that's the benchmark," Billick told us. "If that's the criteria we're going to hold for him, anything less than that and it's the bust? I don't think that's really fair. His passing efficiency is actually a little bit better and they're still having an incredible run. What is it? Twenty-nine straight quarters of scoring, which is I think second in NFL history. But I think people are so used to what we saw last year with Lamar. Certainly he wants to and he's capable of that, but to hold him accountable and the team for not being an NFL MVP every year and every game, it's probably a little unfair."
So, yes, heavy may be Jackson's head wearing the proverbial crown, but good news everyone—that 23-year-old head is still clear.
"Our record might not be the same, but I feel our mind is growing a lot," Jackson said this week, properly anthropomorphizing the human brain to describe a football team's way of thinking. "We've learned a lot about ourselves. We just have to keep it going."