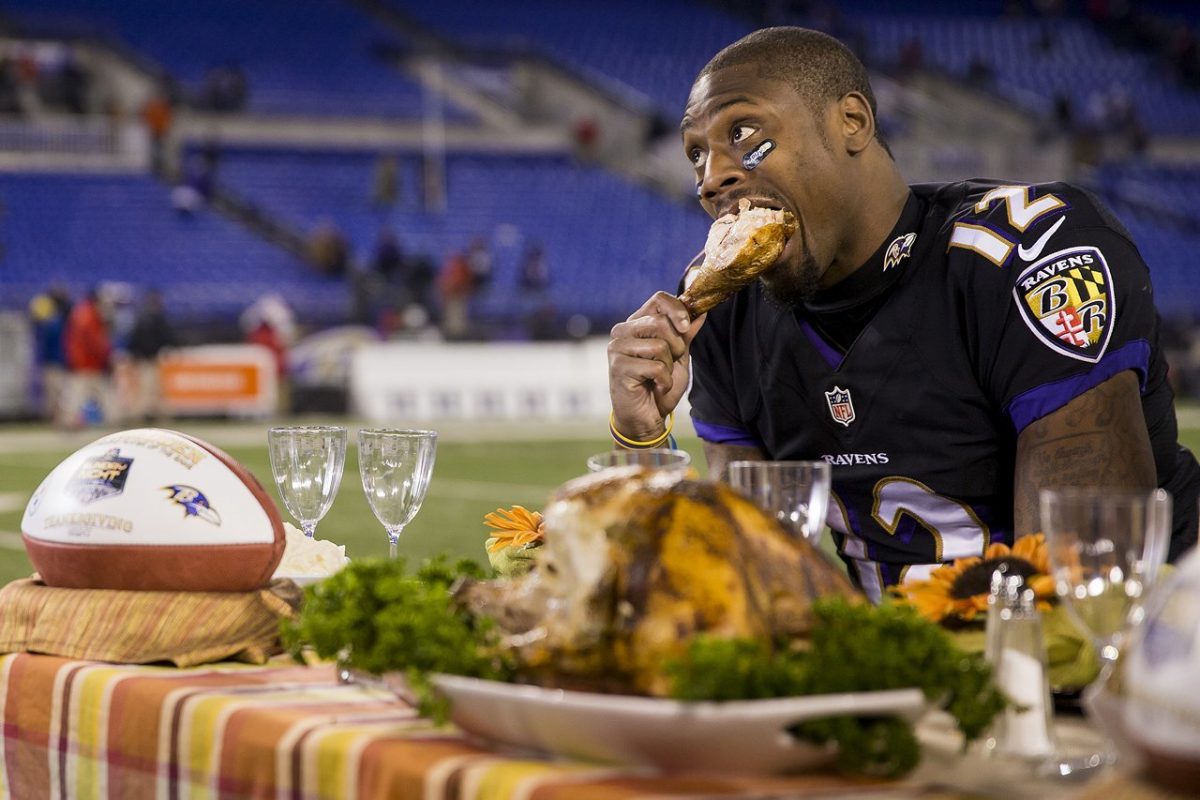 Baltimore Ravens
Jacoby Jones retires a Raven.
One of the heroes of the Ravens' Super Bowl XLVII run will announce his retirement today at the team's facility in Owings Mills. Time to cue up the video of that 109-yard kickoff return . . . (or him catching the Miracle at Mile High, or dodging Mike Tomlin on Thanksgiving and saying afterward—while eating a turkey leg in the locker room—that he should have ran into the Steelers' coach.) I think we can all agree on that.

A controversy wrapped in the flag.
One day, most likely a long time from now, if at all, maybe everyone will step back, take a deep breath, and think. About what this last week—which began Sunday morning with images from London of a dozen Ravens players (and Ray Lewis) kneeling during the national anthem in protest of our president, and continued the last few days with heated debate about it – has really meant.
But, for now, we're still in it. 
What exactly will happen this Sunday at M&T Bank Stadium? We know that at least a few new voices, a trio from the U.S. Air Force, will bellow, "O, say…" before kickoff. Reservoir Hill native Joey Odoms, the team's anthem singer since 2014 and a former national guardsman, resigned from his post amid the ongoing controversy, saying he doesn't feel welcome anymore, citing the negative reactions of some fans to the nationwide signs of unity among NFL players.
Emotions have been stirred in all corners, including from 65,000-plus who've signed a petition to take down Lewis' statue at the stadium, though he said this week he wasn't necessarily protesting, but praying. In any case, intent has been blurred, jerseys burned, listening seemingly stopped, and we've been forced to consider our opinions on the whole issue, even if we'd normally prefer to watch a pro football game to escape our problems and, of course, primarily to see the Ravens beat the Steelers again.

There's always next year?
Well, after flirting with a playoff run until the last few weeks, the Orioles' 64th season will end unceremoniously in Tampa Bay on Sunday, when they play their last game of the regular season. It's not the type of year the O's, or we, hoped for; they'll finish with a losing record for the first time since 2011, Buck Showalter's first full year as manager.
But the season did have its moments, like on a hot afternoon Sunday, in the Camden Yards finale, when too-often-injured fan favorite J…J…Hardy smacked a two-run homer in the fourth inning, after receiving a standing ovation in the first in what might be his last game wearing an O's uniform here. That's a nice way to go out!

Friday night lghts.
St. Frances Academy, the private school located on East Chase Street just off the Jones Falls Expressway, has a long history, as in more than 185 years' worth as the first and oldest predominantly African-American Catholic school in the country. Its 2017 football team is now part of its story, too.
With a 28-7 win over Calvert Hall last Friday night, the Panthers, who finished 0-6 in the MIAA two years ago, improved to 4-0 overall and rose to No. 22 in the USA Today National Top 25, while remaining tied with DeMatha for the top spot in the state poll. We'll have to see how the team fares against Loyola Blakefield this afternoon at 4 p.m.