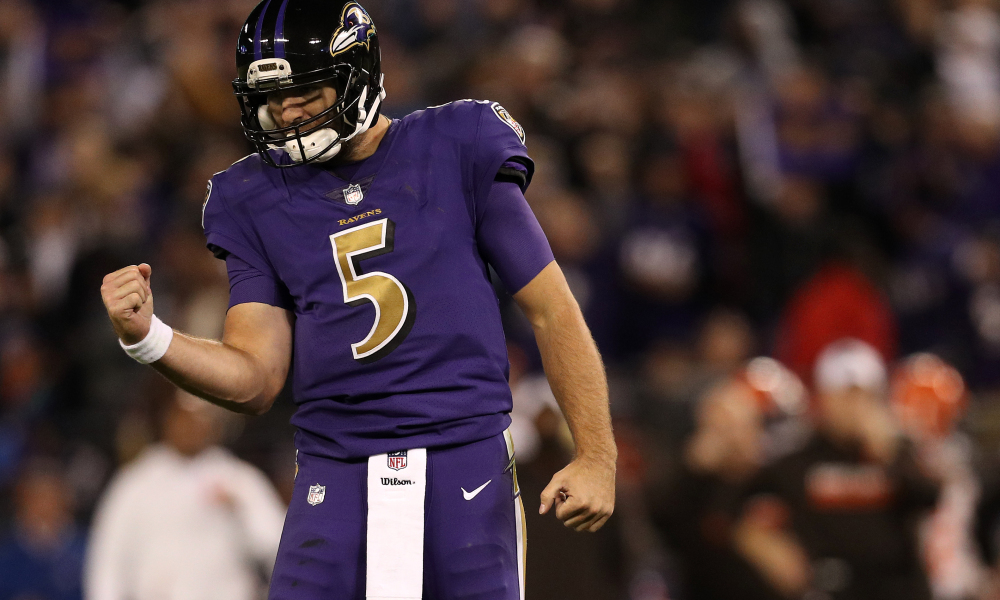 Baltimore Ravens
Back, back, back. Joe Flacco returns for Ravens opener.
The quarterback is back from his back issues. Catch the theme? After missing most of the preseason because of a lower back injury (which raised the possibility of the team signing the controversial Colin Kaepernick), Flacco returned to practice last weekend to start preparing for the Ravens' season-opener on Sunday afternoon at Cincinnati. Still, his health status isn't exactly clear.
"It's good," Flacco told reporters of the back in general, as well as "I honestly don't know how I did it," about how the injury happened. And, "I really don't know the actual answer to that," about if he feels vulnerable to re-injuring the back, for which he said a spine doctor told him rest was the best medicine.
This isn't exactly an inspiring start to the season for the most important player on the Ravens' roster, but, hey, there's plenty else to be excited about as the new football year begins.
Can we have nine Manny Machados, please?
To quote Buck Showalter, "I like our guys," but how can you not love Manny Machado at this point? He did it again this week, hitting his third walk-off home run in just 19 days (the shortest span since Sammy "Corked-Bat" Sosa did it in 1996). For extra dramatic effect, he hit it at 1 a.m. Wednesday to end a rain-delayed game against the Yankees, among the teams the Orioles are chasing for, yes, a still-possible playoff spot. (As of this writing, the O's are two games behind Minnesota for the American League's second and final wild card position.) 
Visiting fans from the north at Camden Yards serenaded our beloved Manny, the recently named A.L. Player of the Month for August, with chants of "Fu-ture Yank-ee," and we sure as heck hope not. That's a story for another day, though a few hours after Machado's latest heroics The Big Leagues Daily's Dan Clark started a tongue-in-cheek GoFundMe page (goal: $400 million), after getting more than 1,000 retweets in support of the idea, to show the world we want to keep the modern-day Brooks Robinson here. For now, let's enjoy the Manny Magic, at the plate and in the field, as he and the rest of the once left-for-dead O's (as in 4 percent chance to making the playoffs) keep their, and our, postseason baseball hopes alive.

Every (win) is bigger in Texas.
Especially when the University of Maryland football team is doing the winning. To start their season, the Terps, a three-touchdown underdog, pulled off a wild 51-41 win at preseason nationally-ranked Texas last Saturday afternoon. Despite losing starting quarterback Tyrrell Pigrome to a season-ending knee injury mid-game, Maryland notched one of the best victories in the program's history, and certainly the biggest win of coach D.J. Durkin's tenure, coming in the first game of his second season. 
#mood:
Up next, the Terps host Towson on Saturday, and, if you're still on the fence about going, three words: Baltimore Cheese Steak. It's the newest concession at Maryland Stadium, a "thinly sliced griddled rib eye steak, topped with a white cheese sauce blended with Old Bay and a touch of Sherry," information important enough to include in a school press release. 
John Urschel fibbed — making him even smarter than we thought?
The recently retired former Ravens center and still math genius revealed on Freakonomics Radio that he was enrolled as a full-time Ph.D. student at MIT during the 2016 football season, and that the Ravens didn't know. "I guess since I'm retired, I'm allowed to say, I was full-time, full-time," he said.
Urschel took classes remotely and, for example, studied and worked on assignments on Sundays after games, during off day Mondays and before practice on Tuesdays. "I did not tell anyone this," Urschel said. "Well, except MIT. But I don't think an NFL team would be extremely happy to hear that I'm working towards my Ph.D. also in the fall." Such was his (former) life in pro football. 
Serena Williams and fiancé Alexis Ohanian have baby girl.
We're still waiting for pictures. C'mon People. But, seriously, congratulations to Ohanian, the Howard High alum and Reddit co-founder, and Williams, the greatest women's tennis player of all time, on their firstborn, a six-pound, 13-ounce girl.