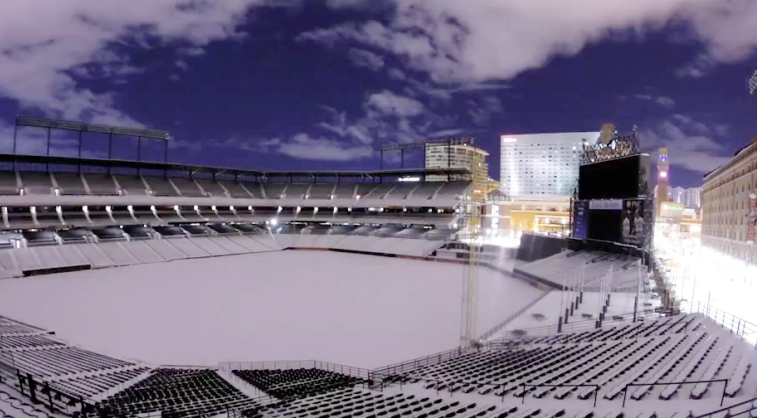 Courtesy of the Baltimore Orioles

2. It's official: Smartest lineman in the professional football history is a Raven.
We knew John Urschel, our 6-foot-3, 300-pound-plus guard/center, did math in the offseason for fun, publishing peer-reviewed papers about matrix algebra, Fiedler vectors and whatnot. We've written about it. But this week he raised his game—tweeting that he's now pursuing a doctorate in math at the Massachusetts Institute of Technology. We don't really know if that makes him the smartest NFL lineman ever, but we do know makes him a lot better with numbers than anyone on the Baltimore magazine's editorial team, however.
3. Manny Machado loves his wife.
Which is awesome. Still, we're not sure about our third baseman's new tattoo, which he post on Instagram, on his right forearm. It's a portrait of Yainee, who he married after the 2014 season. Nothing against tats. We have a photo spread coming up in our March issue featuring the tattoos of local chefs, but portraits are tough to translate into ink on flesh—even of a beautiful woman like Yainee. One fan called it Manny's "first error of 2016." Judge for yourself, though. No doubt we'll all see plenty of it when he's playing in short sleeves this July and August.

4. Under Armour has already won the Super Bowl.
UA, of course, has been a roll of late with their young stars, like Steph Curry and Jordan Speith, winning major titles. Now, our favorite ginormous athletic apparel and shoe company, which signed Cam Newton out of Auburn, is all but certain (okay, the Panthers are only 3 or 4-point favorites, but we think they're a lock) to add a Super Bowl championship to the list of accomplishments from their already super-marketable stable of athletes. We also understand that Under Armour will be selling special, limited addition $500 gold cleats signed by Newton if he wins the MVP—with half the proceeds going to his foundation. It's for a good cause, but all the same, we'll stick with our black Johnny Unitas high-tops.
5. Former Dunbar coach Pete Pompey passes away.
This makes us very sad. Pete Pompey, the former Dunbar and Edmondson basketball and football coach, passed away last week at 75. A Douglass High alum and a standout quarterback at Morgan State in that school's football heyday, Pompey coached at the two high schools for 31 years, covering 60 seasons between the two sports. Pompey earned national "Coach of the Year" recognition in basketball from USA Today in 1992 and "All-Metro Coach of the Year" honors in football at Edmondson in 1999 from The Sun. More importantly, he served as a father figure for countless boys and young men in the city.
Honorable Mention: Michael Phelps Distracts ASU Opponents with Speedo.
Baltimore native and legendary Olympiad Michael Phelps is now working as an assistant swim coach at Arizona State University. Apparently, one of the new duties of the job is to help the school's college basketball team win by cheering in a speedo in the student section's infamous "Curtain of Distraction" with 13:47 left to play. Needless to say, the Sun Devils beat the Oregon State Beavers 86-68.