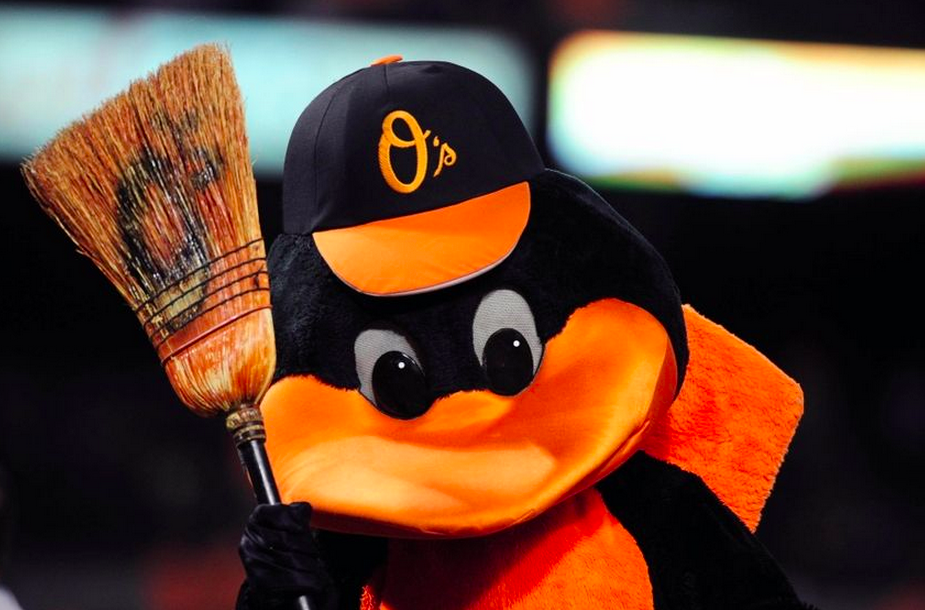 Courtesy of Baltimore Orioles
Orioles get mojo back with four-game sweep.
Okay, so yes, it was against the Oakland A's, but it's almost September and we'll take anything to bolster confidence. Especially this insane four-game series, which included two Orioles walk-off home runs (Friday and Saturday) and 18 runs scored in one game (Sunday). Also Monday's game saw the inspiring 5-year-old Hailey Dawson throw out the first pitch. Born with Poland Syndrome that resulted in an underdeveloped right hand, Dawson completed the ritual toss with her Orioles-decorated Flexy-Hand 2, a 3D-printed prosthetic device. Probably the most touching moment was watching her meet (and pitch to) her favorite player Manny Machado.
5-year-old Hailey Dawson throws 1st pitch with prosthetic hand, fist bumps Manny Machado: http://t.co/S8cBHf3hC3 pic.twitter.com/G3mn6yHFpB
— MLB (@MLB) August 18, 2015

Henry Urrutia's first career homer is a walk-off.
As if that wasn't enough feel-good O's news for the week, Wednesday night's win against the Mets was a particularly special moment for outfielder Henry Urrutia. Not only was his first major league homer a walk-off, but in his post-game interview the ballplayer teared up when asked about a fan returning the ball to him. "When the guy told me, 'I have your baseball for you,' Wow," Urrutia said. "That's the best gift for me tonight. Now I can give that baseball to my [16-month-old] son. And my son one day can say, 'This is the first homer from my dad in the big leagues.'"
Justin Tucker impersonates Matthew McConaughey and it's the best thing ever.
Ravens kicker Justin Tucker has never been one to shine away from the spotlight—starring in Dr. Pepper commercials, singing opera, and doing Christopher Walken impressions for us—but his latest performance may be his best yet. Back during the height of Matthew McConaughey's overly (confusingly?) deep Lincoln car commercials, Tucker was meeting with Carbiz CEO Evan Berney at Thames Street Oyster House. "We were like, 'Why don't we just do that?!'" he told BaltimoreRavens.com. The end result is a few ridiculous lines delivered with McConaughey's signature Southern drawl. In fact, the two Texans have met before at a fundraiser in Austin. "He's such an icon," Tucker said of the actor. "I don't know if it's one of my better [impersonations] or worst ones, but it's one of my favorite ones."
Potential changes coming to Camden Yards.
The Baltimore Business Journal reported this week that changes could be afoot at Oriole Park at Camden Yards. Most of us appreciate the retro, non-corporate feel of the stadium, so change can sound scary. But not all of it is bad, including adding a similar experience to the center field bar in the left and right field corners. This sort of change wouldn't disrupt the overall fan experience and would attract a younger crowd out there—who, let's be honest, are usually buying those cheap seats anyway. Some other ideas seem a bit more extreme, like making the field visible from the concourse—which makes you wonder what happens to those covered seats in the lower level, home to many a season-ticket holder. And, probably the worst offender, is a suggested "home plate club," a walled-off, exclusive area for executives that would utterly destroy the everyman fan vibe of Camden Yards. But, knowing John Angelos's track record (he once said he would never sell the stadium's name rights) and the fact that the changes are being proposed by original stadium designer Populous means we are in good hands.
Carmelo Anthony enjoyed Captain James crabs.
Along with his wife Lala and Felicia "Snoop" Pearson from The Wire, Baltimore native and New York Knicks forward Carmelo Anthony visited his hometown this past weekend. The trip wouldn't be complete without a stop for steamed crabs at Captain James Landing, which seems to be the preferred crab house for celebrities.