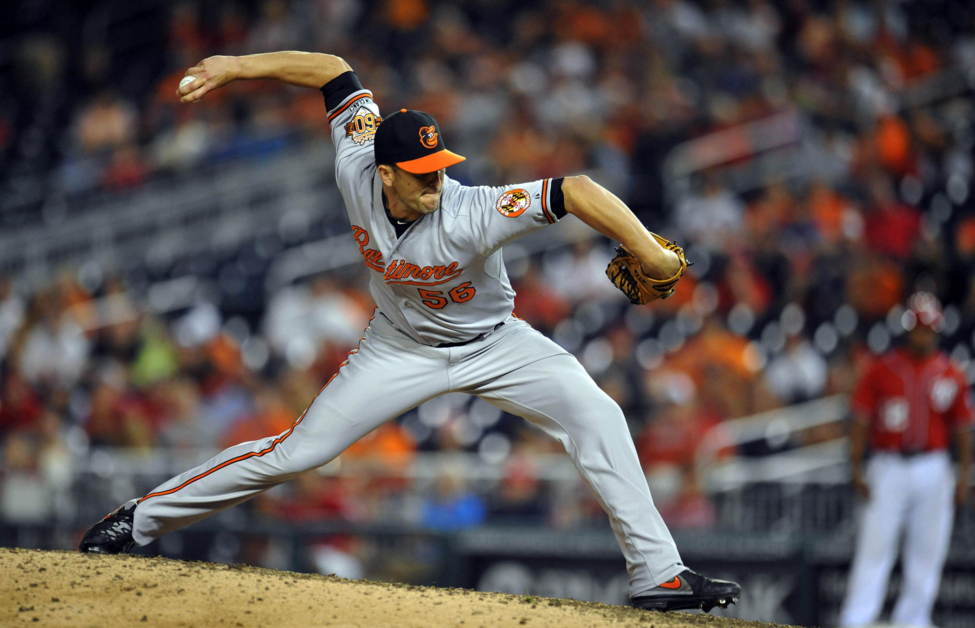 Courtesy of the Baltimore Orioles
1. Orioles spend week wheeling and dealing.
First things first, what we do know is that, pending the results of his physical, reliever Darren O'Day has agreed to terms with the Orioles on a four-year, $31 million contract. According to MASN, O'Day was considering a three-year offer from the Nationals before the O's decided to tack on a fourth year. In other winter-meeting news, the Orioles selected outfielder Joey Rickard, 24, from the Tampa Bay Rays in the Rule 5 draft on Thursday, which fills a much needed void for speedy outfielders on the team.
What's more hazy, however, is our situation with much talked-about power hitter and first baseman Chris Davis. Just one day after ESPN reported that the Orioles offered Davis a seven-year, $150 million deal (which would be the biggest in franchise history), they subsequently reported that the team has taken the offer off the table. As we've discussed in the past, the signing of Davis is a risky move and the Orioles pulling back on the deal is likely a sign that the organization is concentrating on building its team for 2016—whether that includes Davis or not.
2. Everyone on the Ravens is injured—even our backups.
This season must be some cruel joke, right? The Ravens currently have 16 players on injured reserve, which doesn't even include Dennis Pitta, Crocket Gillmore, Marlon Brown, and Eugene Monroe—who aren't healthy either. In fact, yesterday's practice was filled with backups to the backups like, like QBs Jimmy Clausen and Bryn Renner. Players who thought they'd have no chance of game time have been suddenly thrust into the limelight. "You go into the huddle and you have to do a second look to make sure you're in the right one," Ravens fullback Kyle Juszczyk told The Sun. Matt Schaub, who has filled in for Joe Flacco the past two games, hasn't been practicing due to an injured shoulder and knee, but isn't expected to play this Sunday against an extremely competitive Seattle Seahawks defense. Like the scary movie analogy we posited a few weeks back, we may just have to cover our eyes.
3. Ravens changing from turf to real grass.
One thing that might help prevent more injuries? The Ravens announced that M&T Bank Stadium will transition from from artificial turf to natural grass for the start of the 2016 football season. The team has been playing on the artificial stuff since 2003, when it was decided that natural grass couldn't hold up throughout the season. But, with some technological advances in agriculture, the Ravens have decided to return to the natural route after 13 years.
"To me, it's Baltimore," coach John Harbaugh told BaltimoreRavens.com. "It epitomizes what Baltimore is all about, the history of football in Baltimore. A Baltimore football team should be playing on a grass field, ultimately. It's a recognition of that." In all,17 out of the 32 NFL teams play on natural grass. The transition, of course, comes at a particularly injury-riddled time for the team (see above), and three of the major starters out—Flacco, Steve Smith Sr., and Justin Forsett—suffered injuries on artificial turf. "Last week, I hit my head pretty hard on the grass in Cleveland," Gillmore said. "I actually saw my facemask print in the grass. If I hit my head that hard on turf, it would have been lights out for a couple days." Let's hope the removal of the artificial turf also uproots this season's bad juju.
4. Will Likely gets top honors for USA Today.
Though the Terps football season has also been pretty lackluster, the consistent shining light was junior defensive back Will Likely, who was just named a second-team all-American returner by USA Today. And we can see why. He finished the season with 1,197 total return yards, the most in the country, and lead the Big Ten in punt-return average (17.7). Should he not declare for the NFL Draft, Likely will be the most experienced Terp on the team next year, and that includes brand new coach DJ Durkin.
He is WILL LIKELY. He WILL be back at it tomorrow. #IWillLikely http://t.co/1EafiMpJjK
— Maryland Terrapins (@umterps) September 11, 2015
5. Terps women's basketball continues to be amazing.
While other local sports continue to struggle, the Maryland Terrapins women's basketball team has quietly been putting together a record-breaking season, and the undefeated team (9-0) had yet another stellar week. The team dominated Central Connecticut State on Saturday 86-43 and then, on Tuesday, they beat Loyola by a staggering 50 points. In that game, junior guard Shatori Walker-Kimbrough, who had just been named the Big Ten Player of the Week on Monday, led the way with 21 points and redshirt senior Brene Moseley contributed 15. As far as the season as a whole, the Terps are second in the country in scoring margin, field goal percentage defense, and rebounding margin (behind Mississippi State). The Terps were picked to win the Big Ten this year by both the league's coaches and the conference's media panel, and the team's impressive performance continues tonight as they host Southern (2-4) at 7 p.m.
Honorable mention: The Oriole Bird is now on Twitter!
The Oriole Bird officially joined Twitter yesterday and there's been some great stuff so far. We especially enjoy his smack talking to fellow mascots. Stay hungry, Orbit!
Thx @OrbitAstros! I don't care what anyone says, your bake sales are out of this world #StayHungry #SeeWhatIDidThere pic.twitter.com/GeUgd1kar8
— The Oriole Bird (@OrioleBird) December 10, 2015