Courtesy of MASN
If you can't beat them, join them.
The first-place Red Sox far and away lead the majors in offense this year, posting a ridiculous .296 team batting average. Two days ago, after successive 7-2 and 6-2 wins over the O's, it looked like we were getting run over by a New England freight train. Did we battle back by shutting down Big Papi and his gang with great starting pitching à la Dave McNally and Jim Palmer? Nope, those days are gone. We beat Boston at their own game, posting 13 runs Wednesday and then slugging seven home runs last night—two each by Mark Trumbo and Adam Jones, a key three-run shot by Manny Machado (see photo above), one by Pedro Alvarez, and another by Francisco Pena in his first major league start. Bring on the Bronx Bombers!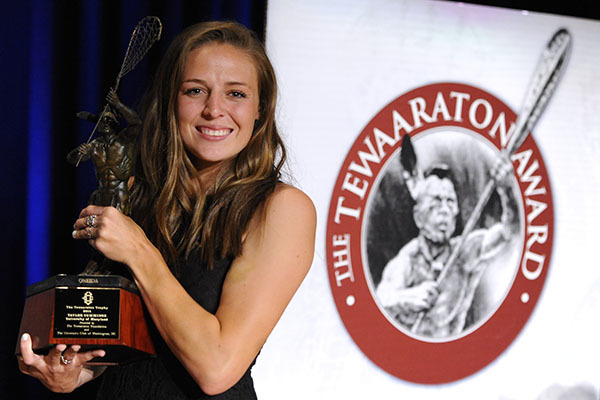 She might be the best ever.
Maryland senior midfielder Taylor Cummings took home college lacrosse's top individual honor—the Tewaarton Award—Thursday night for a record-setting third straight year. The Terps fell just short in their bid for a third straight national title last weekend, but it hardly dims the program's achievements—or Cummings' accomplishments—over the past few years. Cummings, an Ellicott City native and McDonogh School grad, racked up 60 goals and 19 assists this season while also leading the team in ground balls and draws. During her career, Maryland went 88-4. #FearTheTaylor
No, you look great. Just please don't ever wear it again.
For the Seattle Mariners road trip "Dress Up Day" this week, players were encouraged to wear outfits representing where they're from. For example, one of the team's Asian-born players dressed in traditional garb from his country of origin. Meanwhile, Adam Lind, from Indiana (see photo below), went with red-and-white stripped pants and a red blazer over a Hoosier basketball jersey. Which, believe it or not, was restrained in comparison to teammate Steve Johnson, a native Baltimorean, St. Paul's School graduate, and son of former O's pitcher Dave Johnson. If nothing else, we totally dig the sunglasses, Steve. They're keepers.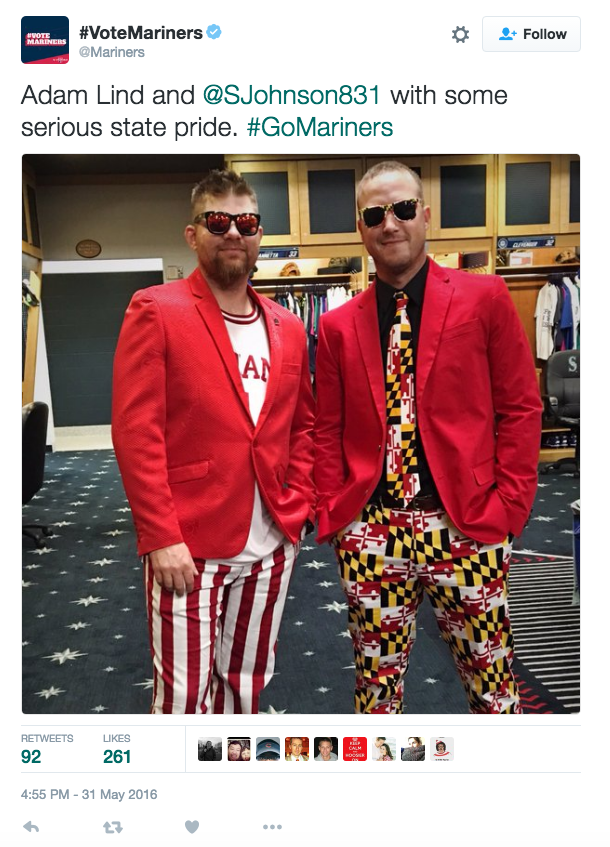 And you wanted to send this guy to the minors.
Remember the kerfuffle after spring training when the O's asked South Korean signee Hyun Soo Kim to start in the minors and he refused the demotion? Turns out the big outfielder's defiance—or confidence, whatever you want to call it—was apparently well placed. All he's done since is hit .367 while working his way into the everyday lineup. He's shown a good eye at the plate and now that he's getting his timing down, he's driving the ball a little bit, too, delivering a big home run the other night. Apparently, spring training is much longer in Korean baseball and it might have taken him longer to get into shape. Either way, he appears to have dropped about 15 pounds since we first saw him, and as Buck Showalter's noted, he's even running better these days. Hopefully, all signs of more good things to come. He certainly seems to enjoy playing the game, which we also love to see.