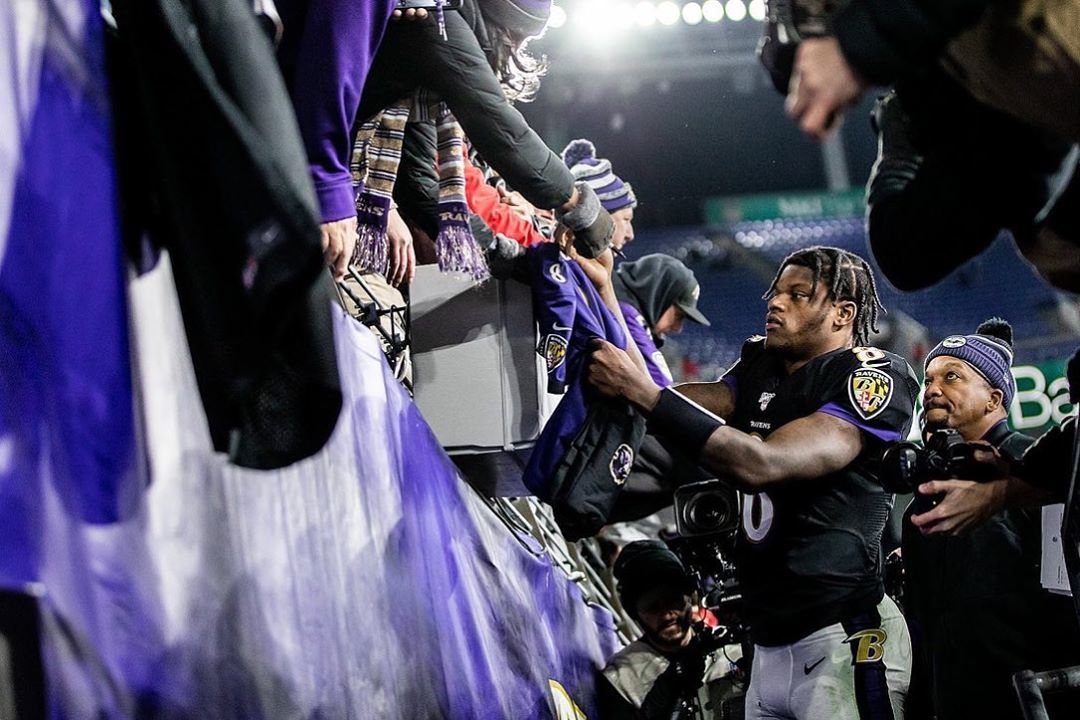 @new_era8 via Instagram
"Lamar Jackson Be Like…" is a thing now.
Yeah, everything in that funny video is accurate.
Simply by being himself—fast, elusive, earnest, humble, just the right amount self-critical, and, oh yes, he can throw, too—the Ravens' second-year quarterback has organically spread his influence, boyish charm, and one-of-a-kind brand of football to the masses. "I play Lamar Jackson ball," he said a few weeks ago. And nothing more needed to be said.
Jackson's 22-year-old personality is infectious. His quick, authentic, and direct one-or-two-line responses in press conferences are tailor made for social media. His play is awe-inspiring.
And he's much more than fast. He and his head coach's burgeoning bromance is everything we want. Here's John Harbaugh wearing a Jackson-branded sweatshirt at practice this week. And his teammates' support for him is rare. See running back Mark Ingram as Lamar-for-MVP hype man.
Every time we look for something new to say about the Ravens quarterback, we see that so many others have discovered what we already know. There's so many reasons to love Lamar Jackson. Right now, he's in full star turn mode, across America and beyond—way beyond.
Just this week, Pope Francis—yes that Pope Francis—hopped aboard the Jackson bandwagon. During a visit to Rome on Tuesday, representatives from the Archdiocese of Baltimore gave the worldwide leader of the Catholic Church a purple No. 8 jersey—autographed by Jackson and his head coach. And the Pope appeared pleased.
A day earlier, on Cyber Monday, the biggest shopping day of the year, Jackson's merchandise outsold that of every other athlete, in any sport, on the industry-leading website Fanatics—an official vendor of licensed sports apparel from the major pro leagues and college ranks.
And Jackson has broken several rushing records for a QB already. He has completed 66.5 percent of his passes (just a few tenths more than, coincidentally, his old friend Joe Flacco, now with the Denver Broncos). He has thrown 25 touchdowns and only five interceptions—currently leading all NFL players in votes for the Pro Bowl. That's the annual "Best Of" event the league holds every year in Hawaii.
If all goes as planned, Jackson won't be there. The Pro Bowl is held the week before the Super Bowl, and the Las Vegas oddsmakers—following the Ravens' eighth straight win on Sunday that improved their record to 10-2—have made our hometown team the betting favorite to win it all. (In other words, prepare for a potential trip to Miami in February.)
To top off Jackson's skyrocketing popularity, he is the favorite to win the league's Most Valuable Player award, something no Raven—not even Ray Lewis or Ed Reed—has ever done.
In some ways, this breakout season shouldn't be surprising. Anyone who paid close attention last year knew who Jackson was already. "He's very comfortable with who he is," Harbaugh said. "You like being around people like that."
And Jackson didn't exactly come out of nowhere, though every other NFL team passed on him in the draft before Ozzie Newsome made Jackson the 32nd overall pick with the final draft-day phone call of his tenure as general manager.
It's easy to forget that Jackson won the Heisman Trophy—awarded to college football's best player—while at the University of Louisville. It's easy to forget that he's always been this fast. Watch his high school highlights from his days growing up in Florida, and know that he ran the 40-yard dash in 4.34 seconds at the end of his final year of college.
And my, how quickly have a lot of people discarded the memory of former Super Bowl-winning quarterback Flacco, whom Jackson unseated as the starter with the first opportunity he got about midway through last season. Jackson is 16-3 as a starting quarterback since.
This is special stuff. These ascension stories come around about as infrequently as a meteor shower. (Come to think of it, who's faster: Jackson or a shooting star?) And we should all soak up the charm of it for a few reasons: Winning is always fun, but the Ravens are making it look easy (it's not) with a unique brand of Jackson-led offense. What"s more, there's a deeper meaning in play.
As we noted almost a year ago, Baltimore's population is 64-percent black, at last U.S. census count. Football is America's most-watched sport. To have a promising, young black player at quarterback, the team's most prominent position, is a big deal here—and in the NFL.
For so long, black quarterbacks were unfairly typecast as unable to manage the complexities of a deep playbook or a passing offense. The needle is moving ever so slightly on that, but we still have a long way to go. Here's a drinking game: Take a shot every time you hear a national broadcaster call Jackson a "running quarterback." They should drop the qualifier. And he's not a running back who can throw, either.
There's a big reason Jackson jabbed critics and said, "Not bad for a running back," after he threw for more than 300 yards and five touchdowns in the Ravens first game of the year. Put it to bed: Jackson is a quarterback—period. Maybe one that the league is not used to seeing, but one that the Ravens coaching staff put its faith in and built a unique run-option, efficient passing offense around.
Harbaugh pointed that out—on the sideline of a recent game, no less. This authentic sideline moment that you've probably seen by now was caught by the Ravens' video staff, and it should go into the NFL's social media Hall-of-Fame.
Thankfully, someone who works for the Ravens posted this clip without clearance from Harbaugh or the team's public relations head, "because they know we would've both said no," Harbaugh told ESPN, not wanting to attract attention to what are typically private conversations. But the scene, now seen by millions, brings to life the power of a likeable leader, or two.
The truth is that the same reason that you or I—or kids in this city or neighborhoods around the country we've never heard of—love Lamar is the same his reason his teammates and coaches do. It's why an actual running back, Ingram, can step to a podium before reporters after a game, with Jackson standing off to the side, and shower the quarterback with compliments that go viral: "The MVP front-runner. If anyone got something to say about that, then come see me…Lamar Jackson, in the flesh."
As always, we're happy to see him.