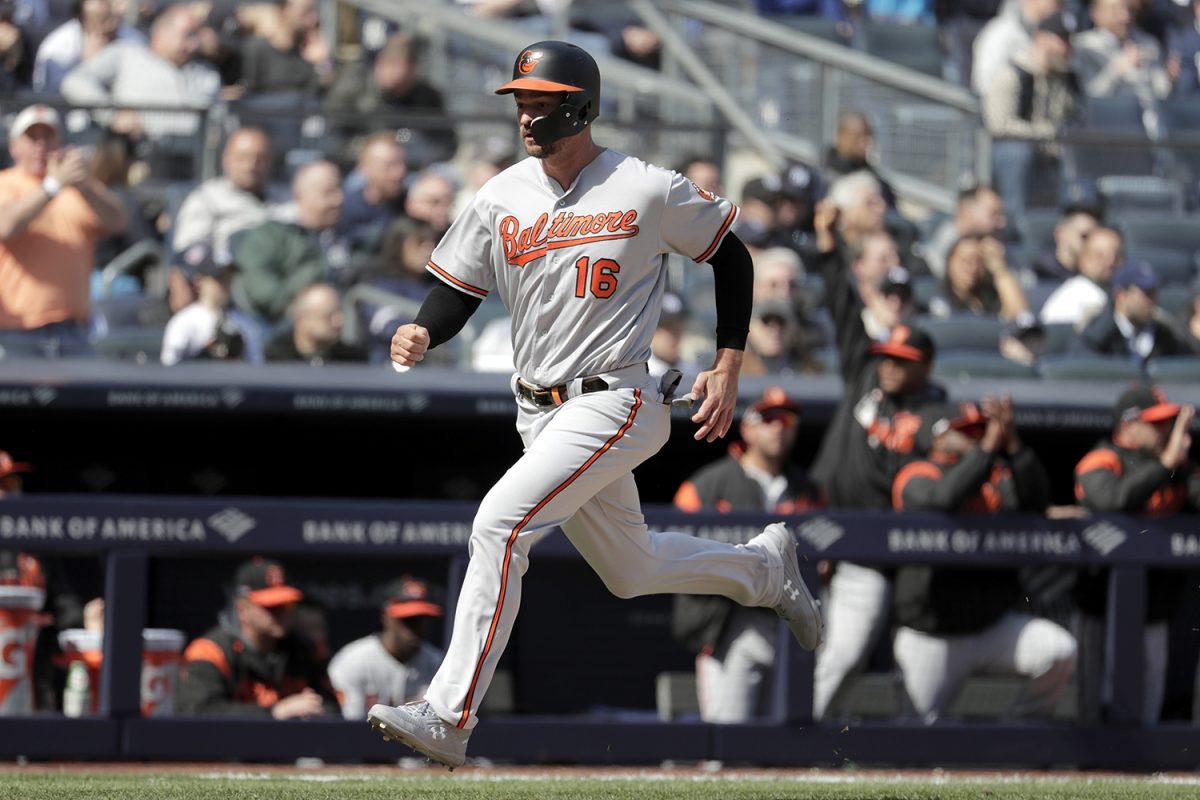 AP Photo/Julio Cortez
The first impression of this Orioles season was the stunned silence from the crowd at Yankee Stadium during player introductions of our dear visiting team. So many new names, they didn't know who anyone was. Or maybe it was simply apathy. Only Chris Davis' name and likeness elicited a few boos.
At the same time, first-year manager Brandon Hyde felt a little bit differently, as he stood on the third-base line and started to soak in the reality of the situation. It's the start of, well, everything new compared to last year's edition of the Orioles. Most of the players; there were seven new starters, and 11 of the 25 in uniform made their first Opening Day roster. All of the coaches. The general approach to baseball. The expectations. "When they say your name," during introductions, Hyde said afterward, "that kind of hits you a little bit."
It was an appropriate welcome to the Orioles' 2019 baseball season, and came ahead of an expected result: A loss, 7-2, in New York to the talent-laden Yankees, one of this year's World Series favorites, as usual.
The Baby Birds, meanwhile, at the start of an ambitious rebuild plan under the leadership of a new data-driven front office regime, are the longest of long shots to win the title (it sounds silly even to write that phrase, "win the title"). Odds are as big as 2,000-to-1 at last check of the Las Vegas sports books. A few free-wheeling, or desperate, souls have placed that wild bet.
Back here in reality, here's three big takeaways from the O's season-opener:
Say it with us, the theme for 2019! "We're trying to elevate the talent level of the organization."
The mantra for this season is not exactly something you'd print and put on the back of a t-shirt for a Little League team, much less a Major League one. But is it the truth. New Orioles general manager Mike Elias said the words once again, during a second-inning appearance in the MASN broadcast booth.
Translation: This year is not about winning. This season is about the next three or four seasons as much as it is 2019.
This can be a hard concept for a fan to accept the day after the first game of a six-month, 162-game schedule. But Elias and the O's leadership have and will continue to preach patience in their long-term vision for sustained success, of building a strong minor league system, developing players, making a hard run at international scouting, and hitting on draft picks (hopefully high ones).
We still think Adam Jones was worth having around—he hit a home run yesterday, by the way, for Arizona—but "we don't want to be a one-year wonder," Elias says (and poof, images of the 2014 Orioles, and Nelson Cruz belting 40 home runs then leaving in free agency that offseason, come to mind). That's a blueprint that's worked in his previous stops in Houston and St. Louis, both teams that won World Series championships while he and numbers wizard, O's assistant GM Sig Mejdal worked there.
Time will tell exactly how hard the games are to watch this season. Given the "talent level of the organization" relative to the rest of pro baseball right now, after the dismantling of last year's core amid a historically bad year, there might be 100-plus losses again.
Thursday's start, which included a 428-foot three-run homer in the bottom of the first inning by Luke Voit, one of the cartoonish mammoth Yankees (sunflower seeds, much?), off the bearded Andrew Cashner, was not a great sign. But as best you can manage, keep the long term in mind.
The Bright Spots
There were a few.
Trey Mancini, three years removed from being a rookie and now the grizzled veteran of this team, looked like it. In the lineup as designated hitter and batting fourth, he went 3-for-4, scored the Orioles first run and knocked in their second.
Third baseman Rio Ruiz, a 24-year-old, drove home Mancini for that first score in the top of the fourth inning and in the bottom half made a nice defensive play, stopping a line drive.
Shortstop Richie Martin, who last season played 118 games in the minors for the Oakland A's affiliate in Midland, Texas, and was one of two O's making his major league debut, helped turn a double play. Reliever David Hess was effective.
The highlight of the day was probably Joey Rickard's diving catch in right field. Overall, the O's defense looked pretty good.
Chris Davis, um . . .
He picked up where he left off. The strikeouts continue. Three of them. Already.
Davis batted seventh in the O's order, a move Hyde made for a reason, and was pinch hit for in the ninth inning. "I'm going to try to do everything I can to take pressure off him," the manager said of the guy with $92 million and four years left on his contract, coming off one of the all-time worst hitting seasons in baseball history. (Right. No pressure.)
Davis' story is fascinating. One day we'll really find out how Crush's stroke and confidence completely unraveled, but for now, he's a representative part of what might be the real O's theme for 2019: Hope.
Davis is our primary emotional connection on the current roster to recent glory days. (Remember, Jimmy's Seafood offered Davis, his children, and grandchildren free crab cakes for life for a reason.) We hope he can find some kind of respectable form to stave off the internet memes and comments that began instantly upon his first strikeout yesterday.
And, for the next six months, we hope the O's do the best they can, give us some fun and enough reasons to watch, while we believe in the promise of a better future.