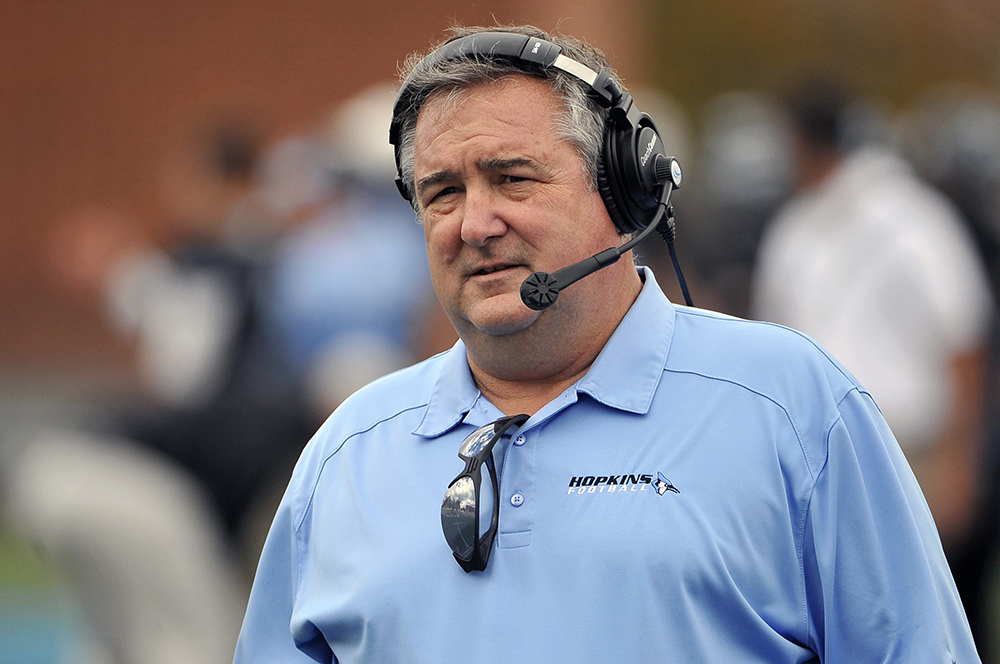 Kim Hairston/The Baltimore Sun via AP
Johns Hopkins football coach Jim Margraff, the program's all-time winningest coach and the recently named NCAA Division III Coach of the Year, died Wednesday at his home in Timonium. He was 58, and less than a month removed from leading the Blue Jays to their first-ever D-III national semifinal game and a program-best 12-2 record.
School officials did not release a cause of death, but said it came suddenly.
Margraff had just completed his 29th season coaching at his alma mater, where he played quarterback and graduated in 1982 as the program's career leader in passing yards and touchdowns. After a few assistant coaching stops, he took over as head coach at Johns Hopkins in the summer of 1990.
"Jim Margraff was a thoughtful, humble, passionate, and exceptionally talented leader and our thoughts and prayers are with his family and friends at this difficult time," Johns Hopkins athletic director Alanna W. Shanahan said in a statement. "He left an indelible impact on all he touched and he made us all better. We will forever be thankful for the unparalleled experiences he provided for so many over the course of his highly successful career."
Margraff completed the 2018 season with a career record of 221-89-3, as the Blue Jays ended the year with a 28-20 loss to 13-time national champion Mount Union. At Hopkins, Margraff won a Centennial Conference-record 14 league championships and advanced to the playoffs 10 times. His 221 wins are also the most by any college football coach in Maryland state history. He was inducted to the Johns Hopkins Athletic Hall of Fame in 1997.
In 2015, we profiled the Blue Jays football team, which ran through the regular season undefeated and was in search of a deep playoff run.
Friends, fellow coaches, and admirers shared their public condolences upon release of the sad news on Wednesday, including the Ravens and coach John Harbaugh, who praised Margraff as a "highly respected member of the Baltimore community and an icon at Johns Hopkins."
A memorial service will be held on Johns Hopkins' Homewood campus, with more details to be announced by the school.
Additionally, Margraff is a finalist for the American Football Coaches Association National Coach of the Year award, which will be announced Tuesday.
Margraff was originally from the north shore of Long Island, where he was a standout high school quarterback and baseball player before heading south to Baltimore. He broke many of his passing records at Johns Hopkins while throwing to Bill Stromberg, now the president and CEO of T. Rowe Price.
Margraff is survived by his wife, Alice, and children Megan, James, and Will. Alice Margraff is a 1989 Johns Hopkins graduate, and Megan Margraff graduated from Johns Hopkins in 2017.