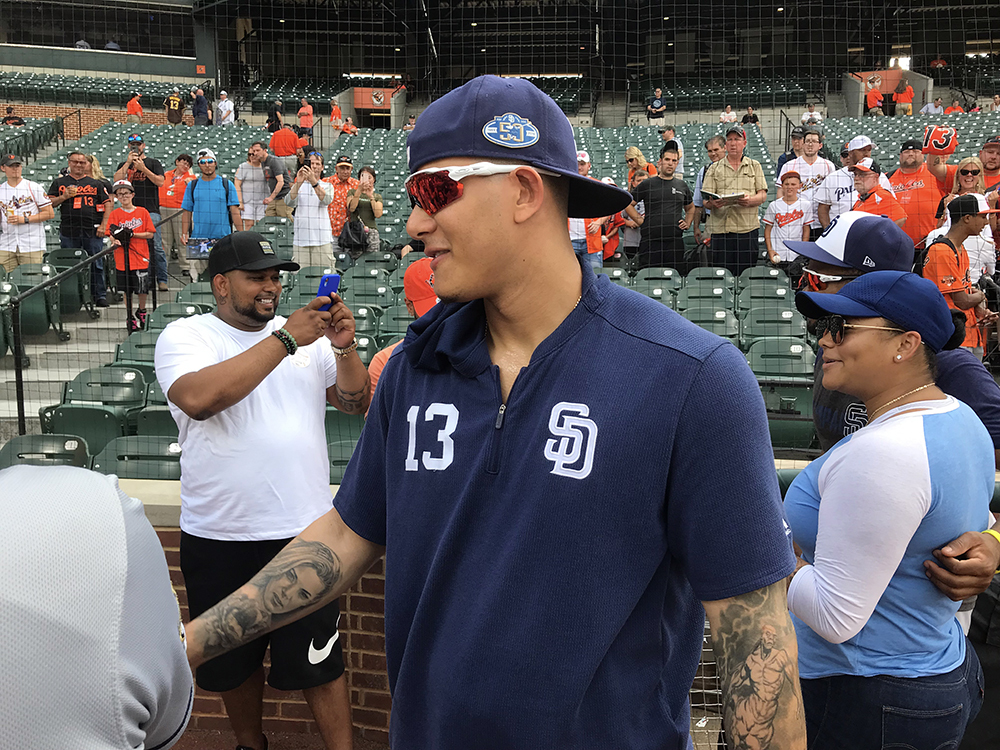 Corey McLaughlin
Out of a nearly empty Camden Yards and into the familiar humidity of a Baltimore summer night stepped Manny Machado, conqueror of his former home, in pursuit of a pre-planned victory feast: a pile of crabs from L.P. Steamers. Can't leave here without them, he said earlier, "so we'll be having some of that tonight."
He came, we saw, and—in the San Diego Padres' 8-3 win over the Orioles, a game that marked Machado's first visit since being traded away nearly a year ago—he homered, a 455-footer to centerfield, the longest of any of the 100 he's now launched into the stands here. "Was it?" he said in the visitor's clubhouse afterward, when told of the record distance. "I guess it's good to be back in Baltimore, hitting in this park."
How do you put words to it? A heartbreaking homecoming might be appropriate. None of the announced 21,644 in attendance, most of whom gave Machado—the closest thing the Orioles have had to a Hall-of-Famer in two decades—a standing-ovation before his first at-bat, wanted to see him ever acknowledge the crowd wearing No. 13 in a road gray uniform. (At least he's not a Yankee.)
And nobody knows how last year's trade deadline move—engineered, we were told, because the O's weren't able to afford the type of monster contract that Machado eventually signed in free agency ($300 million for 10 years)—will look in hindsight. But, for now, none of the prospects the O's received from the Los Angeles Dodgers in exchange for Machado, the former franchise cornerstone—a four-time All-Star, two-time Gold Glove winner at third base who will turn 27 next week—are in the majors.
Before the game, occasionally flashing a smile, Machado entertained reporters with a trip down memory lane—saying names like Adam, Schoop, Markakis, Davis, Hardy, and Buck, and recalling the excitement of the Orioles' 2014 playoff run. He explained the "weird" nervousness he was feeling being back where it all happened.
"It's just different," he said, speaking in the same room behind home plate where he was introduced to the media nine years ago as an 18-year-old shortstop. "It was always coming into that same clubhouse, walking into that same door, parking in that same parking spot, taking the same route to the baseball field every day. It was just all different today."
And he talked briefly about his frustration with how things ended with the Orioles, being kept "out of the loop," he said, as the trade with the Dodgers was finalized by the previous front office regime before the All-Star Game break last July.
"I didn't make the choice. It was made for me," he said. "When you're here for so long in a place you call home, you see the same faces every day, the same people, it grows on you. To leave like that halfway through the year kind of sucks."
He later signed a few autographs down the third-base line, but not many. Then, shortly after 7 p.m. on a steamy 88-degree night, he stepped toward home plate, waving to the fans, some still wearing his old orange-and-black jersey, as they cheered for nearly 40 seconds and a video montage on the centerfield scoreboard showed highlights of Machado's seven-year O's career. He touched his right hand to the bill of his navy blue Padres batting helmet to say thanks.
It didn't quite match the theatrics and adoration of Adam Jones' sendoff, but "it was awesome," Machado said. "The fans, like always, didn't disappoint. I've seen it for many, many years, how they've gone above and beyond for us, and they did it today. The whole experience playing here brings back a lot of good memories. It's special and something I'll never forget."
The O's stadium staff even played video of The Play—Delmon's Young bases-clearing double against the Tigers in the 2014 playoffs—as the Padres took the field for the sixth inning, and Machado put his arm around San Diego star rookie shortstop Fernando Tatis Jr., and pointed to the scene, like he were saying "This is what it could be like."
Nostalgia, though, eventually met reality. In the third inning, Machado smacked his massive home run on the first pitch he saw from O's starter Jimmy Yacabonis. And in the bottom of the third, Machado came the closest he did to flashing signs of that Brooks Robinson-like defensive brilliance, tagging out an audacious Dwight Smith Jr. when he overran third base following a hit down the right field line. Machado added an RBI single in the fourth, finishing 2-for-4 at the plate.
His skills, of course, nor his sometimes boorish behavior were never questioned. The business of baseball ultimately sent him away, an unfortunate truth in a modern-day professional sports era where money is usually valued more than loyalty, and change is a constant.
Case in point: As Machado exited his pre-game press conference, exasperated by the 15 minutes it took and the expected queries, he asked a Padres public relations staffer, "Do I even have time to get in the cage?"
Yes, he did. In fact, he had to wait. At almost that very moment, a 21-year-old kid by the name of Adley Rutschman, a switch-hitting catcher picked No. 1 overall by the Orioles in the MLB Draft three weeks ago, was on display in a special batting practice session organized by the team as part of his introduction to Baltimore.
The coveted prospect, wide-eyed and widely considered the Orioles best since Machado, took his first smooth swings. And on the third soft-toss pitch he saw, Rutschman sent that tiny white ball onto Eutaw Street, as if to say as one narrative was ending, another was beginning.