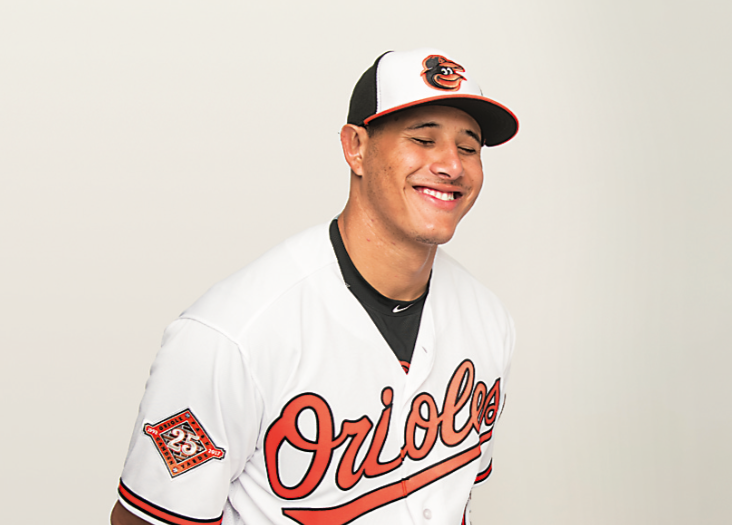 Mike Morgan
Well, we knew it was inevitable. For months, we've been reading ESPN and scanning our Twitter feeds wondering where our beloved Manny Machado would be traded. There were talks of Chicago, Philly, Milwaukee, and Arizona.
But last night, it was announced that the Orioles traded Machado to the Los Angeles Dodgers for five prospects: exciting outfielder Yusniel Diaz, right-hander Dean Kremer, third baseman Rylan Bannon, pitcher Zach Pop, and third baseman Breyvic Valera.
"Obviously, it's a bittersweet day for our organization," Dan Duquette told reporters on Wednesday night. "We watched Manny grow up in our franchise for the past eight years."
With that in mind, we wanted to chronicle some of the best moments—both on and off the field—from our All-Star shortstop (though he'll always be a third baseman in our hearts).
Manny Hits Walk-Off Grand Slam
In August 2017, Machado had the game of a lifetime. In a home-run-derby-type game against the Los Angeles Angels, each team put up five home runs. But no one was more productive than number 13. He hit homers in the third, fifth, and ninth innings and drove in seven runs. To top it all off, he won the game with a grand slam in the bottom of the ninth, becoming only the third player in baseball history to hit three home runs and a walk-off in a single game.

Our Favorite Baseball Bromance
As the world of Major League Baseball becomes more celebrity than athlete, it's hard to tell what is authentic. But one thing is for sure: the friendship between Machado and second baseman Jonathan Schoop is the real deal. The two met in Single-A Delmarva Shorebirds in 2011 and quickly bonded when they were both expected to play shortstop. "When Jonathan does something amazing it gets Manny hyped," Machado's wife, Yainee, told us last year. "They both motivate each other constantly. They're just best friends." Schoop, who will be a free agent after next season, will likely miss his best bud but can't be too surprised. "He ain't got no weak part of his game," Schoop said of Machado. "He's a superstar."

Amazing Plays at Third
Longtime Orioles fans have experienced a little deja vu these past few years when Machado made some amazing grab and throws at third, reminding us of a certain Human Vacuum Cleaner. There are too many of these moments to count: short hops, tricky throws, in-the-air leaps, foul territory. You name it, Machado was able to handle it. While he's moved over to short most recently, we'll always miss seeing Machado's moves in the corner.

When He Made a Fan's Life
We've always appreciated that Machado feels like a player of the people. He's made statements about how much he enjoys FanFest, signed a plethora of autographs, and, just last month, gave the surprise of a lifetime to 14-year-old fan JJ Roddenberry. When his parents got him tickets to an Orioles-Braves game for his birthday, his reaction went viral—and Machado took notice. "Just watching that, it gave me goosebumps," Machado told MLB.com. "I mean, the kid cried just for a ticket to the baseball game." After that, JJ was sent a surprise video from Machado, who invited the fan to hang out with him during batting practice. The two got to chat in the dugout, JJ received a signed bat, and the young fan totally geeked out.

He Was a Gnome for His Birthday
Around Machado's 24th birthday, the Orioles revealed that he'd be getting his very own garden gnome giveaway. This was a year after O's manager Buck Showalter made it fairly well-known he didn't love his own gnome doppelganger. But Machado was a bit more receptive. When fans received his garden gnome before the July 9, 2016 game against the Angels, he shared with reporters that he was excited about it. "I thought it was going to be worse, and it came out pretty good," he told NBC Sports. "I love it. It brought me some luck today, so hopefully it's going to stay [in my locker]." Let's hope he keeps it with him on his trip out to L.A.

Watching Machado Grow Up
Like Duquette mentioned, the Orioles organization and fanbase got to watch Machado grow from a young, impressionable 19-year-old to a grownup, married man with clearly a bright future ahead of him. We'd be remiss if we didn't mention Machado's growing pains because we watched him live out some teachable moments over the years. But we're confident that he's leaving the Baltimore organization a more mature and humble baseball player. And though Machado and his wife don't have any kids yet, we've loved seeing him play a paternal role to the adorable Kobe.